Top 10 Secure Routers of 2020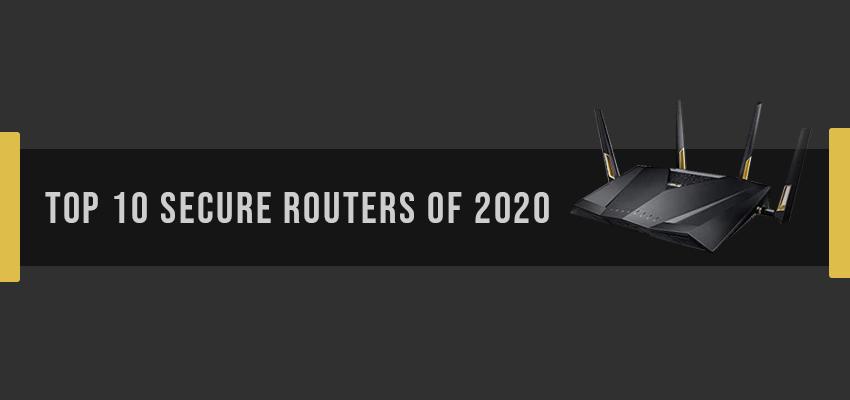 Top 10 Secure Routers of 2020
Posted May 19, 2020, 12:44 a.m. by
Emil S.
Most people would buy a router, and if it works just fine, they will continue to ignore it for years. A router is what sits between all of your computing devices and the World Wide Web behind your modem. A typical router firewall may not be enough to protect you from new dangers that may be waiting for you on the Internet.
A lot of bad things can potentially happen that you might not be aware of when using a less secure router. You can even be victimized by its packet sniffing feature that hackers can configure to forward valuable information so they can steal your data or monitor your internet activities and habits.
Your DNS can be vulnerable to hijacking by dubious servers that make you think you're on a legit website, but in reality, are just copies out to scam you. You might end up downloading malicious versions of popular software that could do you more harm, and try to rip you off.
Just as alarming are slowdowns, as well as Distributed Denial of Service (DDoS) attacks, that prevent you from accessing network resources or servers. That's why many of today's router manufacturers have taken security much more seriously to keep your network protected 24/7.
Only a handful of products stand out from the rest. We've whittled down the possible choices to these select few that offer not only excellent performance but also the best security in 2020.
Best Router Overall: ASUS RT-AC88U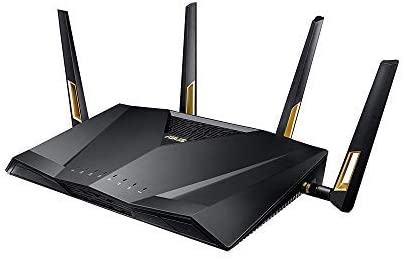 The RT-AC88U from Asus offers one of the best performances in the low-band and high-band. It's possible with its dual-band 802.11ax or Wi-Fi 6 connectivity. It features both 4x4 MU-MIMO (Multi User-Multiple Input and Multiple Output) and OFDMA (Orthogonal Frequency Division Multiple Access).
For security, it utilizes a built-in AiProtection from TrendMicro to help any device connected to the network block threats from the Internet. It provides parental controls and identifies malicious sites before they can be accessed. It enables you to avoid malware and DDoS attacks, and their profiles are continuously updated to provide continuing protection.
This router is particularly handy when connecting the latest phones into your home network, but those on an 802.11ac band can still benefit from it. It offers the most balanced mix of features, security, and performance at a reasonable price.
Pros

Excellent performance
Antennas provide a broad coverage
Fast Wi-Fi 6

Cons

Wi-Fi 6 isn't widespread yet
Most Secure: Synology RT2600ac
Synology RT2600ac is not the fastest router out there even in its class, but its software capabilities separate it from the rest. Its built-in VPN (Virtual Private Network) server and client app support, DLNA (Digital Living Network Alliance) server for streaming, and separate parental controls per device give it a lot of flexibility.
It comes with two preset block lists of various malicious sites, including adult websites. They also allow you to expand those lists by whitelisting or blacklisting any domain as you see fit.
Their Synology Router Management operating system lets you easily monitor the Internet usage in your household, especially of your kids. These are updated regularly, providing you with business-grade protection to your VPN at the router level. It does this while giving you the benefits of NAS (Network Access Storage) that Synology is known for.
Pros

The web interface is extensive and easy to use
Real-time protection is top-notch
Extra NAS functionality

Cons

Not the fastest dual-band speeds
Security filters require a subscription
Best with Open Source: Linksys WRT AC3200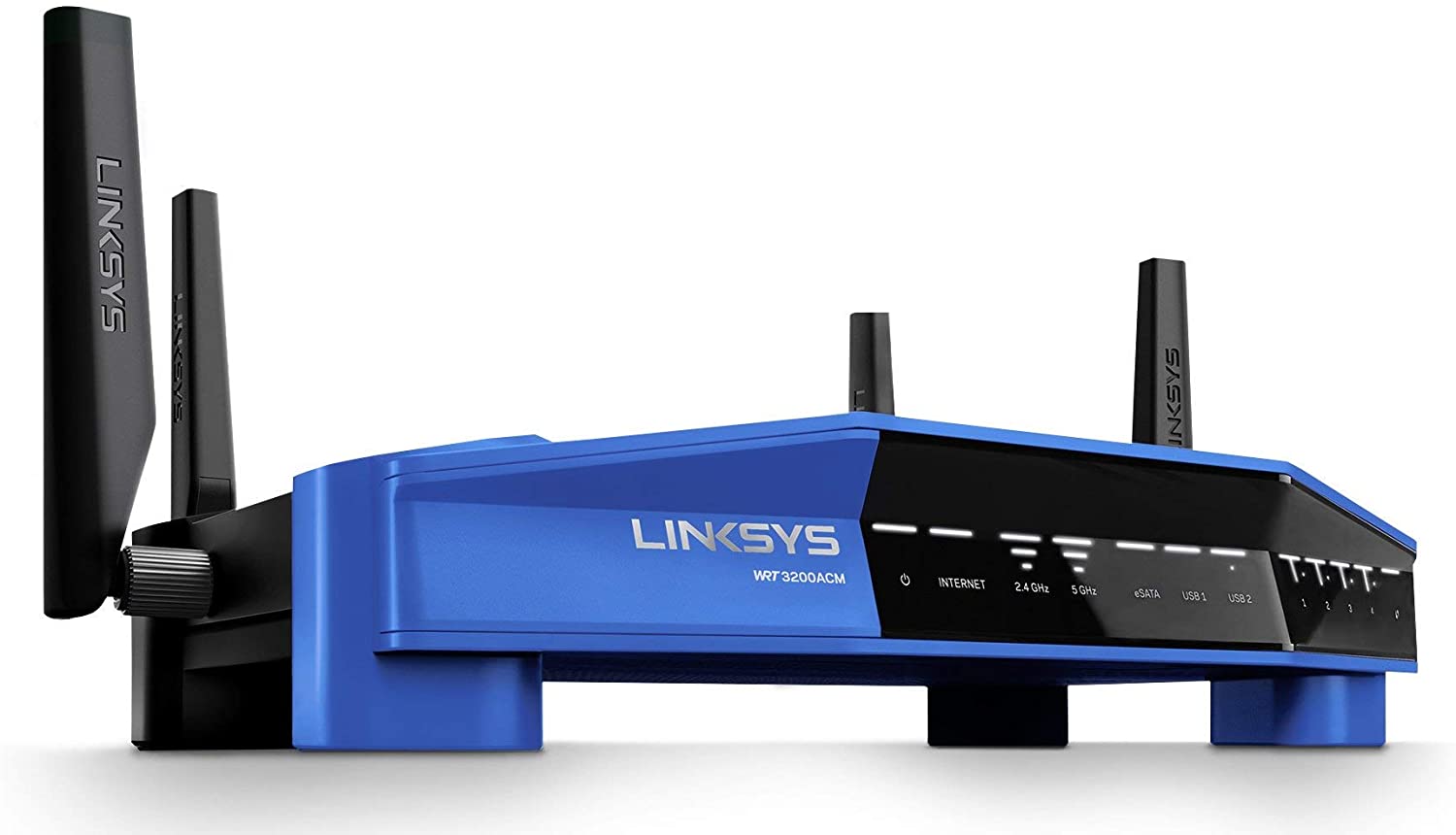 Linksys (WRT AC3200) is known for its firmware support, and updates are regularly available on their website. Even if you don't want to mess with its firmware, it has a reliable firewall, triggers for port forwarding, settings for various internet filters, and VPN Passthrough support.
For those who are more technically inclined or are willing to learn, this router will allow you to tweak its firmware for better performance. It also lets you improve the router's security, as well as allow you to swap it with other third-party open-source codes such as DD-WRT or OpenWRT.
The 5GHz performance is outstanding on account of its MU-MIMO and 160MHz Tri-Stream proprietary technology that doubles throughputs. However, its 2.4GHz performance is a bit of a letdown.
Pros

Terrific open-source configuration
Fast 5GHz MU-MIMO performance
Fast Tri-Stream tech

Cons

2.4Ghz band is on the slow side
Most Value: Netgear Nighthawk R7000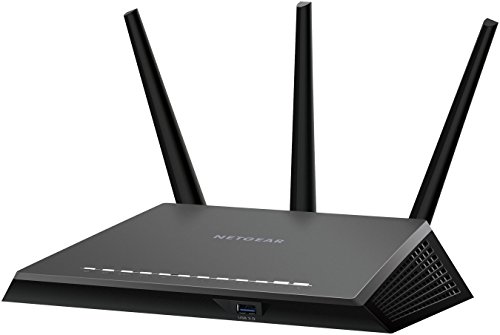 Netgear Nighthawk R7000. With Dynamic QoS (Quality of Service) feature built-in, it can allocate bandwidth to real-time apps that need it the most. It ensures that optimal performance is delivered for HD streaming, video chats or conferencing, and smooth online gaming. It doesn't have the fastest dual-band performance, but it will get the job done for the most part.
Its OpenVPN feature gives superior encryption and authentication that allows you to access your home network securely from anywhere. Additional security features include built-in DoS attack protection and parental control settings.
Setting it up is a no-brainer and pretty straightforward. Prices have dropped, and that lets you take full advantage of the value it offers. It's a router for those looking for dependable performance without burning a hole in their pockets.
Pros

Dynamic QoS give it better performance
Affordable on Amazon

Cons

Large footprint
Needs a more modern user interface
Best High-End: Netgear Nighthawk RAX200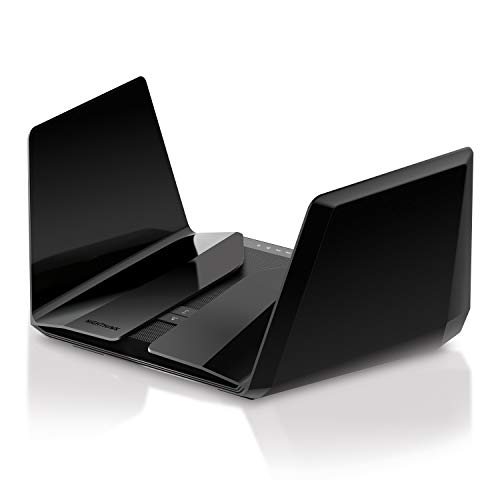 The Nighthawk AX12 is more of a future-proof high-end router that would serve you best once its fast Wi-Fi 6 connectivity finds more mainstream use. Its tri-bands have 12 streams that can allow up to 12 devices to connect online with the highest throughputs possible.
With its eight MU-MIMO beamforming antennas, you can direct the signals where they're needed most to ensure optimal coverage inside large homes. The high 5GHz band reaches throughput peaks up to 4.8Gbps, assuring enough headroom for the most demanding home networks.
Its built-in VPN allows for a more secure and encrypted connection to your computer or devices. Other features such as Dynamic QoS and an excellent firewall give additional network protection.
Pros

Top-notch performance with little compromise
Data streaming is stellar
Fast Wi-Fi 6
12-Stream Tri-Band Wi-Fi

Cons

Very expensive
Wi-Fi 6 isn't popular yet
Best for the Budget: TP-Link onHub AC1900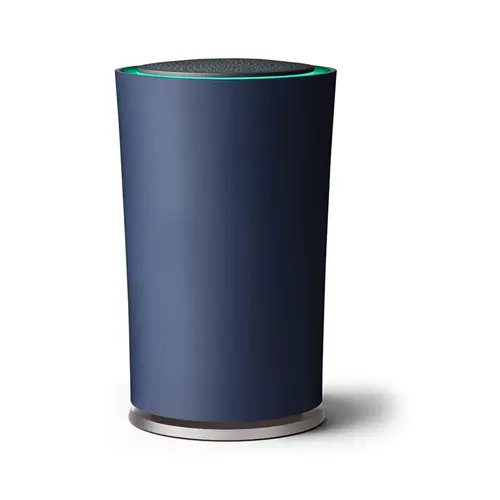 TP-Link onHub AC1900 is a Google-branded dual-band router that is easy to manage with an IOS or Android Google Wi-Fi app. On the downside, that means there's no firmware customization available. For its affordable price, it reaches up to a respectable 1.9 GHz data transfer rate, and coverage is substantial because of 13 internal omnidirectional antennas.
Connectivity is also top-notch, allowing you to bridge up to 100 devices to its 802.11ac Wi-Fi network, but it only has one Ethernet and USB 3.0 port. The USB port doesn't support external USB storage, which is a bummer.
This router is a budget option with compromises, although it offers decent performance and features at a very affordable price. It's not the cheapest router by any means, but it's hard to settle for anything less.
Pros

It has an attractive minimalistic design
Very affordable
Decent Wi-Fi coverage

Cons

No open-source code support
No support for USB file sharing
 
Best for Gaming: ASUS ROG Rapture GT-AC5300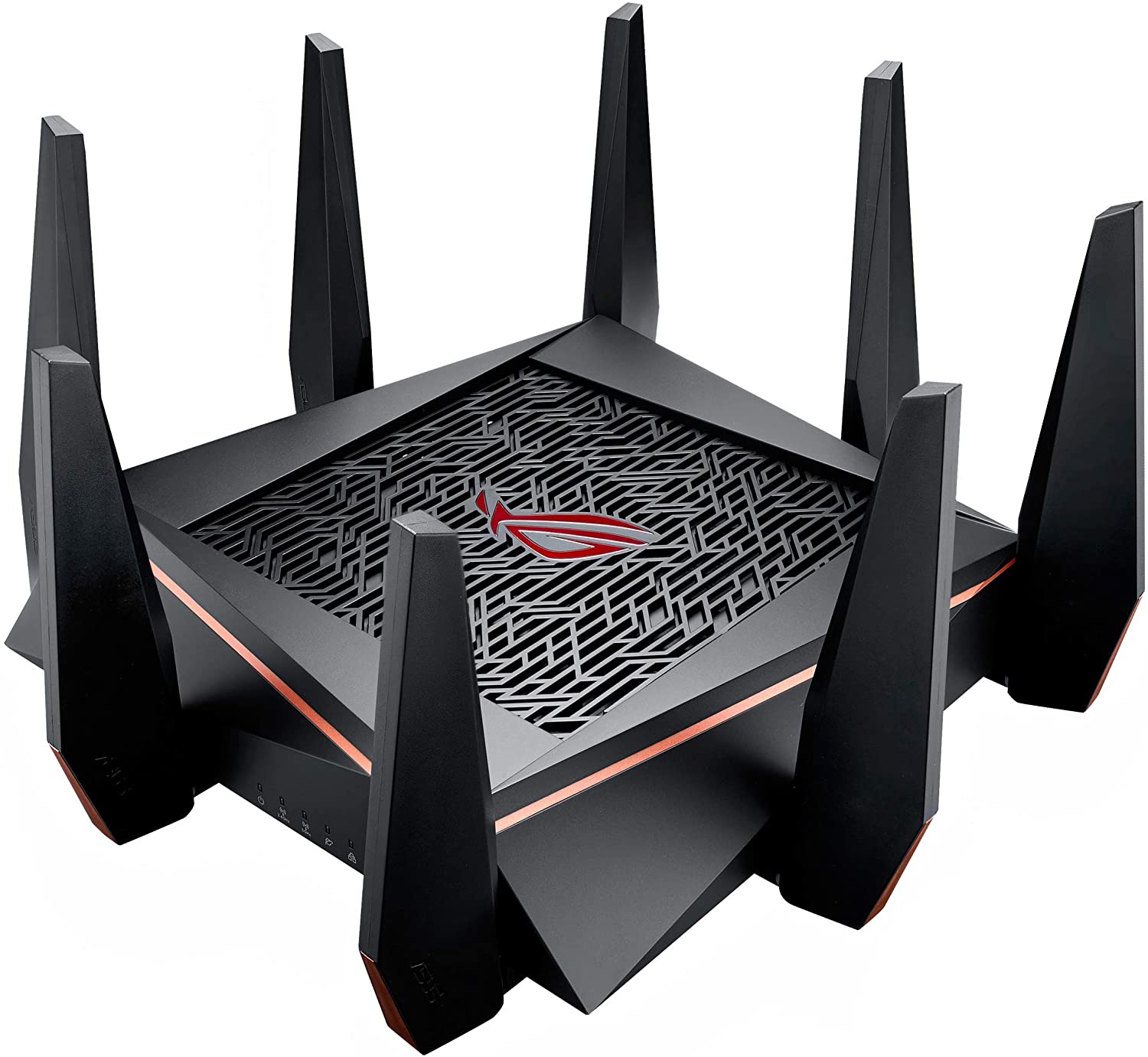 ASUS ROG Rapture GT-AC5300. Aside from being one of the most reliable tri-band Wi-Fi routers, it's also one of the most secure out there. It has what's called a Game IPS (Intrusion Prevention System) that functions as an excellent built-in firewall to protect your network from outside intrusion.
Even with a specialized ROG (Republic of Gamers) gaming dashboard, it also has built-in AiProtection by Trend-Micro. It can double as a fast router that can handle multiple devices in your home or office VPN and perform its primary function as a gaming router.
Depending on your current bandwidth requirements and the client's distance, its eight MU-MIMO beamforming antennas and band steering adjustments ensure optimal performance.
If gaming is your thing, then this is the one to pick with features like WTFast Gamers Private Network for the fastest pings and more secure connections when playing online.
Pros

Terrific as a general router and not just for gaming

Cons

Expensive
The large footprint and gaming design is not for everyone
Best for SMBs: Netgear BR500 VPN Router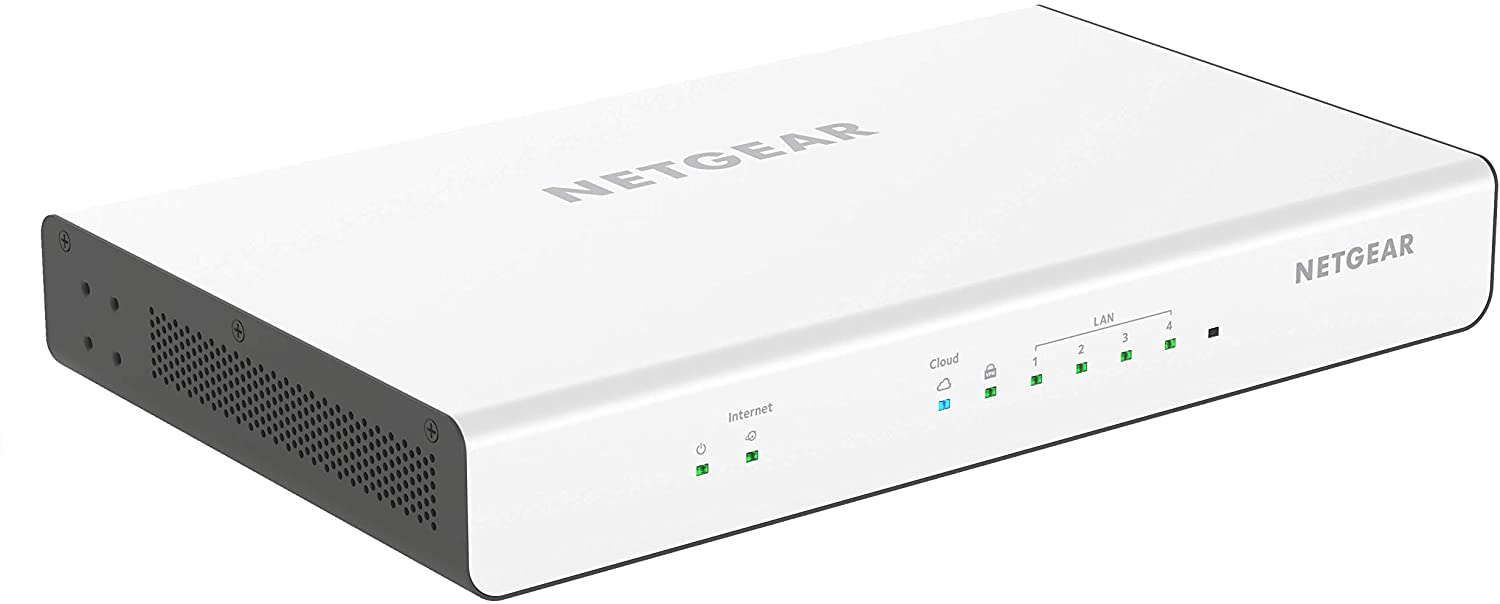 The BR500 VPN Router, as its name suggests, has a built-in VPN functionality and offers data security suited for most SMBs (Small and Medium Business). You won't need the services of an IT professional with experience in large business networks.
When you gain more experience, you might someday outgrow its limited control and configuration settings. However, for most purposes, it will do the job admirably.
Features include a Netgear Insight app that lets you manage and monitor your small business network from anywhere. It allows easy setup of guest Wi-Fi, VLANs for voice and video with QoS, among others. It also has a packet inspecting firewall and Cloud Portal.
Pros

Business-grade secure VPN
Excellent firewall
Pretty simple to set up and manage

Cons

Some additional features and add-ons come at a price
Best Mesh: Eero Pro Mesh Wi-Fi System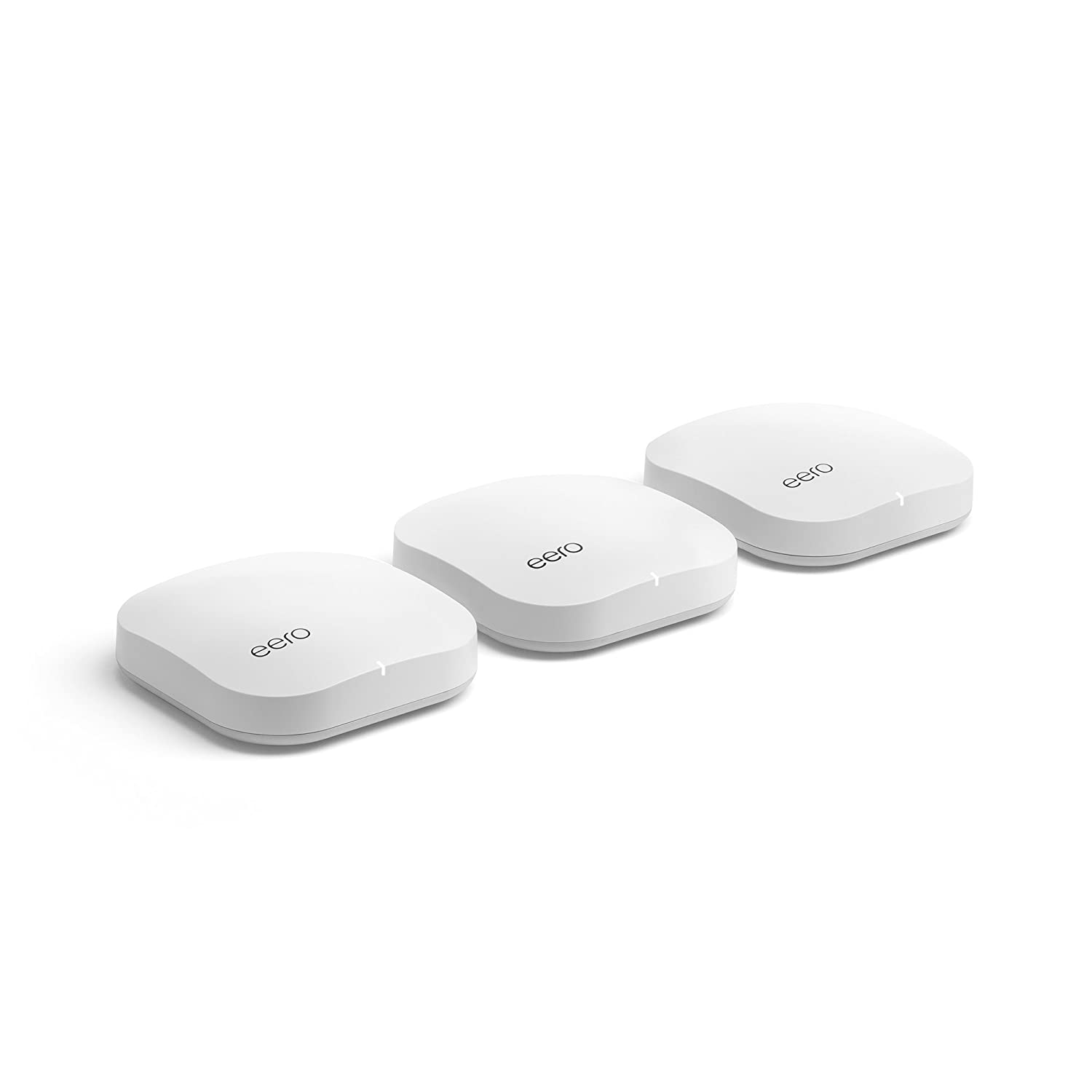 Eero Pro Mesh Wi-Fi System. One of the proven solutions to take care of Wi-Fi dead spots is to go for a mesh setup. This package consists of one Eero Pro and two Eero Beacons, which belong to the 2nd generation and twice as fast as the previous Eero.
It only needs a few minutes to set up the mesh network and is straightforward and intuitive. A single Beacon effectively adds about 1500 square feet of coverage, and all you have to do is to plug it in a free outlet.
There's a companion mobile app that makes monitoring and managing the network a breeze. It lets you control settings for each device and has configurations for guest users, as well as parental controls.
For added protection, you can subscribe to a service that offers business-grade network AI security for less than $10 a month. There are also subscriptions to Malwarebytes, 1Password, and Encrypt.me.
Pros

Robust real-time malware protection and content filters
Setting it up is straightforward

Cons

Expensive
Not the most extensive coverage
Most Ideal Setup: Gryphon AC3000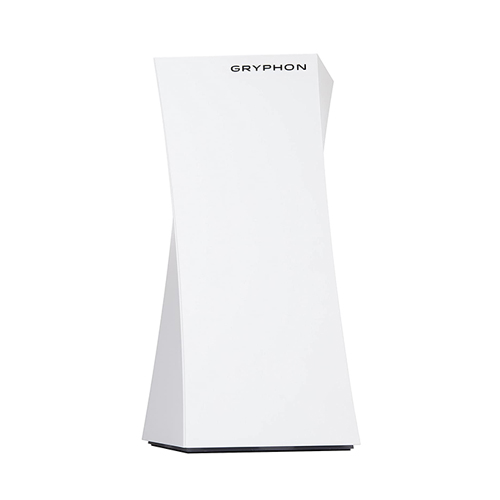 The AC300 is a dual-band mesh router with a fast 3Gbps data transfer rate and is equipped with 4 Ethernet ports.
It's designed to keep your network protected while you're online with its built-in ad blocker, malware filtering, and advanced hacking protection. This router will receive daily updates from ESET to protect you from malicious websites.
On top of that, there are extensive parental controls at your disposal. It gives you greater flexibility in controlling what your children can access or not. You can monitor your children's Internet usage as well as impose strict restrictions.
It has six high-powered antennas that are sufficient to cover medium-sized houses, which you can expand with a mesh configuration using another router.
Pros

Very fast Wi-Fi throughputs
Powerful CPU
Relatively affordable

Cons

No ports for USB data
Some security features need a subscription after one year
Final Words
Security isn't the only consideration when buying a router. Performance and features should also come into the equation when selecting one. The best performers among this bunch can do the job of the more specialized ones for gaming, or even for business.
Your best bet is to pick the best overall, which is the ASUS RT-AC88U, or you could buy a bit more expensive model with better features. If gaming is vital to you, then the ASUS ROG Rapture should be your first pick, although the others can handle gaming just fine.  
Related:
Router
Security
Reviews