Top 10 802.11ac Wireless Router of 2020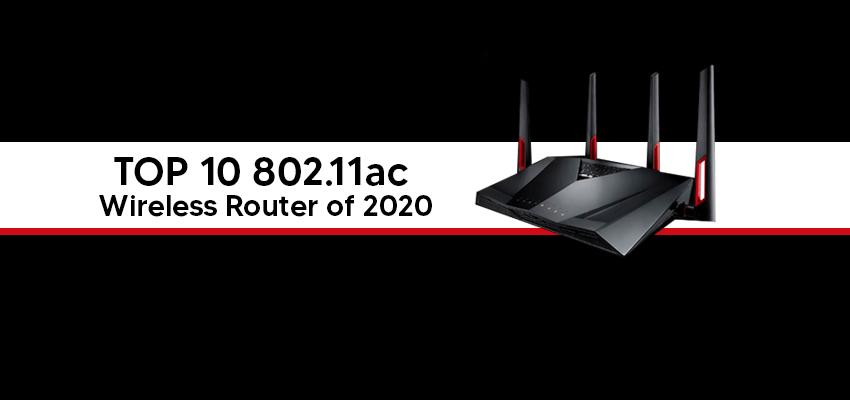 Top 10 802.11ac Wireless Router of 2020
Posted May 27, 2020, 1:12 a.m. by
Emil S.
We present to you a list of the best 802.11ac wireless Wi-Fi routers that you can get in the market right now based on their features and performance.
1. Asus RT-AC88U - The Ultimate Champion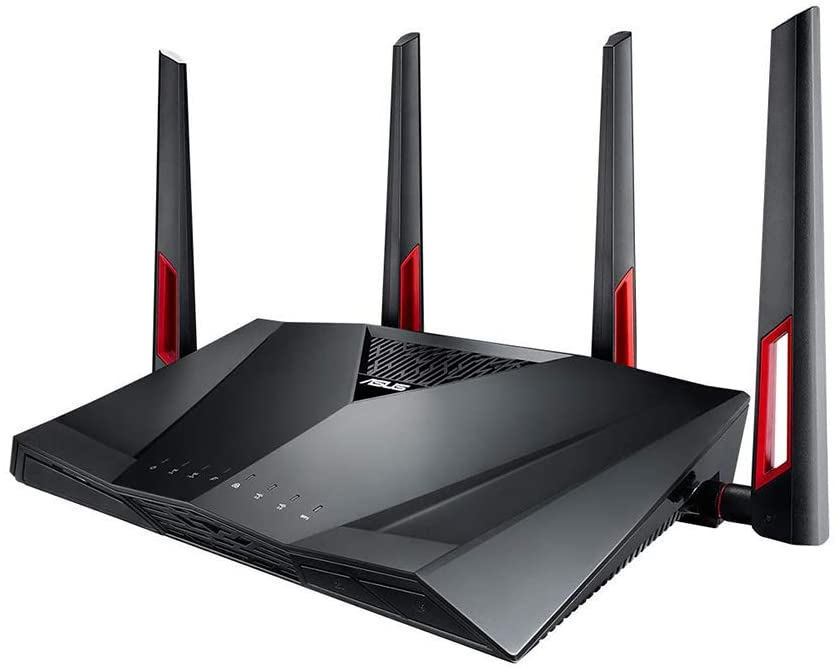 The Asus RT-AC88U is the top choice when it comes to 802.11ac routers. The router uses a 1024-QAM technology and a 1.4 GHz dual-core processor for its power. When it comes to speed, the AC88U is impressively fast as it can operate on 5GHz speeds up to 2.1 Gbps or 2.4GHz up to 1 Gbps.
The router has four receiving and transmitting antenna, which gives you a coverage of 5,000 sq. ft. when you use the 2.4 GHz speed. What makes this router stand out as the best among the rest is the MU-MIMO feature, which stands for multiple user, multiple input, and multiple outputs.
This means every device connected to your network can have its Wi-Fi connection. Because of this, the number of devices online will not slow down the whole network. This is great for huge families, small offices, or if you have several devices that you want to go online.
The Asus TT-AC88U looks very stylish and futuristic - an eye-catcher. The setup is very easy as well - just three steps! All you have to do is access the Asus web-based installation process and follow the steps.
The fact that this router has an easy installation, excellent performance, good coverage, and style easily makes this the best router on the market to date.
2. Linksys WRT3200ACM - The Most Secure Router
This router is one of the latest products from a lime of classic routers and is one of the most customizable products from Linksys.
The Linksys WRT3200ACM is one of the fastest routers due to the Tri-Stream 160 technology. If you use the 5 GHz frequency, it can deliver a speed of about 2.6 Gbps. If you use the 2.4 GHz, you will get a speed of about 600 Mbps.
You can also directly connect your gaming console or PC to the router because it has wired Gigabit Ethernet ports available. The ports can support up to four devices. External storage devices can also be connected directly to the router because it comes with a USB 2.0/eSata and USB 3.0 ports. Because of this, it is easier to share and transfer your media files on your network.
Linksys also created a mobile app for this router. With the app, you can monitor and configure the WRT3200ACM from anywhere.
What makes this wireless router stand out is that it has an open-source firmware so you can easily customize and replace the firmware. The original firmware is okay as is since it offers a ton of useful features. But if you want to take advantage of the firmware being open-source, you can replace it with repositories like DD-WRT or OpenWrt which automatically sends your traffic through a VPN.
3. Netgear Nighthawk X6 - Splurge and Get Your
Money's Worth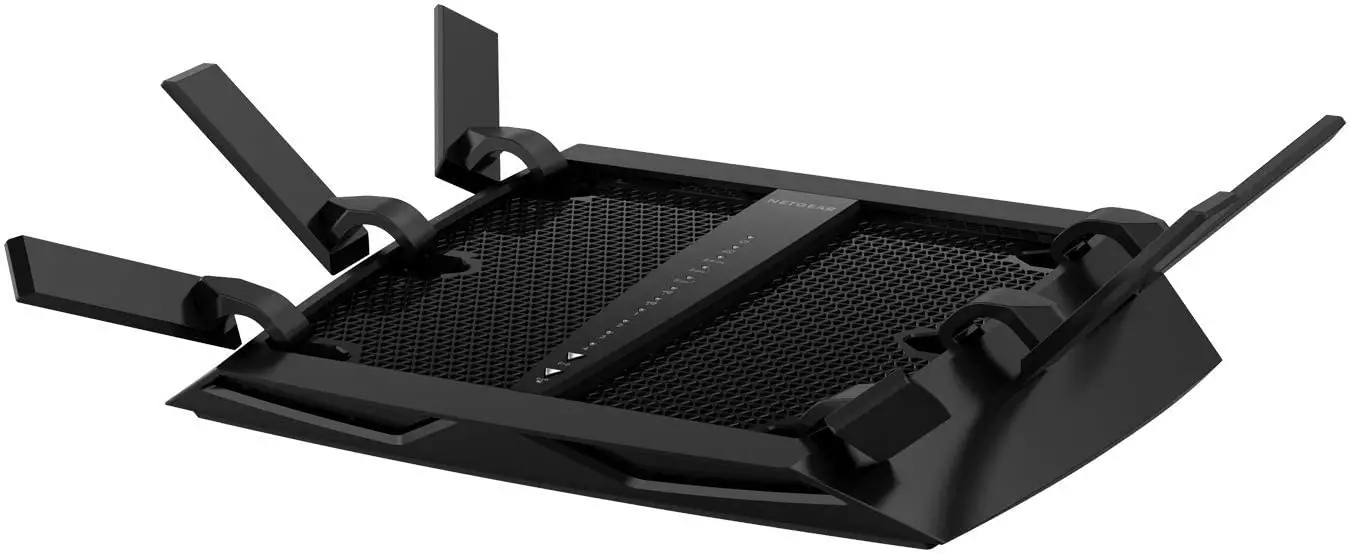 One look at Netgear's Nighthawk X6 and you will be impressed by its sci-fi aesthetic. It has six antennas to guarantee a high-performance and strong connection. With the beamforming feature, you will get a strong Wi-Fi signal from this router.
A 1-GHz dual-core processor powers this router and in addition to that, it has three more offload processors that can boost the router's performance when you need it the most.
Another feature that makes this router a worthy splurge is the Dynamic QoS bandwidth prioritization feature. This means you can select which devices get to be prioritized. For instance, your work laptop gets more throughput compared to your family's smartphones.
This ensures that you still get to work smoothly even if everyone is using the connection. This is done by ensuring that the devices that need more throughput are connected to a different network.
This may be an expensive option in the market but if you can afford to splurge on the best items, this is the best router for you since its sets of features are the best in the industry today.
4. Asus RT-AC68CU - The Router with the Most Value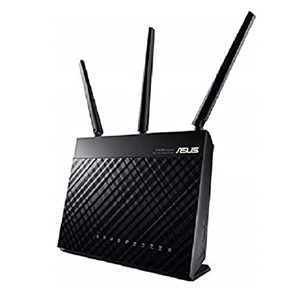 If you want a wireless router with the most value, you can never go wrong with the Asus RT-AC68CU since it has ultra-fast speeds and advanced features.
The router has a 3x3 dual-band antenna which can give up to 1300 Mbps if you use the 5 GHz frequency and 600 Mbps if you use the 2.4 GHz frequency. It runs on a dual-core 1 GHz CPU. This Asus router also comes with Broadcom Turbo QAM, a feature that supports 4K HD streaming - a major plus if you are into streaming movies and TV shows.
Another feature that this router offers is the AiRadar, a feature that boosts your signal and connectivity using beamforming technology.
Security is also not a problem because Trend Micro gives it an added layer of protection through the AiProtection feature. This helps your connection and devices secure from multi-stage threats.
The setup is very easy as well. All you need to do is go through a web-based installation process. In just three steps, your router will be set up in minutes.
With all these features at hand, there is no doubt that the Asus RT-AC68CU is packed with the most value among the wireless routers in the market today.
5. TP-Link Archer C7 AC1750 - The Best Budget Router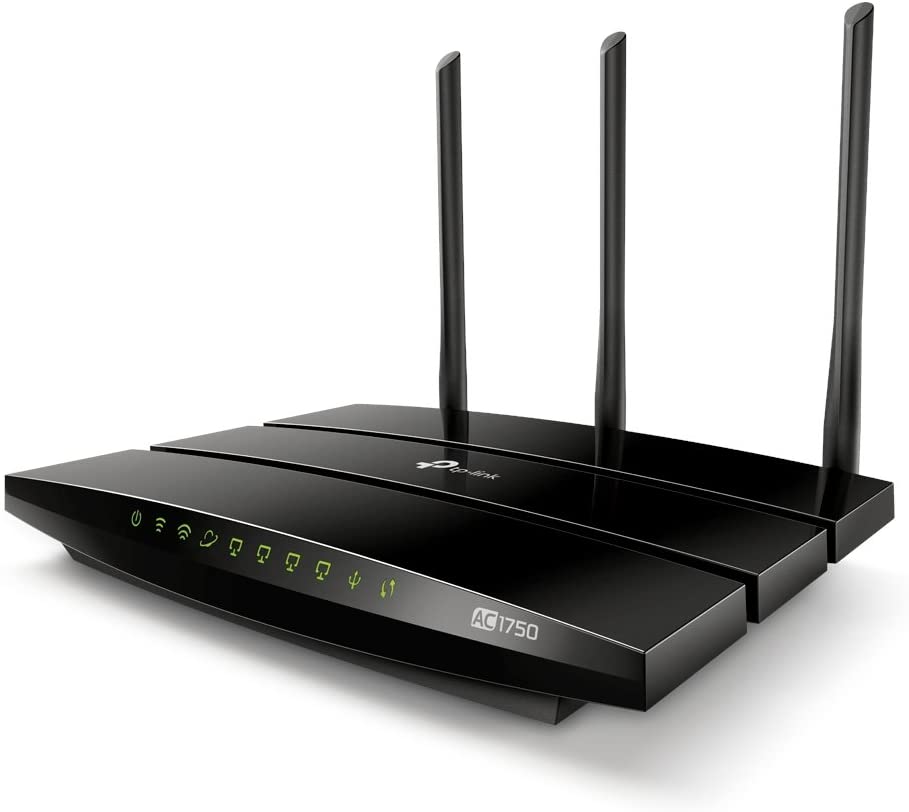 The TP-Link Archer C7 AC1750 was released in 2013 but it is still a great buy for the year 2020 - especially if you are working on a limited budget. This router can run on 1.75 Gbs in total. If you use the 5 GHz band, you will get 1300 Mbps and if you use the 2.4 GHz band, you will get 450 Mbps.
It comes with a total of six antennas, three external while the other three are inside the hardware. Overall, you are assured to have satisfying signal strength regardless of where you place the router giving you hassle-free streaming, gaming, and browsing.
Setting up the TP-Link Archer C7 AC1750 wireless router is easy. You can set up the router from the tether app of TP-Link, available for iOS and Android.
Since it is an older model and it is offered at a very affordable price, you do not get advanced features such as MU-MIMO and beamforming. However, if you do not have great connectivity needs or if you live in a small house, this wireless router is still an outstanding choice.
6. TP-Link OnHub AC1900 - The Best Hassle-Free Router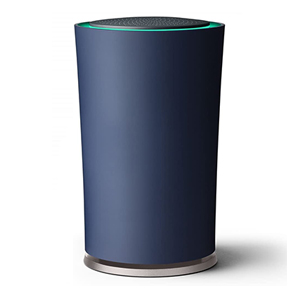 TP-Link teams up with Google to create the TP-Link OnHub AC1900 router. This is the reason why you need a Google account to set it up. With the help of Google's On the app, you get a simple and straightforward experience with this router. This makes the TP-Link OnHub AC1900 one of the simplest routers in the market that still offers good performance.
The Google On app does not only help you in the setup process. It also lets you manage the bandwidth of your internet, lets you prioritize specific devices, and you can even use it to deal with network issues. You can all do these things with the app even if you are not home.
The router looks good enough to have it on display. There is a ringed LED colored light on the top as an attractive way to let you see how your router is doing with just a glance.
The TP-Link OnHub AC1900 has 13 antennas, allowing a huge coverage area of 2500 sq. ft. and a speed of 1900 Mbps. The number of antennas means that dead zones in your home will be a thing of the past. It also means that you can connect over a hundred devices to your network at the same time with no problem.
Among the antennas, there are Zigbee and Bluetooth antennas that help give you more options when it comes to device management. You also get a unique guest network that lets your visitors get access to a shared Chromecast. This keeps your visitors from accessing your main network.
7. Netgear Orbi - The Best Mesh Networking Router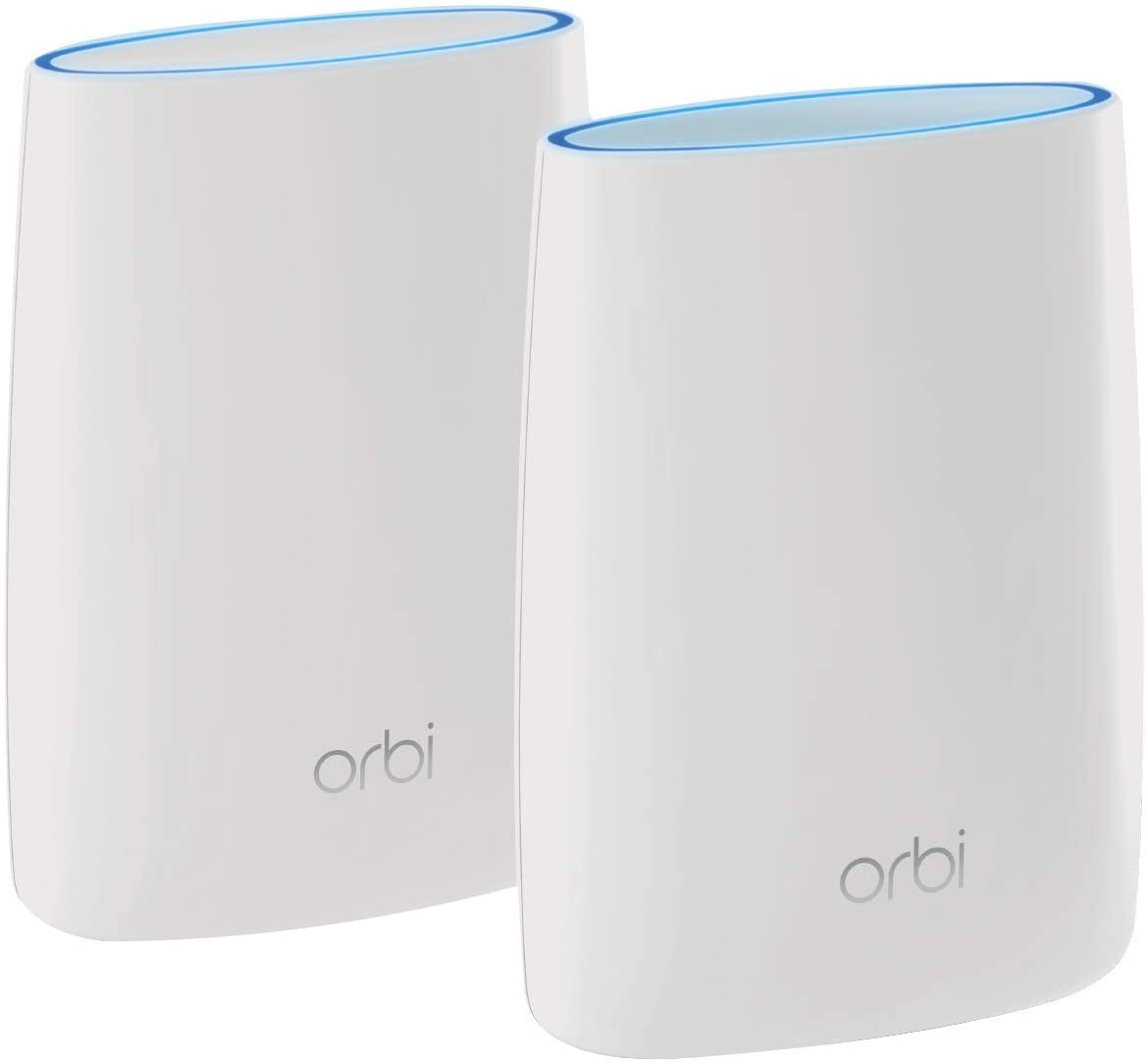 Mesh networking is a new technology where the mesh router can give you coverage for your entire office or home without having to get a second router. There is no need for Wi-Fi extenders when you have the Netgear Orbi router.
You have two Orbis connected, every 1.96 pounds, and the connection gets to give you enough signal range and strength to have Wi-Fi coverage in an area of 4,000 sq. ft.
This is a tri-band mesh router. When you connect to the 5 GHz frequency, you get speeds up to 866 Mbps and 1733 Mbps. If you connect to the 2.4 GHz frequency, you get up to 400 Mbps speed.
The Netgear Orbi comes with MU-MIMO and beamforming features so anyone connected to the router can have the best possible signal without affecting the network traffic of other users. Whether you are doing online shopping, playing online games, or streaming high-def movies, this tri-band router can give you the best and strongest signal.
Setup is very easy for this router. The Netgear Orbi is already preconfigured with an Internet service provider when you purchase the router.
8. Netgear Nighthawk X4S C7800 - The Best Router and Modem Combo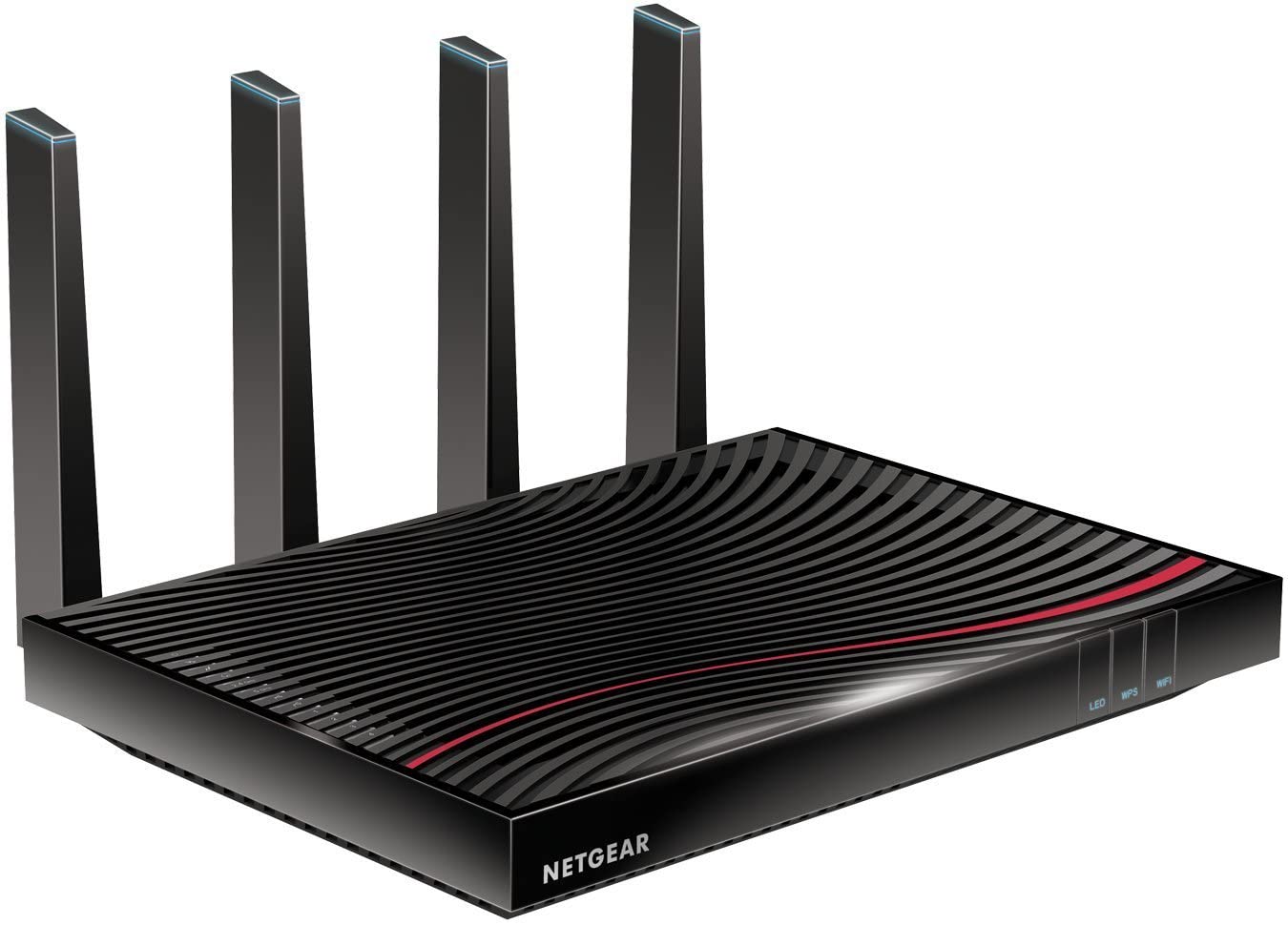 When you get your internet package from an Internet service provider, you usually are asked for a monthly fee to pay for the cable modem. You get to save more money with the Netgear Nighthawk X4S C7800 because it already acts as a cable modem and a router at the same time. The built-in modem is capable of speeds about 1 Gbps - fast enough to compete with fiber connectivity.
The Netgear Nighthawk X4S C7800 is one of the first routers in the market that has support for the newest DOCSIS 3.1. cable standards included. Add to that the reliable WI-Fi performance Netgear is well-known for and you get yourself a powerful modem and router in one.
The router is capable of delivering a speed of 2.4 Gbps if you use the 5 GHz frequency band and it can deliver a speed of 1 Gbps if you use the 2.4 GHz, frequency band.
Beamforming is another feature that makes this router very reliable. The router has four antennas that can cover a 3,000 sq. ft. area.
The router has four Gigabit Ethernet and two USB 3.0 ports in case you need to hardwire some devices to it. It also has FLNA support that lets you stream media from external memory drives straight to your game console or smart TV.
The setup is very easy. If you are an Xfinity customer, there is a web-self activation available - no need to replace your existing cable modem.
9. Asus GT-AC5300 - The Best Gaming Router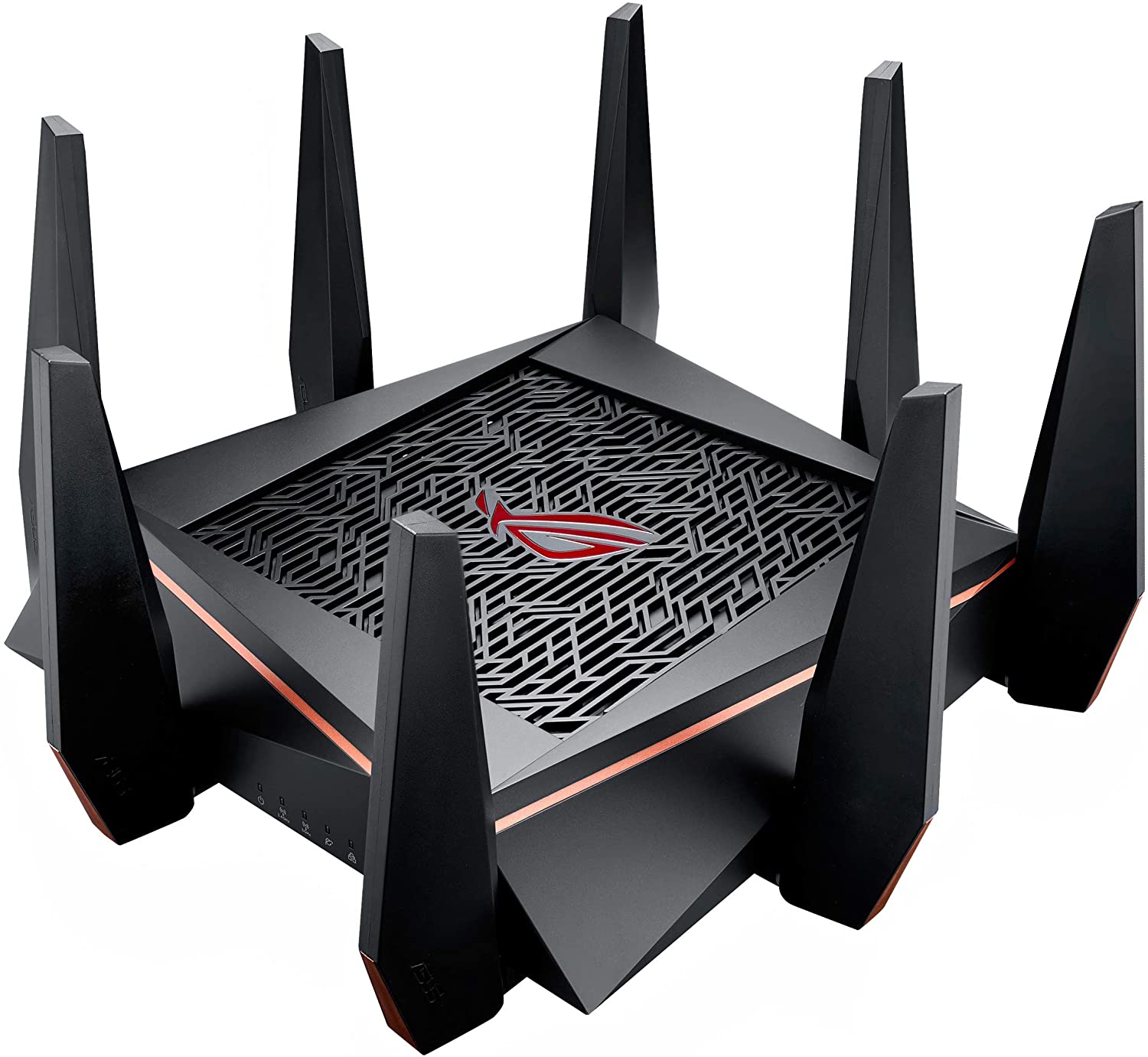 This is a tri-band router that offers two 5 GHz frequencies and one 2.4 GHz frequency and it comes with the latest 4x4 802.11ac technology available in the industry today. This combination makes your network run at a speed of 5334 Mbps. The router can provide connectivity for coverage of 5,000 sq. ft.
This router has four transmitting and receiving antennas which assures you that it can deliver both range and speed from your network. The AiRadar, Asus' beamforming technology, will direct signals even in spots that used to be dead spots in your home or office.
The Asus GT-AC5300 also has the MU-MIMO feature, which will allow you to choose specific devices to have priority over other devices. For gaming, in particular, the Asus router has the built-in Gamer's Private Network or GPN. This will ensure that there will be sable ping times while you are playing online multiplayer games.
Protection is also given with AiProtection via Trend Micro. This added layer of security helps identify and eliminate vulnerabilities in your network.
10. Portal Mesh Wi-Fi Router - The Most Aesthetic Router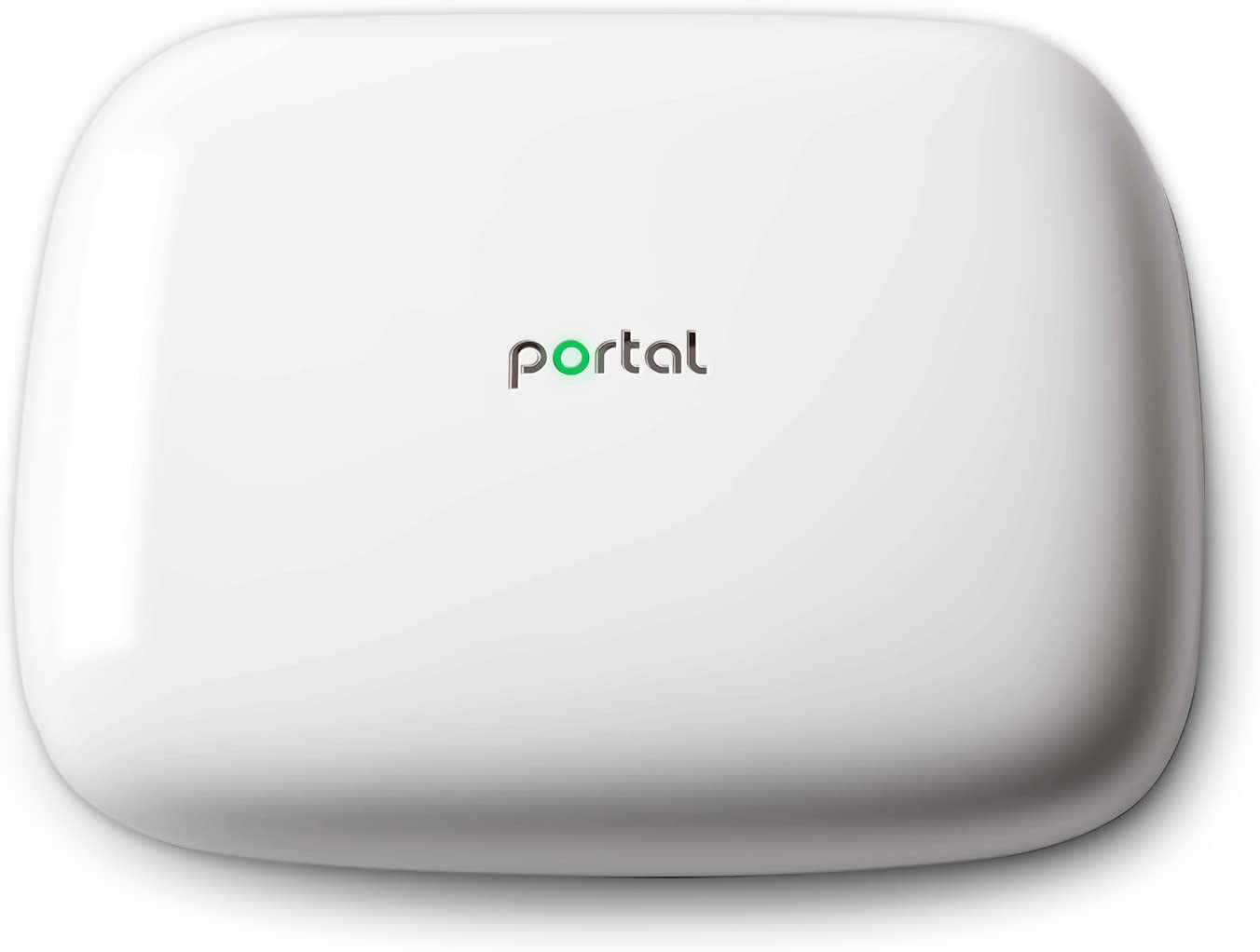 The design may not be a top priority when it comes to looking for an 802.11ac wireless router but when you see the Portal Wi-Fi router, you will fall in love with its unusual but elegant design. It looks like a sleek, smooth, flat-like pebble. You would not even think that it is a router at first glance.
Although there are no antennas visible, this does not mean that it will fail to deliver when it comes to speed. The Portal router has the FastLane's feature, wherein it utilizes exclusive fast channels. This way, you avoid congested Wi-Fi networks and signals when you go online. Another impressive feature is the Wave-2 4x4 MU-MIMO which makes it three times faster than most of the routers on this list.
The router has a 3,000 sq. ft. coverage. The Portal Mesh Wi-Fi Router is mesh-ready, meaning you can add another Portal router as a second router with no hassle. Doing so will create an unbreakable signal strength plus a wider coverage.
Setting up the Portal router is less complicated with the help of the iOS and Android compatible Portal app.
Things to Consider When Getting an 802.11ac
Wireless Router
Dual- or Tri-band
If you are a huge fan of Netflix, Hulu, and other streaming sites, you should get a dual- or tri-band router. These routers can create two or more networks (one 2.4 GHz and one or two 5 GHz) at the same time. This means you do not have to deal with slowdown or traffic congestion. You get to stream smoothly without any lags.
Mesh or Standalone
The decision between choices will largely depend on how much coverage you need. A standalone router can give good coverage for a small house. But if you live in a huge house, you will be better off with mesh networking routers to avoid dead spots. The mesh network will place wireless relay points all over your house so you get a better signal.
Ethernet Ports
Although the number one feature of 802.11ac routers is the fact that they are fast and wireless, having Ethernet ports is still a plus point especially if you need to hardwire some devices like gaming consoles or your personal computer.
It is best to get a router that has at least four Ethernet ports. If you end up needing more ports, you can purchase an Ethernet switch but this will be an additional cost. It is best to get a router that has enough ports so you just make one purchase.
Now that you have the list of the top wireless Wi-Fi routers in the market today, you surely will end up with the best wireless router for your needs.
Related:
Reviews
Wireless Router