The Best DD-WRT Routers of 2020.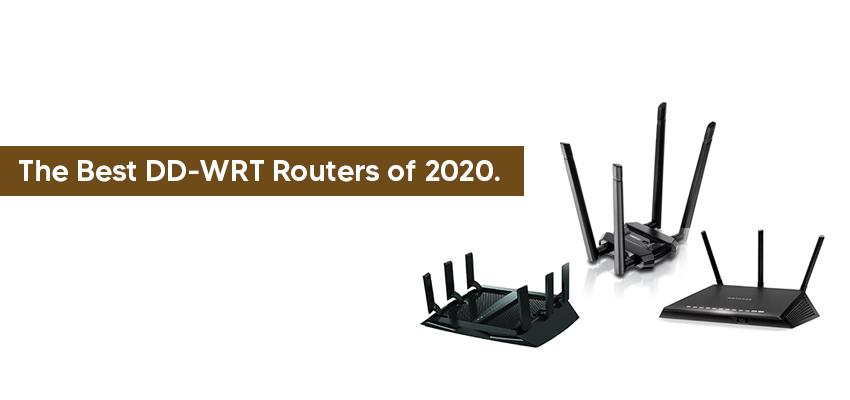 The Best DD-WRT Routers of 2020.
Posted May 21, 2020, 12:32 p.m. by
Emil S.
With the mind-numbing array of options available out there, we've rounded up the best DD-WRT routers in 2020 that will make it simpler to find the best that suits your needs. These are handpicked from relevant categories that we hope will help make things a little bit easier for you.
Best Overall Pick: Asus ROG Rapture GT-AC5300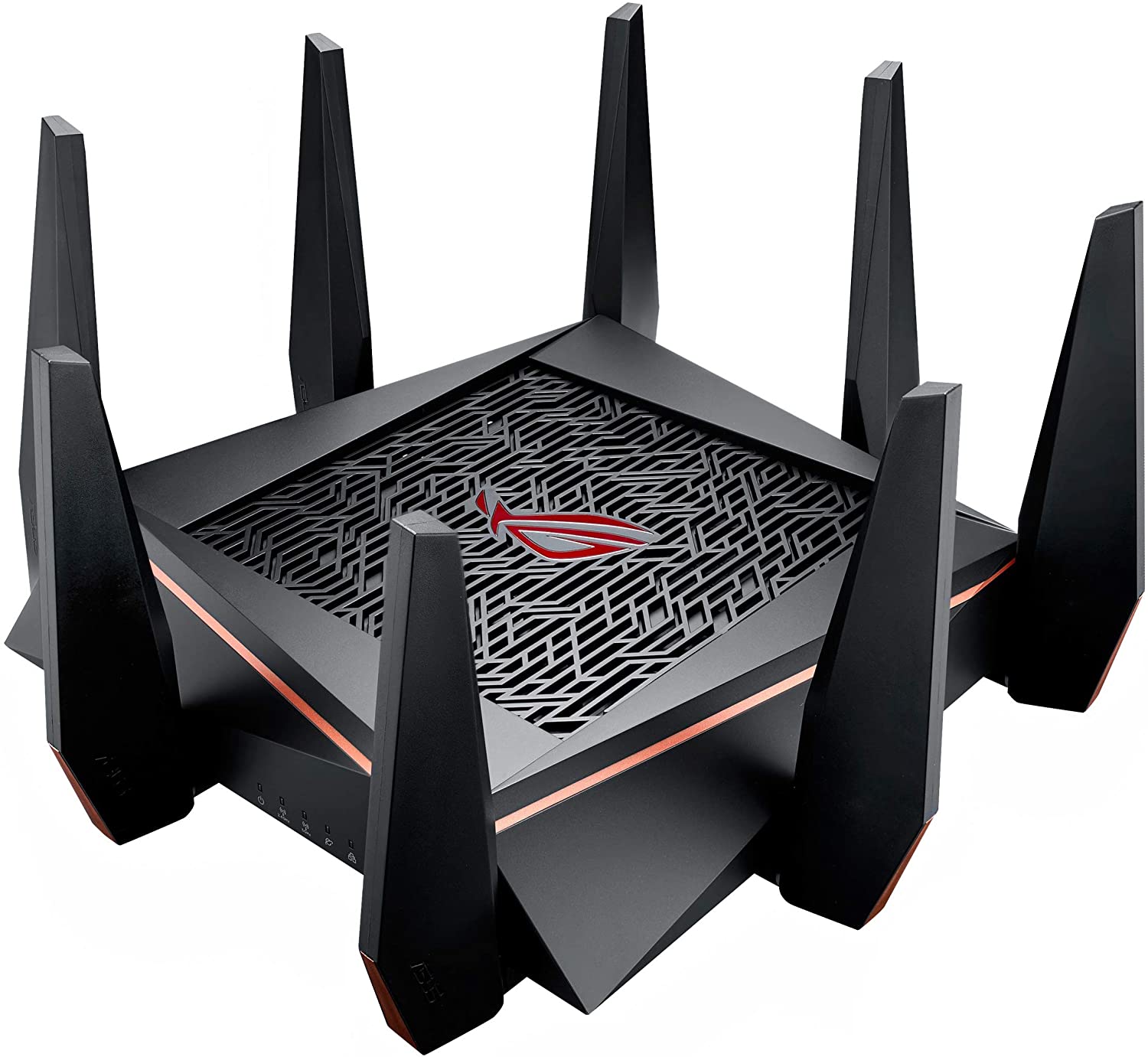 The first thing you'll notice about the Asus AC5300 are the numerous antennas – eight in total – around it. Those aren't just for show but designed to get the best signal quality with up to four devices, including your PC and game console.
It has tri-band support that can reach a throughput as high as 5.33Gbps, and it can cover large homes up to 5,000 sq ft. If that's somehow not enough, you can connect more Asus routers to it and cover a wider area with its AiMesh feature.
However, this doesn't come cheap. With its ROG branding, Asus designed the AC5300 with serious gamers in mind. It includes access to WTFast Gamers Private Network optimized for online gaming traffic. The second 5Ghz bandwidth is dedicated not only to gaming but can handle VR and fast 4K content streaming as well.
It also has an MU-MIMO or Multiple User-Multiple Input, Multiple Output feature that can provide enough bandwidth for up to 4 devices working simultaneously, even older ones, ensuring the optimal speed without bottlenecking your entire network.
For added security, Asus partnered with Trend Micro. They came up with AiProtection that searches for vulnerable spots in your network and keeps hackers from accessing your data.
Best for Mobile Apps: Linksys WRT AC3200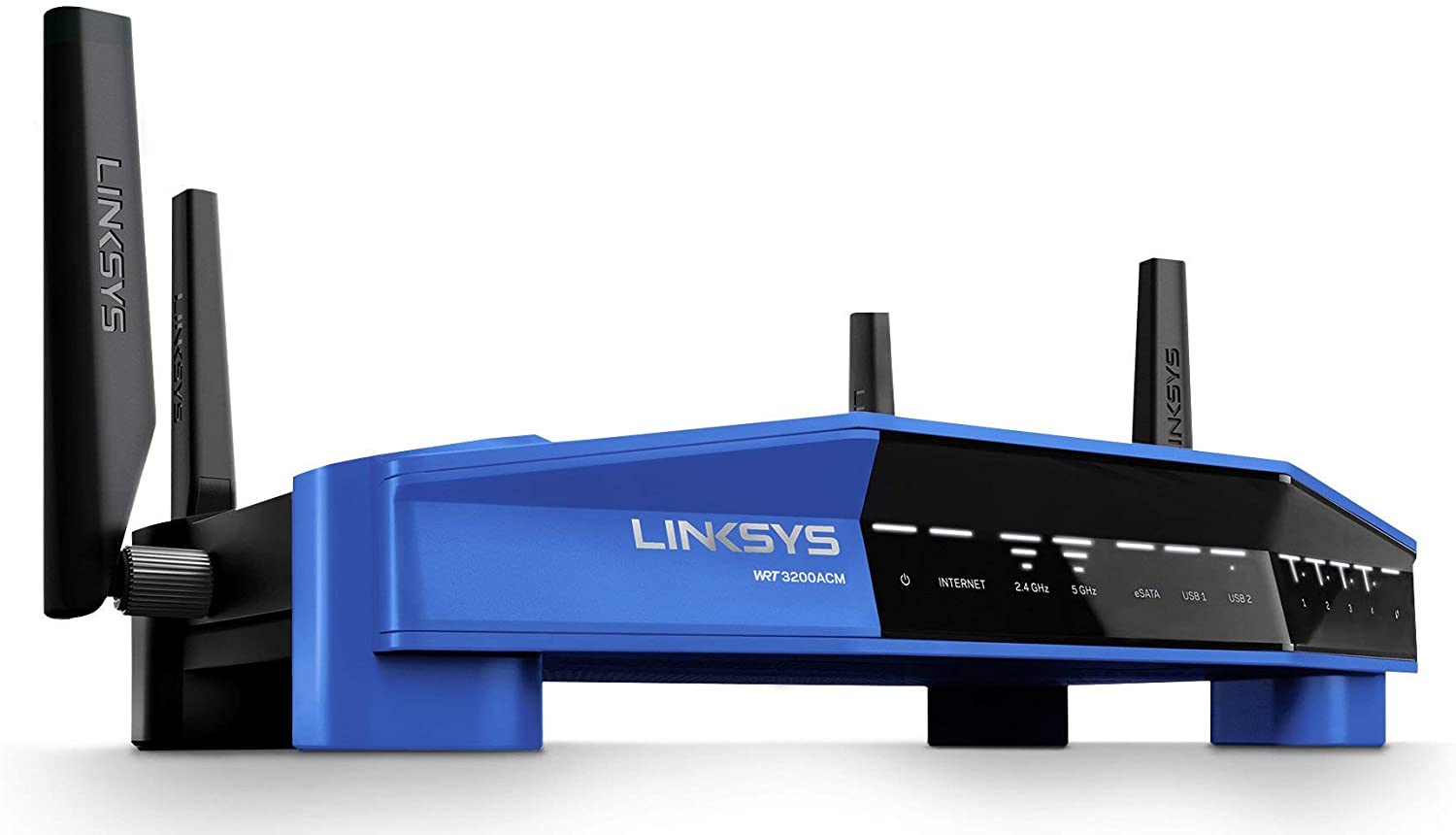 The biggest draw of the WRT AC3200 is its ability to send signals through DFS or Dynamic Frequency Selection channels that are not as congested by traffic from other wireless devices. It results in a much smoother communication between your device and the router that doesn't lag or have connectivity issues.
This advantage becomes more evident when you're using your favorite mobile apps. The support for MU-MIMO allows you to prioritize devices, to ensure trouble-free connections for even older and slower ones, without throttling the newer devices in the network.
For more connectivity, it has various ports such as eSATA, LAN, and USB. This gives you more options to hardwire other devices and to access external storage with ease. It also comes with firmware that lets you test your network speeds, connectivity, and security, among others.
Aside from this, you have a phone app that enables you to monitor who's logged on to your network and allows you to free up some bandwidth if it becomes too clogged up.
Best for Streaming Video: D-Link AC3150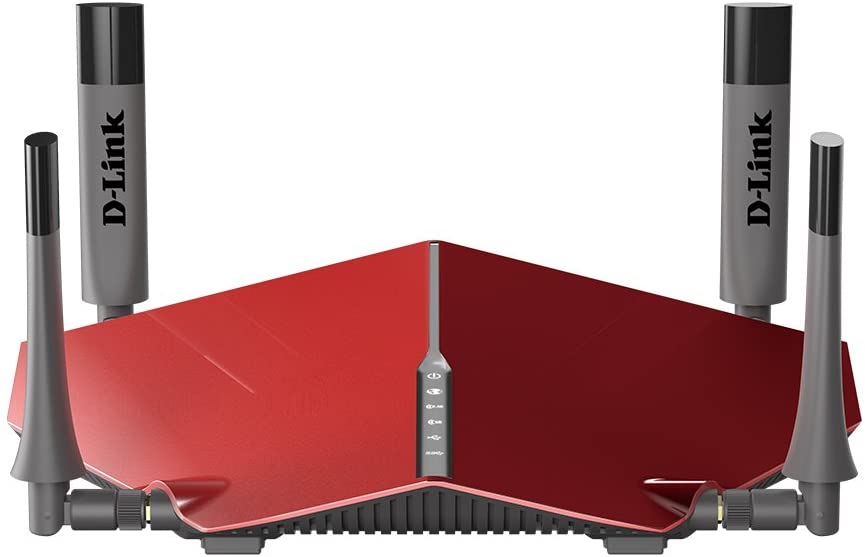 The AC3150 is an excellent gaming router from D-Link that looks the part. Its impressive MU-MIMO implementation allows ample bandwidth for several devices being used simultaneously, even for complex games and viewing 4K media. It's all made possible by its highly optimized 4x4 data streams that are capable of serving even the most demanding household needs.
The AC3150 also offers generous I/O port options and extensive open-source firmware support if you're inclined to do some tinkering. It has a web-based network management console that is accessible through D-Link's QRS smartphone app. It shows the network map clearly along with vital info, such as user IP addresses, type of connections, and provides connection uptime monitoring.
A 1.4GHz dual-processor along with its proprietary 1024-NitroQAM tech gives this 4-stream dual-band router more than a 25% performance boost in both its 2.4GHz and 5GHz bands. It also lets you pick the most optimal band your device can use with the help of its Smart Connect feature. It will prioritize faster devices with larger bandwidth and only allocates enough for slower ones too keep everything running smoothly.
That's why If your household is heavy on 4K streaming, this is still a terrific choice even if it's a bit more on the expensive side among mid-range routers.
Best Backup Support: Netgear Nighthawk X4S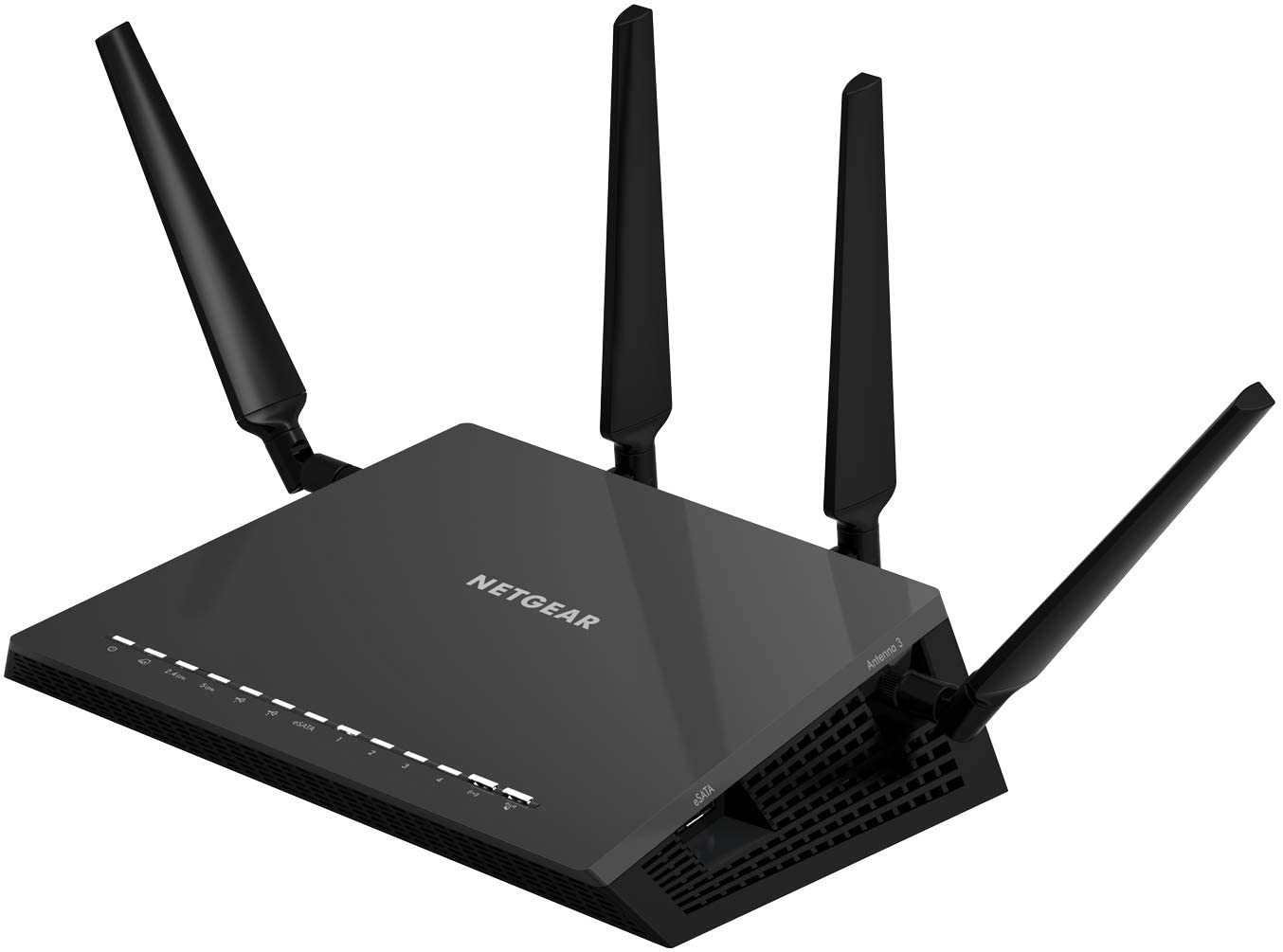 The Nighthawk X4S is one of the top-of-the-line routers from Netgear. It has a 1.7GHz dual-core processor that has no problems latching onto 802.11ac networks and reaching up to 2.5-5Gbps speeds.
Netgear had more than a mere router in mind when they gave the X4S the capability to connect to a host of storage devices and printers with its eSATA and two USB 3.0 ports. With its ReadShare Vault app, you can take advantage of these storage devices to backup all your data automatically. While data transfer may be wanting, it's MU-MIMO 4x4 data streaming per band is solid and maximizes throughput speeds with hardly any compromises in bandwidth.
Admittedly, its dual-band will be slower than more expensive tri-band routers. Still, it makes up for this with its fast processor and Dynamic QoS (Quality of Service) feature that prioritizes bandwidth allocation very efficiently.
This ensures that even the most speed demanding applications like movie streaming channels and games will all run without a hitch and won't ruin your experience.
The X4S is packed with security features and even allows parents to filter internet websites. It's a smart router and has a user-friendly Netgear-Genie console that walks you through multiple options and makes managing your network connection a breeze.
Best for Network Extension: Netgear R6700 Nighthawk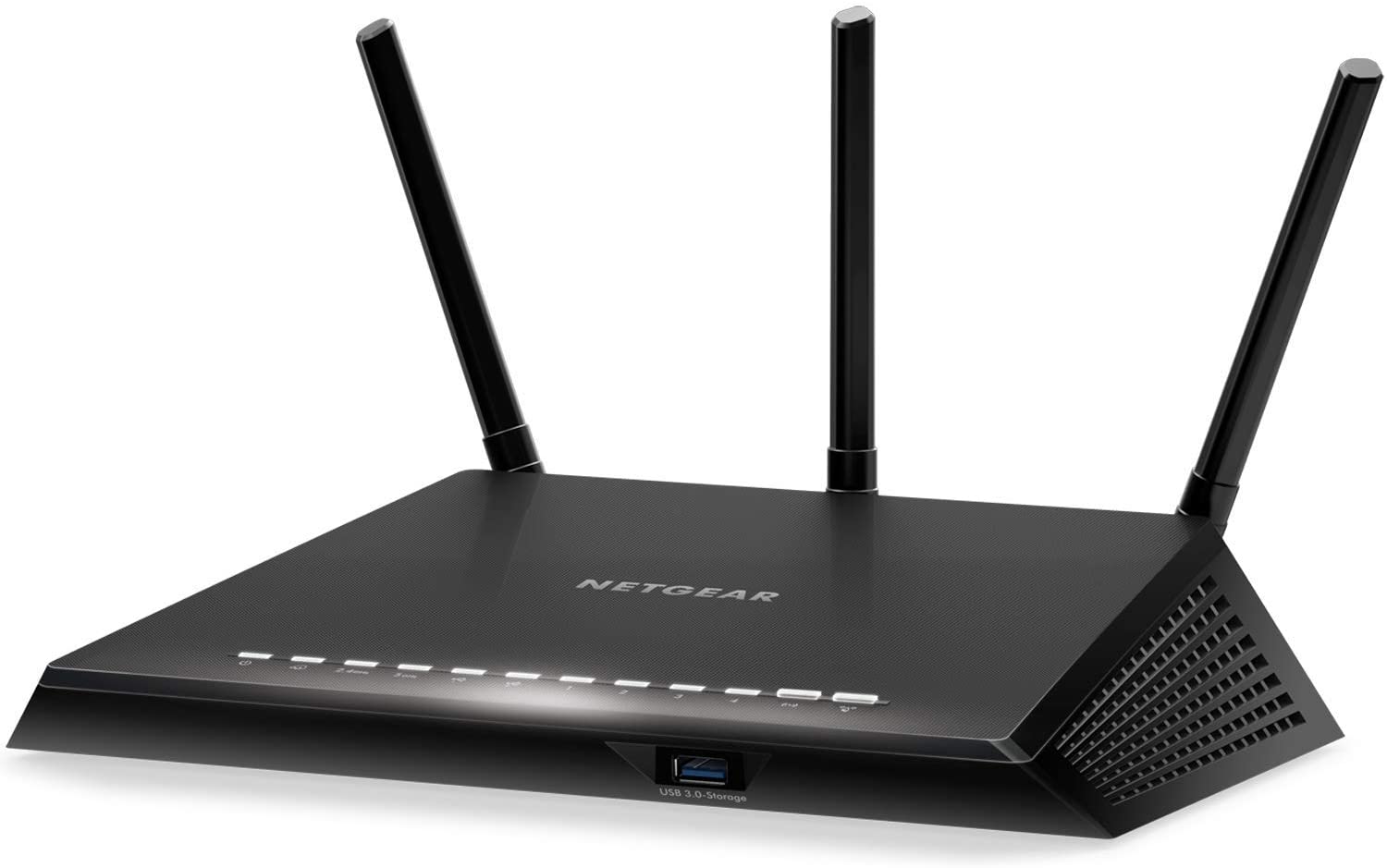 The R6700 has a familiar look shared by models from the Netgear's Nighthawk line, although not as expensive as the others. This particular one is a mid-range option that allows easy installation of DD-WRT firmware. Its 1GHz dual-core processor is middling but does an admirable job of maintaining fast performance with either wired or wireless connection.
Netgear designed this as an affordable solution for households that have up to a dozen or more Wi-Fi devices. It has powerful amplifiers and three adjustable and removable external antennas with Beamforming+ that boosts the signal significantly. Coverage extends to the entire home with minimal dead spots.
This dual-band router can deliver speeds up to 1.3GBps on its 5GHz band and up to 450MBps, and can handle 4K streaming without hiccups. Online gaming performance is also impressive, delivering lag-free gameplay. All of this is made possible with its Dynamic QoS that does a stellar job of optimizing the router's bandwidth potential even during heavy loads.
Network-Allocated Storage or NAS, as well as file transfer performance with USB 3.0, are also commendable when transferring data in both NTFS and FAT32 formats. It also has the Genie app shared with other Netgear models. The app allows users total control, monitoring, and troubleshooting of their network without booting up their PC.
Best Green Router: TRENDnet AC1900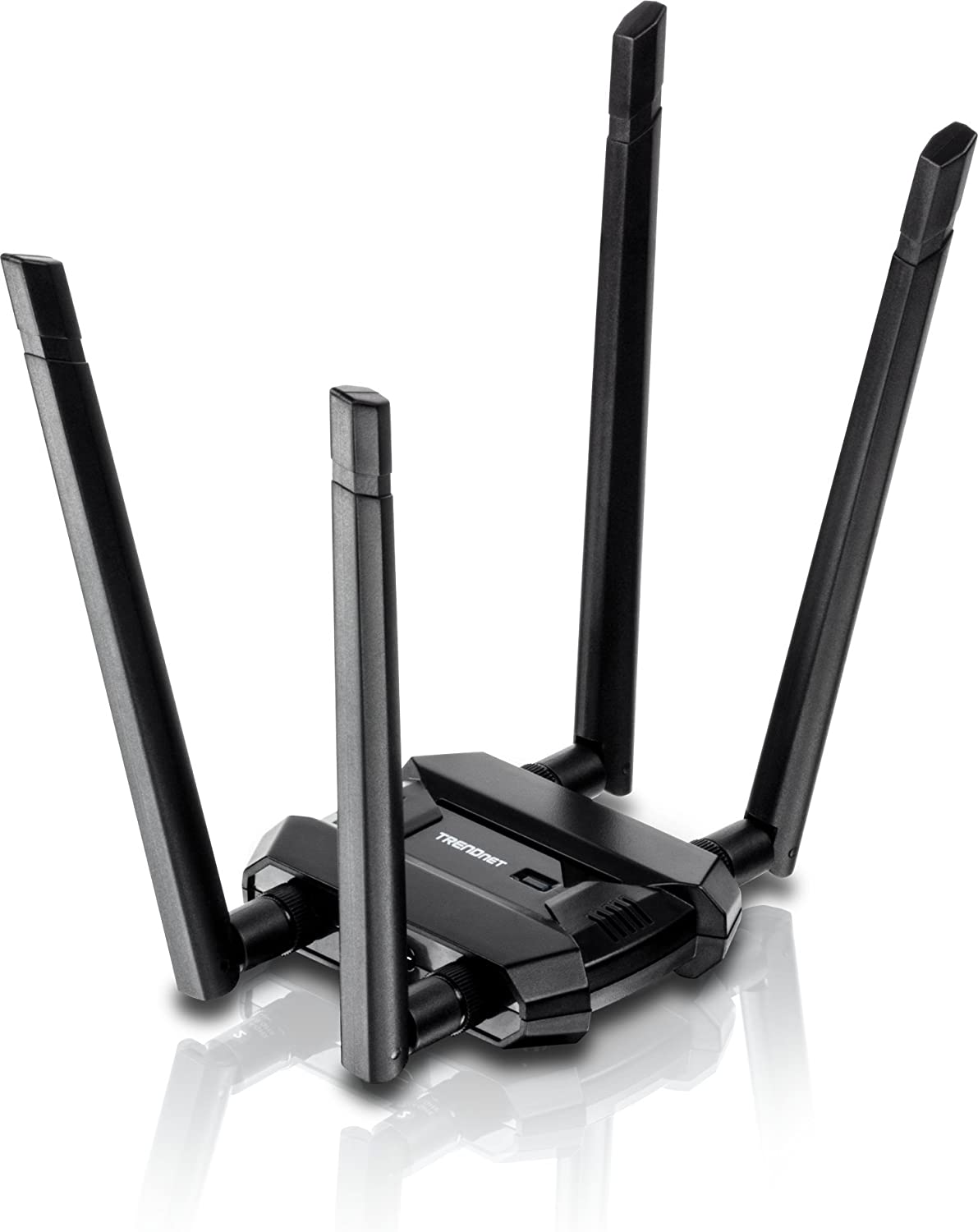 What's noticeable with the AC1900 is the lack of hideous antennas rising out from its case, like what you see in tri-band routers. It has a minimalist brick design that won't make it an eyesore inside your home.
With that said, you can't expect blazing speeds offered by more premium products. It can reach up to 1.3Gbps in 803.11ac networks and about 600Mbps in 803.11n. For external storage, it both USB 3.0 and 2.0 ports. Its four Gigabit Ethernet ports should provide ample speed for any use.
Despite that, it still offers above-average mid-range performance. The AC1900 is a very affordable dual-band AC router that boasts of a 50% reduction in energy consumption over previous models. It's capable of Targeted Beamforming that boosts the signal and improves the performance of a specific location for even more efficient use of power.
It allows you to put up an isolated guest network as well as a secure one to protect your sensitive data from any intrusion. This router can handle up to 8 Wi-Fi networks simultaneously, and data transfer is pre-encrypted for added security. There are also parental controls to prevent unwanted sites from appearing in any device connected to the network.
It sports both USB 2.0 and 3.0 for storage devices as well as printing support. There are also 4 Gigabit Ethernet LAN ports to hardwire your devices. All of this, combined with its robust dual-band Wi-Fi performance, will provide a dependable network in your home.
Best Smart Features: Netgear Nighthawk X6 AC3000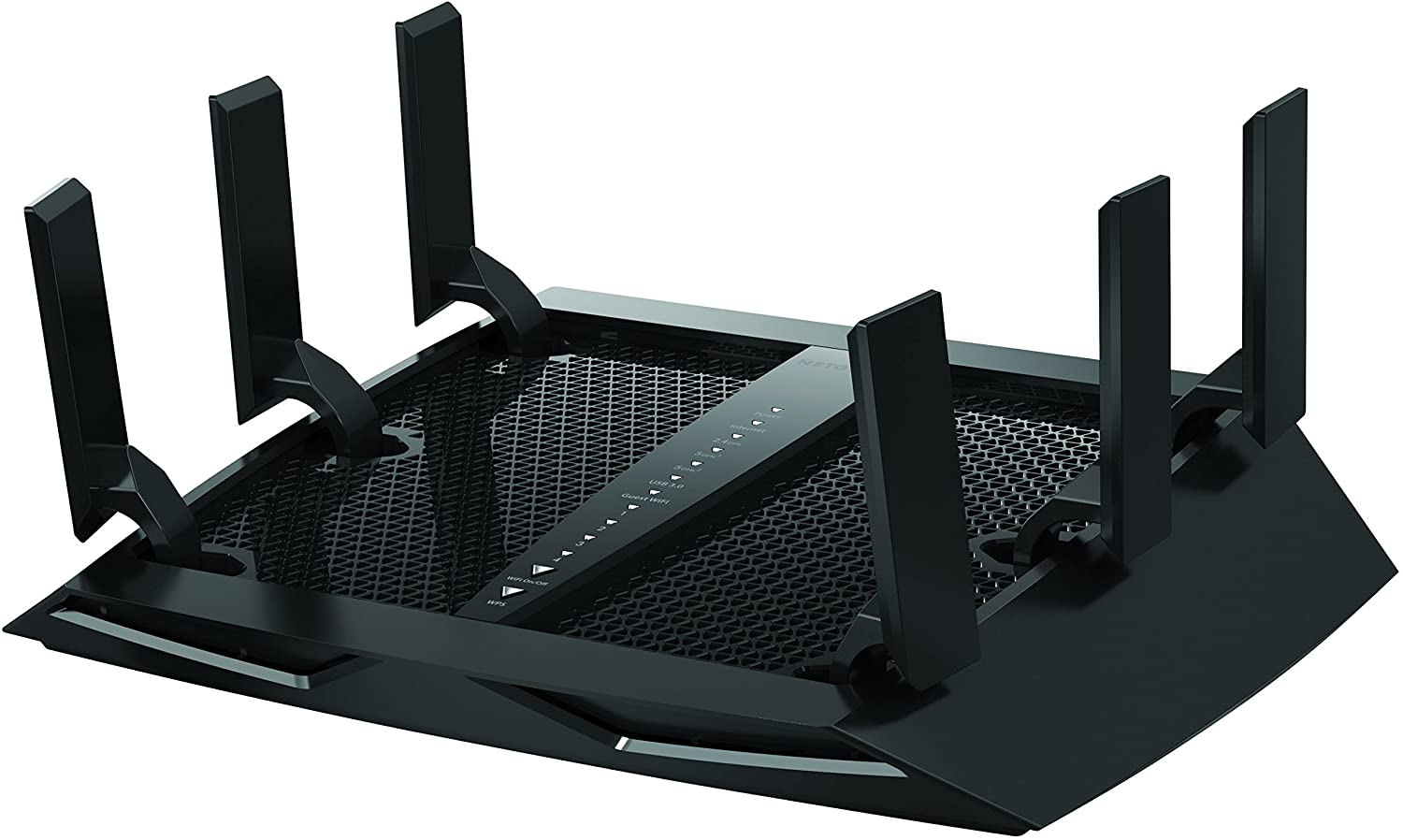 The X6 AC3000 is a tri-band router that has all bells and whistles you'd come to expect from a premium product of its type. It has the fastest dual-core processor we've tested on this list at 1.8GHz. With its ability to send signals on a 2.4GHz band and two 5GHz bands, this router offers superior performance over any dual-band model in the market.
Its smart features are what separates it from other tri-bands. Most notable is its smart, Dynamic QoS that works in conjunction with a processor able to deliver up to 3.0Gbps Wi-Fi speeds. It takes bandwidth prioritization to a whole new level by ensuring that all devices connected are allocated with optimal bandwidth to match their capabilities. Bandwidth won't be wasted on slower devices so that newer and faster ones won't end up throttling.
A dedicated amplifier for each of the six antennas boosts signal strength. You can also monitor and manage your internet access easily from any smart mobile device. What you get is an advanced all-around performer that's easy to set up and can provide uninterrupted streaming and lag-free gaming.
Best Budget Router: GL.iNet GL-MT300N-V2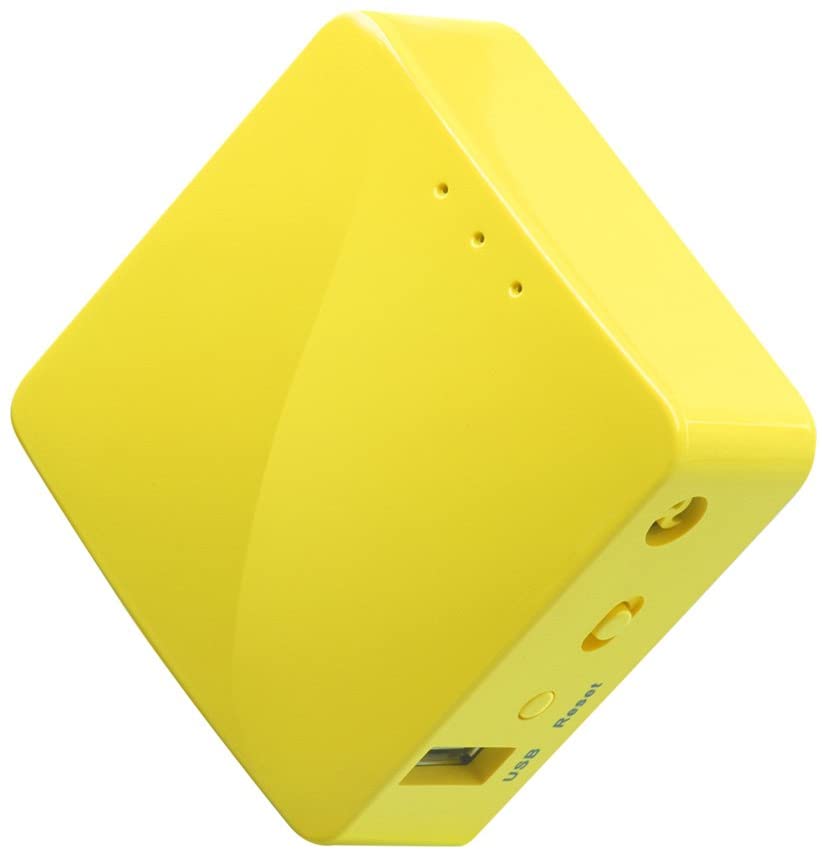 For those on a tight budget, look no further than the GL-MT300N from GL.iNet. Don't let its small size and bright mango color fool you. This portable, smart mini router is worth a serious look. You will be surprised at what GL.iNet has managed to fit into this capable pocket-sized product that's no bigger than a bar of soap.
It has 128MB RAM, 16MB flash ROM, and can deliver up to 300Mbps in a single 2.4GHz band only. There are also micro USB and dual Ethernet ports that allow for better extendability.
It also comes preinstalled with both programmable OpenWrt as well as client OpenVPN offering a good amount of flexibility and customizability. There's even an app provided that makes it easier to tinker with the OpenWrt. If you're a more advanced user and have no need for such a convenience, it can be flashed with native code.
Sure, it's not the fastest solution that gives you the strongest Wi-Fi range, but clearly, it wasn't meant for that. Its design is for portability and to let you set up and customize a network on the spot. That, coupled with its very affordable price, is a hard combination to beat.
Final Thoughts
Keep in mind that a lot of routers offer just DD-WRT compatibility and that you would have to take care of installing it yourself. If this is your first time to use this more advanced tech, buying one preinstalled with DD-WRT will save you a lot of headaches later on.
While data security is one of the most indispensable considerations in a router purchase, that usually comes with some compromise in performance. That's doesn't have to be the case, especially with the selection we've made here.
These routers will do an excellent job of keeping your data safe without sacrificing file transfer speeds and let you enjoy the benefits of both worlds.
You also have to make sure that the router will have enough ports for your most used Ethernet devices. Lastly, a single-band router won't cut it for even the barest wireless requirements these days. For some extra cash, you're better off buying a dual-band or even an MU-MIMO router.
Related:
Router
Reviews
DD-WRT