10 Best Gaming Routers of 2020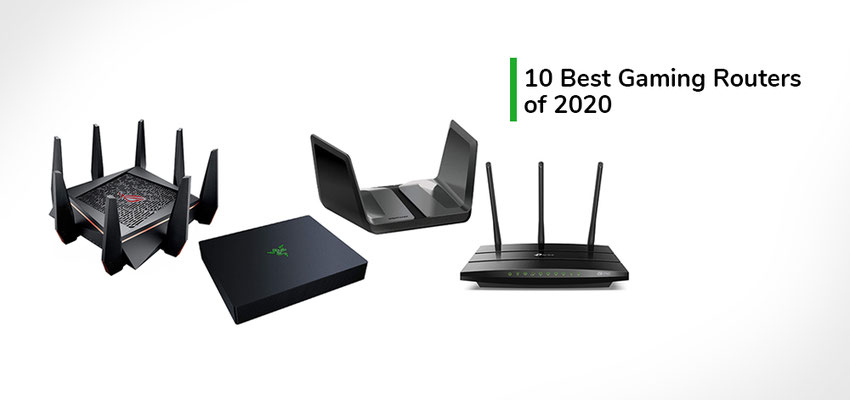 10 Best Gaming Routers of 2020
Posted April 29, 2020, 9:12 a.m. by
Emil S.
If you're a gamer, you know that unsurpassed internet speed, dependable connectivity, and zero instance of lagging, are the things that matter the most. This requirement is due to the nature of games played today, which requires an optimal gaming experience. You wouldn't want to miss critical shots in your big game just because your router has latency-related delays—every second count.
Maybe your regular router can perform at gigabit speeds, but gaming routers are of a different level. They are made explicitly for high-powered performance and can beat your ordinary router in so many aspects. Some gamers still equate the best speeds with wired connections, but you have to open your mind to Wi-Fi routers today because they may just surprise you with some of their advanced features.
What are the Features to Look For?
Dual-band/Tri-band
For gaming, a dual-band router will do, but if your gaming console or computer can support 5GHz Wi-Fi, you can level up to tri-band and set up an SSID. This way, you devote a single band to your gaming and not be bothered by somebody streaming 4k videos in your household. QoS can only help you if your traffic gets to your router.
Wi-Fi or Ethernet
Make sure that your router has enough Ethernet ports to support your gaming console and computer cables. Though a wired connection is still superior over Wi-Fi, as far as gaming is concerned, there are Wi-Fi routers, which are 802.11ac. This one is the right choice if you pair it up with a tri-band router, but if you can shell out money for an 802.11ax router, then it's all good.
Quality of Service
Choose a router that has a QoS configured to prioritize gaming. This feature is to ensure that when you fire a shot in your game, it will take precedence over somebody in your network who's watching a movie on Netflix. With this in mind, here are some of the best gaming routers available in the market today.
1. Best Budget Router: TP-Link Archer A7 AC1750
Wi-Fi Router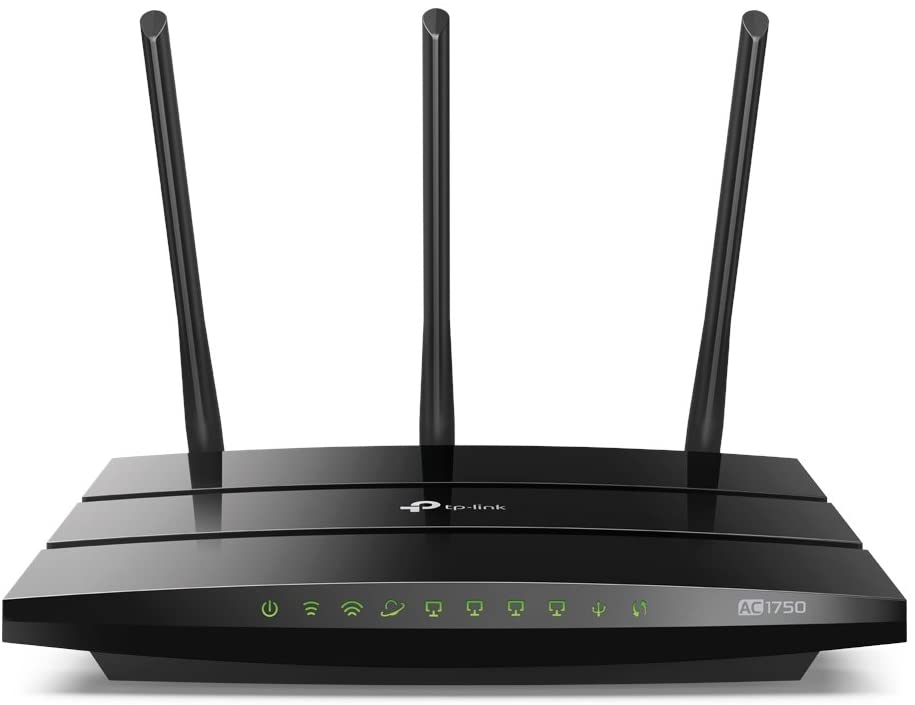 TP-Link Archer A7 AC1750 is a dual-band Wi-Fi router that has 1.3Gbps for 5GHz and 450Mbps speed for 2.4GHz, so it's ideal for high-speed streaming. It has a USB-C port for added connectivity, four inputs for LAN, and three large antennas for a vast range and a dependable signal. It features an intuitive Tether app so you can operate the device conveniently with various control options. It's also compatible with Alexa by Amazon, brags of some reliability awards, and comes with a two-year warranty.
The upside to this router is that it is very affordable, it has an uncomplicated design and a good range. The downside is that it is merely a dual-band router.
2. Best Mesh: Portal Wi-Fi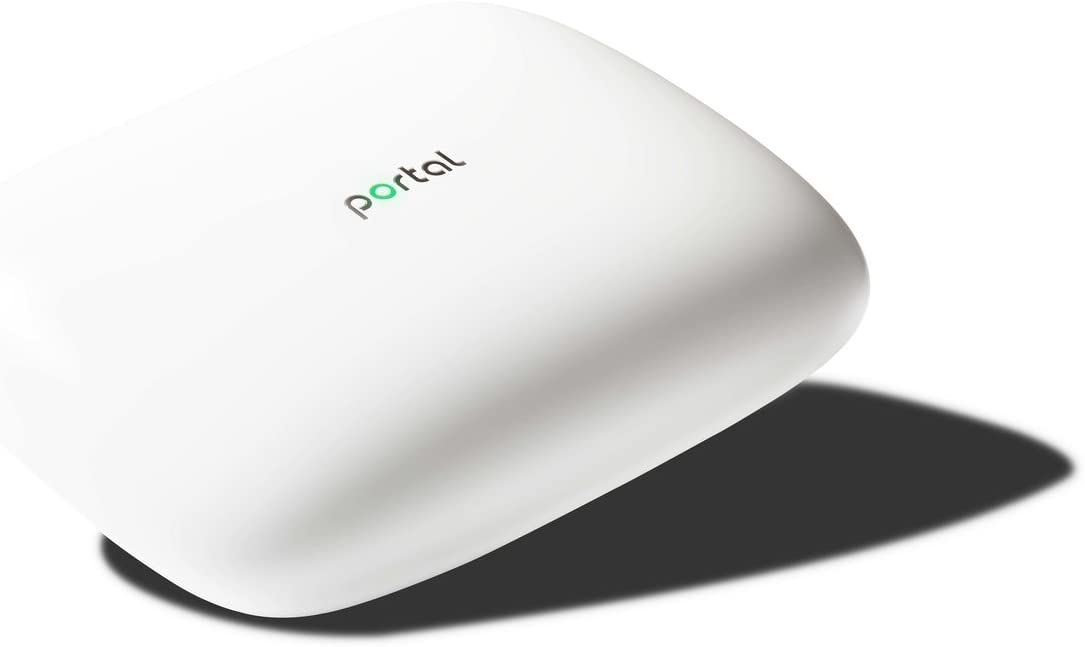 Portal Wi-Fi is a good option if you want a full-mesh network coverage for your home and low latency for hardcore gaming. Ignition Design Labs, the maker of Portal, tied up with Razer, the gaming company, to ensure that they explicitly make this router for a superior gaming experience. It has SmartLanes and Fastlane's technologies that help to avoid congestion and interference as well as a QoS that prioritizes gaming traffic.
This router has nine built-in antennas with MU-MIMO technology and beamforming to give steady AC2400 speeds in its 5GHz and 2.4GHz bands, perfect for a 6,000 square foot home. Also, it has four ports of Gigabit Ethernet on its satellite and base units to wire directly to your computer or gaming console if you so choose.
What you will like about this router is that it has a beautiful design, a mesh solution that will not cost you so much money, and that it is optimized for gamers. However, it has a bad quality signal handoff and a large footprint.
3. Best Speed: Netgear Nighthawk X10 AD7200
Smart Wi-Fi Router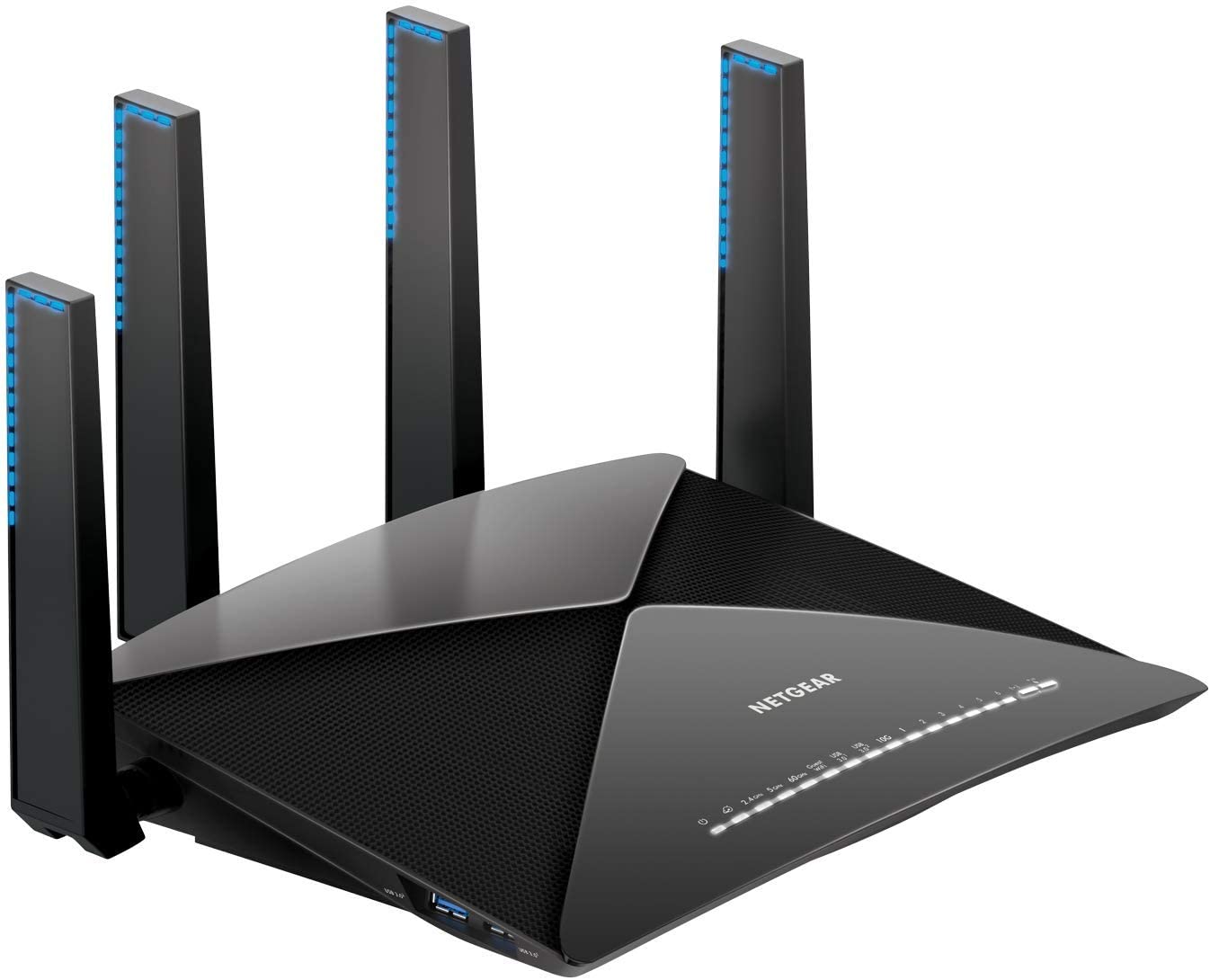 This router is the fastest one in the market, especially if you have the hardware to support it. It has both a 60GHz 802.11ad and 802.11ac, with a total speed of 7.2Gbps, excellent for fast download, 4k streaming, and the best option for gaming.
The Nighthawk X10 has a quad-core 1.7GHz processor to give you bandwidth speeds for your gaming, either through its wireless capabilities or its six LAN ports of Gigabit Ethernet if you opt for wired connections. Even if you stream several videos, it gives you reliable links with its MU-MIMO, and its channels of 160MHz give you Wi-Fi speeds on uncongested ranges. This router can provide you with a direct 10-gigabit fiber connection if your ISP can provide the required rate, though this is meant for a NAS device.
Lastly, this router comes with a unique feature, a built-in Plex media server to help you manage your media using your router and then stream the content to your set-top box or mobile devices.
To summarize, the upside to this router is that it has six LAN ports of Gigabit Ethernet, a built-in server for Plex Media, and 10 Gbps SFP+ port for NAS connections and Fibre. The downside is the need for 802.11ad for client devices to reach maximum speeds.
4. Best Open Source: Linksys WRT32X AC3200 Dual-Band Gaming Router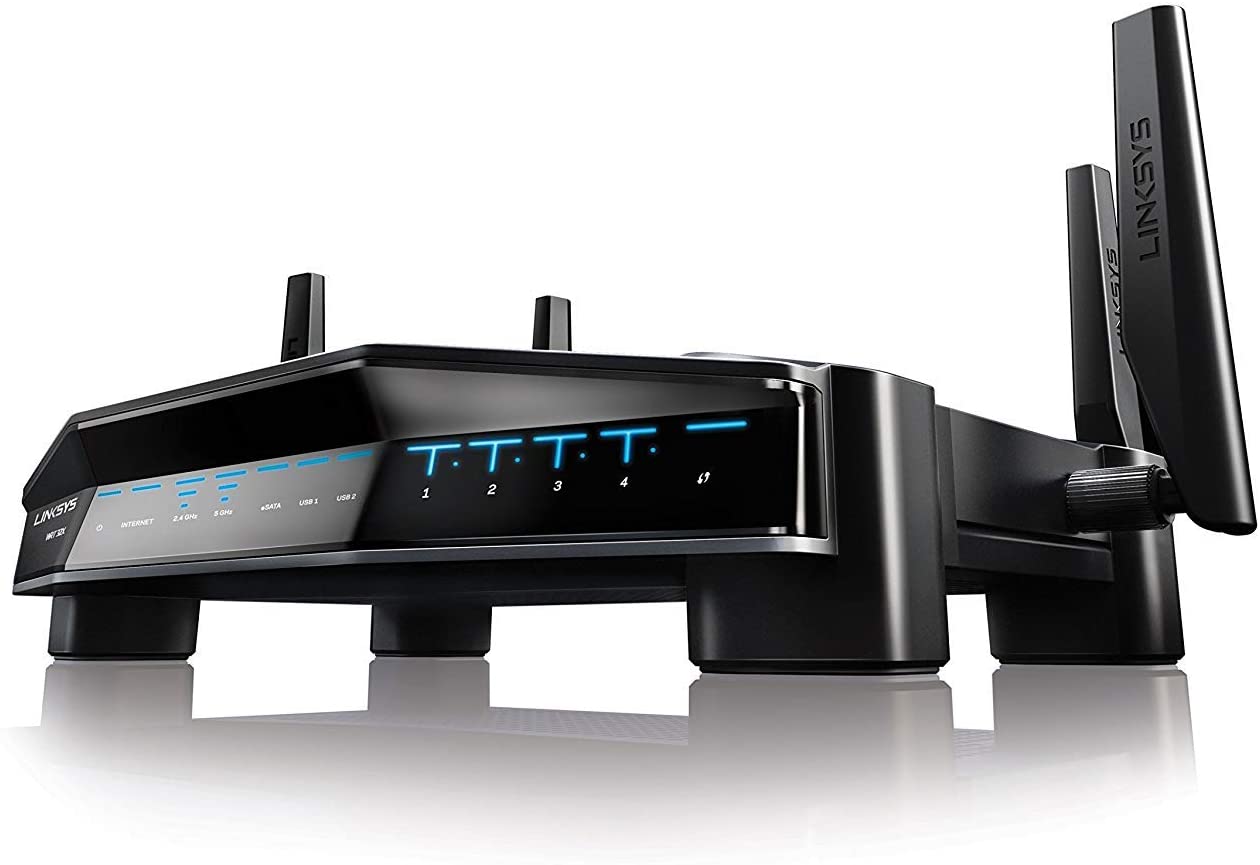 Linksys made this router specifically for gaming by configuring its previous WRT3200 ACM version. It brandishes the same excellent performance and open-source features but adding particular capabilities for serious gamers. The Killer Prioritization Engine is targeted for users with Killer PC hardware.
Consequently, if you own a hardcore gaming computer such as Razer, MSI, or Alienware, it will work to your advantage by the Killer network cards provided for by these brands, and that works perfectly with WRT32X. This combination will instinctively give priority to your gaming traffic and reduce your ping times to 77%. You also have a Killer Control Center on your computer from which you can control all these.
If you don't own a Killer PC, this router will still work for you because of its DD-WRT and Open WRT firmware packages. This feature is completely customizable so you can connect your packages depending on your gaming requirements. It has MU-MIMO support, beamforming antennas, a 1.8GHz CPU, tri-band AC3200 Wi-Fi, and a Dynamic Frequency Selection (DFS) Tri-Stream so that you can be on the channel with least congestion in your general area.
What you will appreciate about this router is that it has a gamer-centric interface, a design to achieve low latency, and a Killer Prioritization Engine. However, it seriously lacks options to customize, such as putting in parental controls into your system. It will also require you to purchase specific hardware for your gaming computer to take advantage of its many features completely.
5. Best Value: Netgear Nighthawk XR500 Pro Gaming AC2600 Wi-Fi Router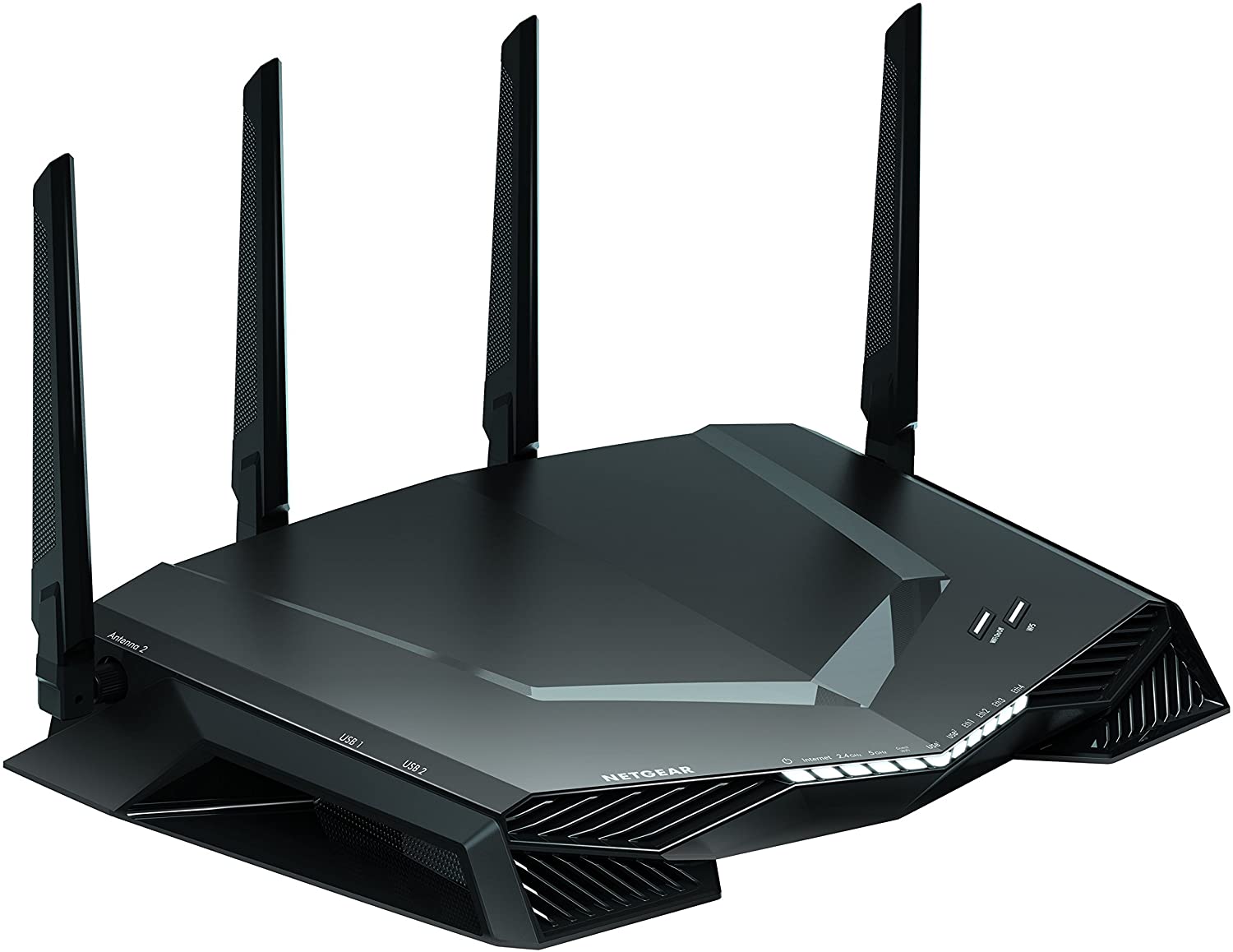 This router offers excellent value for money because it has a 1.7GHz dual-core processor that will allow you to stream 4k content, options for VPN, a dashboard which you can customize for managing connections, and an allocated bandwidth to give priority to your gaming, among others.
The Nighthawk XR500 will give you 2.6Gbps wireless speeds that it can distribute to every device connected to it to limit any lagging. It also includes a geo-filter that ensures you get the best connection type among all that you have set, to avoid possible stalling. Also, it has a dashboard that shows you an overview of your controls: the bandwidth used by all the devices connected to your router, your connectivity, and you can also manage your secured connections through your WPA/WPA2 and VPN clients.
The upside to this router is that it is quick to install, has an excellent performance at 2.4GHz, and has customizable options for your ultimate gaming experience. The downside to it is that it is entirely on the high end in terms of pricing for the specific features it offers, and its long-range performance needs a bit of improvement.
6. Best Tri-band: Netgear Nighthawk X6 AC3200
Wi-Fi Router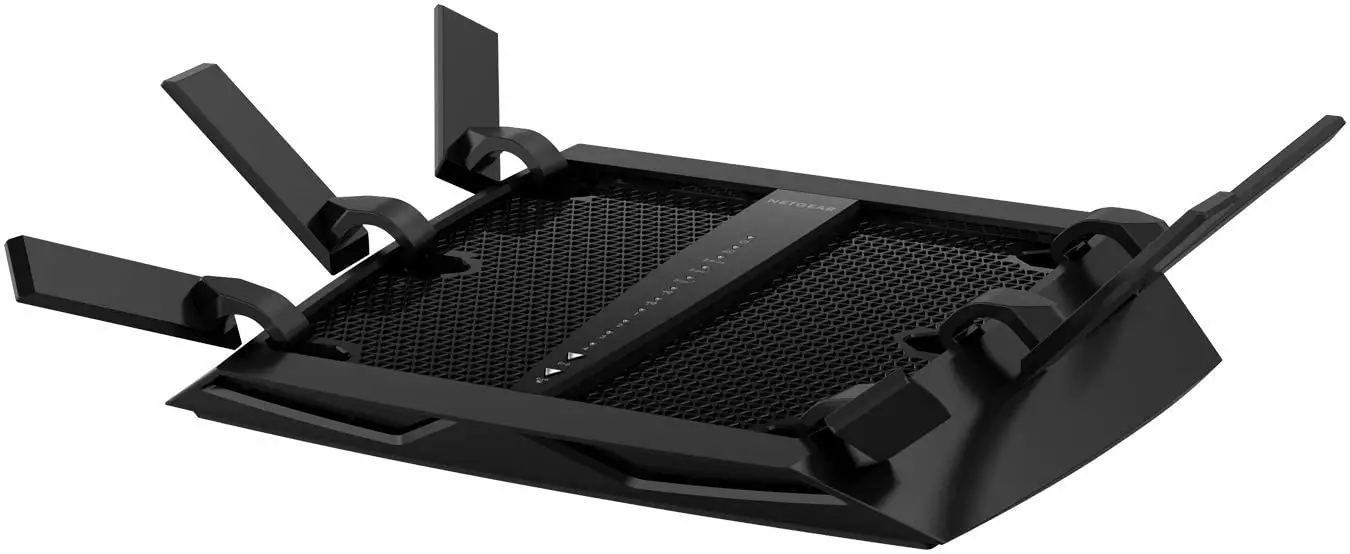 The Nighthawk X6 not only features top quality bandwidths like the rest of the Netgear Nighthawk series of routers, but it also has a system of three bands and a Smart Connect tech to manage which device is plugged into which group. This feature makes sure that your gaming will take priority over others.
Tests were done to this router to guarantee that it offers the fastest Wi-Fi connections at a maximum speed of 3.2Gbps. It comes with six antennas to bring enough signal to cover your entire home. It also has a built-in 1GHz processor to avoid lagging while you are playing as well as a beamforming technology to reinforce the physical antennas and the processor as they work together.
There is also a USB-C port and four LAN ports if you opt to do a hardwire connect. All you need to do is go to the Netgear web page to gain access to their open-source software to modify it to your particular requirements.
Ultimately, the fact that it's packed with all these features will make it the best multiple band Wi-Fi router so far. What you will love about this router is that it has excellent coverage for your household, a Smart Connect feature, and fast and reliable Wi-Fi performance. However, it has less than compact design features, and it is entirely on the expensive side.
7. Best Security: ASUS ROG Rapture GT-AC5300
Gaming Router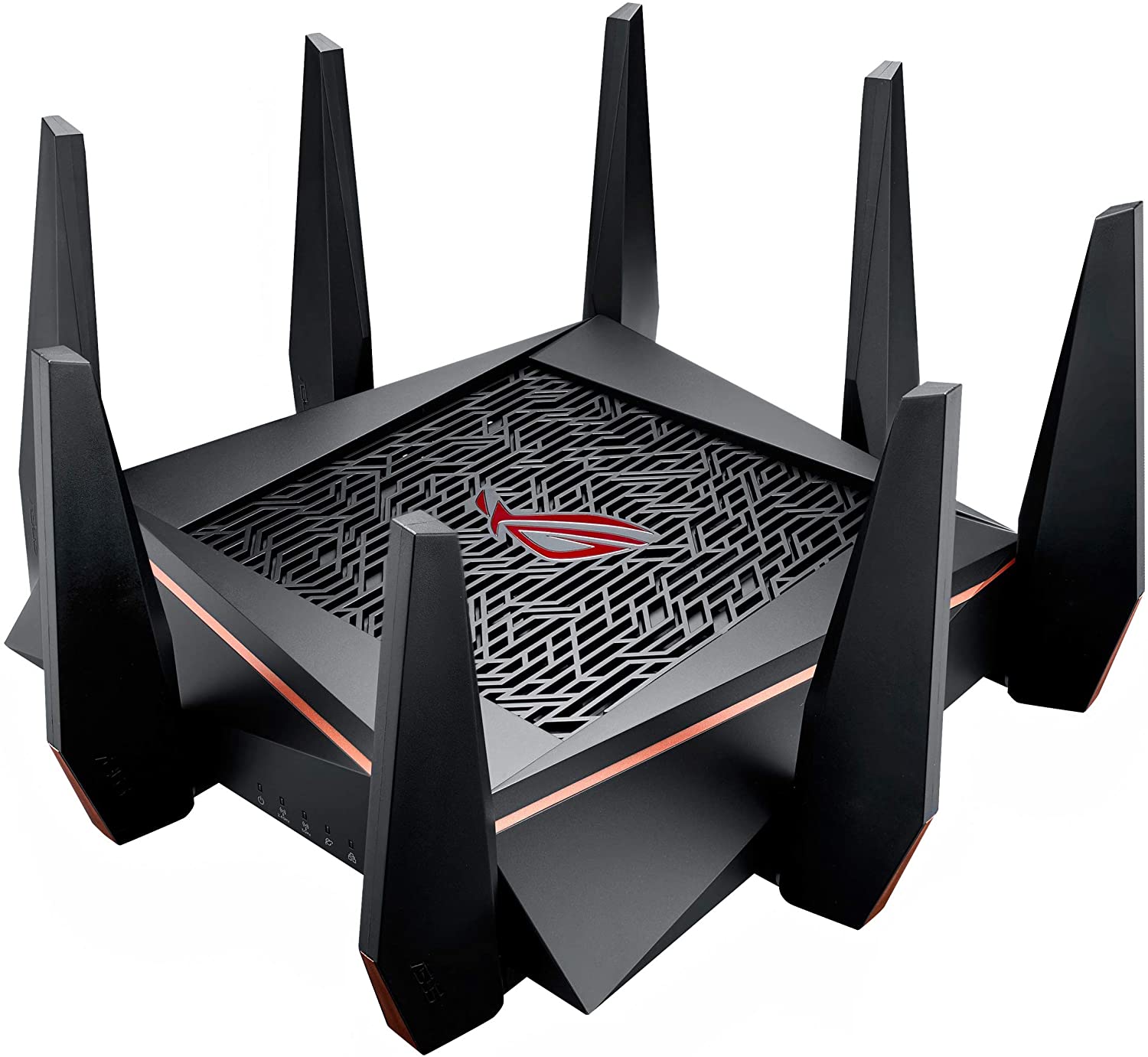 Rapture GT-AC5300 is specially made for gamers with its 5,334Mbps maximum throughput in two bands of 5GHz and one band of 2.4GHz, coupled with beamforming and MU-MIMO. This feature guarantees that the most excellent signals are directed straight to your gaming consoles and computers and that wherever you are set up in your 5,000 square foot house, there are no issues.
These features have been tested to confirm that your games will consistently go as fast as you want them to. This router also gives you thorough options when it comes to configuring your router. You can create a unique SSID for each of the two 5GHz bands such that your gaming traffic is separated from the rest of the traffic used by your household. You can also develop rules advanced enough to direct and give priority to your high-bandwidth traffic going to your band of choice automatically. Eight ports of Gigabit Ethernet are also available if you want to hardwire connect or host a LAN party.
The best feature, so far, of this gaming router, is its ROG Game Dashboard that locates the lowest latency and fastest server for your game through the WTFast Gamers Private Network (GPN). Another one is a VPN Fusion to override your regular VPN and make sure that your private browsing will not slow down your gaming.
Lastly, it has from Trend Micro a Game IPS to safeguard your network from malware and hackers while you are playing. The interface of this dashboard may be too overwhelming for some users, but it provides excellent options for you to configure and better fit your gaming requirements.
The upside to this router is that it provides you with a Gamers Private Network, two USB 3.0 ports, and eight ports of Gigabit Ethernet. The downside is that it has a large footprint, and it is quite expensive for a Wi-Fi router.
8. Best for Hardcore Gamers: Razer Sila
Razer is a familiar brand when it comes to gaming hardware such as mice, headsets, and fantastic gaming laptops. Still, it also offers this Razer Sila Wi-Fi router for serious gamers. The Razer Sila router is a product of the merger of technology provided for by the makers of the Portal router, the Ignition Design Labs, as well as the wisdom of Razer in creating gaming technologies.
If you look inside, you will find out that Razer Sila is a tri-band router of the AC3000 type, which delivers brilliant performance despite the absence of antennas. It will not provide the same speed in all corners of your home, but routers are meant to stay beside your gaming gears anyway. Its best feature is its FastLane's and SmartLanes technologies and Fastrack QoS that guarantees your games get the highest priority. This router also has developed algorithms to avoid congestion in your traffic in all your 5GHz channels.
All these magical features create a Wi-Fi router exclusively made for hardcore gamers by providing a lag-free and low latency experience. Moreover, it's straightforward to set up so you can focus on your games such as Call of Duty and Overwatch than spend time fiddling with the configurations.
This router is for those who want to mostly play games since it is not so suitable for general use because of its lack of protection from malware, less than healthy parental controls, and is made to give the highest priority to your gaming more than anything else.
The downside features to this router are that it has limited parental controls that you can customize into your system, as well as malware protection that will safeguard your gaming and other online activities. It also has just three LAN ports, which are quite little, considering that others can offer up to eight. However, because it has gaming-focused features, a very sleek design, and offers simplicity in setting up, these more than makeup for what it lacks.
9. Best Design: Netgear Nighthawk RAX80 8-Stream AX6000 Wi-Fi 6 Router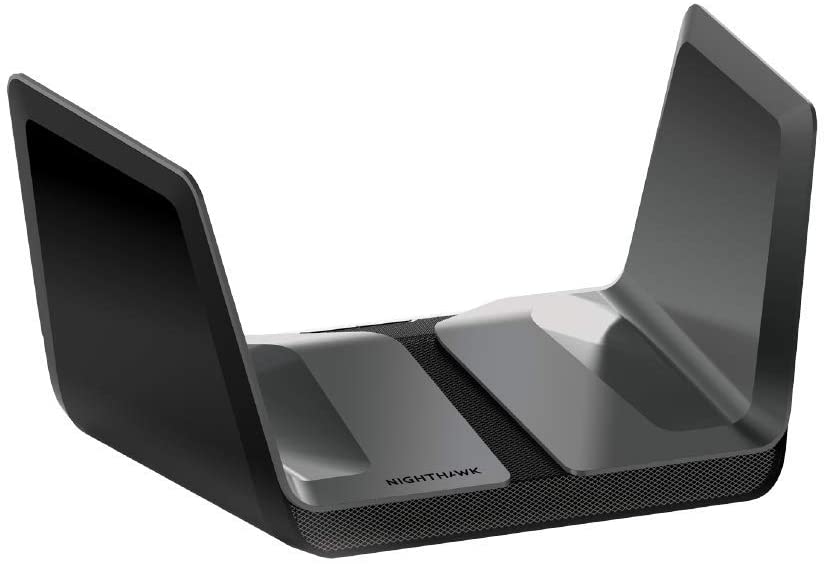 Netgear Nighthawk RAX80 is designed to provide your 2,500 sq ft home Wi-Fi connection in brilliant speeds of a maximum of 4.8Gbps in its 5GHz band, as well as 1.2Gbps in its 2.4GHz band. It has four ultra-powered antennas encased in wings shaped like those of a hawk, giving it a unique design.
Gaming computers and consoles may not be ready yet, but this router has Wi-Fi 6 capabilities that will be prepared when the time comes. Other top-of-the-line technologies include 160MHz channels and MU-MIMO, giving you gigabit speeds in all of your capable devices.
It has a quad-core 1.8GHz 64-bit processor and eight synchronized streams, so multiple devices can connect to your router without suffering a slow down in speed even for your game. There is also an option to hardwire connect, thanks to four ports of Gigabit Ethernet.
To recap, the upside to this router is that it delivers superior gaming performance. It provides support for W-Fi 6 capabilities making you ready when the enabling technologies for gaming consoles and computers come, and it has an excellently smooth design. The downside, however, is that there are reports received of problems in its firmware. Also, the ethernet ports are much too close to each other, and that it is quite expensive.
10. Best Overall: ASUS ROG Rapture GT-AX11000
Wi-Fi 6 Router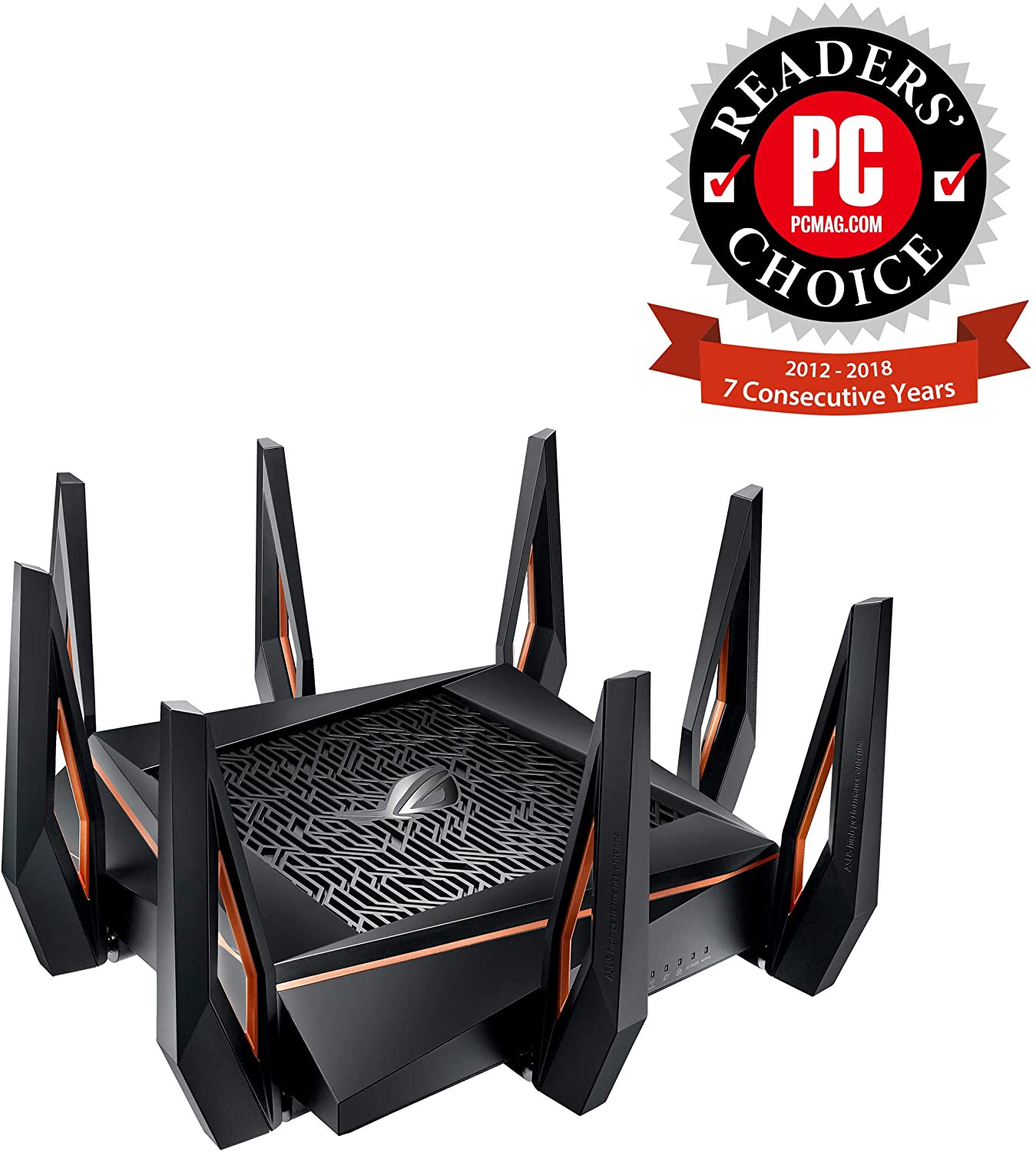 ASUS ROG Rapture GT-AX11000. If you have Wi-Fi 6 capable hardware, this latest tri-band router installation of Asus will allow you up to 10Gbps blazing-fast speeds with its 802.11ax performance. Despite this top-of-the-line speed, it can also work for 802.11ac as well as earlier made models, and its 5GHz bands have an array of eight antennas to provide you with the best signals.
There is an option to go for a wired connection with four ports of Gigabit Ethernet plus a dedicated gaming port of 2.5Gbps speed. It has a load of options to optimize your gaming experience because of its quad-core 1.8GHz CPU. You can create algorithms to direct your high-bandwidth traffic to your chosen bands and configure a dedicated SSID for your 5GHz bands. It also has Games Radar that will locate the fasters servers for your online games, Dynamic QoS to prioritize your gaming traffic, VPN Fusion to separate your gaming from your VPN, and WTFast game acceleration.
Although you probably won't need it, with all of the features this router offers, this Asus router has an AIMesh technology that allows you to connect several routers to develop a mesh network. This way, you can broaden the coverage in your home and direct traffic to prioritize your gaming. You get all of these, including all of Asus' networking and security capabilities such as its integrated VPN client and server and adaptive firewall, among others.
What you will love about this router is its leading-edge QoS, which is genuinely game-centric, its extremely superior performance over all the routers we mentioned, and its support for advanced Wi-Fi 6 capabilities. However, it is costly given all the features that you can enjoy when you buy it, and it has quite a large footprint.
There you go, your best gaming routers for this year. If you are a genuine and dedicated gamer, you can choose from among these products depending on your specific gaming requirements, your particular gaming rig, and how much budget you can allocate for your gaming activities.
Related:
Router
Reviews
Gaming