Top 10 Wireless Travel Routers of 2020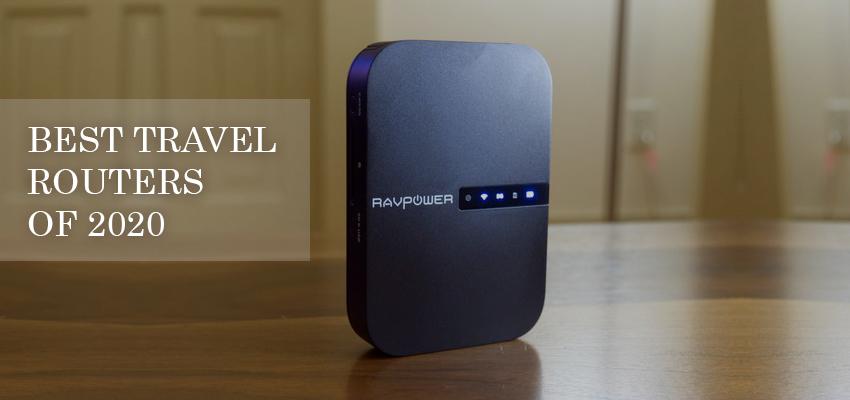 Top 10 Wireless Travel Routers of 2020
Posted April 15, 2020, 1:19 a.m. by
Emil S.
More and more travelers are discovering the benefits of carrying a travel router with them. Wireless Internet is now available in every corner of the world. It gives them the ability to go online at a moment's notice. They can quickly check their email, read restaurant and hotel reviews, get directions, find the best routes, and keep in touch with their loved ones back home. All while updating their social media with their experience.
These routers may look small, but they are dependable on the go and help you stay connected wherever you are. To help you avoid the headaches of picking the right one, we've compiled a list of the best travel routers this year.
1. Best Overall Pick: Ravpower Filehub AC750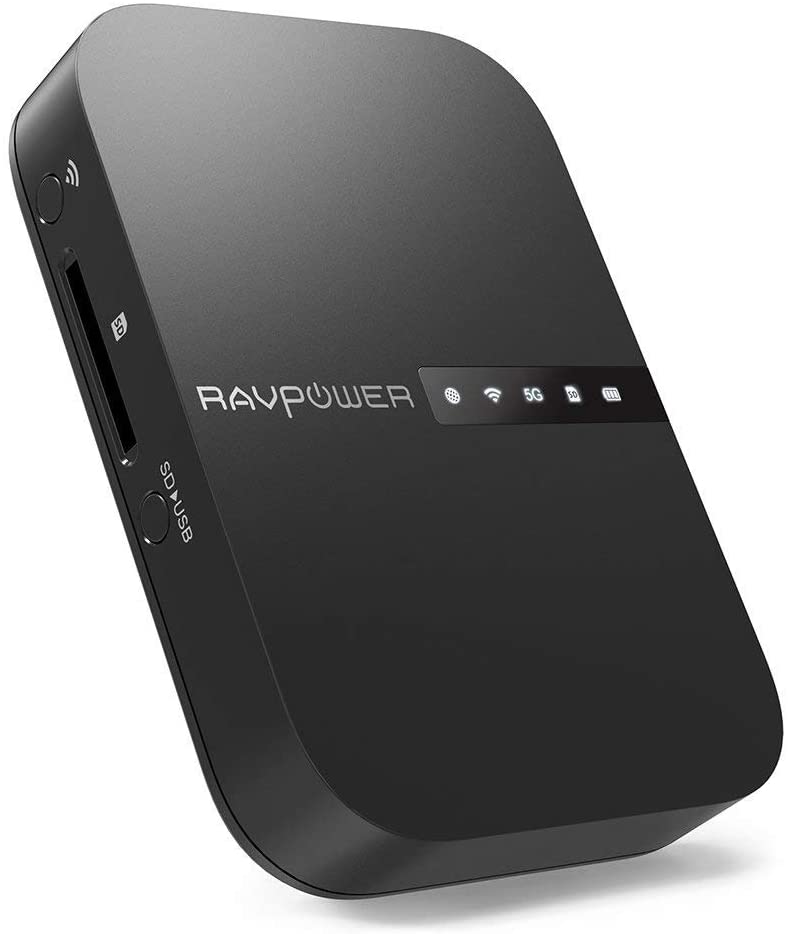 More than a mere travel router, the Filehub AC750 can act as a portable power bank and can read SD cards and four terabyte external hard drives. It's got enough juice at 6700mAh to recharge two smartphones. You can buy a better and dedicated power bank, but it's a good feature to have in a pinch, and we're glad it's there. It's also a wireless storage device with decent file transfer speeds that can let you stream media to a Chromecast.
Aside from that, it's handy as a one-key backup for your digital camera's memory cards. It operates on a dual-band with speeds of up to 300Mbps on the 2.4GHz band and 433Mbps on the 5GHz. It's like a Swiss Army knife, and it beats carrying more devices that can only perform a single function. That's why this is our best pick overall.
2. Best Value for Money: GL.iNet GL-AR300M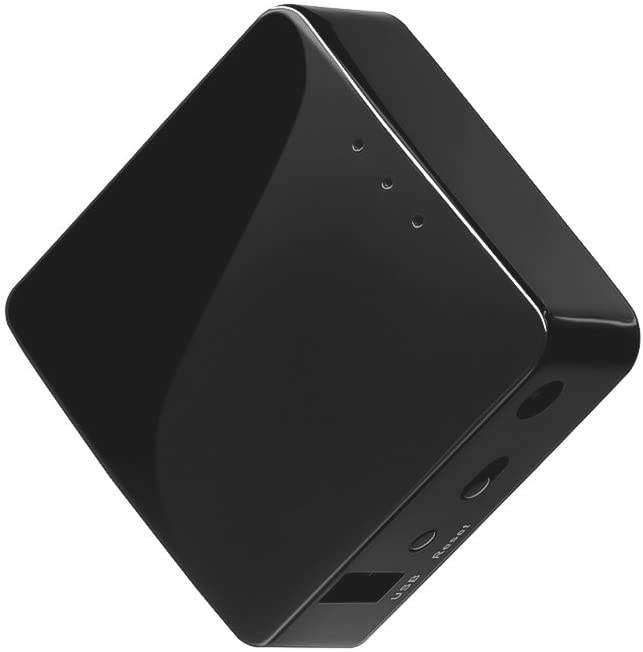 What we love about the GL-AR300M is that it's packed with practicality. To begin with, it has flexible power source options. You can hook it up to a power bank, 5V DC adapter, or your laptop. It has ample internal memory, has dual flash, and dual Ethernet ports.
It also has a built-in VPN, which is an indispensable feature when you're traveling and connecting into unsecured networks. It converts a public network into a private one for more security. With 300Mbps speed, it's no slouch either, even if it's pocket-sized and lightweight and quite suitable for travelers.
3. Most Portable: Ravpower FileHub Tripmate Nano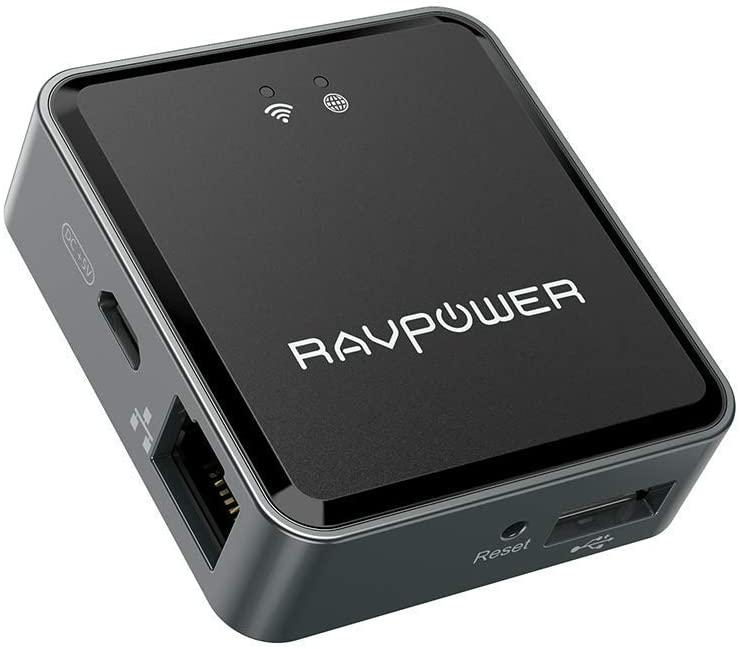 In this bunch, nothing is smaller than the Tripmate Nano, which only weighs 3 ounces. I can connect to external storage drives with its USB port, although it doesn't have any SD card and batteries. It gets its power via micro USB and you can quickly plug it into your laptop or power bank. Streaming media to your devices is a breeze with its built-in DLNA.
The Wi-Fi is single-band with a throughput of as much as 300Mbps. That's enough to handle five devices simultaneously. It can also turn a wired network into a wireless one, and it can create a secured network with encryption when connected to a public network.
4. Fastest Performer: TP-Link TL-WR902AC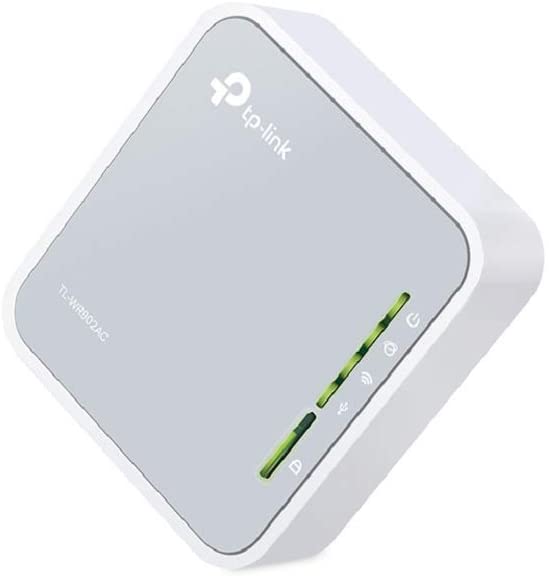 TP-Link TL-WR902AC. At just 7.2 oz, this tiny and incredibly compact dual-band pocket rocket can zoom up to an impressive 433Mbps on the 5GHz band. You can instantly set up a Wi-Fi private network anywhere you want on the go. Besides that, it can also extend the range, and serve as a hotspot for private Wireless ISP (WISP) networks.
It even has an Ethernet port so it can act as a wireless Client that allows wired devices to connect to a wireless network. You can also set up a separate network for guests, which is another useful feature. You can also attach an external storage drive via its USB port and lets you backup or stream HD media even to Chromecast devices.
For power, you can plug it into a portable charger, AC adapter, or a laptop. And you can use it as a pass-through power bank to recharge your tablet or smartphone with 2A power.
5. Widest Range: TP-Link TL-WR802N N300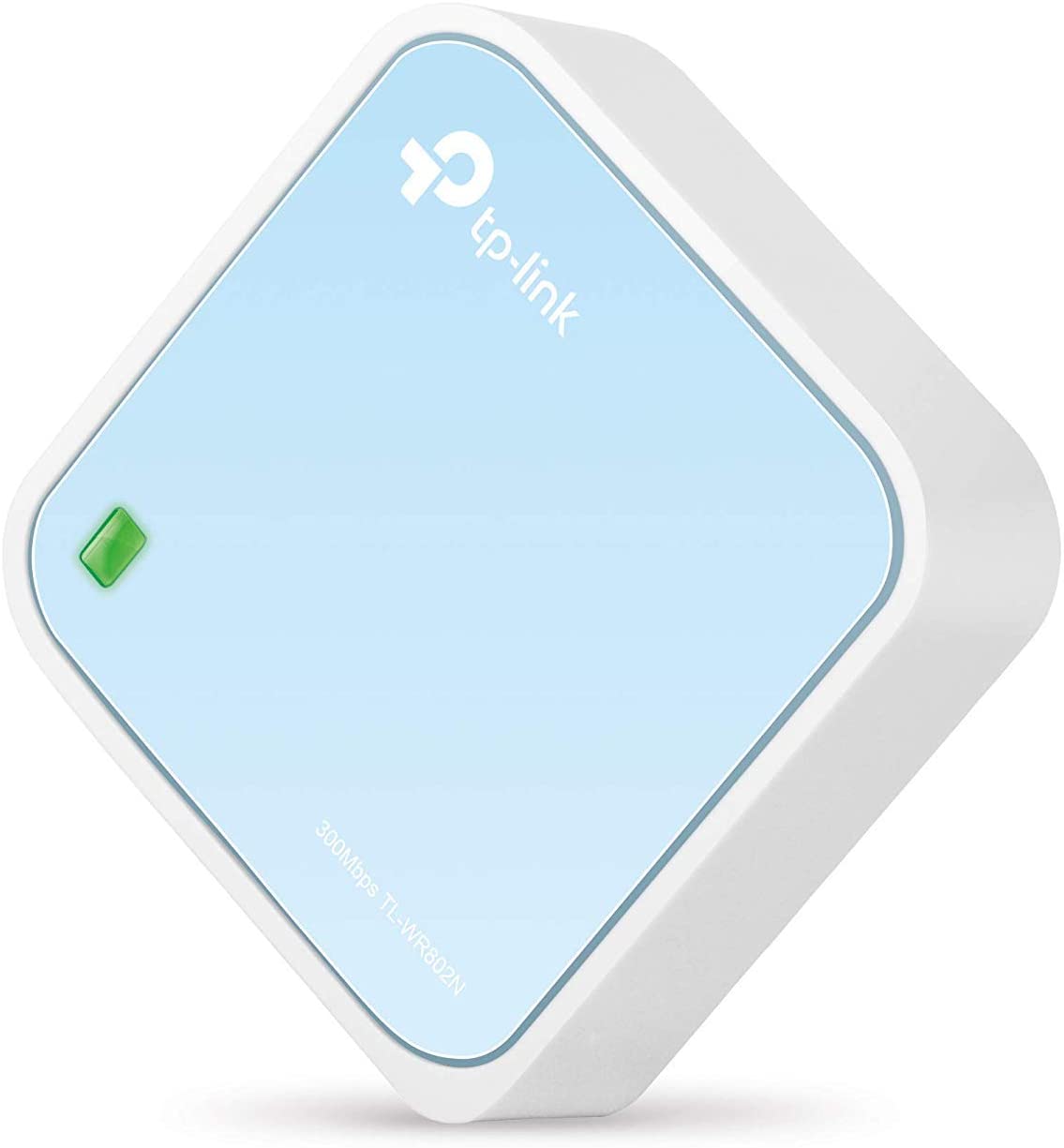 TP-Link TL-WR802N N300. It's another reliable traveling companion that can provide you a wireless network anywhere away from home. You can get up to 300Mbps Wi-Fi on its 2.4GHz band that's fast enough for lag-free online gaming and media streaming with Chromecast and Fire Stick support.
For power, you can quickly hook it up to a laptop, power bank, or AC adapter through its micro USB. It has pre-encrypted SSID and password protection and has modes where it can serve as a secure WISP hotspot, repeater, AP, and router for several users. It is very portable, and you can set it up in less than a minute.
6. Power Users Choice: GL.iNet GL-AR750S-Ext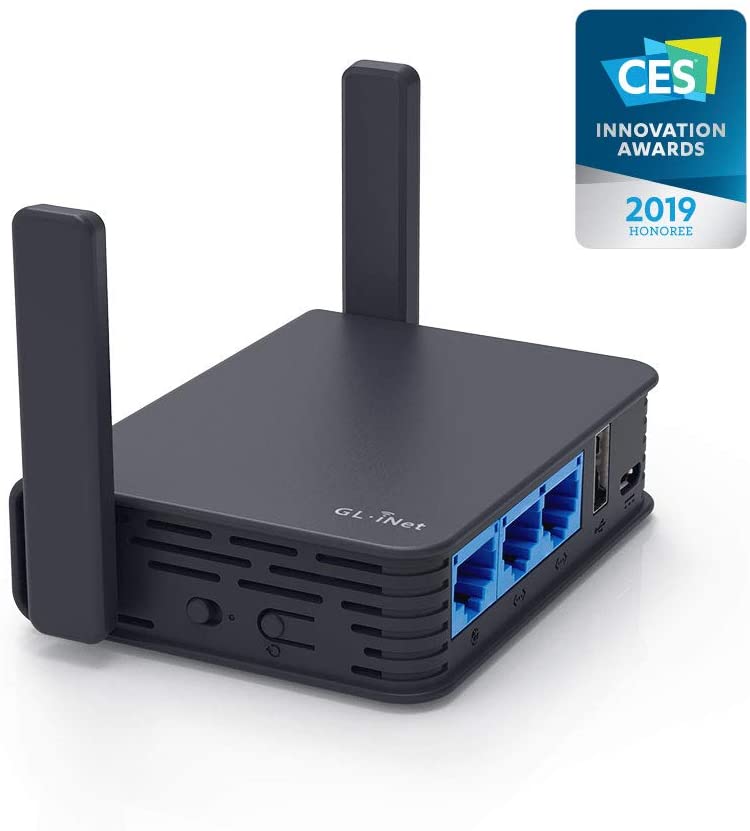 The GL-AR750S-Ext offers flexibility, even for the most demanding traveler. With its three Ethernet ports and Gigabit WAN port, its dual-band throughput can reach up to 300Mbps on the 2.4Ghz band and 433Mbps at full 802.11ac 5GHz support. It also has a 128GB Max MicroSD and a built-in firewall.
For more advanced users, it comes pre-installed with highly-configurable OpenWrt firmware, including WireGuard and OpenVPN. Combined with its speed, these features give it more flexibility. You can perform network diagnostics and program it to work as a USB modem, bridge, hotspot, and a repeater/extender. It can do VPN client as well as VPN server functions straight from the box and is compatible with more than 25 companies providing VPN.
For enhanced security, it is already configured to work with Cloudflare and their encrypted servers. Compared to other routers at its price point, it offers more versatility. It's terrific for people who want to take their VPN with them anywhere they go.
7. Budget Router of Choice: GL.iNet GL-AR150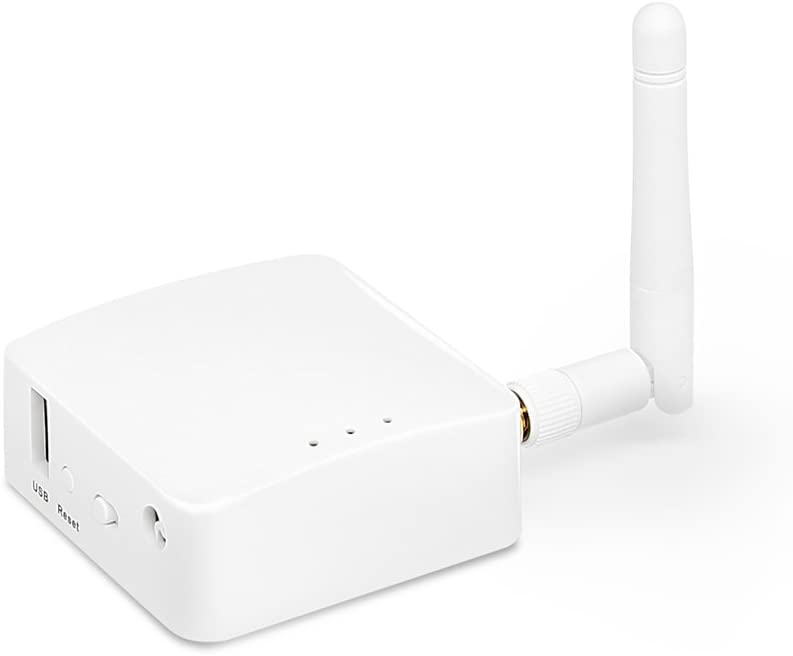 The GL-AR150 would suit most needs when traveling. At just only 1.6 ounces, its small size can fit any pockets but affordable enough not to burn a hole in them. It comes equipped with 64MB of RAM, 16 MB flash ROM, two Ethernet ports, a UART, and 4 GPIOs. The data transfer rate isn't the best at only 150Mbps.
It can convert a wired public network in cafes, restaurants, and hotels into your own wireless one and can work with 3G, 4G, and USB modems. For power sources, you can plug it into a laptop's USB, 5V DC adaptor, or power bank.
You can be sure of maximum protection and privacy in an unsecured network with its TOR firmware and is compatible with more than 20 companies that provide VPN service. For technically inclined users, it's also pre-installed with OpenWrt and supports DDWrt. It's also pre-installed with OpenVPN that is fully programmable so you can customize it for more personalized use.
8. Top Power Bank: HooToo TripMate Titan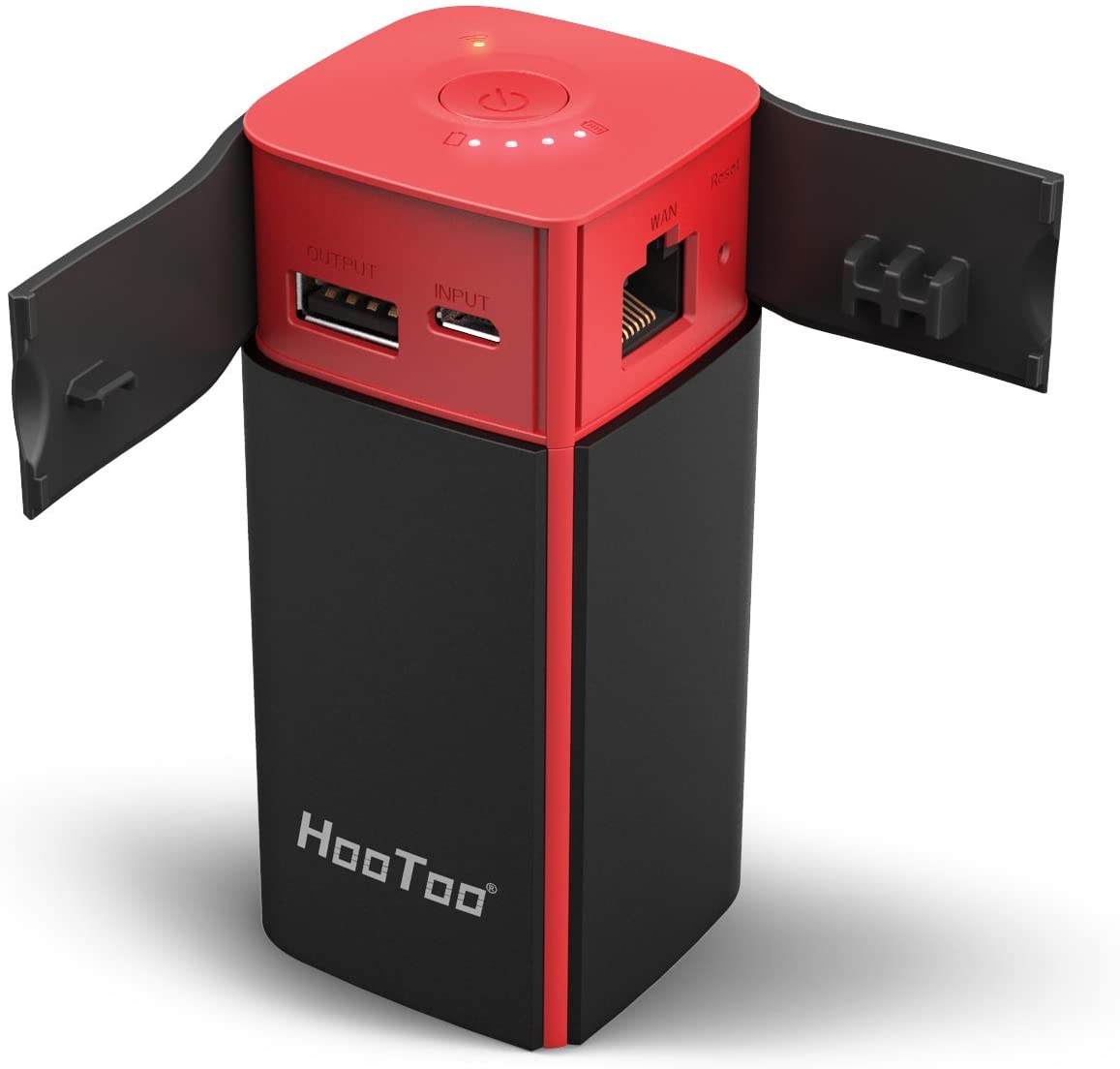 HooToo TripMate Titan. Sporting a 10400mAh battery capacity, the TripMate Titan has enough juice to serve as a power bank and can charge an iPhone 8 2-3 times over. Aside from that, it can convert any wired network connected to its Cat5 Ethernet port into a wireless access point.
Along with the Ethernet port, there's a USB A and micro USB, and they're all protected by two rubber flaps to keep off dirt, grime, and dust. Once connected, you can log in from any of your smart devices into your private network using a single access point that's protected by a default password. It can easily handle five devices, including Chromecast, working simultaneously under that extra layer of security.
If you plug in a card reader, a flash drive, or an external hard drive, it can function as network-attached storage (NAS). You can also use it, not only to share files, but for backup storage, and for wirelessly streaming movies. It has a decent range and won't have issues covering a hotel room or small Airbnb apartment.
9. Best in Security: GL.iNet Mudi GL-E750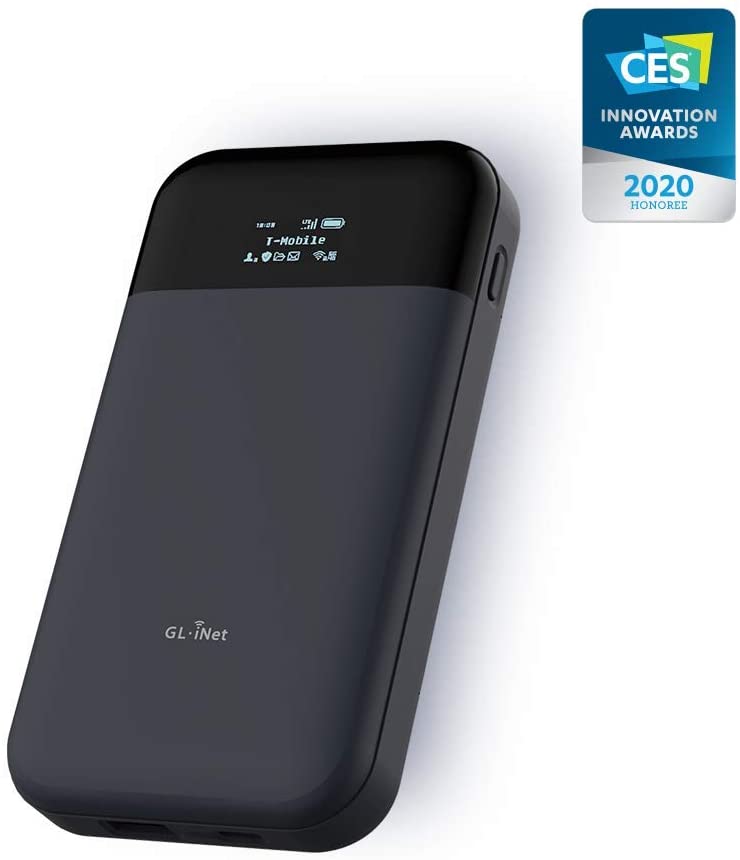 GL.iNet Mudi GL-E750. For those who spend a lot of time on the road, you're exposing yourself to all kinds of security risks from public networks. Whether it be in cafes, restaurants, or hotel rooms, you'll need all the protection you can get.
This latest travel router from GL.iNet helps to keep your connection reliable and secure with support for 4G LTE. Mudi features pre-installed support for OpenVPN with superior WireGuard encryption and authentication. It also gives you a choice of more than 25 VPN service companies. There's even anonymous routing of networks with a TOR service.
This travel router will ensure that you're protected in a private and secure network connection from any wired public network. On top of that, it can also function as a wireless access point with its 5Ghz and 2.4Ghz dual-band support that can reach a throughput of 733Mhz. It's powered by a 7,000mAh battery and has ample 128MB DDR2 RAM plus a USB C port.
There's a slot for as much as 128MB micro SD card that would be terrific for sharing data between smart devices or for backup storage. It also has an OLED display that comes in handy displaying various bits of information about status and settings.
10. Premium Choice: Netgear Nighthawk M1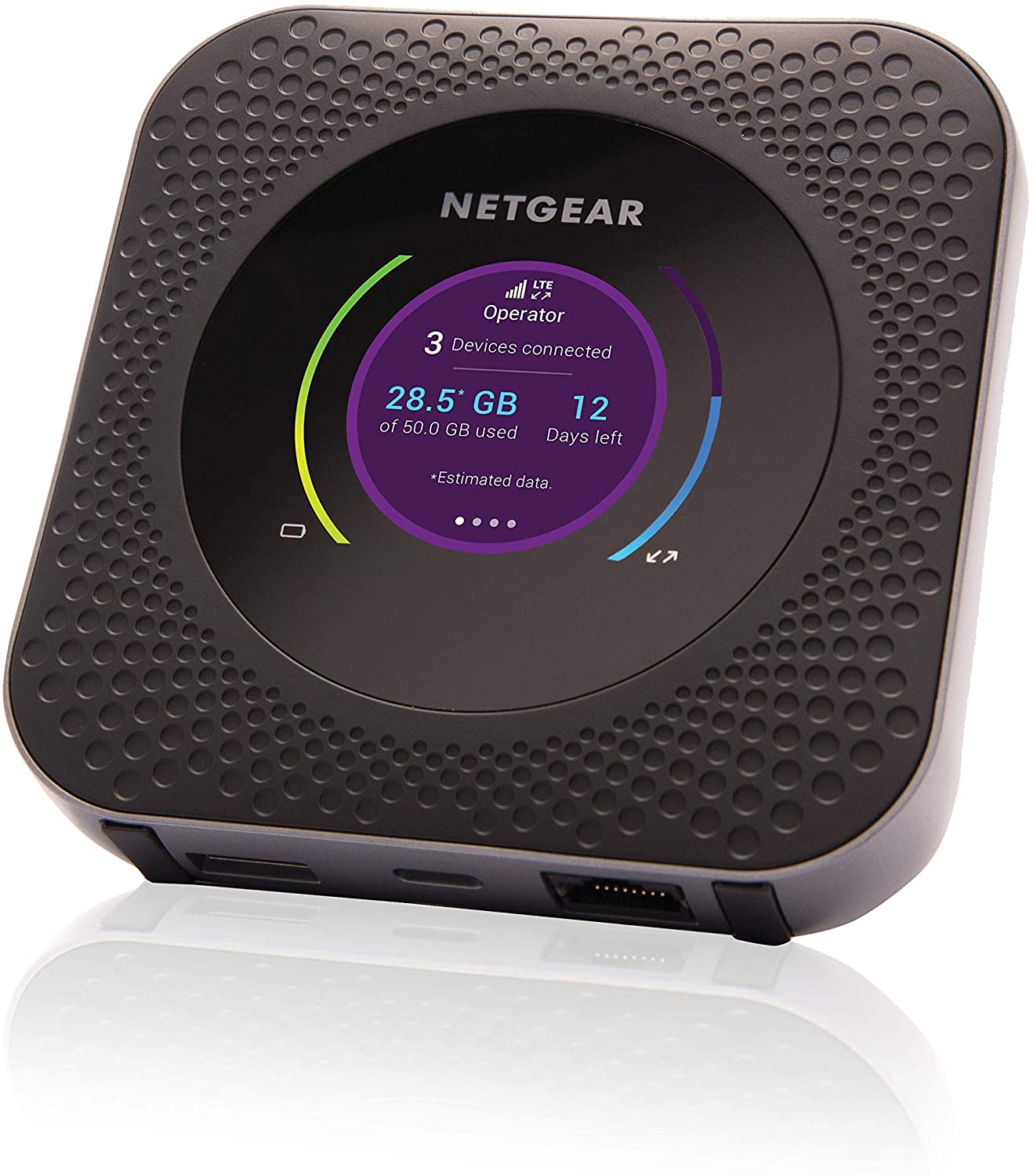 Netgear's Nighthawk M1 is the choice for those looking for a premium travel router with little compromises. That means this one won't come cheap. It's easily worth the price considering what you're paying for.
First of all, is its ability to work as a reliable and secure 4G LTE mobile WiFi Hotspot that can handle up to 20 smart devices simultaneously. The two dual-band antennas do the job at 2.4GHz as well as 5GHz and can reach speeds of up to 1Gbps. With that, it can rival the performance of most home broadband routers.
Better yet, it works independently, and you don't need any other wireless or Ethernet to connect to the Internet. It supports Gigabit LTE with 4x4 MIMO. A 5040mAh battery has enough power to last a day before needing to be recharged. It can also be used as a power bank in case you need to charge your smartphone. There's a nice 2.4 inch colored LCD to help you make sense of its settings and status information.
Final Thoughts
As you can see, there are a variety of sizes available from our picks. The trick to picking the right travel router is to get the compact one with the most features you need. Also, be sure that it doesn't require a power adapter and that it can be plugged into a USB port or has built-in batteries.
If you're traveling on business, you will want to double-check that you're getting one with security measures built-in.
That's in case you're dealing with sensitive information and are warry of intrusions. When away, you may not be sure about the security of the network you're connected to. You may have noticed from the models here that they seem rather tame compared to the speed demons you have back home.
That's because those routers were designed to handle a larger volume of traffic. Coverage should be enough for a hotel room, and 300Mbps can handle most single traveler or couple's needs.
Related:
Router
WiFi / Wi-Fi
Reviews
Wireless Router