Top 7 NAS (Network Attached Storage) Brands of 2020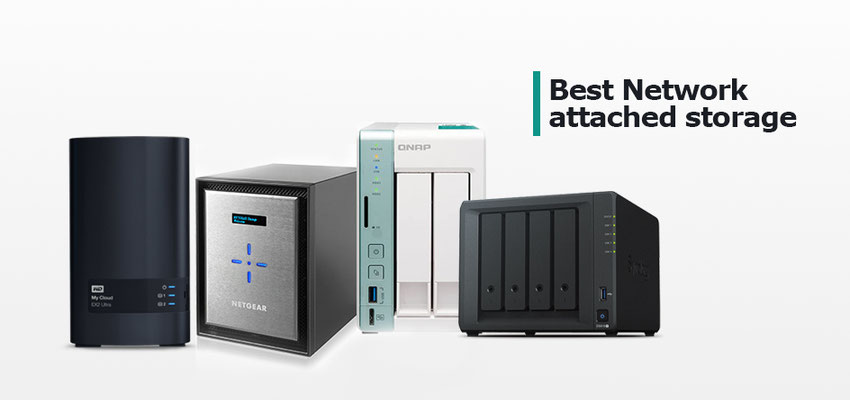 Top 7 NAS (Network Attached Storage) Brands of 2020
Posted April 17, 2020, 4:25 a.m. by
Emil S.
Primarily used as file-based storage for devices on your network, the NAS (Network Attached Storage) makes the storage of your data and secure files easy.
We have done tests and research to recommend the best products to you. This way, you will be able to have enough selection factors to consider when looking out for the best NAS that will suit your storage needs. Here are our top picks:
1. Synology DS115j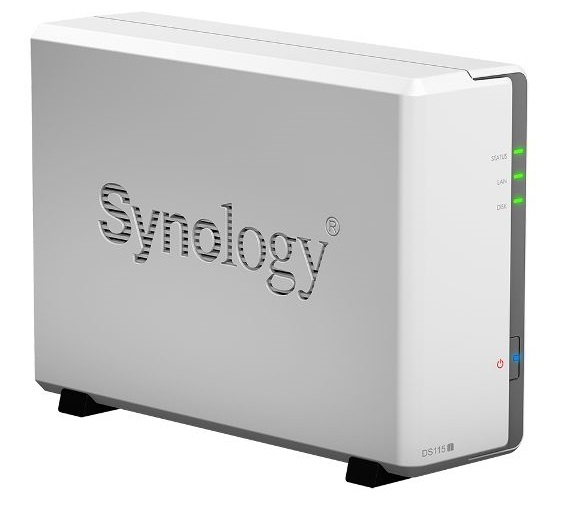 If you have a tight budget, the Synology DS115j can offer you excellent performance as well as sharp looks. The best part? You don't have to throw in a lot of your hard-earned dollars. The DS115j provides an effortless way for you to automate simple tasks.
You can also backup multimedia files so you can play them back later. You can do all of this through Synology's apps for your smartphone. That's right. You can have access to all your tasks and files through your smartphone and control them from there.
It also has options for you to use Cloud Sync and Cloud Stations that provide you with easy access to files all across the devices in your network. This, of course, includes Google Drive, Dropbox, and OneDrive. Once you load up these files on the NAS, Synology makes sure to back up all these files onto another NAS.
It has a cloud service or, in other words, a completely separate external device, which provides redundancy across the board. What does this mean? It merely means that you would have more peace of mind because your files are being backed up not in the same network but a different external device.
The Synology DS115j can hold up to eight terabytes of data. Though, please note that its hard drives are sold separately. Still, you will be able to do much more with this budget-friendly NAS as it also caters to other services.
One of the services includes Surveillance Station, which 24/7 home surveillance system. The Surveillance Station allows its owners to monitor and view live streams on both their mobile devices and their desktops as well.
2. Qnap TS-251A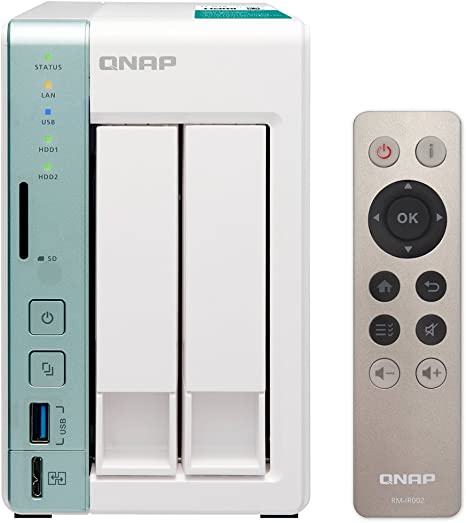 Considered best when it comes to media, the Qnap TS-251A is a dual-bay box. Having a dual-bay box means that you can access it from the front of the box as well. It uses an Intel Celeron dual-core processor, two Ethernet inputs, a RAM of 2GB, and plenty of USB ports. It also has a slot for an SD card so you can easily copy files directly to your box.
Moreover, services like Plex's and XBMC media server gives third-party support that helps move media files from the NAS to your media-playing device directly. This means that you can transfer files from your NAS into your tablet or smartphone.
The Qnap TS-251A also supports HDMI on the rear of the box. This feature means that you can have your NAS directly play 1080p videos straight to an HDTV. Awesome, right? It can also support HD video transcoding and DLNA and iTunes AirPlay streaming.
Furthermore, the Qnap TS-251A caters to the Roon streaming service. Although priced separately, it enables you to upscale almost any type of audio file and makes it become near studio-quality. You can also attach a USB TV tuner to record your favorite shows on TV or transcode 4K H.264 videos.
With all that mentioned, the Qnap TS-251A truly can deliver the best value when it comes to media. The best thing about the Qnap TS-251A is that it performs well just like a regular NAS. On top of all that, it has remote access, dynamic virtualization capabilities, and functional RAID recovery.
3. Western Digital My Cloud EX2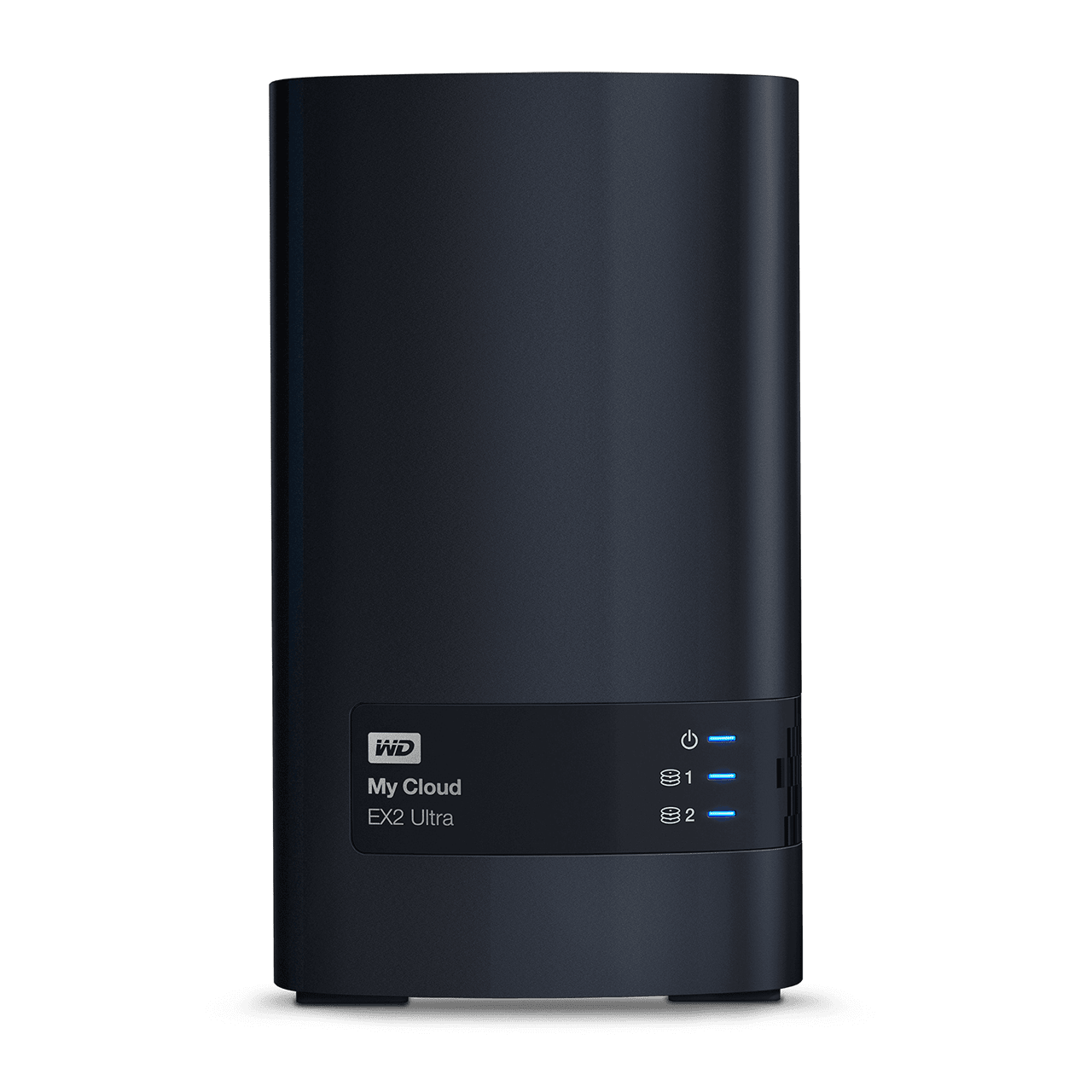 Best for personal use, the Western Digital My Cloud EX2 takes the cake when it comes to storage. It offers an outstanding performance both for file transfers as well as media streaming. This impressive performance is due to the combination of a high-performance dual-core processor, 1GB of RAM, and multiple storage options.
It uses a two-bay unit, which mirrors all your personal computer's files for backup by using RAID configuration. The RAID technology is a very much welcomed addition to a consumer box.
The Western Digital My Cloud EX2 uses Western Digital operating system, which is easy to use. You can create a schedule for backups and have your backups synchronized all across your computers. You also don't have to worry just in case you miss to backup something manually. My Cloud devices have got you covered.
Furthermore, My Cloud makes it effortless for you to share files publicly. It creates a private link, which you can set up so a particular user can have limited or full access.
It also includes the Plex Media server, which is a great deal for users who love streaming. The Plex Media Server provides support for direct file sharing across your smartphone, gaming console, and PC. You never lose any quality as it retains the original uploaded version when you share the files.
Plus, it's also compatible with Windows and Mac. What's not to love about this backup device?
4. Synology DiskStation DS918+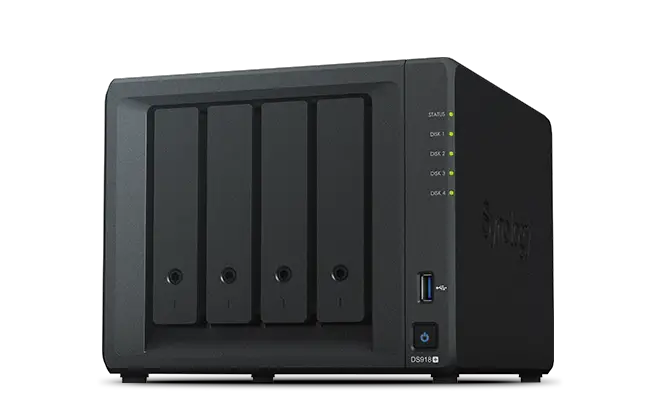 Considered best when it comes to storage, the Synology DiskStation DS918+ offers up to nine drives of data storage. Having several drives is a brilliant option if you want a single NAS that will be able to accommodate all your data. It doesn't matter whether you need storage for your documents, photos, or even 4K videos—the Synology DiskStation DS918+. If you have a small office in your room, this NAS is a good fit for you.
You don't have to worry about cooking down your device because it offers two big 120mm fans on the back of the box. It also has dual RJ-45 Ethernet points that support link aggregation. If you've already exhausted your drive bays, there still nothing to fret because it has a rear eSATA port that adds to its potential storage capacity.
Furthermore, you can upgrade or add even more RAM to your Synology DiskStation DS918+ just by swapping the trays inside. When it comes to writing speeds, it handles it at 225 MB/s for reading the system. It does it at 221 MB/s for writing files.
This NAS can hold up to 48TB all in all. Every drive can accommodate a drive up to 12TB. When you add everything up, paired with the eSATA port, the Synology DiskStation DS918+ can handle a maximum of 108TB—all in one volume. That surely is a lot.
5. Western Digital's My Cloud EX4100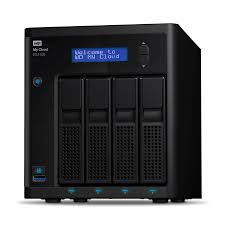 Considered the best for home use, the Western Digital's My Cloud EX4100 offers 8 TB of space. With this, you can have abundant space to step your file, videos, music, as well as your precious photos.
It secures all your data using various RAID options—from RAID 0 up to RAID 10. The Western Digital's My Cloud EX4100 is powered by 1Gb of RAM and a Marvell Armada dual-core processor. You can ensure that you can transfer files rapidly at a rate of 108 MB/s for downloads and 114 MB/s for uploads.
This NAS is also supported by the Plex's Media Server in which you can stream multiple media types into a smartphone, game console, or a PC directly. Indeed, it's an excellent addition to your family network because it enables collaborative sharing. Everyone can have access to their files in a single place.
To top it all off, Western Digital's My Cloud EX4100 will also help protect your home. It includes a Milestone Arcus software, which gives records video and lets you stream surveillance feeds. Please note that the cameras can be purchased separately.
6. Netgear ReadyNAS 626X00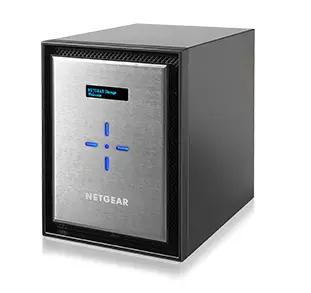 If you want to get the best NAS that your money could buy, check out the Netgear ReadyNAS 626X00. It features impeccable backup recovery, exceptional protection for your data, and it can accommodate up to 120 users. That was not a typo. It's for real.
The Netgear ReadyNAS 626X00 has a total of six bays available for storage and can accommodate a maximum of 60 TBs. It can process at up to 20 GB/s, not for media applications and business.
Furthermore, the Netgear ReadyNAS 626X00 is powered by the latest in 64-but technology, which is the Intel Xeon 2.2GHz Quad-core processor. It also has 8 GB of RAM, which makes it able to support 4K streaming effortlessly. It also creates virtualization desktops to secure your office environment.
When it comes to security, the Netgear ReadyNAS 626X00 has five levels for the protection of your data. This feature is crucial. If you're running a business, you will be able to have peace of mind over losing essential databases, files, and virtual images if your company.
It also offers an exquisite recovery and backup system and allows its users to effortlessly restore files from the latest back up and continue working. You also don't need to worry about data speeds because the Netgear ReadyNAS 626X00 has 10 GB Ethernet ports behind the box so that it can support a myriad of users—all at the same time.
7. Synology D216II+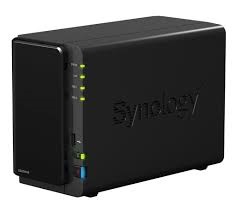 If you're running a small business, the Synology D216II+ is a good fit for you. You have the freedom to choose the capacity of your drive and speed because it doesn't have to include storage out of its box. It revolves around a drive tray design with which you can swap easily. You can also use Synology's mobile app to manage your files and data.
The Synology D216II+ also features built-in video transcoding for 4K Ultra HD, which also makes it a great multimedia machine. It also makes for an excellent security solution because of its tools for video management and intelligent monitoring.
Moreover, it includes progressive file management between your computer and the NAS and Cloud Sync to connect to a myriad of well-known cloud providers.
It also has an interface adequately designed to manage everything.
With the DS216II+, please note that there is a lack of available HDMI and Ethernet ports. Don't let this be a discouragement, though, as this NAS can integrate with your business environment very well because of its hassle-free way to access and control files and folders and excellent admin support.
How Did We Test these Products?
Our testers have set up these NAS devices in their home offices so they can get the full experience. They analyzed its performance by connecting it to different devices.
Our testers have considered the crucial elements when testing a particular NAS server. The design, special features, and additional drive bays were carefully scrutinized and evaluated.
Check out the crucial points we have outlined below so you'd know what selection factors to consider when shopping for a NAS.
Capabilities for Media Streaming
While most NAS can stream media, some do it better than the others. If you stream media frequently, you have to check out the inclusion of a remote and HDMI port. See if you can stream directly to your media device or have a streaming device or media center PC to act as a bridge.
Look for Additional Drive Bays
If you want your NAS to last for a long time, you have to put this into consideration. Look for one that has multiple drive bays—the more redundant, the better.
Data Encryption
Keep in mind that when hardware-level encryption is included in a NAS device, it should be a preferred choice as this is much faster than devices relying on software. If you want to back up your sensitive data so no one else can access them, this is crucial. Hardware-level encryption will help you protect your most important and confidential files.
You can use all the selection factors and guidelines we've laid out above to find out which NAS will work based on your needs. Keep in mind that studying before purchasing is an excellent way for you to get the most value, especially when it comes to technology devices.
Related:
Security
Reviews
Cloud Storage