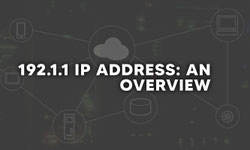 192.1.1 IP address: An Overview
Published: July 4, 2020, 8:19 a.m. in IP address, Tutorial by Emil S.
192.1.1 is a network IP address that pertains to public IP addresses that are in the range of 192.1.1.0 until 192.1.1.255. However, this network IP address should not entangle with the network of 192.168.1. In many cases, people mistake this with 192.1.1 The address range 192.168.1 up to 192.168.1.255 is ...
Continue reading