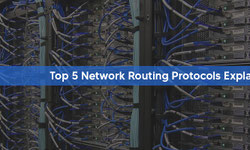 Top 5 Network Routing Protocols Explained
Published: May 28, 2020, 1:12 p.m. in Network Protocol, Network Routing by Emil S.
A vast number of diverse network protocols exist to enable computers to communicate with each other and with different types of devices. Routing protocols are groups of system protocols that allow network routers to connect and logically convey traffic between the corresponding networks. All protocols presented below each facilitate this crucial ...
Continue reading