The Best Search Engines of 2020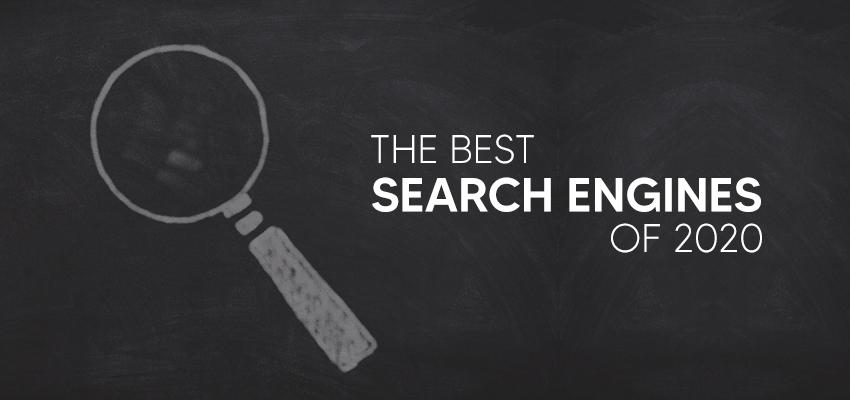 The Best Search Engines of 2020
Posted Oct. 27, 2020, 2:15 a.m. by
Emil S.
If you've been hooked on to the internet for a long time now for your search and review, you will already know that there was a time when only two major search engines were available all across the world - Yahoo and Google and several other players also launched their search engines in the market. I don't think even one day goes by that I do not pick up my phone or laptop to search for something on Google.
Search engines have become an essential part of our life. Whether browsing for the nearest gas station or looking out for some reviews for the latest products that we're looking to buy, we're becoming more and more dependent on search engines for our daily questions. Not only do they help us to go through tons of information in seconds, with the right keywords, we're generally able to find what we're looking for relatively quickly across the internet.
Although we do not pay a lot of attention to avoid going behind the scenes when we are typing in a keyword, search engines' efficiency depends on accuracy in terms of results shown after searching. We've tried to list down some of the most popular search engines that you can use on an everyday basis. Scroll below to discover more.
Google

As with everything else they do, they are market leaders when it comes to search engines. Google has almost 90% of the market and has the state-of-the-art algorithms to give you precisely the results you're looking for. It is easily one of the best search engines in the market. Its interface is straightforward to use and offers a personalized experience. Users receive some of the best results that search engines can offer. Of late, Google has been involved in controversy because users claim that they capture a lot of information on users without their permission. And with the endless number of search results at times, it can get confusing. The addition of advertisements in the search results has downgraded the quality to a certain extent. However, with updated features regularly after you skip a few ads, you can find relevant products as per your needs.
DuckDuckGo



With all the controversies around Google, DuckDuckGo is becoming extremely popular with users who are quite sensitive about sharing their information. The search engine boasts of never sharing their customer's and user's data or even storing it without their permission. It runs on an exciting algorithm with features such as no click information, where if you ask a question on the search engine, you get all the information on the first page itself. The accuracy of the results is outstanding. However, since they do not store your information, the products are not personalized. It is as fast as other search engines and has a very straightforward and clean interface.
Bing



Owned by Microsoft, it is the second most powerful search engine in the world. Although its user base is not as huge as Google, it comes up with more accurate results, and with the filters that it provides on the search results in terms of pictures, news, and maps, it has a very desirable interface. When you search on Bing, you get to accumulate points that you can later redeem in Windows and Microsoft stores. It is compatible with all browsers and has fantastic video indexing.
Although it is slightly slower than Google, it can reveal some hidden content that sometimes even Google cannot show.
Dogpile

When it was launched in the initial days, Dogpile was a strong competitor to Google, and loyal users said that it was the number one search engine out there. Although its popularity went down with the Google search engine's advent and improvement, it is trying to make a comeback with an exciting and clean interface, an index growing, and a testimony to its initial glory days. If you're in the mood to look at something more adventurous and diversify your search results a bit, give Dogpile a try.
Yippy

One of a kind, the Yippy search engine is useful when you want to discover something that you cannot get on other search engines quickly. It is well known to go into the web and unearth documents and websites relevant to the keywords entered in the search bar. Because it is a relatively newer website, it comes with many advertisements. However, it blocks those that are not useful and removes the search results. Since you get to preview all results in one place, it becomes easier to decide what you want to go into in depths. In case you're looking for government-related search results or academic pages and e-books or interest blogs, you can find some of the best search results that can be available all across the internet.
Google Scholar

Google Scholar has become immensely popular with students and teaching institutions alike.  Their search results focus on academic and intellectual stuff that has been reviewed by scholars across the globe. You can find everything from thesis research to court arguments, medical reports, scholarly paper publications, world politics criticism, and geography research papers on this search engine. If you're looking to participate in a debate with constructive and argumentative counters, look no further - this is your place to go. The search results listed on the engine have citations in various styles. They even show how many times an article has been cited and everyone who has done the citation. There is an option to save items that you might want to read later. One thing that is majorly missing on this search engine is that there is no way to categorize the subject's results.
Webopedia



Webopedia is like an online encyclopedia that combines search results all across the internet—no more visiting libraries and scouring through vast volumes of encyclopedias. This search engine gives you all you need to gain knowledge or make projects for a specific topic. It is perfect for people who are not very technical and need to understand smaller concepts for clarification.
Mostly focused on computers and its technology, it simplifies terminology related to the internet and computers for everyone to understand in simple words. You can learn everything related to technology on the search results listed on this search engine.
Yahoo

When it was launched initially, Yahoo was a powerful competitor to Google, and it was used almost equally, if not more than the Google search engine. It is in the third place when it comes to market share, and its web portal is still quite popular among loyal users.  Yahoo's interface is quiet and interactive, and they have outstanding organic search results. When it comes to shopping, Yahoo is your go-to search engine. But since they do not categorize their advertisements separately, it becomes unclear whether the search result is an advertisement or an actual product.
The Internet Archive



For anyone who has used the internet ever since the archive is a place to go. It helps you to look at snapshots at different points in time across what was happening on the world wide web at a given moment. Although you can use it to find music videos and other search results, the archives have various things in a more historical context. Even though you cannot replace it with Google Bing or Yahoo, if you need to reference something in the past or across history, this is your search engine.
Related:
Internet
Reviews
Search Engine