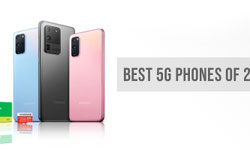 12 Best 5G Phones of 2020
Published: April 17, 2020, 4:10 a.m. in Reviews, Smartphone, 5G by Emil S.
We've rounded up the best 5G-capable phones in 2020 that could usher you into a new era of mobile telephony performance and capabilities no one has never seen before. Are you ready to take a plunge into 5G? 1. Samsung Galaxy S20 Plus Like all s20 models, the S20 Plus ...
Continue reading