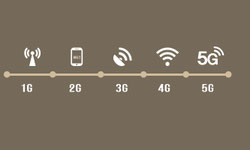 The Difference of 1G, 2G, 3G, 4G, & 5G Network Connection
Published: May 6, 2020, 12:44 p.m. in Internet Connection, 4G, 5G, 3G by Emil S.
The characters 1G, 2G, 3G, 4G, and 5G refers to the wireless technology being used on your cell phone. "G" means "generation." When you connect to the Internet on your smartphone, you may notice that the strength of your signal can be shown in these values next to your signal ...
Continue reading