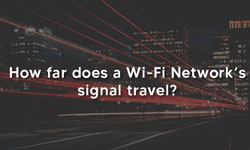 How Far Does a Wi-Fi Network's Signal Travel?
Published: July 17, 2020, 12:37 p.m. in WiFi / Wi-Fi, Wireless Network, Wireless Router by Emil S.
With Wi-Fi signals, there's such a thing called "path loss" because they do not travel an infinite distance. It can be compared to the sound made by your voice, which can only carry over a certain distance for anyone to hear it. When you shout, it can cover a larger ...
Continue reading