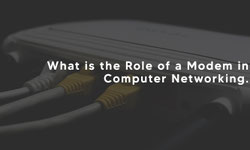 What is the Role of a Modem in Computer Networking.
Published: June 18, 2020, 1:54 a.m. in Modem, Networking by Emil S.
A modem transforms data into a signal so that it can be sent and received over a cable, phone line, or satellite connection. A modem is an asynchronous tool that is capable of transmitting data in the form of small packets. Once the data is received, the system that secures ...
Continue reading