The Best Personalized Web Browser Start Pages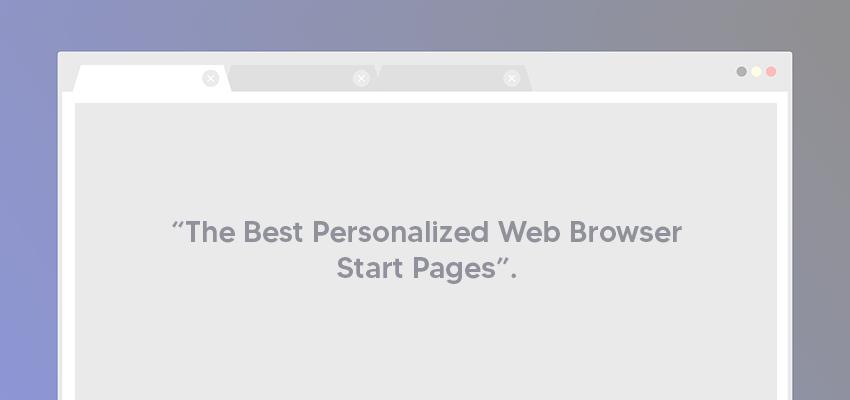 The Best Personalized Web Browser Start Pages
Posted June 9, 2020, 8:54 a.m. by
Emil S.
It's always great to open your web browser and be directed to a start page that has everything you want. There are a lot of options to choose from and each has its pros and cons. In this list, we provide you with the best-personalized web browser start pages with their pros and cons for you to make a better decision based on what you need.
NetVibes
Pros

You get an all-in-one dashboard that can be personalized with news, weather forecast, feeds, and social media.
NetVibes offer free plans.

Cons

You only get access to a few features with the free plan. If you want to be able to do more, you have to get a premium account.
There is no support and analytics for the free plan.
With NetVibes, you get a dashboard that is close to the total package suitable for personal use, small business owners, and big companies. NetVibes allows you to add customizable widgets on your dashboard. A key feature is the "Potion" app wherein you will be able to automate actions for your widgets on your dashboard.
If you get the premium account, you will naturally have more powerful features such as autosaving, analytics, and tagging. If you depend on widgets for some tasks, the automating feature is a great time-saver for you.
Protopage
Pros

You get a multifunctional search tool.
You get access to several RSS feed modules.
With a drag-and-drop interface, your start page can be customized like your desktop.

Cons

You are unable to embed some websites on the page.     
The page is very text-heavy, therefore it can be quite dull to look at.     
The social media widgets that you can use are limited.
The start page from Protopage is simple-looking but will give you enough options to customize it. The drag-and-drop interface allows you to arrange your widgets any way you want them to. It's a good start page if you follow news sites and blogs since you can display feeds from the sites that you are following, displaying the latest post and you can even have photo thumbnails from the latest post displayed if you want.
This way, you are always updated if there is a new post. If you are the type who bookmarks a lot of sites, this is the best option for you so you do not have to go through each site individually to see if there is anything new.
igHome
Pros

Perfect for social media integration.
You get themed wallpapers that you can change from time to time
Comes with a Google menu bar on top of the start page.
It has tabs to allow you to organize your gadgets and feeds.

Cons

The format may be too old-fashioned.
The page is text-heavy.
If you remember iGoogle, Google's own personalized start page that stopped in 2013, the look and feel of igHome are quite similar to it. If you are a huge Google fan, you may want to try igHome. The Google menu bar on the top will allow you to have easy access to your Google calendar, your Gmail, your Google Bookmarks, your Google Drive, your YouTube account, and many other Google services.
My Yahoo
Pros

You get instant access to all services offered by Yahoo.
You get more options for making it more personal by having your choice of layouts, themes, and interests.
You can add weather forecasts, feeds, news, sports scores, and stock quotes on your start page.

Cons

You have to deal with a lot of ads – some obvious, while some are not.
The start page can look cluttered but this can be easily fixed with the way you arrange the elements.
Yahoo may have seen better days but it is still a popular starting point when people go online. The best thing about My Yahoo is that users can customize their start page based on their interests. My Yahoo can also integrate with other popular sites and apps like YouTube, Flickr, and Gmail. If you want a highly personalized start page, this is the best option for you.
My MSN
Pros

You get amazing human interest stories and stay updated with your local and international news.
You get to join in interesting polls and when you are bored browsing the net or need a break from work, you can take interesting quizzes.
You can easily customize the page by removing and adding sections.

Cons

You have to deal with ads.
Sometimes the page looks cluttered because it has too much going on.
For Microsoft users, you get the My MSN start page when you use MSN.com. Once you sign in with your Microsoft account, you get access to your news page and you can customize and edit what you get to see on your start page.
It does not have a drag-and-drop interface for easy customization but you can simply shuffle, add, or remove sections on the page. You can also use the menu on top of the screen to access popular apps like Facebook, Twitter, Skype, Microsoft Office, and OneDrive. This is a good option for Microsoft users and for those who want to be entertained n their free time.
Start.me
Pros

You get a page that is fully customizable with widgets, weather forecasts, news updates, website feeds, and you can even have your to-do list to remind you of your priorities.     
You get a start page with a more modern design and layout.     
You get to tweak with your privacy and sharing settings.

Cons

The free account only has basic features and it is ad-supported.
If you do not want to deal with ads, get live RSS feeds, and have collaboration options, you will have to upgrade to a premium account.
The Start.me page is a modern-looking dashboard that is easy to the eyes. A free account can give you a lot of customization options such as managing bookmarks, RSS feed subscription, productivity tools, importing or exporting data from other apps and websites, customizable widgets, themes, and having multiple personalized pages.
The free plan Start.me is generous compared to some of the pages listed here. The fun does not stop there. Your Start.me page can be synced across all devices that you own. You can also add convenient browser extensions to your page. If you want more options when it comes to getting your personalized start page, Start.me is a good choice for you.
MyStart
Pros

Your start page comes with your to-do list, notes, and even games.
The start page has a minimalist design with beautiful photography displays and offers music that you can chill out to.
You get non-obtrusive links to web services and popular social media websites.

Cons

The news sources come from a limited selection.     
Search engine options are limited. You can only choose between Google and Yahoo.
If you want a start page that is not too cluttered and only shows the things that you need, the MyStart page is a good choice. The start page is installed as a browser extension. Features that you can get are time, date, weather, your most visited websites, and a simple search field from Google or Yahoo – basically, just the essentials. Its simplicity can be compensated with the fact that you are treated to beautiful photography every time you use a new tab. If simplicity is key, this is the best start page for you.
Incredible StartPage
Pros

Instead of seeing the Google Chrome start screen, you get a customizable theme.
There is a designated area for you to take notes.
Easy access to recently closed tabs and your saved bookmarks.
The simple layout saves you from being distracted.

Cons

If you go on dark mode, you will have difficulty seeing some text elements.     
The search results you get from this start page is not as good as the search results you get from Google.
This page is great, especially for Google Chrome users. You can install the Incredible StartPage as a web browser extension. The layout is two small columns on the left side and a notepad above the two columns for your notes. The right side is one large box.
You can organize your apps, bookmarks, and most visited sites among the columns or the large box, depending on your preferences. The notes you have on the start page's notepad can be posted directly to your Google Calendar or Gmail. If you want a start page free from distractions and you often take notes as you browse, the Incredible StartPage may be the best option for you.
uStart
Pros

You get to choose from different skins and themes.
You get an RSS feed reader presented in a list style.
You can read your email directly from the start page.
You get a wide range of customizable widgets.

Cons

Only cover the basics. Customization is limited to themes.     
The background images can be distracting.
With uStart, you get the most social widgets compared to the other options on this list. The widgets include Instagram, Twitter, Twitter Search, Gmail, and RSS feeds. You also get to import data from your NetVibes account and Google Bookmarks using this start page. If you use a lot of widgets or your work entails doing social media management, this is the best start page for you.
Symbaloo
Pros

Your bookmarks and other online resources are displayed on the screen like a grid. The squares in the grid can be customized so you can place icons, change the colors, and place pictures in them.
This is a great start page for those who are visually oriented.

Cons

The tile design can be messy and maybe something that you will not get used to. It is an entirely different look compared to most start pages.
The response time is not as quick as the other options on the list.     
You have to deal with ads if you only get a free account.

 
Symbaloo start pages stand out because of their unique grid layout. With their design, you will be able to see all your favorite sites on your start page. You can even organize the sites you bookmark in bundles and place whatever you want in the blank spaces of the grid.
You also get the option to have multiple tabs if you have a large list of websites that you want to keep track of. The layout may be messy but if you are highly organized, you will be able to make use of the multiple tabs to keep everything in clear sight. If you are a teacher or managing teams, this type of start page may be an advantage for you.
Related:
Reviews
Browser
Start Pages