The Top 10 Mesh Wi-Fi Network Systems of 2020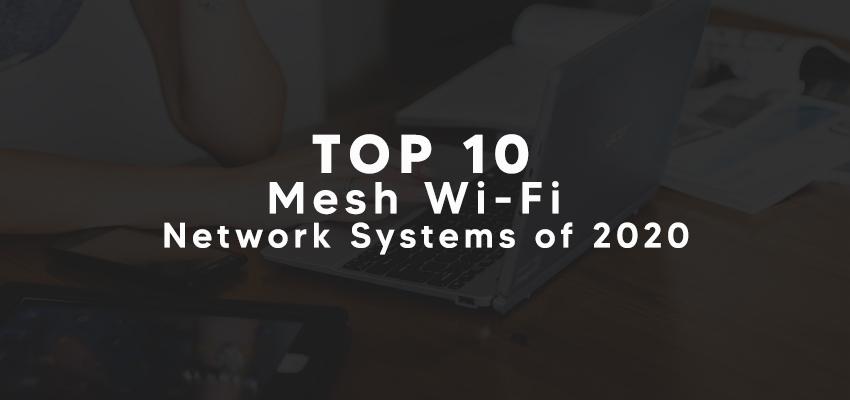 The Top 10 Mesh Wi-Fi Network Systems of 2020
Posted June 16, 2020, 1:06 a.m. by
Emil S.
Here is a list of the best mesh network systems that you can find in the market this year. These products can ensure a fast, reliable, and secured Wi-Fi connection that covers every area in your house or office.
1. Netgear Orbi: The Ultimate Champion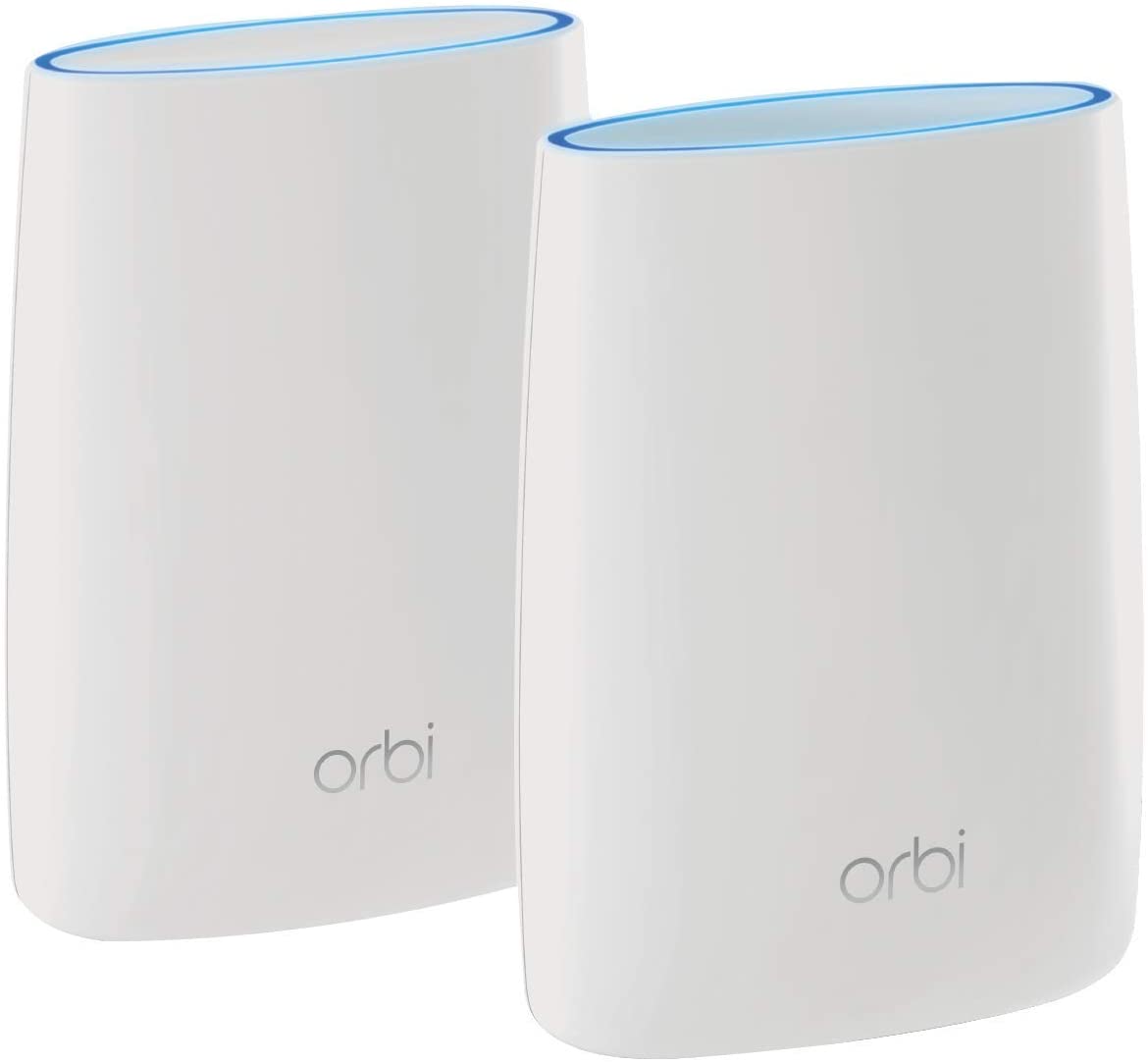 If you want a mesh network system that has almost everything, the Netgear Orbi tops the list. It has the total package that offers speed, connectivity options, and generous coverage. You get a satellite and router when you purchase the Netgear Orbi package.
This tri-band mesh network system comes with six antennas (internal) for more reliable signals. You will find a USB 2.0 port, a WAN port, and three Gigabit LAN ports at the router's base. When you look at the satellite, you will see a USB 2.0 and four LAN ports. Because of this, you can be assured that you will have great multiple connections.
When it comes to speed, the Orbi can provide a speed rate of 400 Mbps if you use the 2.4 GHz frequency band and 866 Mbps if you use the 5 GHz, frequency band. The second 5 GHz frequency band is used for communications between the satellite and the router for optimum performance. The Orbi can cover an area of 5,000 square feet, which provides you with excellent coverage. You can also do data streaming simultaneously instead of sequentially with the MU-MIMO feature.
2. Ubiquiti Amplifi HD: The Best in Range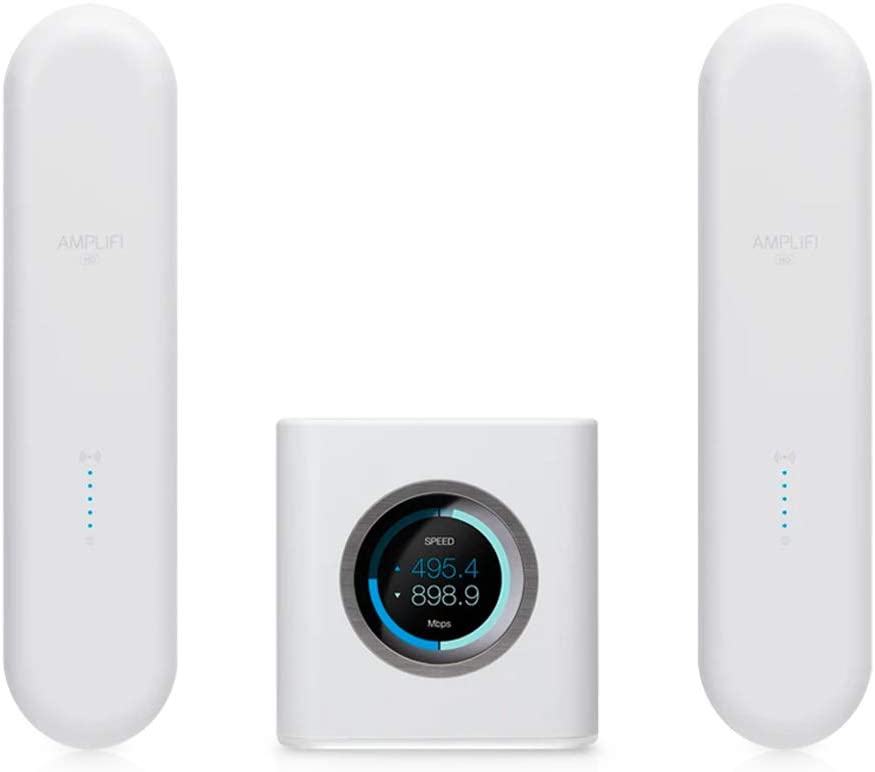 If you live in a large house or you need the mesh Wi-Fi network system for a large office, the Ubiquiti Amplifi HD turns out on top of the list. It is made especially for huge, multi-story homes that have obstructions like dense walls. There will be no dead zones once this system is set up. You get an extensive range with this mesh Wi-Fi network system. It uses six long-range and high-density internal antennas that can cover as much as 20,000 square feet.
The Ubiquiti Amplifi HD may be a bit large and bulky, but it has a sleek and elegant aesthetic design. You get two mesh points that you have to plug in and a router in the package. The router is equipped with a touchscreen LCD in full color. The display shows the date and time. Tapping on the screen will show your network's stats like the current download, upload, and throughput speeds and the WAN IP address.
The router runs on 802.11ac that handles 2.4 and 5 GHz frequency bands and is powered by a single-core central processing unit. It can deliver speeds of 5.25 Gbps. The Ubiquiti Amplifi HD also comes with a mobile app. You can download this on your smartphone for free. With the smartphone app, you can manage your settings and your network traffic by segregating the two frequency bands and letting them have different SSIDs.
3. Linksys Velop Tri-Band AC6600: The Fastest Speed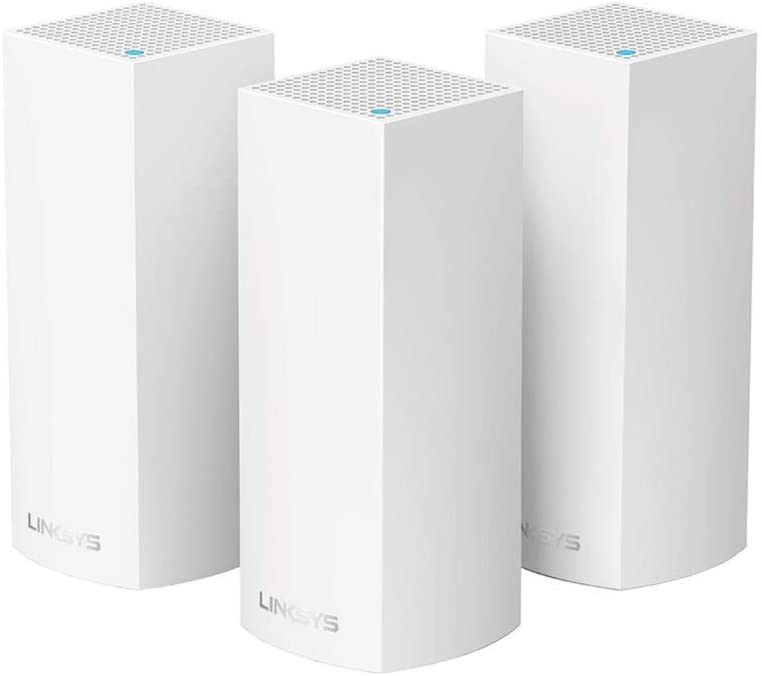 If fast Wi-Fi is what you want in a mesh Wi-Fi network system, you should get the Linksys Velop Tri-Band AC6600. This system will provide you with high speeds, letting you do more things online. The package includes three nodes. The nodes are sleek and white. The nodes are visually attractive enough to be on display.
Each node can cover an area of 2,000 square feet, giving you total coverage of 6,000 square feet coverage for your home. If your home is not that big, you even have the option to buy the nodes individually. Every node functions as an AC2200 router. If you use the 2.4 GHz frequency band, you get a speed of 400 Mbps. If you use the 5 GHz frequency bands, you get a speed rate of 867 Mbps. You get ultra-fast speeds with the help of MU-MIMO technology.
The Linksys Velop Tri-Band AC6600 also comes with a lot of features such as device prioritization, guest networking, and parental control. It also comes with its mobile app available for iOS and Android smartphones for easier network management.
4. Gryphon Secure Mesh System: The Most Secured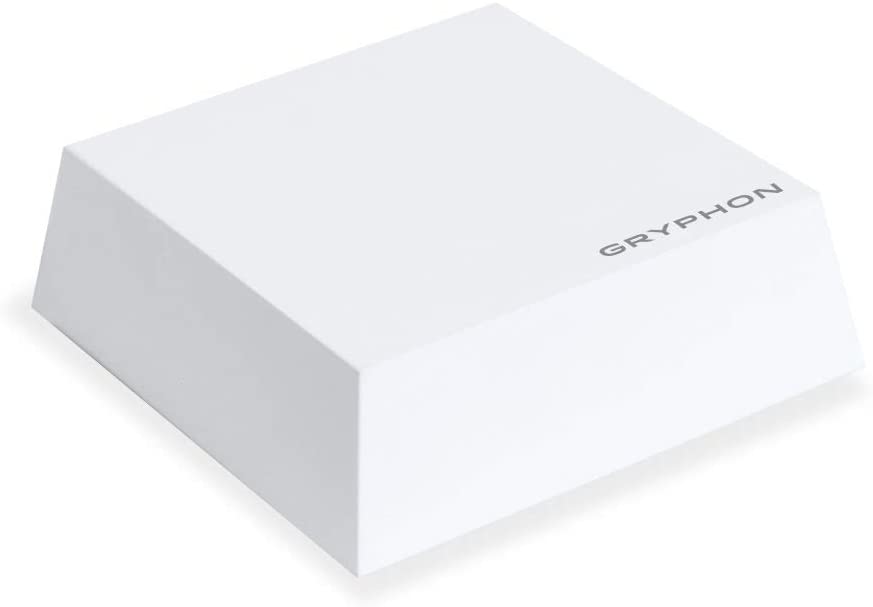 In this day and age, where there are so many cyber threats, a secure network connection is essential. Whether you are dealing with a lot of confidential information, or you do a lot of online shopping, the network connection you use should be protected. The Gryphon Secure Mesh System stands out in this category.
This mesh Wi-Fi network system detects any intrusions with the use of Artificial Intelligence. Through ESET, you also get malware protection. The Gryphon Secure Mesh System is capable of monitoring all your devices and electronics. The malware can actively filter any incoming data, so threats are dealt with before it reaches your device. It also can get rid of unwanted or suspicious websites and files out of your network with its enterprise-grade security. If a device you are using is compromised, it is kicked off the system until it is clean and clear from being a threat.
You can manage all protective security features with the Gryphon app. With the app, you can see which devices are connected to your network, and you can also access their browsing history. You also use the Gryphon app to set up the mesh Wi-Fi network system quickly. The app also has parental control, so you can be assured that your kids will not be able to access specific sites. Each unit of the Gryphon Secure Mesh System can cover a range of 3,000 square feet.
The Gryphon Secure Mesh System may not be as affordable as the other products on this list. Still, with its comprehensive way of dealing with threats to your network's security, it is worth every penny.
5. Samsung SmartThings Wi-Fi: The Smart
Home's Choice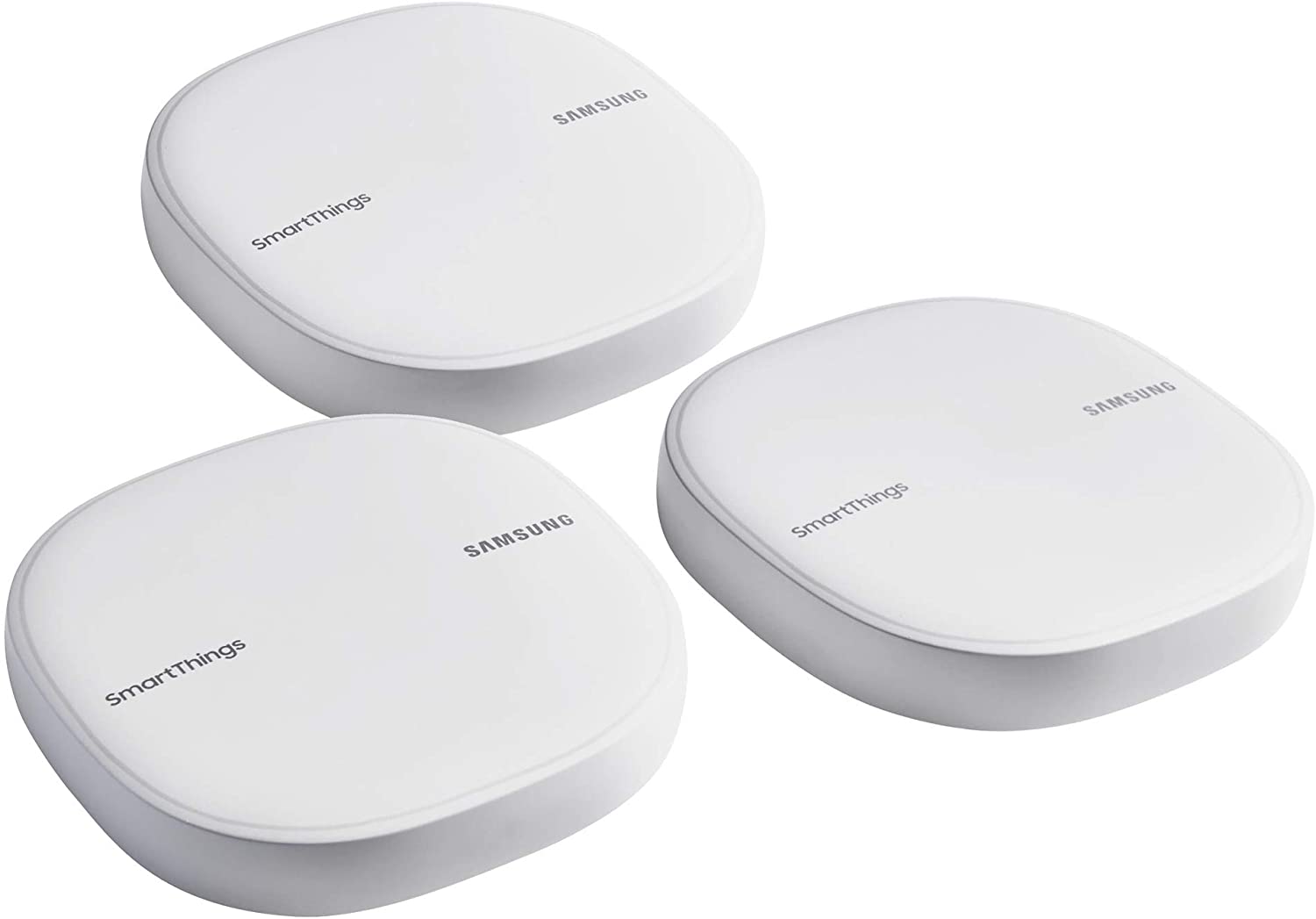 Stable connection and excellent coverage are vital in a mesh network system when you own numerous smart home appliances and tools in your house. In this category, Samsung's SmartThings Wi-Fi stands out among its contenders majorly because it can double as a smart home hub.
With features like adaptive intelligent Wi-Fi network, Z-wave connectivity, Zigbee, and Bluetooth technologies, you will be able to control more than a hundred smart home devices using the SmartThings app. You can set up routines with Google Assistant or Amazon Alexa. Running the devices in your home through the SmartThings app will make life easier.
Samsung SmartThings Wi-Fi also makes use of Plume. This cloud-based system uses AI to learn about your network preferences to optimize its performance. It can automatically recognize which device would need more throughput and capacity. You also get to personalize and monitor the access of every user that is connected to your home network.
You get three SmartThings routers in a set. The three routers can cover an area of 4,500 square feet. You can have a total of 32 hubs all over your home. Each hub is an 802.11ac Wi-Fi router that can give speeds of 866 Mbps for the 5 GHz frequency band and 400 Mbps for the 2.4 GHz frequency band.
6. Tenda Nova: The Most Valuable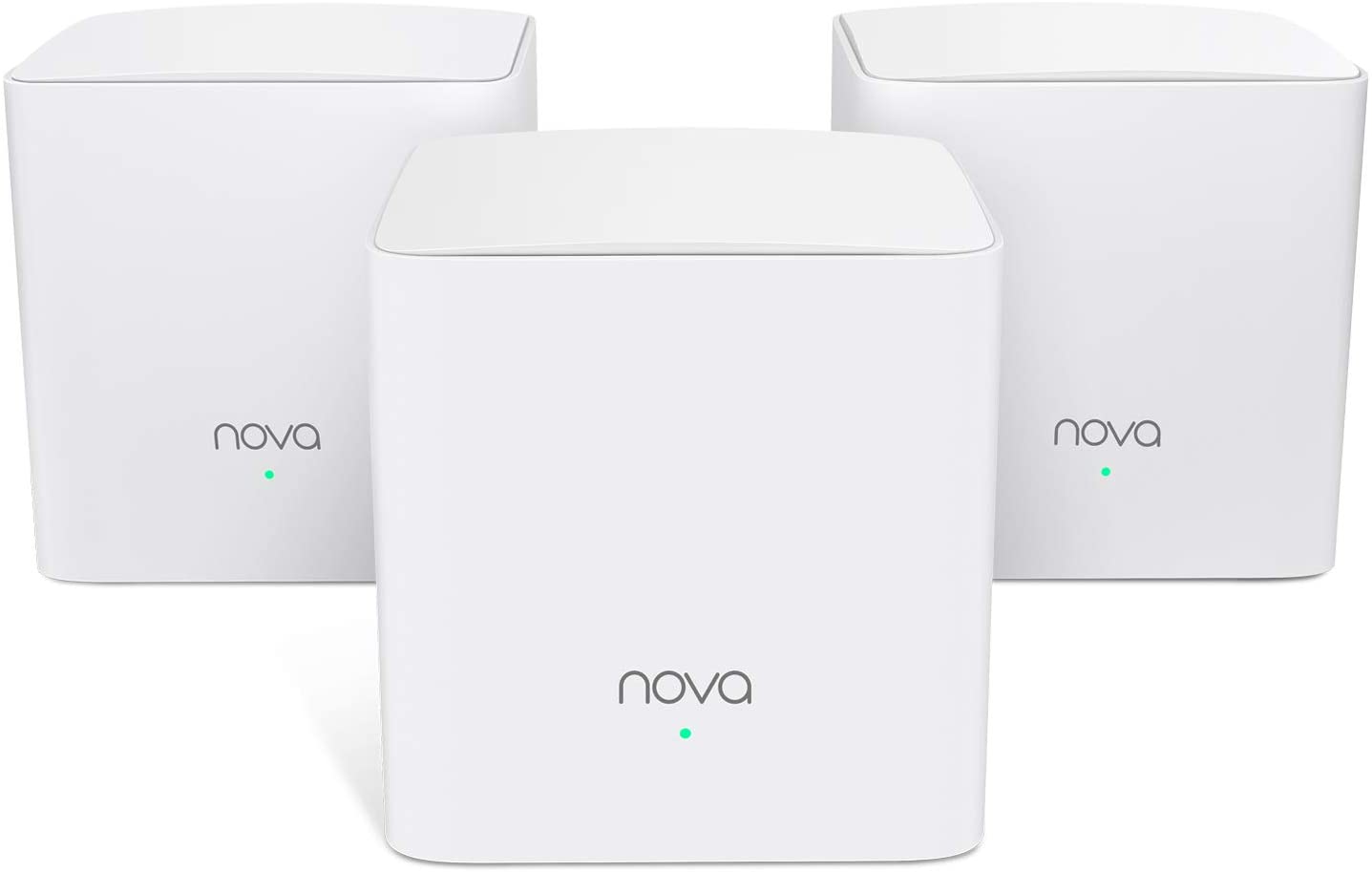 If you truly want to get your money's worth, you need a mesh network system that offers features that suit or are even better for the price that they are asking. For the most valuable model, the Tenda Nova tops the list. This system is not only easy on the pocket but also offers reliable and robust connections for your home.
The Tenda Nova has a range of 6,000 square feet for coverage – this is enough coverage for a large house. The unit has LED lights that will indicate to you the status of your network. This mesh network system uses Wave2 MU-MIMO technology. This makes sure that your home network will be focused on all connected devices at the same time. It also has Tenda's beamforming feature, which also boosts your signal's focus to all of your devices.
The Tenda Nova has a network development technology that ensures the strength of the mesh network system in case one of the units goes down. When you get disconnected from one unit, it will automatically detect the nearest unit available and connect your device to it right away. Setup is effortless – no special configurations required. Your mesh Wi-Fi network system will be up and running in just a few minutes.
7. Google Wi-Fi: The Most Aesthetic

If you are very conscious about your interior decorating, you need to get a mesh Wi-Fi network system that has an attractive design. Google Wi-Fi is the best option for you when it comes to the most visually pleasing mesh network system.
You get three satellites in the package. Each satellite can cover 1,500 square feet, meaning you get to cover 4,500 square feet overall. The satellites look like hockey pucks and look stylish, sleek, elegant, and modern enough to be displayed in plain sight.
Each satellite is powered by a quad-core Arm central processing unit, 802.11s mesh, and AC1200 (2X2) 802.11ac circuitry. Each satellite comes with an eMMC flash memory of 4 GB and a RAM of 512 MB. It also comes with a Bluetooth radio. Take note, though, that the Google Wi-Fi has no USB ports.
The Google Wi-Fi mesh system supports both 2.4 and 5 GHz frequencies. Still, they are combined into a single band, so you really could not manage which devices use which frequency band. However, because of the beamforming feature, your device will automatically be connected to which frequency has the strongest signal at the moment. You can use the Google Wi-Fi app to manage the status of each satellite. You can also set up guest networks, port forwarding, do test speeds, and many more from the app.
8. Eero Pro Mesh Wi-Fi System: Simplicity Is Key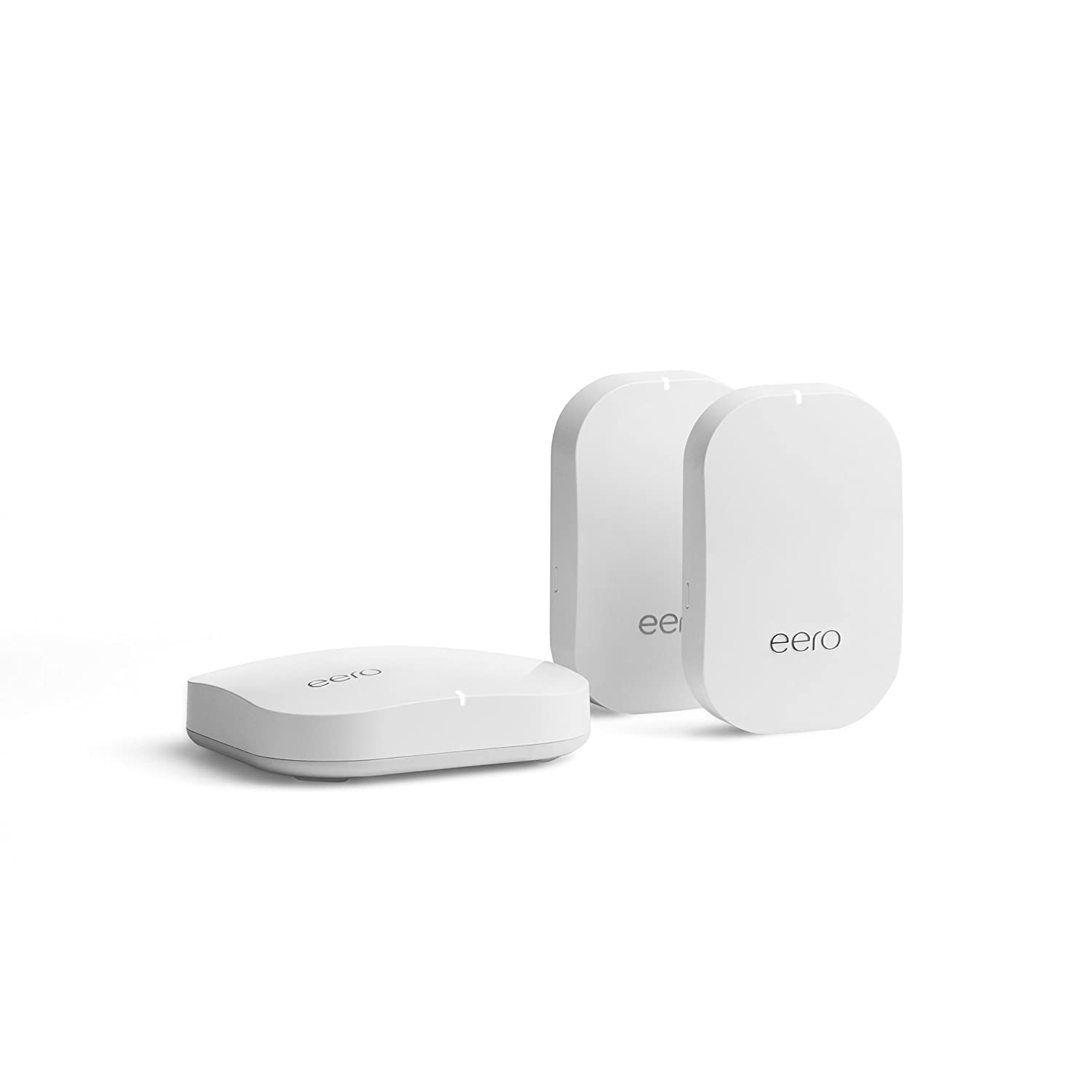 If you are looking for a mesh Wi-Fi network system that is affordable and simple enough to do just the basics, the eero Pro Mesh Wi-Fi System is the best option for you. It can deliver a fast and stable Wi-Fi connection to your home hassle-free.
The Eero Pro Mesh Wi-Fi System was designed with convenience and simplicity in mind. It is compatible with any Internet provider, and the setup will just take about 10 minutes of your time. Plus, system updates are done automatically to keep your network secure and implement any improvements for better performance. It also has the TrueMesh feature, which routes network traffic, drop-offs, and buffering intelligently. The whole system
works automatically for you.
This system can cover about 1,500 square feet, which is enough for an entire house. It is dual-band, supporting 2.4 and 5 GHz frequencies, giving you a total speed of about 550 Mbps. This is enough to support your work, streaming, and online gaming needs.
You can manage the whole mesh Wi-Fi network system from your smartphone using the eero app. If you run into problems that could not be solved with the app, eero has a US-based customer service to help you out with your Wi-Fi troubleshooting free of charge.
9. TP-Link Deco M5: The Most Affordable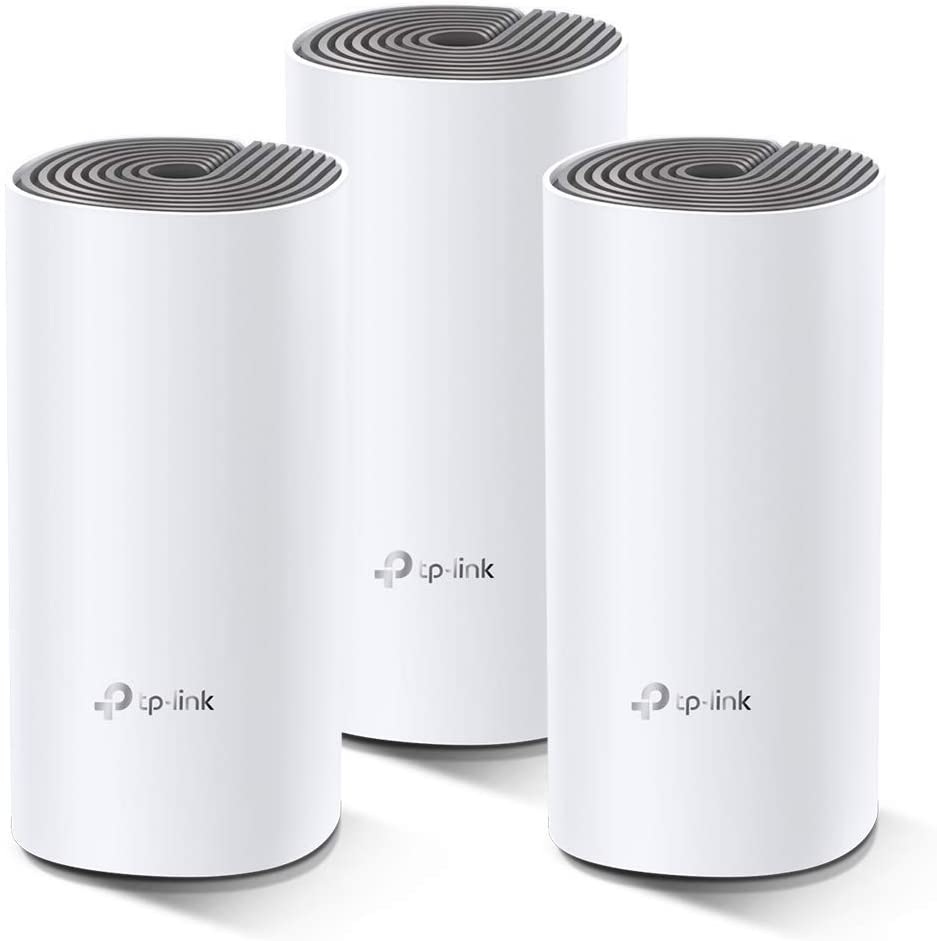 If you want an excellent mesh Wi-Fi network system but you can only get it with a small budget, the TP-Link Deco M5 is the best option for you in today's market. It has an easy and fast setup, which you can do with the accompanying smartphone app. It uses Bluetooth 4.2 so devices can connect to your Wi-Fi connection right away.
The TP-Link Deco M5 covers an area of 3,800 square feet, which is enough to cover every corner of your house or office. Within this range, this mesh Wi-Fi network system can support a hundred devices at the same time.
This mesh Wi-Fi network system is best for Internet plans that have speed up to 500 Mbps. It comes with the Adaptive Routing Technology feature so you can get the best connection for your device. MU-MIMO and beamforming technologies are also being used to boost the signal.
The unit has a USB-C power port, two gigabit Ethernet ports, and has LED lights to indicate the status of the device. Parental controls are also built in the system. This allows you to create individual profiles for every user in your home and block websites that children or teens should not be accessing, set filters and even set time limits.
10. GoTenna Mesh: Best for Smartphones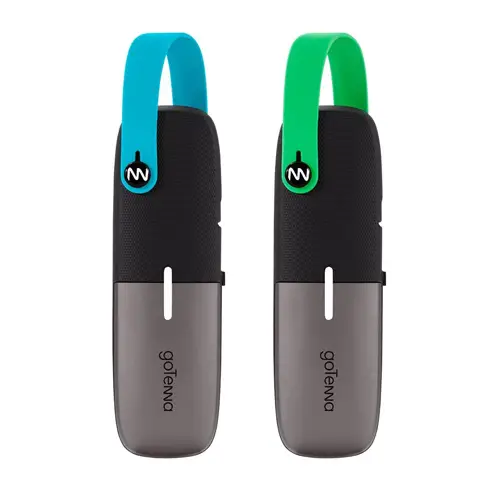 You can also get a mesh Wi-Fi network system for your smartphone. Under this category, the GoTenna Mesh is the best choice. It allows you to communicate even without Wi-Fi or cellular service. This is great for emergencies or when you are traveling. All communications are done with GoTenna Mesh will be encrypted for your security.
The GoTenna Mesh allows you and one family member or friend to communicate even if you go off the grid. Communication can be in the form of shared locations or text messages. This is great if one if you travel to a remote area or when you go hiking or camping. The distance covered between Gotenna units is as far as four miles.
The GoTenna unit will be paired to your smartphone through Bluetooth. Then, you can use it to communicate with the other unit. Think of it as a modernized walkie talkie where communication is done between two units over a specific distance.
This mesh network system comes with the GoTenna app, which includes offline basic maps. If you need a more advanced map, you will be asked to get the annual plan. Although you do not need to be online to use the GoTenna Mesh, you still have to set it up online. So make sure that you go online and set it up first before you leave for your trip or hike.
What You Should Get in a Mesh Wi-Fi Network System
Now that you know the top mesh Wi-Fi network systems available in the market, it is time to start comparing them. A good comparison will help limit your choices and end up with one that is indeed the solution to your networking needs. Here is a list of factors that you should consider when shopping for a mesh Wi-Fi networking system:
Coverage
A mesh Wi-Fi network system should have more extensive coverage than an ordinary router. It should be able to penetrate through obstructions like doors and dense walls. Coverage aims to get a reliable and robust Wi-Fi signal that can be used throughout your home. It should also be able to corner every corner of houses with multiple floors.
This means getting Wi-Fi coverage even when you are in the basement or the attic. Since you can always have additional satellite nodes, there is not much limit on what a mesh Wi-Fi network can cover.
But of course, getting more nodes also means spending more money. Choose a product that offers excellent and full coverage on one node. The better the coverage range, the lesser nodes you will need to cover your entire house.
Speed
A mesh Wi-Fi network system should be able to deliver faster speeds compared to what a normal router can deliver. Having higher speeds means that you can do 4K media streaming and online multiplayer gaming smoothly. High speeds also mean that you can accommodate more devices in your network without affecting the connection of other devices.
If you need more speed in your network system, this is probably the first spec that you should prioritize when comparing products. Keep an eye out for products with MU-MIMO as this technology helps boost your speed by streaming your data simultaneously instead of sequentially.
Software
A lot of mesh Wi-Fi network systems come with software apps for easy management. This is also something that you should consider when making a purchase. The app should help you go through the setup process quickly and give you remote access even if you are not home. It should also come with features that allow you to have more control over your network's configuration and access. Features that you should look out for include device priority, parental controls, and cybersecurity scanning.
Security
Most mesh Wi-Fi network systems provide better protection than a traditional router. These products often come with reliable security support. Most of the security checks are performed automatically. This way, you can be assured that your network is always secured. System updates are also done automatically, so you have the latest technologies and features when it comes to security. Some products also can screen websites and block access from malicious websites so that your device will not be compromised.
Design
If aesthetics are a big deal to you, the design is a factor that you should consider. Most mesh network nodes are designed in a way that they can integrate easily into whatever interior design theme you have in your home. The nodes will be placed in plain sight in several areas of your house, so it helps that you pick one that is good to look at or one that is unnoticeable.
Mesh routers work best when they are placed in a position where they are out in the open. Most brands have turned to minimalism when it comes to designs, as it can be integrated into any kind of theme. One thing is for sure – mesh Wi-Fi network systems always look better than routers and Wi-Fi extenders.
Getting a mesh Wi-Fi network system does not only boost your signal range but also improves the speed of your Wi-Fi connection. If you choose a mesh Wi-Fi network system with a great design, it can even add up to the aesthetics of any room you place it in.
There you have it! You now have a list of 2020's best mesh Wi-Fi network systems and a list of factors that you should consider when comparing mesh Wi-Fi network systems. After going through these lists, we are confident that you can end up with a product that will satisfy your needs.
Related:
WiFi / Wi-Fi
Reviews