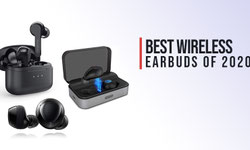 9 Best Wireless Earbuds of 2020
Published: April 23, 2020, 12:39 p.m. in Android, Wireless Earbuds, Reviews, iPhone by Emil S.
Headphone jacks are a thing of the past. Wireless headphones have taken their place, with many users preferring the snug-fitting earbuds to the over-the-ear headphones. Earbuds have the advantage of being small, provide plenty of sound, and are contoured to fit within the ear with little risk of falling out ...
Continue reading