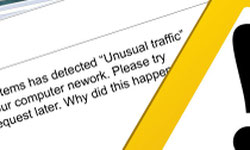 How to fix Google's "Unusual Traffic Error"
Published: April 14, 2020, 9:23 a.m. in Tutorial, Google, Google Chrome, How-to by Emil S.
You are browsing the internet randomly then you see an "Unusual Traffic Error" message on your screen. What do these messages mean? These error messages occur when Google senses that queries or searches are automatically sent from your network. Google presumes these searches are mechanically generated by a search scraper, automated ...
Continue reading