What's PPPoE Internet Access, and How to Set it Up?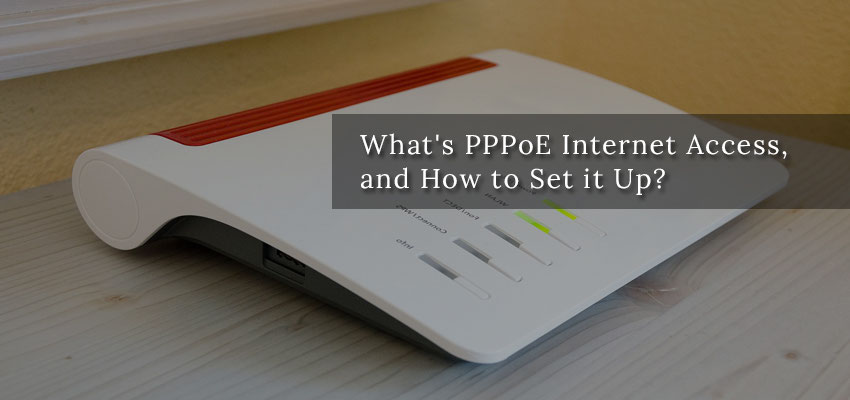 What's PPPoE Internet Access, and How to Set it Up?
Posted April 28, 2020, 1:28 p.m. by
Emil S.
Providers of internet service, although not all, employ Point-to-Point Protocol on Ethernet (PPPoE) to supervise the networks of their customers. All broadband routers can support this connection mode to the internet while broadband modems need to be configured.
How Does PPPoE Work?
When you subscribe with your internet provider, they assign you a unique password and personal username for your PPPoE and give you either a modem or a router. All routers support PPPoE but a modem will need to be configured to do so. This specific network protocol is what allows them to track your usage and to oversee the allocations of IP addresses.
How it works is such that your network at home will make a request for a connection on the internet, which sends your PPPoE login details (username and password) to your provider, and then you receive an IP address as a result.
The protocol technique used by PPPoE is called tunneling, which works to embed messages in a certain format contained in another format. This makes PPPoE like VPN that employs encryption protocols such as Point-to-Point Tunnelling Protocol (PPTP).
Not all Internet service providers (DSL) utilize PPPoE. Fiber and Cable providers do not employ PPPoE but other internet service types such as wireless internet (fixed) will or will not. To know for sure, you may need to ask your provider.
Setting Up Your Router
Keep in mind that the following tips may differ as dictated by the specific model of your router.
 In your menu for Setup/Internet, choose PPPoE as your type of connection and key in the parameters required in the text box. This may be your PPPoE login details (username and password) and at times, the size of your Max Transmission Unit.
The following are some router brands and URLs for the instructions on how to set up:
TP-LINK: How to install TP-LINK wireless router to work with a DSL modem (PPPoE)Netgear:
Manual configuration of a router for DSL internet service with a bridged modem (PPPoE)
Linksys: How to set up PPPoE DSL connections with a Linksys router
Belkin: Setting up a Belkin router for DSL (PPPoE)
For dial-up network connections, the protocol was designed originally for connectivity that is intermittent. As such, broadband routers provide for the "keep-alive" or "always-on" feature, which directs PPPoE connections and ensures smooth connectivity. Without this, home networks will be disconnected without notice.     
Drawbacks with This Network Protocol (PPPoE)
PPPoE may require a Maximum Transmission Unit (MTU) in order to properly work. Internet providers will inform their subscribers of this requirement and it could be anywhere between 1480 to 1492, which is the upper limit MTU that PPPoE supports.
There is, however, a choice to configure your MTU settings in your router at home to adhere to this requirement. Another problem with PPPoE is that your administrator to your home network may delete your PPPoE settings by accident. As a result of this probability of human error, some internet service providers have left PPPoE as their network protocol and moved towards the DHCP-based assignment of IP addresses.
Related:
How-to
Internet
PPPoE