What is a Dual-band Wireless Networking?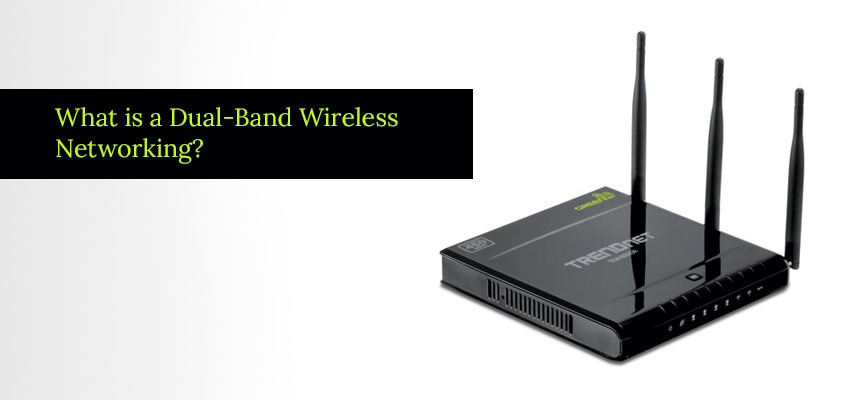 What is a Dual-band Wireless Networking?
Posted April 29, 2020, 2:13 a.m. by
Emil S.
Most modern Wi-Fi routers today are dual-band and can transmit signals on both the 2.4GHz and 5GHz bands simultaneously because of two different types of built-in wireless radios. Some of the more premium routers are even tri-bands with a single 2.4GHz plus two 5GHz bands.
Having more than one radio gives dual-band routers a significant advantage over the first generation of routers inside homes from the 1990s that only had an 802.11b that used the 2.4GHz band. During that time, only companies can access 5GHz networks with devices equipped with 802.11a radios.
With the data-transfer needs of households continuing to increase exponentially, manufacturers started featuring the 802.11n and dual-band became a standard in home routers.
Pros of Dual-Band Networking
With a dedicated interface in each band, these powerful routers with an 802.11n or 802.11ac radio can take advantage of the different benefits of both bands. Retaining the 2.4GHz use gives the routers a more extensive range and compatibility with Legacy devices.
On the other hand, the 5GHz band allows it to achieve faster throughputs needed for applications like smooth multimedia content streaming and lag-free online gaming. Users can avoid congested data traffic by switching between those frequencies.
There are still several gadgets and appliances that operate on 2.4GHz. They're only limited to three channels that don't overlap. It's a source of the interference with Wi-Fi networks and reduces internet speeds drastically. That's in contrast with the 23 channels available on the lesser utilized 5GHz band that can help mitigate problems like those with ease.
Another important feature of routers having two bands is Multiple-In Multiple-Out (MIMO) radio configuration support. With several radios working together on two bands, the result is a faster and more efficient throughput and allows the ability to use more devices simultaneously. The resulting performance gains over single-band networking is tremendous.
Cons of Dual-Band Networking
In terms of disadvantages, the first thing that comes to mind is the cost. Compared to a standard no-frills router, they are understandably more expensive. As with other newer technologies, prices will tend to go down as more and more people use this improved standard. Some manufacturers have started offering affordable models with only a few compromises here and there.
Another thing to consider is compatibility with the 5GHz band. If your current device or computer doesn't support that speed, then you can't take advantage of it. There's also an issue with shorter ranges at 5GHz compared to more coverage achieved on the 2.4GHz band.
Wireless Dual-Band Routers
With several Wi-Fi devices now becoming more common in the home, Google Wi-Fi has emerged as the top favorite Wi-Fi system used. You can set up three devices or wireless "points" that can expand coverage to as large as 4,500 sq. Ft. It allows all your devices to access the Internet or connect with each other. It also routes them to the most powerful signal available.
Dual-Band Wireless Adapters
Not to be confused with routers, an adapter provides a wireless capability to a single computer that doesn't have one. It usually comes in the form of a dongle that's plugged into a USB port. Without it, you would have to use an Ethernet cable to access a network.
Like dual-band routers, these Wi-Fi adapters also operate on the 2.4GHz and 5GHz dual-band using wireless radios. The newest ones come equipped with either the 802.11n or 802.11ac, which would allow them to work on both bands, but not simultaneously.
Dual-Band Smartphones
Some premium phones also feature dual-band capability or even more because they need compatibility with more networks around the world.
Related:
Internet Connection
Wireless Network
Dual-band Network