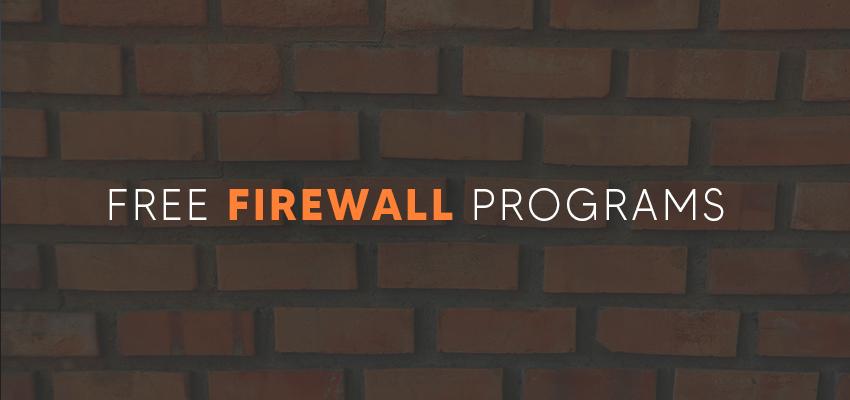 Free Firewall Programs
Posted Oct. 23, 2020, 2:17 a.m. by
Emil S.
Windows' operating system provides necessary firewall programs that can help protect your software and hardware from compromise. However, these built-in features require that you have a technical ability to understand how they run. These usability issues have made many users turn to alternative programs. Here is a list of the best firewall programs that are also free and easy to use.
Best Free Firewall Programs
This list shows the best firewall programs available, with the most reliable software from top to bottom. The list also shows the pros and cons of each firewall software program.
Comodo Firewall
This firewall appearing as the first program on our list shows that it's secure, and its programmers are actively involved with the software. Comodo Firewall has many additional features to its essential firewall utilities to ensure the best security for your computer. These features include ad-blocker, DNS servers, cloud-based browsing, Game Mode, and even an antivirus.
On installation, the program unpacks many tools on your computer, which makes its installation time a bit long. It changes your default search engine and homepage settings, but you can block this by removing the pre-selected options on the installer during the installation.
Comodo Firewall scanning features has an option that enables the rating of programs on your computer based on how safe they are, which is handy for detecting malicious programs. It also has advanced features like the Comodo KillSwitch.
Users can use this feature to assemble all running programs directly and makes it easy to stop unknown programs or services, which is a relief considering how complicated it can be to use ports and monitor each running service with the Computer Wizard.
Pros

Comodo Firewall design is with a lot of concern for usability. It is a typical firewall for everyone.
The pricing is moderate.
The program runs perfectly on Windows 10, and the earlier versions, Windows 7 and 8.

Cons

With this firewall, there is no security from exploit attacks.
Comodo Firewall stops automatic sandboxing on installation.
TinyWall Firewall
If you want a lot of flexibility in managing your system security, Tinywall Firewall is the perfect program. It has a simple interface that users feel comfortable to navigate. This firewall also helps you follow all active processes and ports connected to your internet in real-time.
Tinywall automatically scans through your computer for safe applications, then adds them to a whitelist. There is a manual option as well, and the option allows users to have more control and flexibility over the programs and files scanned. It also works in the auto-learn mode. All you have to do to have more plans in the whitelist is to enable auto-learn mode, run your programs, and turn off the way once it adds the related files to the whitelist.
Another essential feature is that when Tinywall detects viruses and popular sources of malicious viruses and malware, it provides easy ways to fix them: an example is how it redirects VirusTotal for scanning over the internet.
Pros

There are no unnecessary notifications.
Autolearn makes it easy to run programs efficiently as exceptions.
You can manually customize permissions.

Cons

There is no security from exploit attacks.
Without auto-learn, many programs won't run.
TinyWall can only run on Windows OS generations after Windows XP, from Vista upward.
GlassWire
GlassWire firewall is unique for its highly organized interface. Glasswire has an incognito option that you can enable to keep all traffic anonymous for as long as you want. The functionalities display in tabs like the Firewall tab, Usage tab, Things tab, Alerts tab, and Graph tab. You can detect spoofing and get a notification when your proxy settings get altered. You can also stop all messages for one day with Snooze. There are so many options with this firewall. 
The firewall tab shows all programs that your system runs, the connected host for the active programs, and the interface to block suspicious programs' access to the internet. The Graph tab shows different web applications in the instant that they receive traffic from the internet. The information for each application traffic is recorded for up to a month.
The Network tab shows all devices that connect to your system. The program adds tools as it detects them to the list. The Usage tab shows the details of data consumption in real-time. The details are sections to show daily consumption and weekly and monthly data consumption for inbound and outbound traffic.
You can analyze the list's data consumption at once or take them one after the other in the usage tab. The Alert tab shows all notifications that GlassWire Firewall receives during all activities that connect to your system. Information about devices connection, programs, threats, etc.
Pros

It has a user-friendly interface.
It has a highly organized arrangement of functionalities.
It can sort the program into a list that you can block in the group.
It has a lot of personalized options.

Cons

Many features only become available in premium versions.
Many other good firewall programs have more advanced personalization options.
ZoneAlarm Firewall
ZoneAlarm is a good firewall program that does so many activities using a few steps. It has a premium program that includes the Antivirus package in its service. Users may install this program with the free version and upgrade to Premium for the extra services. The firewall is also very adaptive. It controls notifications during Game Mode and secure users by placing passwords on pre-set events to prevent external influence on the files and preferences set.
Users can personalize this program with any of two security features, the Max security, which allows users to select apps to run manually, and the Autolearn, which follows the previous pattern of usage that a user had. Both security features have their unique benefits. ZoneAlarm users can easily switch between a private network and a public network with a simple slide system that makes connection flexible and less problematic.
Pros

ZoneAlarm gives a whole 5GB of cloud storage to help users avoid losing files.
It easily links with other apps during integration.
It works on all Windows OS from XP upward.

Cons

The slider system can make computers vulnerable, as the users can get no security in the lowest security setting.
The highest slider setting also makes the computer unusable, with everything tagged as unsafe.
The firewall doesn't offer protection from an exploit attack.
Users can't automatically install the firewall, and they have to skip all other services during installation.
PeerBlock Firewall
Peerblock is a unique firewall program because it works in a blocklist system. You'll create a list of addresses with standard features as adverts, locations, shady, Chinese spyware, Darknet, Game websites e.t.c. The program is more like a blacklist system. It pulls IP addresses from the blacklist so that IP addresses on the list are blocked from receiving network connections or sending from your computer to the internet.
Pros

The program is relatively easy to use.
It automatically blocks pop-up adverts and other sources of threat.
It's easy to create a list. You can even use the pre-set blacklist of the I-Blocklist to get started.
Users can update the list in a straightforward process, without affecting the regular running of the firewall.
It works on all Windows OS from XP upward.

Cons

PeerBlock developers are not active with the firewall so that users will rely on other users' information online.
The program is not easy to understand during its initial set-up and installation for non-techy users.
Privatefirewall
It is another program that works like PeerBlock. Privatefirewall involves pulling IP addresses from lists distinguished into groups. IP addresses that appear on the list are not allowed to communicate with the internet. Privatefirewall has a much-advanced modification to enhance security for your computer. It can initiate network shut down or control permission with custom settings for setting hooks, debugging, etc.
Privatefirewall offers a straightforward way to manage networks and activities carried out on it. You can take out a suspicious system with a click from the notification box, which is a feature that comes in handy in times of actual attack on your computer.
Pros

The configuration is direct and uncomplicated.
It provides links to valuable resources to protect users from cybercrime.
The program blocks unsolicited emails, not secure websites, and suspicious IP addresses.
Firewall rules stop to allow other programs to run.

Cons

The user interface is not easy to navigate.
The permission process is unnecessarily complicated.
NetDefender Firewall
NetDefender is an old firewall program that helps control the port or FTP that a connection from an IP address can access. It is made possible by the firewall system of defining path for IP addresses. It defends against programs when they are active on the network by showing a prompt to add them to blocked addresses. The user then clicks on the functioning program to add it to the blocklist. Also, the NetDefender runs a scan over the ports to show you the active ports so you can decide on which one of them to block. 
Pros

The program installation is easy.
It's an organized program with an easy way to block threats.
The program works with Windows OS from XP to Windows 8.

Cons

There are bugs in the program.
Only the paid version of the program is available. There's no freemium.
It's not a unique firewall program as others have many advanced features that don't bug.
Outpost Firewall
The Outpost Firewall is unnecessarily complicated and not user friendly but has useful features in its advanced set-up for those who can handle the program's complexity. These features are so helpful that they are enough to make you overlook the problematic program.
After installation, the program sets automatic firewall rules for applications to run with. It also permits users to control the block and allow activities. Users can also create a blocklist and add IP addresses to stop any chance of threat. Outpost also has a unique feature called Anti Leak that blocks malware from leaking information shared with trusted apps.
Pros

It's a simple and effective firewall program.
It has a feature that can prevent the loss of vital information to malware.
It can block unwanted access to the file manager. 

Cons

You have to enable program control.
It allows annoying pop-ups.
The programmers are no longer active in the development of the program.
Users will rely on online forums for support, as there won't be any support on this program.
AVS Firewall
This firewall program effectively prevents attacks on computer networks and has other features that prevent pop-up ads, unauthorized alteration to files and registry, etc. The parts are flexible, and the program's interface is easy to use. It is one of the apps that offer a lot of services. Unfortunately, the developers stopped its development, and the program's features won't update anymore. This program also works as an effective custom blocklist. It prevents listed ports, IP addresses, and applications from sending a connection to computer networks.
One of the most distinctive AVS firewall features is the Parental Control that permits websites that may contain explicit content. Users can enable security passwords for this category to prevent compromise, access, and alteration to its content. It also keeps records of network connections in its Journal Section. A user that needs to check his computer connection details for a date in the past only needs to visit the section. AVS works on all Windows OS from Vista to Windows 8. It's a great firewall option for users of Windows. 
Pros

The program gives many custom options.
It also makes many features available to its users.
It has a highly interactive user interface.
It keeps track and records network connections, which can be useful in investigating network compromise.

Cons

The programmers abandoned the project. It seems not to have any more connection with its parent company, AVS.
The installation is not straightforward. Users have to remove options manually to avoid downloading unwanted applications.
R-Firewall
R-firewall is suitable as a firewall. It detects threats and manages communications in and out of computer networks. R-firewall has features that block advert pop-ups and cookies, allowing users to work with custom configurations. This program is useful but has a complicated interface. Most users can't interact with the interface of how they would prefer. Batch functions can occur on installed software programs when a Computer Assistant activates predefined sequences.
R-firewall has a review of inconsistency in detecting and flagging programs, but it is useful when detecting the right ones.
Pros

It's an adaptive program that can easily alternate between configurations.
It can allow batch activities with Wizard.

Cons

The programmers are no longer active with their development.
It is inconsistent in its detection and flagging.
Ashampoo FireWall
This program is an interesting one. Its interface was designed to accommodate the different levels of technicalities. Users with little technical ability can use a computer assistant's support in the Learning Mode or fully control the firewall set-up with Expert Mode. In the Expert Mode, the user coordinates the firewall rules and decides which program can access the network.
Ashampoo Firewall automatically blocks all applications, and you have to permit each of them to connect networks with them. After setting the permission, you configure the firewall program to retain your selection. Once you set-up the firewall, it blocks all programs that don't have permission ultimately. This blocklist system is excellent for preventing unwanted apps from running unnoticed.
Pros

Ashampoo firewall installs with many add-on benefits.
The program only displays the necessary processes.

Cons

The programmers are not active anymore.
It can be ineffective for managing data leaking through trusted apps.
The windows versions 2000 and XP are the most compatible operating system for it.
New users can only activate the program with a license code, which is readily available. 
Honorable Mentions
The following firewall programs require payment to use their services, but they deserve mentioning because some features are not standard in the free alternatives. Some paid firewall programs that are worth the pricing are as follows:
Avast Premium Service
Avast security suite is available at USD60 only. It's a reliable program that's been around for a long time. The firewall's compatibility with different operating systems is enough to see how much difference a paid service can be from a free one. Avast license on purchase offers multiple device access. You can have ten devices that are both desktop and mobile. It also allows you to work across various operating systems without hassle.
Avast Paid version blocks ransomware (malicious attacks that show a prompt on the victim's monitor to pay a fee before a hijacked file, folder, or document is released). It also encrypts files, provides anti-phishing security, etc. This program also has its downside since it allows pop-up ads for software.
Norton 360 Deluxe
Norton 360 Deluxe is the real deal and value for money paid. Its protection service exceeds the average firewall protection and antivirus. It also includes secure VPN and Dark Web identity security to protect you from fraudulent activities of trojans on the other side of the web. It's reliable and elite in its service.
When using alternative firewall programs to those on your computer operating system, it's crucial to uninstall the Windows firewall services before installing alternative programs. Using two different firewall services on one computer is unnecessary and can create loopholes for attackers than provide an extra shield.
Also, a firewall is different from an antivirus. They both have separate functions. A firewall prevents access to your computer by ensuring security when your computer network interacts with other structures on the internet. At the same time, an antivirus protects your computer from viruses and malware and cleans the system that already has it. 
Related:
Security
Reviews
Windows
Firewall