How To Test Your Firewall.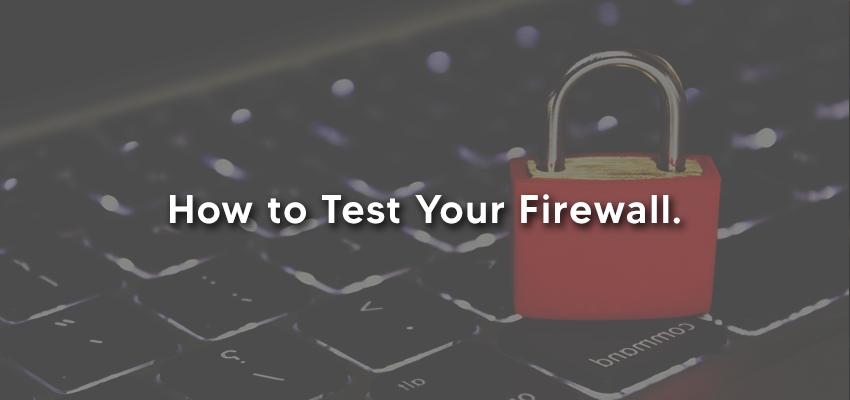 How To Test Your Firewall.
Posted Sept. 29, 2020, 12:28 p.m. by
Emil S.
If you read our 11 best free firewall programs and you now have one to secure your computer with, this article will help you understand how to test your firewall program and also help you know how to get it running perfectly. A good firewall program keeps the software and hardware of your PC from compromise when you are on the internet. A firewall frustrates attackers by helping you detect different forms of attack and managing your network, so attackers lose track of your computer. Firewall, however, does not protect against viruses as the antivirus does that instead. 
Criminals in cyberspace are constantly on the look-out for loopholes in computer security. When they detect insecure ports they exploit these vulnerabilities and access the computer, which isn't safe for your files and personal data. This is why ensuring a constant practice of security is necessary. Firewalls ensure network security by keeping unnecessary ports away from the network and detecting attacks on the necessary ports when they're on the network.
Producers of personal computers understand the importance of network security, this is why every PC will most likely have a firewall as a part of its operating system; Wi-Fi routers usually come with firewalls.
How Do You Test a Firewall Program?
After learning how to test your firewall program, it's crucial to make it a routine to check if the firewall is running properly. One of the most important services out there to achieve this goal is a free tool available on the site of Gibson Research, it's called ShieldsUP. When you visit this site, the internet service scans through apps and ports on your network for loopholes, just as an attacker would do with your IP Address; it'll run the following scans on your network: Port Test, Spam tests, Service Test, and File-share test. It also shows how much information attackers get from your browsers.
Types of Scans
These are different scans available on the web to check how well your firewall stands in the event of an actual attack. They are preventive measures that every user must take seriously.
File-Share Test
What this scan typically does is check the file exchange ports and applications for loopholes or signs of suspicious servers that are active in the file system and allowing compromised access to it.
Common Ports Test
Popular applications and services are usually the targets for attacks, the vulnerability service checks through NetBIOS, FTP, e.t.c., and other ports to confirm the status of the PC stealth mode.
All Ports and Services Test
The service makes a comprehensive scan through all ports on the network, the scan indicates the open ports (with red), closed (with blue), and those that are available in stealth (with green). You may find out that the port that the service flagged as open was open for a reason, others may be as a result of access to the system. It's crucial not to overlook the flags and work on all 1056 ports to confirm your network safety. You may also notice that the list of rules for your firewall is empty, this usually occurs when attackers compromise your computer with malware; detect these compromises with scanners designed for malware. 
Spam Test
Users of Microsoft operating systems can use this scan to know if their firewall is protecting them from unsolicited email services that attackers can use as a means to gain entrance into your system. This way you are not only preventing unwanted mails but also blocking possible attacks. The service is unfortunately unavailable for users of other operating systems. 
Browser Test
This is an important test even when it does not pass as one of the tests of a firewall efficiency. ShieldsUP runs a test on browser security to know what attackers can gather from access to it or what they already have from it.
Choosing the right Firewall Program
If you want to provide adequate security for your device, it's crucial to choose a reliable firewall program from the outset. Go for firewall programs that have active programmers and not abandoned programs. Buy a program that is secured, flexible, and easy to use. Also, check the compatibility of the firewall with your operating system and functionalities like antivirus, manual customization, Adblock, blacklist system, e.t.c.
It does feel good to know your system is safe from compromise, to confirm that only necessary ports are open to the internet and are safe even as they are open to it. But this isn't always the case, a lot of attacks occur daily and the best way to handle these attacks is to make sure to prevent them in the first place. You can do this by enabling the "stealth mode" on your firewall for both computer and router, and maintain a practice of checking your computer and other devices that access the internet.
Related:
How-to
Security
Firewall