7 Useful Apps to Find Free Wi-Fi Hotspots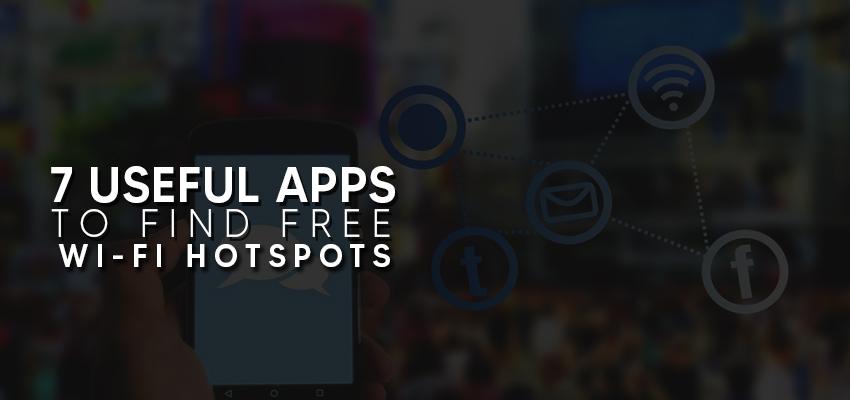 7 Useful Apps to Find Free Wi-Fi Hotspots
Posted Oct. 20, 2020, 8:24 a.m. by
Emil S.
The day you have been waiting for finally arrives—vacation time. You've accumulated enough leave credits from your job so you can go on a much-needed alone time. You have pre-arranged a list of travel essentials, and you are checking on each one of them inside your head.
You want to travel light, so you plan to bring only the basics. One carry-on bag? Check. Three sets of clothes? Check. Toiletry bag? Check. Travel health kit? Check. Travel documents? Check. Finally, a mobile phone and a charger. You hesitate to put a checkmark on it because you think something is missing. Then it hits you. You need stable internet on your phone.
This way, you can get information about the best hotels and restaurants you can go to. You can also make the necessary travel arrangements. The best way is to download a mobile phone app or go to a suitable website to look for free Wi-Fi hotspots in your area. Establishments like internet cafes, hotels, coffee shops, and airports offer free internet services. The app will help you look for the closest one with the strongest signal. Some would need a password (which you can ask) or, better yet, look for the ones free for public use.
Places That Offer Free Wi-Fi
Most sizeable fast-food chain restaurants offer free Wi-Fi for its customers. Famous ones like Starbucks and McDonald's have internet access within their premises. Libraries offer free internet access from their computers. Most of them also provide free Wi-Fi services. The New York Public Library has a unique way of delivering Wi-Fi for its visitors. They do it by supplying them with free hotspot devices that they can bring to their homes. Hospitals are also known to offer free Wi-Fi access. It is beneficial for patients who stay overnight and can't leave.
Cable providers also give free Wi-Fi to their customers, and AT&T, Spectrum, Optimum, and XFINITY are the best ones in the market. All Wi-Fi information and availability are on their respective websites. Here are the seven apps and websites that you can choose from, with pros and cons.
1. Facebook Mobile App
There are advantages and disadvantages to having a Facebook account. The benefits are beneficial and more often outweigh the disadvantages. One is that it is user friendly and is very easy to look for free Wi-Fi. To look for it, go to the More menu tab on your Facebook account and choose Find Wi-Fi. Also, tap the See More tab to view everything. If you can't find any Wi-Fi networks in your area, go to a different location and press the Search This Area tab.
Pros

It's user friendly.
The app updates every week.
It doesn't need extra plugins and apps to search for free Wi-Fi.

Cons

It isn't accurate. It won't show the other Wi-Fi networks in the area if your device is already connected.
The feature is difficult to look for on the app.
2. WifiMaps Website
The first thing you will see once you go to the WifiMaps Website is a large map. It will show you places that have free Wi-Fi hotspots. You can drag and zoom to look for a specific area that has free Wi-Fi.
Pros

The map is easy to understand.
It can zoom in and out from a location.

Cons

It can't search for Wi-Fi hotspots.
It's available in Russia only.
3. Avast Wi-Fi Finder Android App
Avast is an internet security and privacy app. Its primary function is to detect and remove internet viruses from your devices. They also have a free app that helps you find free Wi-Fi hotspots in your area. The app is easy to use and has features not available in other Wi-Fi locator apps. One such benefit is that it will tell you that the Wi-Fi hotspot is safe and has a fast download speed. Another feature will provide the rating and review of a hotspot from other users.
Pros

It's available for Android and Apple devices.
It has an internet speed test feature.
You can share your Wi-Fi access with other users that have the app.

Cons

It's only available to countries outside the United States.
It has user privacy concerns.
4. Free Wi-Fi Near Me Website
You can find free Wi-Fi on the Free Wi-Fi Near Me website from the information provided by its users. You can filter data to only show areas that have free Wi-Fi. You can also see the unsafe networks so you can avoid them. Another handy feature is that you can filter only the password-protected networks. For a bonus, it also provides their passwords. You can further filter it by the location type. This way, you will know which place to hang out that has free Wi-Fi.
Pros

It has an additional location feature.
The website has a step by step tutorial video.

Cons

It's not compatible with Google maps.
Some links on the website don't work.
5. OpenWiFiSpots Website
Compared to the others on the list, the range of Wi-Fi information you can access is more extensive. The OpenWifiSpots website shows thousands of open Wi-Fi hotspots everywhere all over the world. You can filter data by choosing which country, state, and city that has free Wi-Fi.
The website provides a guide for the user on the best places to get free Wi-Fi—public places like airports, coffee shops, restaurants, etc.
Pros

It provides information about the establishment that offers Wi-Fi as well as necessary information like a Google map of the area and the description.
It also gives commentary and a review of an establishment.

 

Cons

It only works in big cities.
Google Maps has frequent errors.
Some information on the site isn't accurate.
6. Wi-Fi Map Mobile App
Wi-Fi Map describes itself as a social network app whose purpose is to share Wi-Fi passwords for its users. It has listed and stored information from hotspots all over the world. It has a simple search function and can provide Wi-Fi details immediately. This app is convenient, and you have to be at least 2.5 miles within your preferred network for it to function. This way, you can get the Wi-Fi information with good signal strength. It also provides information about other systems in the area.
Pros

It provides the most accurate Wi-Fi information in the market.
It's user friendly.
It has a speed test feature.

Cons

It's dependent on the users to provide correct Wi-Fi information.
It's expensive to upgrade to the Pro Version.
7. The Wi-Fi FreeSpot Directory Website
The Wi-Fi FreeSpot Directory Website provides a list of establishments in your area that offer free Wi-Fi access. You can also pinpoint your current location. It is a handy website for camping because it can find a good Wi-Fi hotspot in campgrounds and RV parks.
Pros

It provides detailed information about the establishment, like its contact information.
The list on the website has a broad scope.

Cons

It's not user friendly. The website looks like it wasn't maintained for a while.
It doesn't provide reference points to its users."
You can choose among the locator apps or websites that you are comfortable using. It is a handy and necessary tool for your everyday life. Be sure to install something like this on your phone, whether you are traveling on vacation or hanging out in your local mall.
Related:
WiFi / Wi-Fi
Hotspot
Reviews
Mobile Hotspot