The 7 Best USB Wi-Fi Adapters of 2020.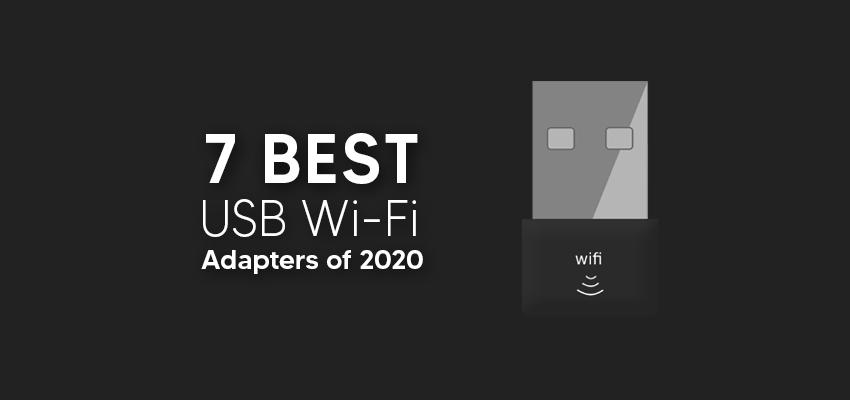 The 7 Best USB Wi-Fi Adapters of 2020.
Posted Oct. 16, 2020, 2:08 a.m. by
Emil S.
So, you're a professional gamer, and you're in the middle of a quest on your PC, and suddenly your LAN cable is out. If you've faced this problem more than once, you have probably done all your research related to USB Wi-Fi adapters. Even though almost all laptops available in the market these days have the Wi-Fi card pre-installed in them, most PCs still don't.
But as a gamer, you are aware that you need double the guarantee on your gaming system when it comes to a secure internet connection. A LAN cable is probably one of the most secure internet connections. However, you need a backup in a USB Wi-Fi adapter.
You'll be shocked to discover that most motherboards for PCs don't include the Wi-Fi card, and on laptops, the cheaper versions that are available do not include the Wi-Fi card. You can always buy a Wi-Fi card installed in your system, but a USB adaptor is one of the easiest ways to have Wi-Fi access on your computer. 
It can be a straightforward way to add wireless features to your PC or laptop. They're amazingly helpful in case you have older machines that are not compatible with the new software. Because the best of these adapters don't just offer wireless connections with more senior and outdated gadgets, they also help enhance these systems' performance.
The latest USB Wi-Fi adapters can bring a kick to your old machines that are dependent on regular Wi-Fi. The adaptors are quite necessary - all you need to do is plug in and play.  Once you connect the adapter to your system, you can install a driver for it, and upon installation, you will have Wi-Fi on your system.
Today most of the Wi-Fi adapters available in the market have dual-band wireless to offer connectivity, and they operate both on a 2.4 GHz and 5 GHz network. To ensure that you're getting the best out of your adaptor, you should pair it with a USB 3.0 port so that you can get maximum bandwidth with a fantastic internet connection.
In this article, we've mentioned some of the best options that you can use on your PC or laptop to ensure you have seamless internet connections throughout your gaming experience. Because when it comes to broadband, you do not want to compromise the quality. Look out for the best you can buy with your money so that you have uninterrupted connections.
1. Netgear Nighthawk A7000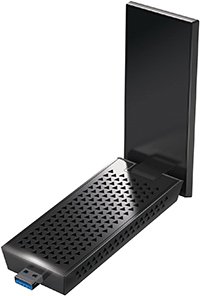 Netgear Nighthawk A7000 is dual-band compatible, and it offers the best experience during your gaming or online streaming sessions. With the maximum performance that can be achieved on a product of this range, this Wi-Fi adapter can reach transfer speeds of up to 1300 Mbps if you're using a 5G band. With a 2.4G band, you can achieve a 600 Mbps rate for transfer. It has a USB 3.0 port, which is lightning fast, and there's almost no transfer time between the adapter on your computer.
It is compatible with both old and new laptops and the port accepts 2.0 as well. In terms of setting up the Wi-Fi, it is relatively easy with the plugin and play installation. The adapter has a WPS button, so you have one-click access to the different encrypted Wi-Fi networks. Netgear Nighthawk A7000 archer has a magnetic bottom so that you have more options and ways to mount and place your equipment.
To offer you the best strength of signal inside your home in every corner, it uses beamforming. The device is relatively compact and can easily be used while you're traveling or changing the adapter's location inside your home.
2. Glam Hobby Ourlink U631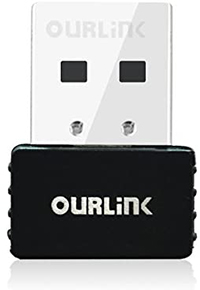 The best in times of price in this series, Glam Hobby Ourlink U631, is the best choice for someone who has bought a new laptop without a Wi-Fi card. It is compatible with Mac windows and Linux systems, and all you need to do is plug-and-play and install a driver on your computer to start using Wi-Fi on it.
It has a soft body function so that you're able to create a Wi-Fi hotspot in your home and avoid using your cellular data. It can support WPA/WPA2 encryption so that all your information is secure. It is compatible with all dual-band wireless routers engine that reaches up to 150mbps over a 2.5 g band and 433mbps over 5G band.
You don't have to do this election manually since it automatically selects which band to take up while you have different workloads in terms of internet connection needs. It is incredibly compact, making it easy to pack while traveling or moving around equipment in your house. It can be packed away nicely to avoid damaging your adapter in transit.
3. Net-Dyn AC1200
The Net-Dyn AC1200 comes with a lifetime warranty. No matter what kind of equipment you are using, you don't need to install a super expensive Wi-Fi card to have an excellent internet connection. This USB Wi-Fi adapter has a USB 3.0 port, which ensures lightning speed connectivity between your phone and adapter.
So, if you're using a customized desktop for gaming needs or a super fancy laptop to handle all your workload at home, this should be your choice. It reaches transfer speeds of up to 867 Mbps on the 5G Channel, so you can stream movies all day long or play games all day long without worrying about your internet connection.
It has a hundred-yard range for bigger homes, and you can use it from anywhere, even from your basement, because the range is so broad. As in the case with other adapters, all you need to do is plug it in and install a driver, and you're set to go. The Net-Dyn AC1200 has an encrypted function because of the WPA/WPA2 encryption, so your personal information is safe if you're using this adapter. The best part about this is that it comes with a lifetime warranty. Wouldn't you want to cover defects and inoperable units?
4. Linksys WUSB6300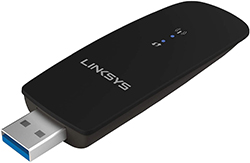 Linksys has been in this industry for a long time and is one of the most popularly known brand names. The Linksys WUSB6300 is the fastest model available in the series. Since Linksys is such a common name in this domain, they have a wide variety of models to offer. However, this type is one of the latest additions and is extremely popular because of its functionality.
It is not more than a few years old, so it is compatible with most new devices and the latest technology. It was one of the first 802.11ac adapters in the market that offered dual-band AC1200 performance and reach transfer speeds of up to 867 Mbps on the device.  There's nothing special about its speed when you are close to the adapter.
The device is extremely efficient as you start increasing distances between the adapter and the functioning system. It has a plugin-and-play option and a USB 3.0 port especially meant for gamers who would not like latency. However, this is a common choice for regular users and not gamers who have observed a slight delay in transfer speeds, which affects their games' performance.
5. Trendnet TEW-809UB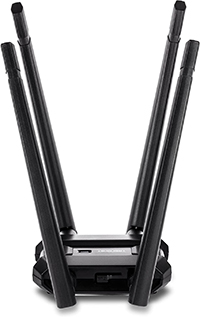 The Trendnet's TEW-809UB is quite common to those looking for uninterrupted connections in their computers and PCs but does not have Wi-Fi cards installed. It has four large antennas, which also provide an excellent signal strength. Dual-Band Wi-Fi performance is ideal for people who do not want to compromise on signal inside their place.
The antennas offer AC1900 speed, which essentially means that you can reach up to 1.3Gbps transfer speed on the 5G Channel and end up with up to 600mbps on the 2.4 G band. The characteristic antennas use beamforming technology to have a maximum strength of the signal in your house. You can even position the engine manually to direct signal strength in areas you feel need it more.  It comes with a 3-foot USB cable so that you can place the device away from your system as well.
It helps to reduce interference in your computer system. It is a plugin and play device, with the only installation being the driver on the network. Even though it is a bit on the expensive range, if you're looking at a house with multiple stories and you need to ensure that you have signal strength in different corners of your home, this can be an ideal choice. It is not very portable, which means that you will have restrictions on where you can place the adapter in your home. However, this performance's speed is so high that this is a point that can be overlooked.
6. EDUP EP-AC1635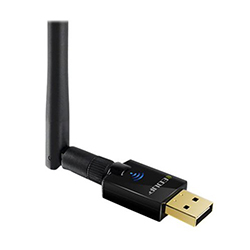 The EDUP-1635 adapter comes with an antenna that is not very usual looking. It is because this can magnify the range of Wi-Fi in your home or office. The EDUP-1635 adapter has a USB 2.0 connection and uses dual-band Wi-Fi 3-g up to 600mbps on your 2.4 G band. With this speed, you can play games, stream video at lightning speeds, and surf the web with no connectivity loss.
On the 5G band, the performance is quite promising, with transfer speeds of up to 802.11ac. The antenna can be rotated 360 degrees, and if you keep the antenna pointed at 90°, it helps to get the best signal strength inside your house. Irrespective of where your laptop or PC is maintained, the signal strength is sufficient for uninterrupted fast speed connections.
The EDUP-1635 adapter uses encryption to protect your personal information while you browse the internet. It does not come with a plugin and play installation, but all you need to do is download the driver on the CD provided or download its driver online so that you can be connected to the internet immediately. It comes with a great warranty system. However, the downside is that it does not work with Linux based systems.
7. Wise Tiger WT-AC9006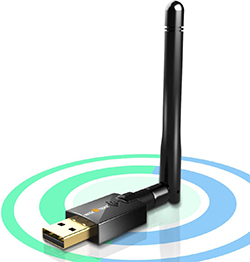 The Wise Tiger WT-AC9006 has an 802.11ac wireless connection. It means that this connection is three times faster than an 802.11n wireless connection. So, you can get more stuff done in less time if you use this adapter. It uses Dual Band Wi-Fi connections and can reach transfer speeds of up to 400 Mbps over a 5G Channel.  
You can create a Wi-Fi hotspot using this adapter and connect your mobile devices so that you're not draining your cellular data when you're at home. Although it is not the best in terms of available speeds, it is ideal for a home that wants to use a few systems from time to time and can help connect mobile devices across for some internet connectivity. You can stream your favorite videos and play games using this adapter. 
The antenna that is protruding from the adapter ensures that you have a stable connection whether your computer system is on the same floor as your adapter or on a different floor. It comes with a good warranty, so it is suitable for families with children who have multiple devices that need to be used simultaneously. It is not very expensive, so it can be one of your initial choices before you decide to upgrade to a piece of more fancy equipment. It does not work very well with the Windows 10 64-bit version because many users have complained about installation issues.
So, in case you have too many windows devices, this might not be the right choice for you. It is way too easy to set up this adapter, and all you need to do is install drivers, and you are set to go. In terms of both the speed and stress test, it is quite decent. The hardware is compact and can be carried around more easily.  It essentially provides you with everything that you need from a regular USB Wi-Fi adapter.
Conclusion
Now that we've listed down some of our favorite options, go ahead and discover for yourself. It is crucial to identify your needs first so that you can address them exactly using our guide.
Based on your needs, you'll be able to decide if you want to go for an expensive option or something that can suffice considering your internet connectivity needs.
Related:
Reviews
Wi-Fi Bridge
Wireless Network
Wi-Fi Adapter