Wi-Fi Bridge articles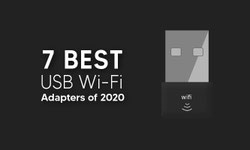 The 7 Best USB Wi-Fi Adapters of 2020.
Published: Oct. 16, 2020, 1:22 p.m. in Reviews, Wi-Fi Bridge, Wireless Network, Wi-Fi Adapter by Emil S.
So, you're a professional gamer, and you're in the middle of a quest on your PC, and suddenly your LAN cable is out. If you've faced this problem more than once, you have probably done all your research related to USB Wi-Fi adapters. Even though almost all laptops available in ...
Continue reading
What is Wi-Fi Wireless Bridging?
Published: March 29, 2020, 12:21 p.m. in WiFi / Wi-Fi, Internet Connection, Wi-Fi Bridge by Emil S.
In an ever-increasing expansion of wireless technology applications in all aspects of our lives, the need to connect has never been more necessary and urgent. Wi-Fi Bridging is one way of addressing that need. To give you a clear idea of what Wi-Fi Wireless Bridging is all about, let's look at ...
Continue reading