9 Best Long-Range Routers of 2020.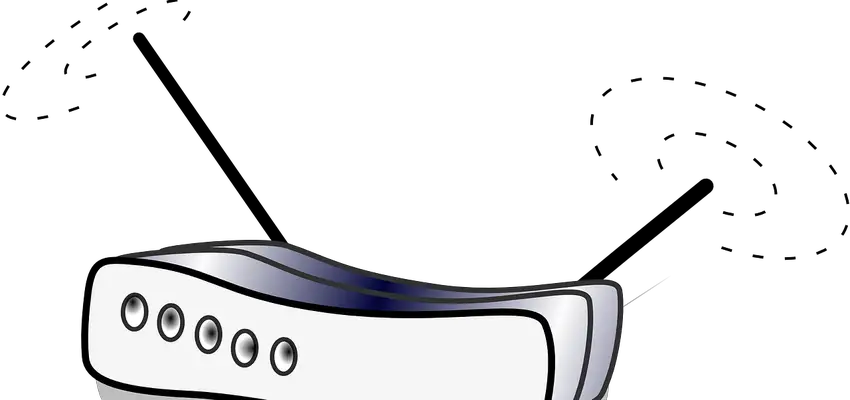 9 Best Long-Range Routers of 2020.
Posted March 22, 2020, 9:12 a.m. by
Emil S.
Every home network is served by a router, which connects the network to the internet and in reverse connects the internet to the network. All the internet-enabled devices at home will be connected to the router so that it can send out their messages, and then send incoming messages to the correct device.
The larger the property the greater the coverage needed from a router. Most routers can manage coverage up to about 3,000 square feet, so a long-range router will need to perform beyond that. For home networks that have more than one user linked to it, then MU-MIMO (Multiple User – Multiple In Multiple Out) technologies is necessary. Having MU-MIMO means that when more than one user is active, none of them will be slowed down.
Factors to consider when choosing a long-range router
Coverage
One solution to the problem of poor coverage is to move the router around the property until the best position is found. If that fails to give sufficient coverage, then it is time to swap the old router for a long-range version. Generally, long-range routers give coverage up to 10,000 square feet, so once the area that needs to be covered is known, buying a suitable router is easy. Some only offer coverage of up to 5,000 square feet.
Single-band, dual-band or tri-band
For a large property, a single-band router is unlikely to be up to the task of providing coverage throughout. A dual-band router, with both 2.4GHz and 5GHz bands, is going to give speedier throughput with 802.11ac support.
A tri-band router adds another 5GHz band thus cutting overcrowding even more than a dual-band router and also pushing up the speed. This is a great help when the home network has a large number of Wi-Fi devices linked to it.
MU-MIMO and beamforming technology
MU-MIMO stands for Multiple User-Multiple Input Multiple Output. The technology referred to in this acronym does a great job of splitting bandwidth and sending signals to different devices at the same time. As several devices can receive data simultaneously, everyone enjoys greater speed.
Beamforming is a method used by a router to direct a wireless signal towards a particular device, rather than broadcasting it widely. It is included in the 802.11ac wireless standard. The result is less interference and improved Wi-Fi reception. Beamforming, by itself, will not necessarily increase the speed achieved by a router. It improves the signal, which in turn can boost the speed achieved further away from the router.
Speed and range
A tri-band router provides an extra 5GHz band to the two already included in a router. One of these will be 2.4GHz, the other 5GHz. However, the extra 5GHz band will only be advantageous if the network has more than two or three 5GHz devices operating on the network. A solitary device will gain nothing from a tri-band router as it can only use one band at any one time. When a user is buying a router, they should keep in mind the size of their network and whether additional devices will be added in the future. For many users with a small home network, maybe with just a computer and a printer, then a dual-band router is going to be sufficient.
VPN (Virtual Private Network)
Some long-range routers include VPN as standard. A VPN is a service that can hide a router's IP address, sent a user's data in such a way as to keep it anonymous and also scramble data using encryption. All this serves to keep hackers out of your router.
Now that we have a good idea of what a long-range router is, and what they can do, let's see what the best buys are in each of ten distinct categories:
BEST OVERALL: Asus RT-AC88U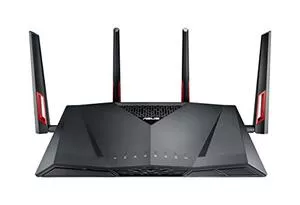 The Asus RT-AC88U is an impressive piece of hardware that gives top speeds and a signal strong enough to fill a whole house, even when that's a larger property. This router cannot be described as small, as it weighs 2.6 pounds and measures some 6.5x30x18.8 inches. The bigger size is not wasted, though, as it allows room for eight Gigabit LAN ports. In turn, this means that eight different devices with Ethernet capability can run simultaneously.
Also to be found in that generous frame is top-of-the-range 1024-QAM technology that powers faster speeds of 2.1Gbps at 5GHz and 1Gbps at 2.4GHz. In addition to these faster speeds, the give 5,000 square feet of coverage at the 2.4GHz range. This is achieved through the four-transmit, four-receive antenna design feature.
As well as great coverage and fast speeds, the Asus RT-AC88U come with a Virtual Private Network which hides the user's IP address) and TrendMicro vulnerability detection. TrendMicro scans any devices connected to the network for security risks and then resolves them. These risks can include email scams, ransomware, and malware. It will also safeguard payments made online, and incorporate protection for children when they are online. Together these features mean that browsing is safer and more secure, and protected against a range of risks. MU-MIMO technology gives each user their Wi-Fi connection.
Gamers are going to be impressed by this router, which incorporates game-acceleration and provides route-optimized servers. That means low ping-times in gaming sessions.
Pros
A top-performing router            

The Asus RT-AC88U is rich in features      

The software used is really powerful

It includes an impressive range of security features
Cons
The Asus RT-AC88U is an expensive router       

The back of the router is quite complicated and can be off-putting.

The range of 5,000 square feet is not as much as some other routers offer.
BEST DESIGN: Netgear Orbi Home Wi-Fi System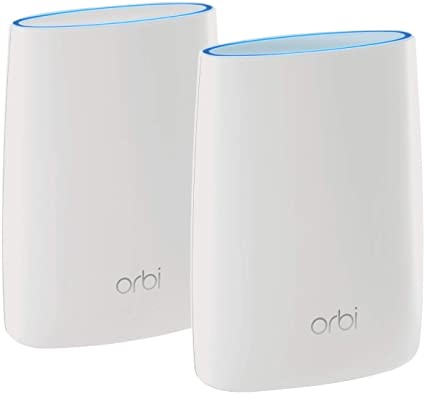 This system from Netgear is tri-band but comes as two separate units. One is the Orbi Router and the other is the Orbi Satellite. Together they form a multi-unit "hotspot" device with a simple plug-and-play approach. Essentially, the router is just a router, and the satellite is just an extender, but together, as a mesh system, they work as if they are one. Coverage is excellent because each connected device thinks it has its router but under a unified name.
The Netgear Orbi system is fine for up to 5,000 square feet of coverage but might struggle beyond that. However, more units can be added into the system and thus extend the coverage further. The design of the units in this system is pleasing to the eye and can be set up without having antenna sticking out to catch in anything.
Pros
These units together give great speeds          

Full coverage is easy to achieve

The units are aesthetically pleasing
Cons
The Netgear Orbi system is very expensive            

Older devices connected to the system tend to make operations more complicated.
BEST FOR GREAT SPEED: TP-Link Archer AX6000 8-Stream Wi-Fi Router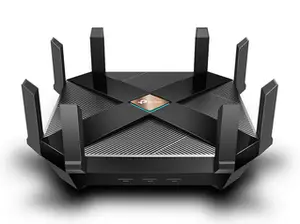 The Archer AX6000 operates to the new 802.11ax wireless standard. Also known as Wi-Fi 6, this standard has not yet received official approval, but once that is done, it is likely to begin replacing older standards.
As it is the first 802.11ax router from TP-Link its benefits are immediately noticeable. Beamforming and "Rangeboost" technologies assist the eight antennae in providing really strong signals over wide ranges. Unlike the 802.11ac which only operates on 5 GHz, the Archer AX6000 operates on both 5GHz and 2,4GHz bands. Speeds up to 4,804 Mbps can be achieved at 5GHz and 2.4GHz 1,148Mbps can be reached, giving an aggregate 6Gpbs.
In busy, crowded, houses with very many different devices, such as tablets, phones, computers, and other smart devices, not to mention video streaming, the load is heavy. There is huge competition for both upload and download capacity, so it is gratifying that the Archer AX6000 is more than up to the task. The 802.11ax, and the MU-MIMO and OFDMA technology incorporated in the router combine to efficiently handle the resulting heavy wireless traffic.
On top of all those benefits, the Archer AX6000 offers a range of security and safety measures, including adaptive antivirus. There is an active filtering of content and parent control to monitor activity.
Pros
The Archer AX6000 has Wi-Fi 6 (802.11ax) standard support
Eight Gigabit Ethernet devices allow eight Ethernet-enabled devices to use at the same time.  

There are excellent parental controls            

802.11ax standard means less interference and better coping in busy crowded homes
Cons
The Archer AX6000 is a big piece of kit, so is space-hungry            

This one also lacks WPA3 support




BEST FOR TO USE FOR STREAMING: Netgear Nighthawk RAX120 12-Stream AX6000 Wi-Fi router.
The RAX120 uses the Wi-Fi 6 (802.11ax) technology that is the most up-to-date of the wireless standards available. The result is much-improved network capacity allowing 20 or more devices to stream at the same time. Some properties could have 12 devices streaming video through the same network. The RAX 120 offers impressive bandwidth speed and that in turn means uninterrupted bufferless streaming.
The RAX 120 is tri-band Wi-Fi with 12 signal streams, which means 6gigabytes per second transfer speeds. This, Netgear tells us, will support both 4K and 8K video streaming. The unit boasts eight individual high-efficiency antennas, and so the Wi-Fi range is claimed to be some 50 percent higher than with previous hardware.
The entire system benefits from the WPA3security protocol. There is a dual-core processor, and the user can control access to the internet connection. This is a standard feature of Netgear equipment.
Yet, there are more features to mention. There is 512MB of flash memory; two USB 3.0 ports; 16GB of RAM and a quad-core 2.2GHz processor and five Gigabit Ethernet ports. Wow!
Pros
The RAX120 has right up-to-date Wi-Fi 6 (802.11ax) support          

There are 12 streams through Tri-band Wi-Fi         

The advanced wireless features are impressive
Cons
The RAX120 is expensive, but that is hardly surprising given the wealth of features         

It is ahead of the game, so only a few devices can take advantage of those features
BEST FOR GAMING: Asus ROG GT-AC5300 Gaming Router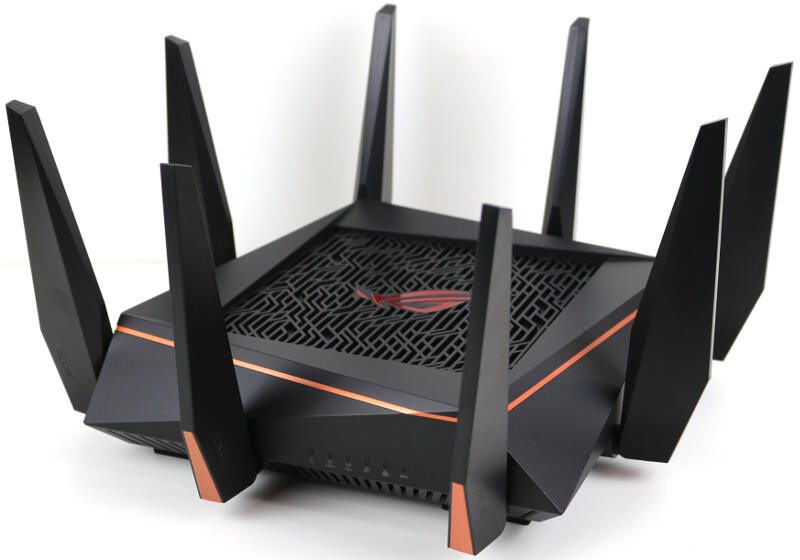 The ROG GT-AC5300 is an impressive router designed and built with the gamer in mind. Asus routers, especially at the high-end of the range, are well-known for their excellent range, and this one is no exception. The coverage runs to 5,000 square feet with no problem. However, another unit can be added to increase the range, as it supports Asus' A1Mesh technology.
The serious gamer is concerned with more than just speed and range, and the extra features for gamers make the GT-AC5300 the top pick. With tri-band Wi-Fi giving a throughput of 5,334Mbps across every channel, and with MU-MIMO and beamforming technology included, gaming consoles, as well as other devices, give maximum performance over Wi-Fi.
Even more useful, though, is the WTFast Gamers Private Network (GPN) that is included. As a result, connections are low-latency and lag-free, giving a superb online gaming experience. Another feature is VPN Fusion allowing the user to run the usual internet traffic over a secure VPN and the gaming does not slow down. Last, but certainly not least, Game IPS from Trend Micro is included to give a gaming PC protection from malware and hackers.
Asus knows that many gamers prefer to plug in a wired connection, so it has positioned eight Gigabit Ethernet ports at the back of the unit. Plenty of connections so there is no need to worry about there not being enough. Alongside there are two USB 3.0 ports so the user can plug in other devices, like a printer or an external hard drive.
The GT-AC5300 is a dedicated router for gaming using Wi-Fi. As it has a wide bandwidth, it will happily support any other uses like streaming.
Pros
The GT-AC5300 impresses with its eight Gigabit Ethernet ports            

The A1Mesh support gives added flexibility            

Including the Gamers Private Network adds immensely to the gaming experience
Cons
Any potential buyer should bear in mind that it is quite a large unit.  It will need an appropriate amount of space            

The GT-AC5300 is expensive, but a buyer does get a lot of features for   the money
BEST RANGE EXTENDER: Amplifi HD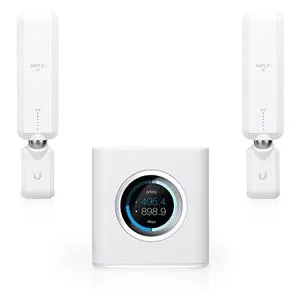 The Amplifi HD comes out of the box as three units. The router is a white, four-inch square box that weighs 5 pounds. Its design is a move away from the traditional router unit, and it looks good. The circular multi-colored LCD on the front gives the time and speed information. There are then two white plastic extenders which plug into normal power points around the property.
The techies have been taking notice of the demands from the users of Wi-Fi for faster speeds and wider ranges. The answer is Mesh networking, which is a recently introduced Wi-Fi router technology. It involves plugging extender devices or 'mesh points' around a property, so enhancing the coverage.
The Amplifi HD router has six long-range, high-density 802.11ac 3x3 MIMO antennas inside it. These give speeds of up to 5.25Gbps and a huge range of 20,000 feet. Setting up the system is easy. Just take the three units out of the box and plug them in. Internet dead spots will soon disappear.
With its stylish looks, robust construction and excellent performance in speed and range, the Amplifi HD is already powering its way to the forefront of the marketplace.
Pros
The Amplifi HD achieves brilliant speeds            

It also has a fantastic range            

It looks different from other routers on the market, so stands out
Cons
The Amplifi HD does need some space wherever the 'mesh points' are placed
BEST SETUP: Netgear Nighthawk X6 AC3200 Tri-Band Wi-Fi Router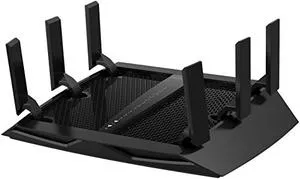 Setting up a router can be confusing and annoying. There is a lot to think about when doing set-up and the instructions are not always clear and straightforward. The Netgear Nighthawk X6 comes with the Netgear genie app, and that makes installation much easier. The single sign-on (SSO) feature means there is just one login for all the user's Netgear accounts. This feature also allows the user to connect to, monitor and control a home network remotely using an iOS or Android phone. Additionally, it has Amazon's Alexa compatibility, which allows home network control just by the use of voice commands.
The ease of set-up and the ability to remotely control a home network is great, but how does the Nighthawk X6 perform as a router?
The answer to that question we can sum up in one word. Brilliantly.
The Nighthawk X6 has tri-band technology and beamforming+. Each device is quickly assigned an optimal Wi-Fi band, enabling them to perform at their best speed. This speed can reach 3.2Gbps.
With all its features and the ease of set-up, the Nighthawk X6 is a superb long-range router.
Pros
The Nighthawk X6 can be set up quickly and easily            

It offers Tri-band technology for great speeds                  

The parental controls are excellent
Cons
This is a top-of-the-range router so it is expensive            

The Nighthawk X6 is quite large, so does take up a bit of space
BEST SPLURGE: Linksys EA95000 Tri-Band Wireless Router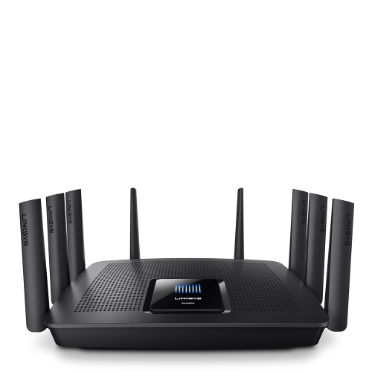 Linksys' EA95000 is a Tri-band router with two 5GHz bands and one 2.4GHz band. The third band allows for extremely fast Wi-Fi speeds. In any home where gaming and steaming online video are major activities, this router will keep everyone happy. Power comes from the 1.4GHz dual-core processor. There are eight Ethernet ports and MU-MIMO technology. Each device that connects to the network can, therefore, function separately without reducing the speed of any other device. Gamers can also plugin if they prefer.
The EA95000 incorporates 802.11ac technology which when combined with the three bandwidths gives a top speed of 5.3Gbps. This potential speed makes the router a wise choice for busy homes where there several devices in use at the same time, and also for home offices, where a high-speed connection can be crucial.
The EA95000 can be extended in range by adding the Max-stream extender. This does have to be purchased separately, but when the router is roaming it will switch automatically to the strongest available Wi-Fi signal. Without the extender, this router's range is a decent 150 feet.
The Linksys EA95000 is a big player in the router market, both in size and in the performance it gives. It is easily capable of satisfying most users' needs.
Pro
The EA95000 has MU-MIMO capability            

There are eight built-in LAN ports            

Two USB 3.0 ports are also provided            

The signal is excellent
Cons
 The power pack is laptop-style, so quite bulky            

The EA95000 is large and takes up quite a bit of space            

It is also expensive
BEST OPEN SOURCE ROUTER: Linksys WRT1900ACS Open Source Wi-Fi Router
Linksys' WRT1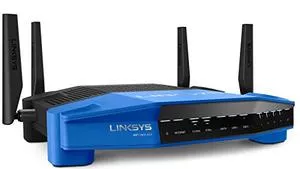 900ACS router first appeared on the market in 2015 and continues to be a competition-beater in its class. While the design is now looking rather old-fashioned, despite being in Linksys' iconic blue and black color scheme, the unit still provides great performance. This is thanks to some timely updates and additions.
The WRT1900ACS can cope with four separate lanes of traffic when performing at its peak of 1.9Gbps. Beamforming technology allows the router to direct traffic over the wireless signal towards devices with greater accuracy. The WRT1900ACS does not have MU-MIMO technology in its armory, but it will still handle multiple connections without too much difficulty.
There is an open firmware model in place in this router, and that allows the user to enhance the router by the use of packages like OpenWRT or DD-WRT.
Pros
 The WRT1900ACS is open source            

The firmware is replaceable            

It is a reliable, stable router
Cons
The older design does make the unit look a bit old-fashioned            

There is no MU-MIMO technology incorporated into the router
BEST VALUE: TP-Link Archer C9 AC1900 Smart Wireless Router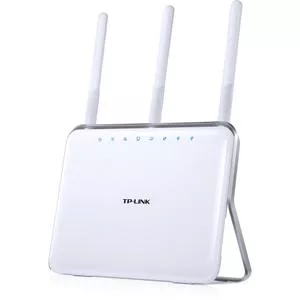 Matching the two requirements of both long-range and a budget price is not very easy. The TP-Link Archer C9 does, however, fill the category. It is a dual-band router providing both 2.4GHz and 5GHz bands, and also with support for the 802.11ac wireless standard. Together this means the Archer C9, with its three high-powered antennas, which are helped along by beamforming, gives a strong and reliable Wi-Fi signal.
Set-up is easy, with the TP-Link Tether app that is provided free as part of the package. The app is available for both iOS and Android phones, and this means that the user can get the router up and running straight from the box, and then go on to manage settings throughout the router's life.
Design-wise, the router is neat, with fold-out support to enable it to stand upright. The three antennas are positioned along the top of the unit, and altogether it looks quite pleasing. The choice of white means it stands out from the more traditional black routers. Maybe in future white will become more common as a router color.
The three antennas are detachable, and their signals are focussed by beamforming technology. The unit itself is 13.2x3.9x9.5 inches and weighs three pounds. It is certainly lighter than some other routers on the market. Also, the Archer C9 comes out of its box ready to cope with online gaming and 4K video streaming. This is achieved without interruption even if other devices are working on the same network at the time.
Pros
As a budget-priced router, the Archer C9 is easily affordable            

The Wi-Fi signal is strong and reliable            

Set-up is straightforward, and the user can be ready to go in a very short time
Cons
There are few advanced features on the Archer C9, but that is to be expected on a budget-priced router.

Positioning options are limited with this router.
Related:
Router
WiFi / Wi-Fi
Reviews
Internet Connection