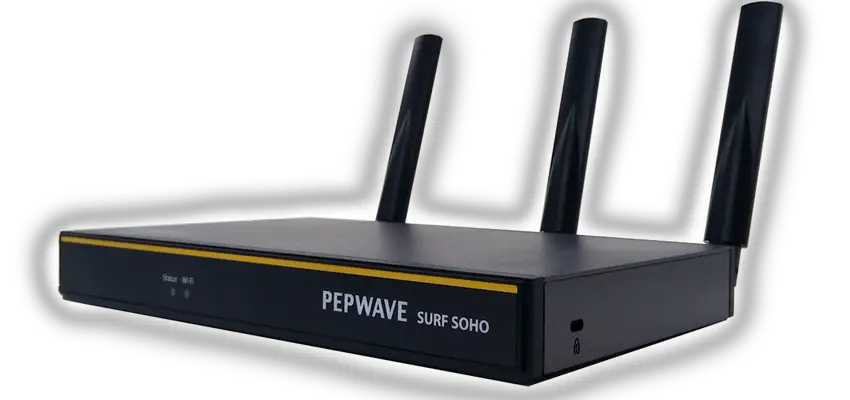 Pepware Surf Soho Review – Updated 2019
Peplink, a large and reliable company which is expert in creating the most reliable and easiest-to-use routers, they have developed multi-WAN VPN bounding (SD-WAN) routers and access point with industry-leading durability, an intuitive web interface, with a wide range of features that are difficult to match.
By migrating loads of customers from the traditional WAN to their SD-WAN they have succeeded in providing increased bandwidth, higher WAN reliability than to at lower costs.
In particular, the Pepware Surf SOHO (small office/home office), a very efficient router with four downstream gigabit Ethernet ports, an Ethernet WAN port, and great for tethering cellular modems and hotspots over USBs. The features of this router are very well suited to be the hub of a mobile network.
Specifications Pepware Surf SOHO
Wi-Fi router – with simultaneous dual band

2.4GHz Wi-Fi: 802.11 b/g/n – 450Mbps Max (3x3 MIMO)

5GHz Wi-Fi: 802.11 ac/a/n – 1300Mbps Max (3x3 MIMO)

Wi-Fi Antenna: 3x RP-SMA/Female Antenna Port, 3x Indoor Antennas Included

Wi-Fi as WAN

Guest Wi-Fi Network

Cellular tethering via USB

Ethernet ports: 4x 1,000Mbps Gigabit Ethernet LAN, 1x Gigabit WAN

Data usage tracking & Auto failover

Power source: 10V – 24V DC input, 110V AC adapter

9.17" x 5.6" x 1.18" dimensions
This is the third version of the Pepware Surf SOHO and one of the best until now. You can easily identify the third generation SOHO because of the 3 antenna jacks on the back, instead of 2.
The SOHO represents exceptional value with business-grade features and performance and all of it comes at a lower cost compared to other similar routers in the market.
One of the major changes is the addition of 802.11ac support for the Wi-Fi radio, which is capable of offering speeds up to 450Mbps.
The SOHO is capable of broadcasting its Wi-Fi signal 250-300' through walls, and the range is obviously much better when there are no obstacles. This significantly improved Wi-Fi radio makes it possible to stream multiple HD Videos across your local network, with plenty of throughput left for file transfer, backups, and general web browsing.
Wireless AC also implies that you can achieve higher speeds even when father from the router, whereas a single band device, would have dropped off much faster.
You can create up to 3 wireless networks all with unique passwords and client isolation, an ideal for true guest networking.
With a simple and very clean user interface, it gives you all the business class features with consumer-level ease. Time and again the surf SOHO has proved itself to feature-rich, reliable and a powerful router for thousands of customers.
Peplink – What you should know?
As already mentioned above: Peplink, since its inception has created the most reliable and easy-to-use routers. They have catered their products to home-office users, enterprise-branch networks, emergency vehicles and have helped many consumers to shift from traditional WAN to their SD-WAN solutions.
Peplink has everything starting from routers to access points to cloud platforms, they have everything that is needed to build a software-defined network that is fully configurable from any web browser.
The range of products includes enterprise routers, cellular routers, Wi-Fi's, SMB Networking, cloud managed switch, SF Virtual appliance, management solutions, mobile apps, and IoT enabled solutions. Every single product is rigorously tested to exceed your expectations in terms of speed, durability, reliability and above all ease of use.
A vertically integrated company they design their own hardware and software, application software and cloud services, which gives full control of the entire platform.
Pepwave Surf On The Go & Pepwave Surf 200 – Which is Better?
The primary aim of the Surf series from Peplink is as a CPE – Customer Premises Equipment for wide area Wi-Fi installations in cities and campuses.
Pepwave Surf 200
As mentioned the Surf 200 is a feature-rich Wi-Fi CPE with WPA, WPA2 and 802.1x supplicant support. Designed to act as a wireless router and connects LAN users with a wireless broadband internet service. Features of the Pepwave Surf 200:
10/100 Ethernet interface with auto-crossover detection

Single strength LED

WPA/WPA2 – Personal and WPA/WPA2 – Enterprise support

Network address translation routing

Built-in DHCP server

Inbound port range forwarding

Integrated Wi-Fi access point
Pepwave Surf On the Go
Rights described as the Swiss Army Knife of travel routers, this device offers a variety of internet sharing capabilities. A must for frequent travelers and road warriors. Here are a few features that make it so popular among its users:
If you are at a hotel that offers only wired internet access, this Surf OTG can easily connect to your rooms Ethernet port and provide wireless internet access to all your devices

When at a place which is giving free Wi-Fi access but only through a login-id and password, you can use your Surf OTG to log in wirelessly and turn the device into a Wi-Fi Access Point to share the internet with all your devices

You already have a 3G/LTE USB dongle and a subscription plan and you wish you use it for more than one device instead of the one where your dongle is pressed into. Simply plug your dongle in the OTG and turn on the wireless hotspot for various devices.

If using an older computer with no wireless adapter, just plug in the OTG and use it as a Wi-Fi adapter
It is a great travel router that delivers on the promises and facilitates internet access for all your devices.
Depending on where you wish to use and your requirements both the Pepwave Surf On the Go and the Pepwave Surf 200 offers really good access to most of your devices. Choosing between both entirely depends upon your usability.
---