The 9 Best Wireless Mice of 2020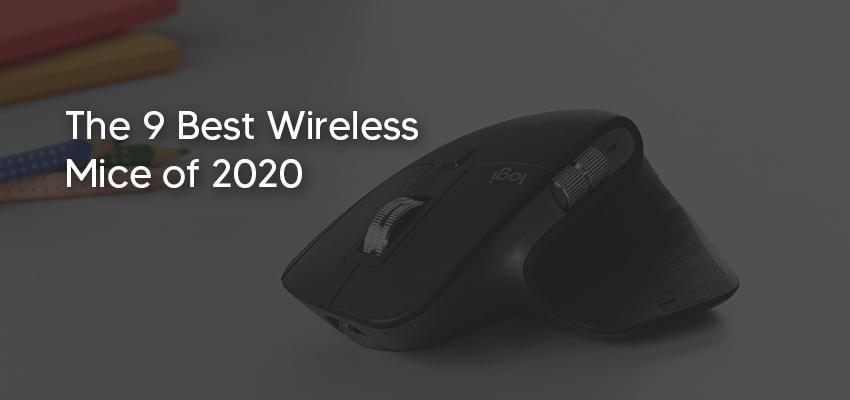 The 9 Best Wireless Mice of 2020
Posted Nov. 6, 2020, 7:17 a.m. by
Emil S.
Wireless mice are a trend in the accessory market. Many people are opting for less wired accessories, and these mice are helping them achieve outstanding results. The wireless mice on our list produce the same precision level as the highest performing wired mice you'll find in the market. They are modern, classy, and useful for all activities that the wired models do.
We chose these mice for the list after an extensive evaluation of their comfort, style, features, sensitivity, and performance. We also compared each product's pricing to other mice to see how they justify the prices. The least rated wireless mice on this list didn't fall short regarding the required specification and durability. These mice have sophisticated sensors that ensure consistent precision and accuracy during use.
Logitech MX Master 3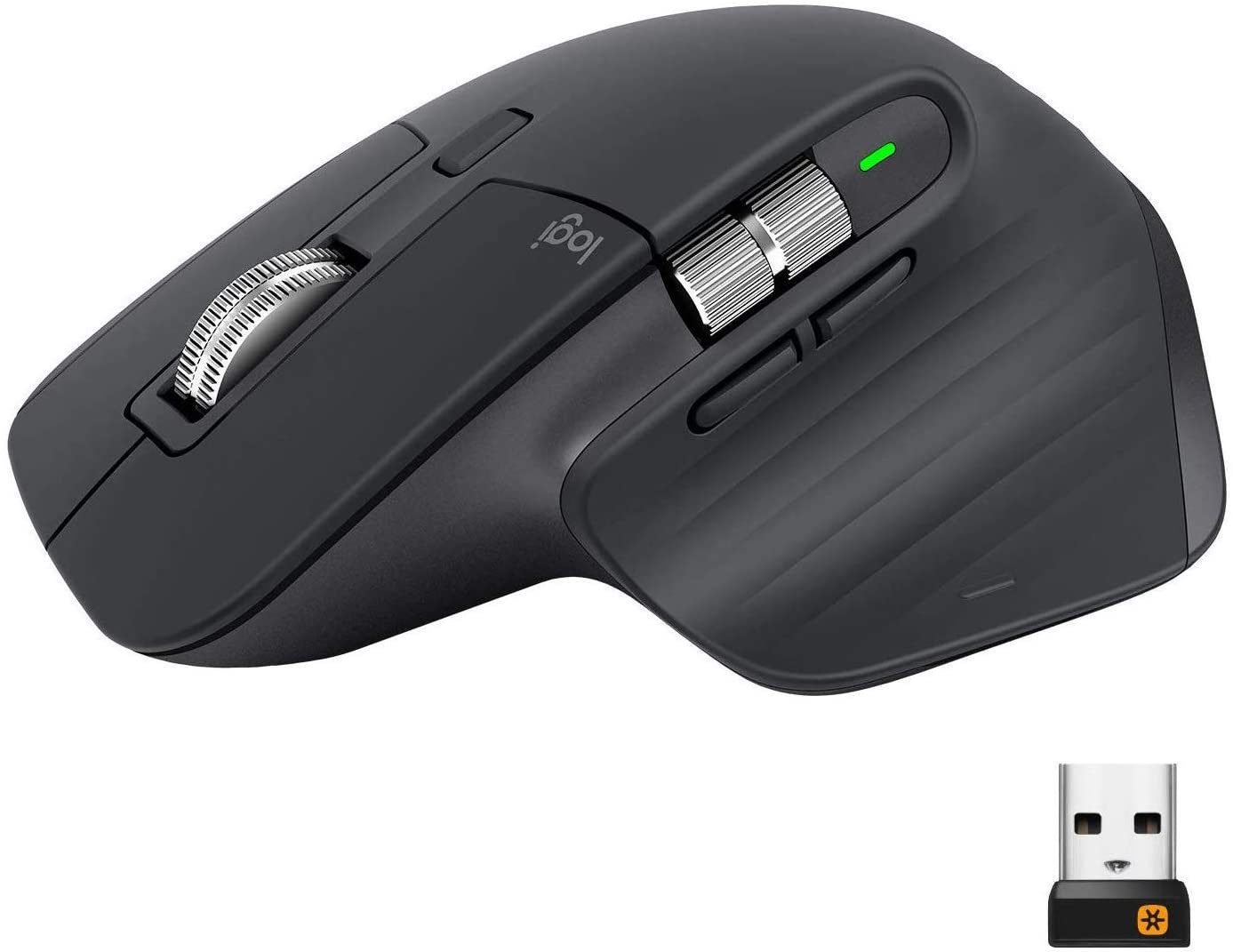 If you want the best wireless mouse and don't mind the cost, Logitech MX Master 3 is the most reliable mouse for office use and home use. It's ideal for long periods of work as it weighs a little over 140g, and the design is for comfort. The mouse is a perfect fit for significant world computer operating systems like Windows, macOS, and Linux. It also has unique controls for some popular applications like Microsoft Office, Chrome, Adobe Photoshop, etc.
The device allows operation on multiple computers with a USB receiver or Bluetooth. The sensor for the accessory is a 4000 DPI Darkfield Laser that works on almost all surfaces. The battery lasts three hours when charged for only a minute and about two months and a half when fully charged.
 Pros

The accessory is compatible with the most common OS.
Users can multitask.
The battery life is good.
It has custom control for popular applications.

Cons

It's an expensive accessory.
Logitech's Marathon Mouse M705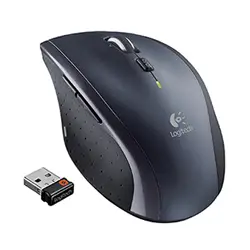 This accessory is famous for its outstanding battery. The M705 model lasts three years once fully charged. It has excellent resolution and a design that's deliberate for comfort. The M705 also has an excellent sensor that suits different surfaces. It does everything you'd expect of an advanced mouse, and the price for it is reasonable.
Pros

It has a battery with three years' life.
It can multitask.
Its price is affordable.

Cons

The accessory isn't suitable for left-handed users.
Logitech G502 LightSpeed
When you hear that a mouse has 11 buttons with a specialized program, you know that you're dealing with a high-tech accessory. The Logitech G502 LightSpeed is perfect for aesthetics.
It's a highly responsive accessory that only takes 1millisecond and has a sensor that reaches 16000 DPI. The battery life is good, although not as impressive as the previous two. It stays up for 60 hours when fully charged. It can also work with the wireless charging from Logitech Powerplay.
Pros

Great for aesthetics
It's highly responsive with 1millisecond response time.

Cons

The battery life isn't as great as other options.
It's expensive.
Logitech M510 Wireless Mouse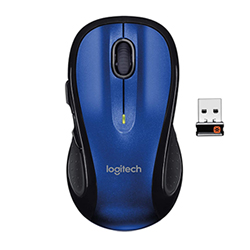 The Logitech M510 wireless mouse is designed to look simple and feel comfortable. Its sensor works with many surfaces. It also has a good battery that lasts two years of usage. It can connect many devices to maximize ports.
Pros

It has good battery life.
It is smooth and can support multiple users.

Cons

The accessory is less suitable for left-handed users.
It doesn't track on mirrored surfaces.
Razer Basilisk X HyperSpeed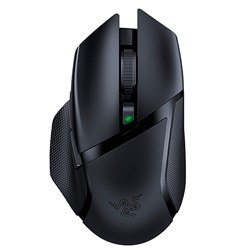 The Razer Basilisk X HyperSpeed mouse is dubbed as the best gaming mouse. It operates on both Bluetooth and wireless connectivity for games. The mouse switches DPI for instant adjustment to its sensitivity to reach 16000 DPI and reduces interference on frequency for users of many peripherals. It has a remarkable battery life of about 450 and 285 hours from a full charge with Bluetooth and Hyperspeed on, respectively.
Pros

It has a DPI switch that can reach 16000 DPI.
It has good battery life.

Cons

There are cheaper alternatives.
It has no DPI indicator.
Logitech MX Anywhere 2S Wireless Mouse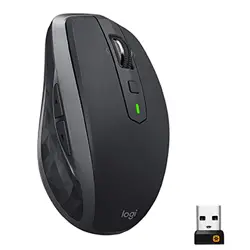 Logitech's Anywhere is famous for its smooth navigation on all surface types. It's suitable for anywhere to use and can work on multiple devices. Its sensitivity reaches 4000 DPI that can do just fine on even glass surfaces. It's a comfortable mouse to work with for maximum productivity in any location. Its battery life is remarkable, with 70 days on a full charge and only four minutes charge capable of 24 hours work time.
Pros

Suitable for almost all surfaces.
A remarkable battery life.

Cons

There is no storage for the USB receiver.
Logitech M570 Wireless Trackball Mouse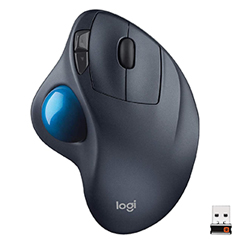 The design for M570 may not be the best on our list, but it is perfect for giving support to your hand. M570's battery life is outstanding at a year and a half work time on a full charge. The wireless can connect at 30 feet for macOS and Windows. It could compete for the mouse with the best comfort in its design.
Pros

It has outstanding battery life.
It is one of the most comfortable mice you can get.
It works at 30 feet away from the accessory.

Cons

It's not a common type of mouse, and new users have to learn its handling.
FD V8 Ultra-thin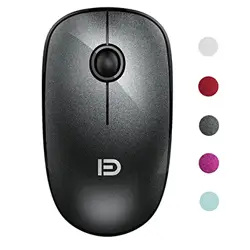 FD V8 Ultra-thin is the mouse for the traveler. It is sleek, lightweight, and remarkable for productivity. It has an anti-noise that filters the click sound. Plug its small receiver in your device port and start to work with accurate cursor tracking. The battery has power saver mode, and it turns itself off after exactly five minutes of non-activity.
Pros

It comes in bright colors.
It is lightweight and ideal for travelers.
It is an affordable mouse.

Cons

It doesn't have its software.
Apple Magic Mouse 2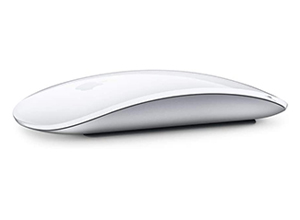 The Apple Magic Mouse 2 works for the Apple operating system only. It has the Apple signature design ideas, and so has no scroll or button. Instead, it has a multi-touch surface. On the mouse, you can swipe, scroll, and zoom. It has a remarkable battery life of 30 days with a battery that requires a wireless charge.
Pros

It is stylish and good.
It has good battery life.
It has a unique multitask surface.

Cons

Apple Magic is only compatible with the macOS.
It's not the most comfortable mouse for long-term use.
Our Verdict
The mice on this list are not average and are the best wireless mice you can get in the market anywhere in the world. But there is always a wireless mouse that we will select for all the benefits if you choose to take one out. The Logitech MX Master 3 is the best that combines comfort, aesthetic, and advanced functionalities. Other mice may be more appropriate in certain situations like FD V8 Ultra-thin for travel, Razer Basilisk X HyperSpeed for gamers, and Apple Magic Mouse for an Apple product fanatic.
What to Find When Buying a Wireless Mouse
To choose the most suitable mouse for you, consider what activities you would use it for. If you're a gamer, a programmer, or a content creator that needs a lot of time on the accessory, you would need mice that are app-specific and can help you navigate seamlessly, scroll faster, and have a good response time.
Compatibility
Most mice in the market are designed primarily for PC usage, especially for the Windows Operating System users. Users of macOS, Chromebook, and non-PC devices like Apple iPad should check for compatibility.
Connectivity
Your wireless may connect to the PC with a receiver like FD V8 Ultra-thin, which receives a prompt and sends it to your device through the port. Losing this adapter can affect your usage.
Sensitivity and Speed
If you need a mouse with connection speed and high sensitivity, you should choose those with USB radio over Bluetooth connections.
LED VS. Laser Sensor
Navigation on wireless mice that use Laser Sensor is beyond those with LED light of optical mice. Costlier mice use laser sensors, which is cost-effective, considering the much more comprehensive range of surfaces the sensor can work on and the limitations of LED Optical mice.
LED light mice can't work on glass, and the highest counts per inch are 3000 CPI, which is unacceptable for a Laser Sensor that can reach up to 16000 CPI. If you only need a mouse for necessary work on your device and the cost of wireless is a thing for you, you can go for a wireless mouse with LED light, although Laser Sensor wireless mice are better.
CPI/DPI
When you move your device by an inch, the number or count of pixels the movement impacts your screen is the CPI or DPI. The device's pack will probably have a DPI instead of CPI, but they mean the same thing and the same value. The value ranges from 100 DPI to 16000 DPI. You can expect a good sensitivity from an accessory with a value of 4000 DPI. CPI and other factors like IPS and Polling rate are best when moderate, over-sensitive, may harm your accessory or device after some time.
IPS and Polling Rate
IPS means the fastest speed your mouse goes when your device tracks a rapid movement. The best mice can have 300 IPS or more. When it follows the high-speed action, its report's frequency back to your PC is the polling rate. A 200Hz means the mouse reports 200 times to your device. For the best mice, you should expect a 500Hz polling rate to 1000Hz, which is the maximum polling rate.
Customization
Wireless mice have programmable buttons that you can make to do more than scroll pages if you have the technical knowledge to use the maker's software to create your prompts for different applications.
Ergonomics
Ergonomics is a big deal for people who spend long working hours on the mouse. Makers of the best mice understand the strains and cramps and how harmful they can be for users, so they focus a lot on making the design as comfortable as it can get. When choosing your mouse, ensure to select based on how suitable the accessory specs fit your hand and help you avoid discomfort.
These modern mice may be expensive but will help make your work easier and your hands more comfortable as you work. The buttons, wheels, trackballs, multi-touch screen, and aesthetic structures can help you have a hold that's just right for you. If you checked these options but still have issues with the discomfort that comes with a traditional mouse, you should consider the other types of mice, a vertical position that'll help keep your hands comfortable at all times.
Portability
Mice designed for comfort are mostly lightweight and easy to carry about, usually less than eight ounces. They also typically have lots of buttons, like M750, and contour, to wedge the hand and wrist.
Battery Life
Wireless mice use batteries, and they usually have a much longer life than the batteries of mobile devices and PC. There are champions of battery life-- Logitech's Marathon Mouse M705 (3 years on a full charge), Logitech M510 Wireless Mouse (2 years), and Logitech M570 Wireless Trackball Mouse (18 months).
Still, wireless mice have at least three battery life days that charge fully in less than 10 hours. Some markers have rechargeable accessories suitable for those who don't want to use batteries or prefer to charge instead of making a replacement.
People use mice for different reasons, whether you use it for illustration, web development, gaming, content writing, etc. There are things common to these accessories - users want an efficient mouse that is lightweight, comfortable, and right for aesthetics. These are basic things that you should find when you go for a new mouse.
Other more advanced things to consider include features that'll make your work more efficient. These are programmed buttons, app-specific controls, battery life, how quickly it reports to the device (polling rate), how fast it tracks movements (IPS), its count per inch (CPI), and if it connects to Bluetooth and wireless without issues. 
Extra information to check is the compatibility with devices. Ensure you check properly the devices and operating system they support. Most mice target users of windows operating systems because of the vast users, but you should confirm the compatible devices.
Related:
Reviews
Logitech
Mouse
Apple
Razer