🏆 10 Best Free Web Proxy Servers 2019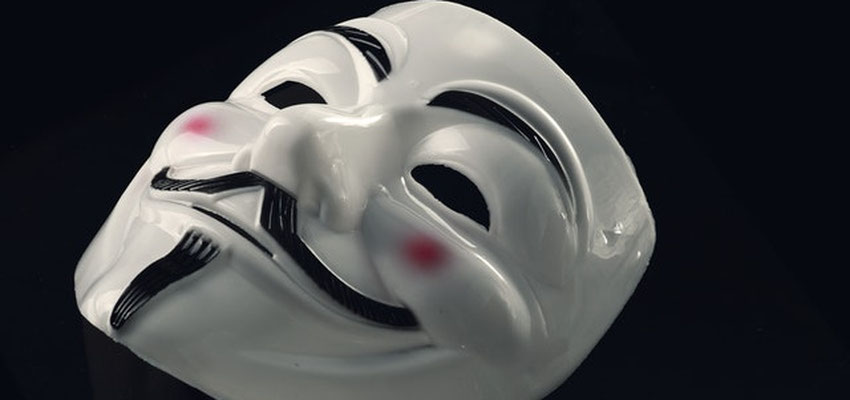 🏆 10 Best Free Web Proxy Servers 2019
Posted Feb. 16, 2019, 5:18 p.m. by
Serina Rajagukguk
"How to hide my IP address" is one of the most popular searches on Google.
And it's an entirely natural wish, considering that your IP address is as sensitive of information as your home address.
And you know what? 
Hiding your IP address doesn't have to be expensive, nor complicated with these free anonymous proxies.
Say what, now?
What Is an Anonymous Proxy Server?
An anonymous proxy server (often called a web proxy) is a network playing the role of a "middle man" between your computer and the websites you're accessing.
When you surf the net through a web proxy, you pass through a process of changing your IP address. This way, the sites you're visiting cannot see your real IP address.
In short: it gives you a certain degree of anonymity.
Some people also use web proxies to access geo-restricted websites.
For example, if you wish to watch a TV series rerun on an American TV Channel's website, you will need to do it via a proxy server in the US.
Anonymous proxies are also useful for accessing the websites banned by your government, ISP, school or work.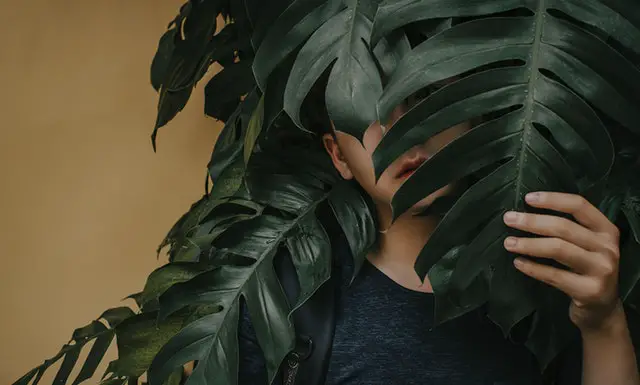 How Is It Different Than a VPN?
Well, from the functions above they both may look similar, but VPN is an entirely different beast:
Anonymous proxies as browser-based. This means your IP address will be changed when you access a website through this browser. Meanwhile, VPN works for your entire device. You do not need to open a specific browser for it to work.
Web proxies change your IP address but do not encrypt the data you're sending out to the world. This means that your ISP or the government still can trace you. In contrast, a VPN fully encrypts your traffic, making you virtually untraceable. The best VPNs use the best encryption there is nowadays.
Web proxies are enough when all you want is changing your IP address. However, a VPN offers you the best privacy option.
While quite a few proxies are free, most of the most reliable VPNs require payments.
Proxies are easier to use and do not need to be installed. Whereas VPNs have to be installed and set up.
But, Are Free Anonymous Proxies Safe?
Ah, the million-dollar question.
You are right to be wondering about the legitimacy of something free, especially when it comes to your privacy.
Because after all, this "middle man" could easily gather your data and sell it or, god forbid, use it in malicious contempt.
But don't panic.
Yes, there are so-called "free" proxies that do this.
However, there are also reliable free anonymous proxies that make all their promises without stabbing you in the back.
The key is to find that crème de la crème among the thousands out there.
Thankfully, you don't have to bust your butt to do that, because that's what we're here for! 
10 Best Free Anonymous Proxies in 2019
This list doesn't follow any order so that you can choose one of them based on your personal preferences.
To use them, type the website address on the proxy, and click enter.
1. ProxySite.com

ProxySite is one of the best free web proxies out there for several reasons:
The possibility to block ads.
You can access your favorite social media platforms without being blocked: Facebook, Twitter, or even YouTube.
The simplicity of choosing from several servers in the US or Europe. Changing from one to another is a breeze.
High level of control in terms of cookies and scripts.
We can truly say that we have never had any problem or negative experience with this proxy.
If what you're looking for is just being able to open Facebook at work, this is a great option for you.
2. Hide.me

You may have known to hide.me from their free VPN service that people who torrent seem to appreciate.
However, they also offer pretty impressive free anonymous servers.
You can easily choose the server from the drop-down box (Netherlands, Germany, or the US).
The possibility to disable or enable scripts, objects, and cookies in a secure manner.
Their free VPN is great and offers an ad blocker.
However, bear in mind that if you use to hide.me, you cannot access Netflix.
3. HideMyAss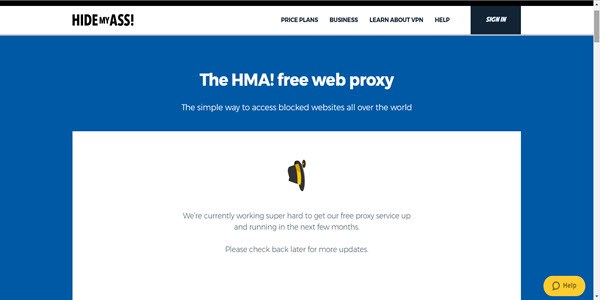 Another provider who also offers VPN, HideMyAss is also a well-known company in terms of virtual privacy.
If you agree to have lower speed, this proxy is entirely free. But don't worry; the speed is still more than satisfying.
Other perks from HideMyAss (pun intended):
The simplicity of switching between servers as you are browsing).
It has an extensive list of HTTP, HTTPS, and SOCKS4/5 servers.
You can take advantage of their anonymous email and referrer services.
However, if you like streaming or gaming, HMA is not for you as it does not allow those activities plus encryption when you choose to use the free service. 
You should also know that they keep logs for their internal statistics that they hold for two to three months.
If you're interested in their VPN service, we have a complete review here.
4. KProxy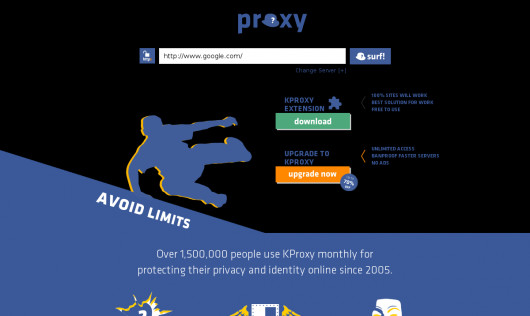 KProxy is an all-around fantastic proxy as it's quite similar to a VPN.
Completely ad-free.
It offers a browser extension for Firefox and Chrome, plus a specific KProxy browser (which is a Firefox browser with built-in KProxy).
It can be used on your other devices as well (including mobile).
It allows you to hide the menu bar on top which improves the user experience. Other free proxies don't have this feature.
However, this proxy is limited in time. After a certain amount of time, you'll be asked to upgrade to a paying service or wait 30 minutes before using it again.
5. Hidester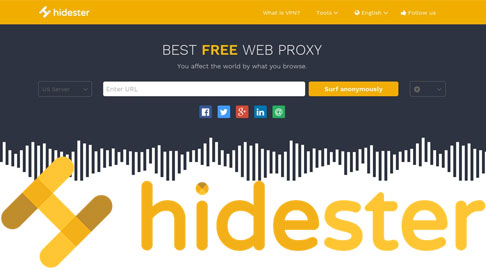 Hidester is one of the most reliable and well-known providers.
What we love about Hidester is that it provides SSL encryption that can protect your computer from malware or malicious scripts.
Other than that:
You can pick servers from both the US and Europe.
A free web proxy with an extension for Chrome. (Servers from other countries are included in the paying service.)
The possibility to manage cookies and encrypt URLs.
It has a free password generator and temporary email addresses.
Some of the reviews on Hidester you can read online are fake, but here' our honest opinion:
It's one of the best free proxies out there.
6. NewIPNow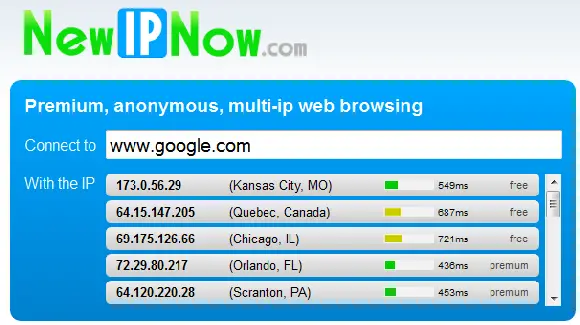 This proxy, like its name, is as straightforward as it gets.
But it does not mean it sucks, though. On the contrary, we think NewIPNow deserves a place on this list.
Once you open the website, you get to choose an IP address based on your preference. They don't impose one on you.
Super simple to use.
It also offers a premium version (not free).
Albeit basic, NewIPNow does its job well and will fit your day-to-day needs.
7. Whoer.net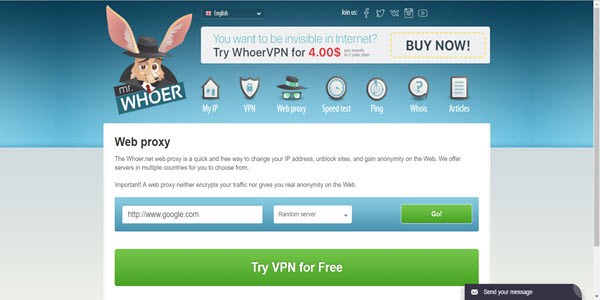 Another proxy that also offers VPN service, whoer.net can be an excellent choice for regular web surfers.
You can choose the server yourself or let it be picked for you at random.
It also provides an internet speed test and a Ping test, which can be pretty handy.
There are nine servers to choose from, in Europe and the US.
But we find that the massive ad banner for their VPN is quite annoying. 
8. MegaPoxy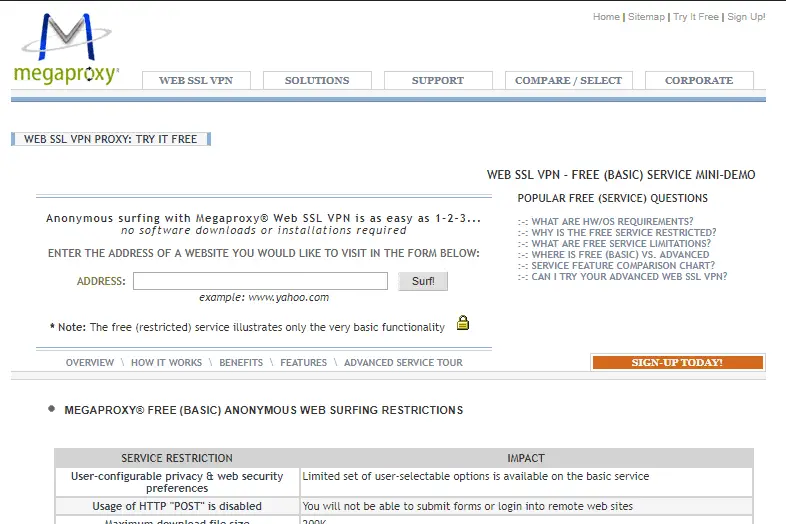 Although the appearance is somewhat basic, MegaProxy offers something unique from other free proxies. 
It hides your IP address PLUS masks your browser and your OS. Not only that, but it also hides the HTTP referrer information, thus disabling access to your last visit.
Great user privacy features, including the encrypting and transforming cookies. For example, it can convert 20 cookies into one single session cookie.
The option to block cookies and ads and repetitive animations.
MegaProxy is free, but not without limitations. 
For one, you cannot use it to stream media. Also, you can only download 200 Kb of data and visit 6 web pages every 5 hours.
What's more, it does not support HTTPS sites, which, in our opinion, is its biggest flaw.
9. Zend2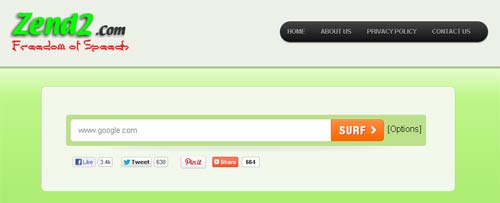 Zend2 works more like a classic free proxy. However, with Zend2 you can access Facebook and YouTube.
Aside from that:
It offers page and URL encryption.
You can choose to disable or enable scripts, cookies, and objects.
Its features are available even before you start using the proxy, contrary to the other free choices which let you customize things while using them. However, this can become annoying once you start browsing and cannot change the options.
10. VPNBook

Although there's a VPN in the name, VPNBook also offers free proxy servers.
Some of their advantages:
It allows you to access social media such as Facebook and even YouTube.
It uses 256-bit encryption to secure your traffic.
You can choose servers from the US, Europe, Canada, or leave it at random.
A clean look and ease of use.
The downsides of this proxy include the lack of control in the term of disabling scripts, cookies, and ads. 
Conclusion
Even though these proxies are free, you can use them without being worried.
They are fine if you just want to hide your IP address for a while. Do remember, however, that some offer limited time or bandwidth. 
Plus, if what you're after is a high level of anonymity, free proxies won't be enough. In this case, we strongly suggest you use a VPN.
Looking for an awesome VPN? We have the perfect list just here!
Related:
Security
Privacy
Reviews
Proxies