9 Best Wireless Earbuds of 2020
9 Best Wireless Earbuds of 2020
Posted April 23, 2020, 8:53 a.m. by
Emil S.
Headphone jacks are a thing of the past. Wireless headphones have taken their place, with many users preferring the snug-fitting earbuds to the over-the-ear headphones. Earbuds have the advantage of being small, provide plenty of sound, and are contoured to fit within the ear with little risk of falling out and getting lost. Some even have little hooks to help them stay in place.
1. Best Overall: Apple AirPods Pro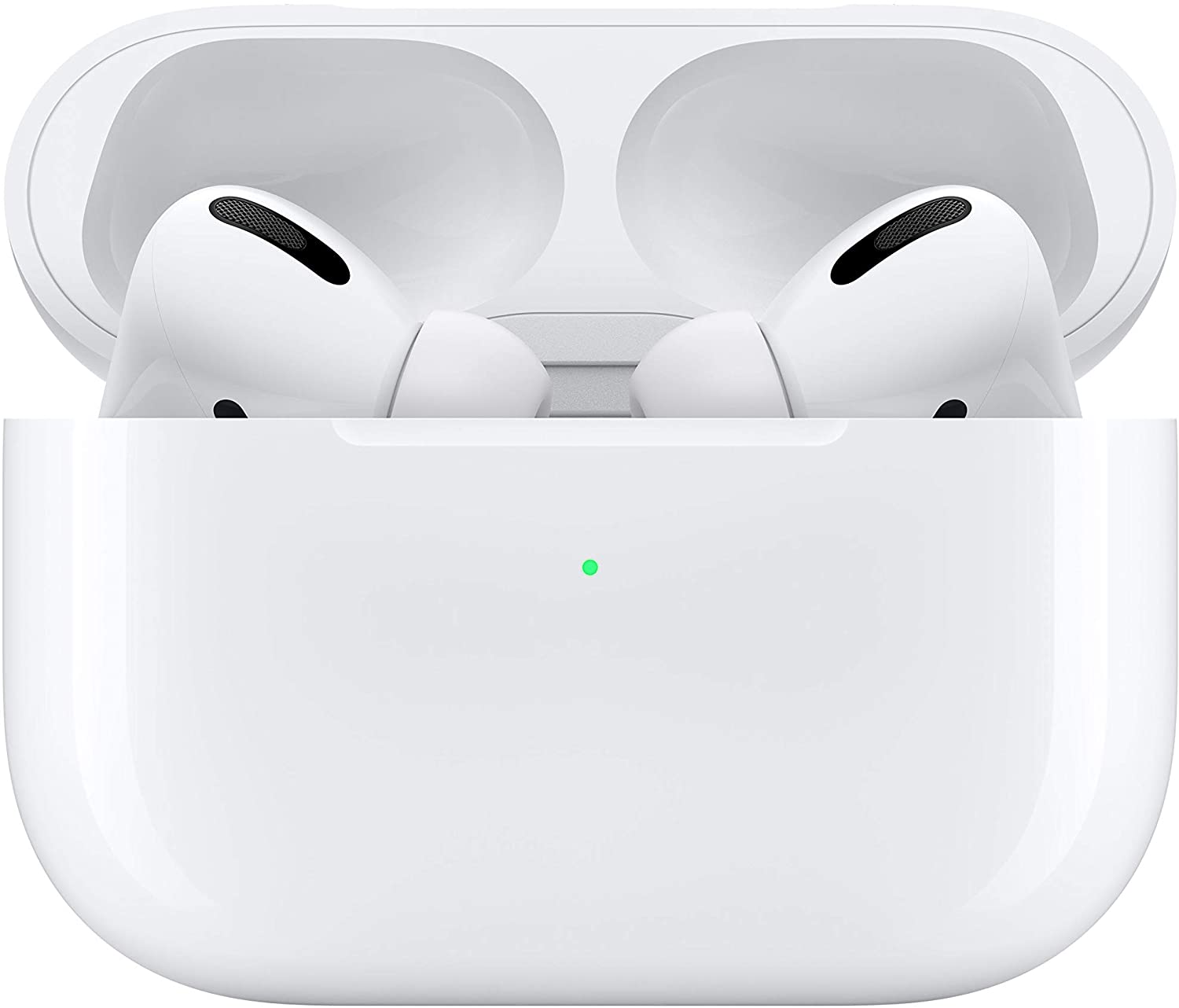 The first offerings by Apple in the wireless earbuds marketplace were Airpods, which were soon followed by AirPods 2. Resembling golf tees, the design was criticized at first but acquired a following among Apple enthusiasts. Apple persevered with the design when they introduced the AirPods Pro, but improved on sound quality alongside other features.
One of the changes Apple made to the AirPods was the introduction of active noise cancellation. This feature cuts out all the noise from the outside world but adds an ambient hearing element that still allows enough sound in so that cyclists or runners can stay aware of any dangers.
The AirPods Pro have the much-improved sound quality of the previous AirPods, excellent noise cancellation, and decent water resistance. Water-resistance is essential when working out in the gym or taking a run in a shower of rain.
Battery life is a good five hours, with another 24 hours available through the charging case. There are silicon tips provided, so choosing the best fit is not a problem.
Pros

The sound quality is much improved
The active noise cancellation feature is very effective.
Improved water resistance is significant plus the interchangeable tips make for greater flexibility.

Cons

The touch controls are not that easy to use.
2. Best for Android: Samsung Galaxy Buds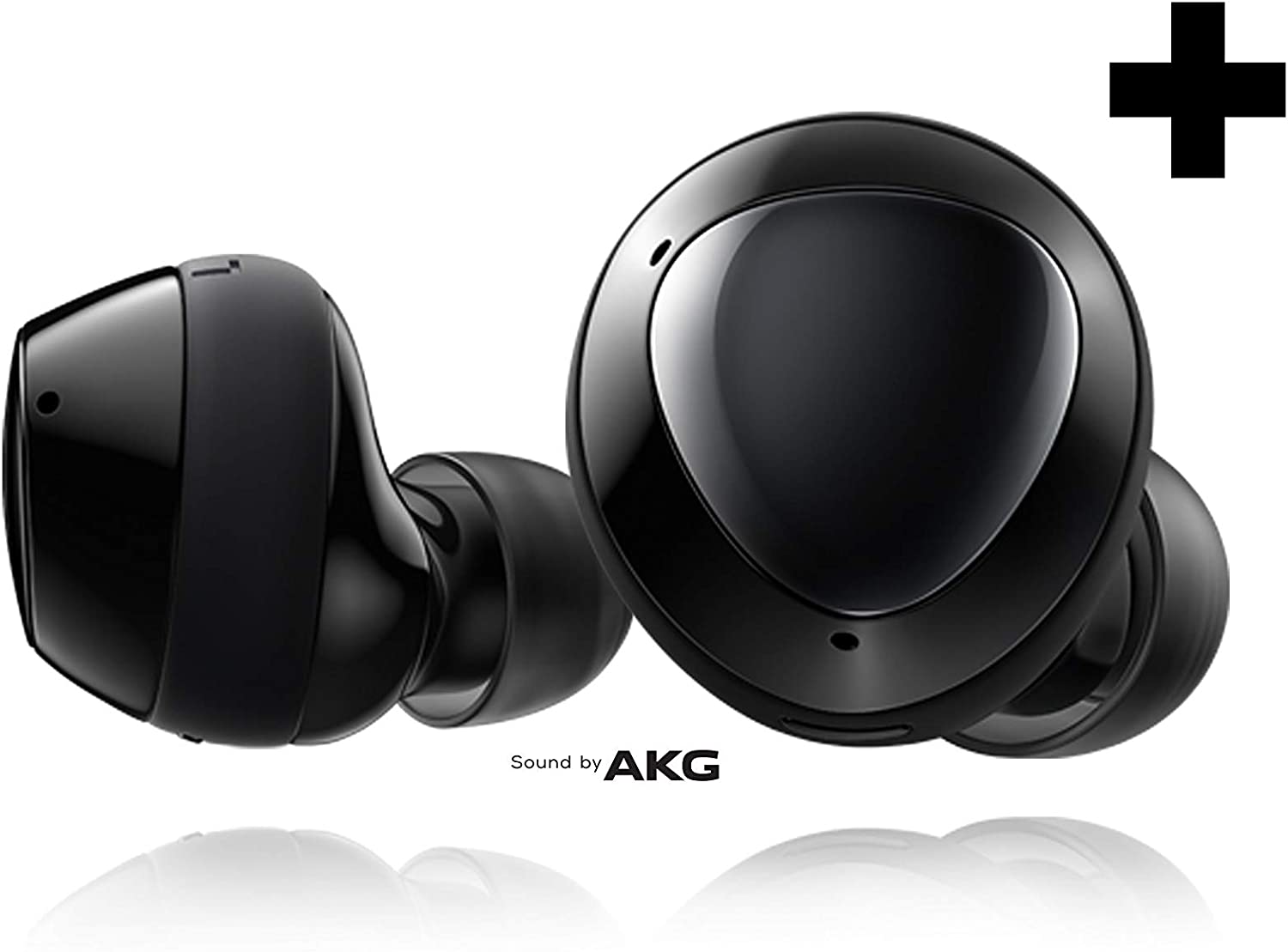 Every Android owner, especially those who own a Samsung Galaxy, should give the Samsung Galaxy Buds serious consideration. These neat little buds will work with all Android phones, and will also work with iPhones. Samsung owners will get an easier pairing by just opening the wireless charging case near their phone.
Samsung went to AKG to use their expertise when tuning the drivers to get a balanced sound output. There is an accompanying app that can be used to make alterations to preset values. The result is a decent sound quality.
These buds do not have active noise canceling, but the tight seal around the tips give excellent passive noise cancellation. Samsung does include a feature called Ambient Aware that's designed to allow outside sound in when needed. This feature can be turned on or off by using Quick Ambient on the touch controls.
The battery life is around six hours, but this can be doubled by using the battery case that is included with the buds. These earbuds do only have an IPX2 rating for water resistance, so care must be taken when using them, as they will only have protection against sweat and the odd splash of water. There is no protection against dust.
Pros

Sound by AKG gives excellent quality.
The wireless charging case is included in the price.
Galaxy users benefit from easy setup.

Cons

Only Galaxy owners can benefit from certain features.
3. Best for Runners: Bose Soundsport Free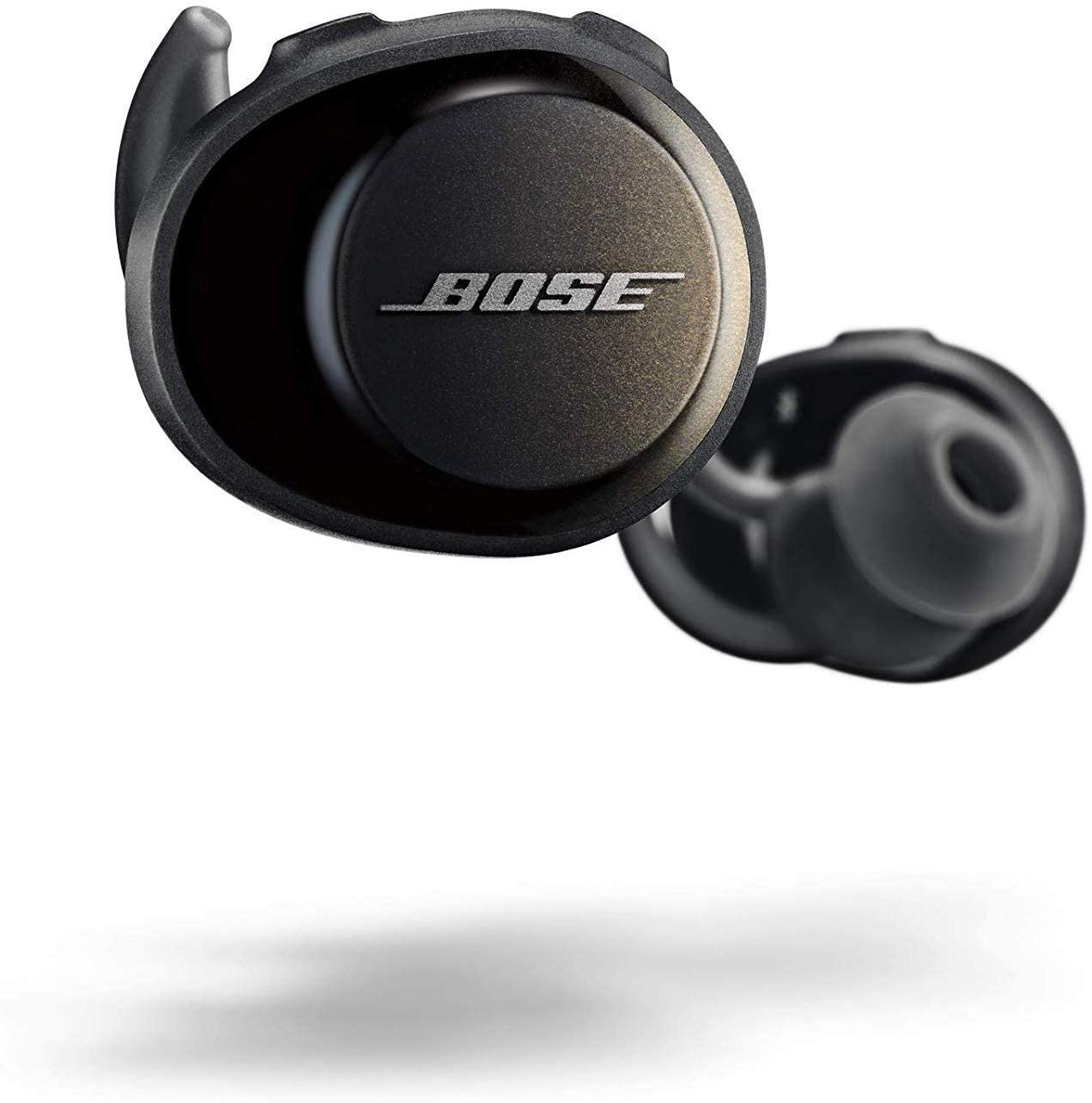 Bose was among the early entrants into the truly wireless earbud marketplace. Their Soundsport Free earbuds still hold their own against newer products that have followed them onto a sale. They do seem to be on the big side, and that can be a disadvantage, but they do come in a choice of four bright colors - Black, Blue, Ultraviolet, and eye-catching Bright Orange.
Sound quality is not up to the QuietComfort II standard, but Bose has made sure that their signature warm bass is there. Five hours of battery charge is achievable, with a further 10 hours available using the case. These times are not the best, but it does only take two hours to top-up the battery to maximum.
Runners will be delighted with the IPX4 rating the Bose Soundsport Free earbuds hold for water resistance. Android smartphone iPhone users will appreciate the NFC pairing facility. Interchangeable tips, plus a clever feature enabling lost buds to be tracked, add to the attraction.
Pros

The quality of the sound is very good indeed.
The range of fun colors adds a bit of style to the buds.

Cons

The battery life of these buds is not as long as some competitor brands.
The larger size of the Bose Soundsport Free earbuds makes them a bit bulky
4. Runner-up in Best for Running Category: Jabra Elite 75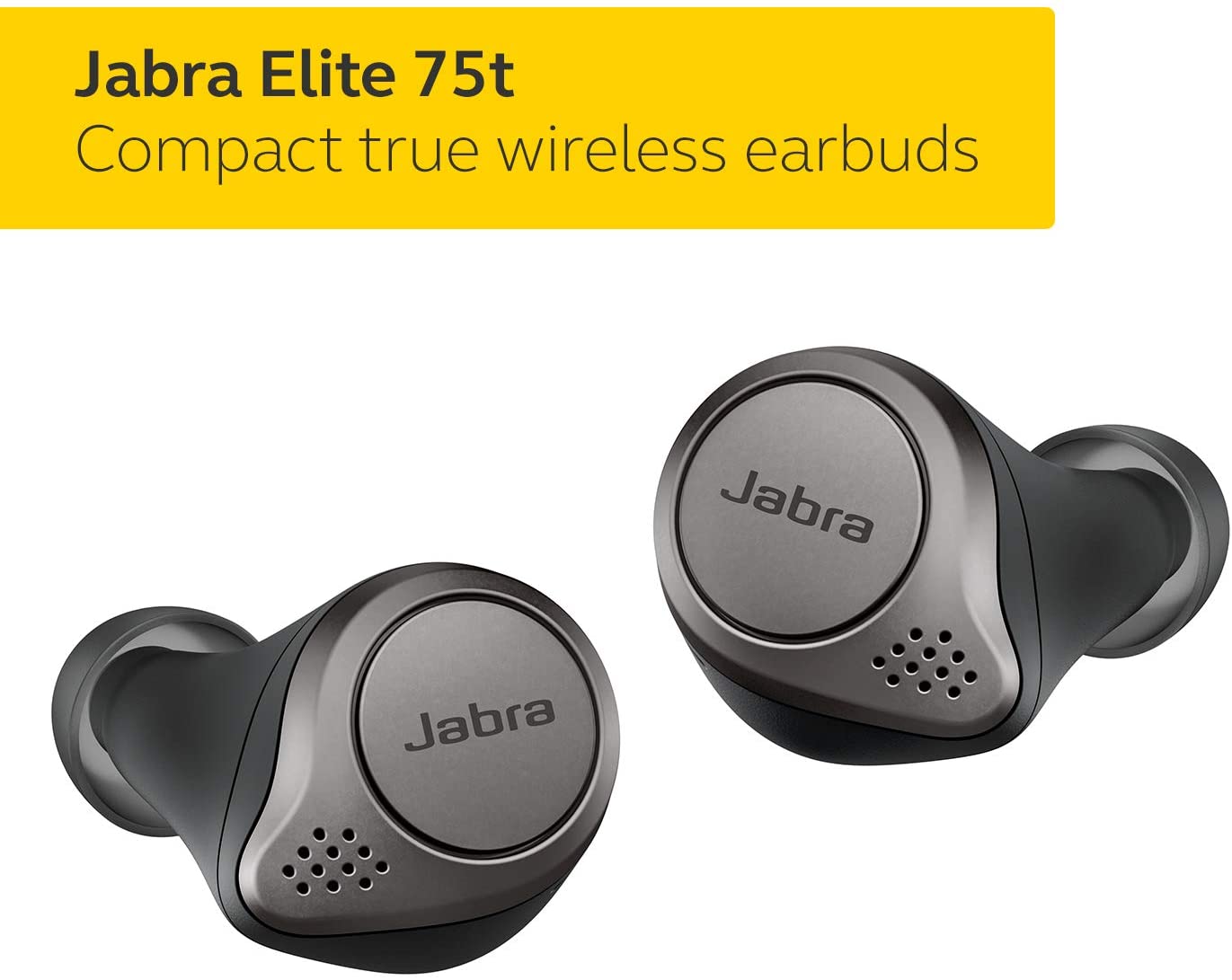 At Jabra, they concentrate their efforts on audio products. Consequently, their Elite 75 earbuds are right up near the top of any list of the best. There is plenty to love about them, although the sound quality is not one of the reasons. The sound is quite punchy, with good enough bass for a quick break-dance. What it lacks is clarity, especially on the high notes.
One of the significant pluses with the Elite 75 is battery life. The earbuds are small, yet they give 7.5 hours of battery life, and using the charging case gives another 28 hours. Another 15 minutes charging via USB-C provides a whole hour of extra listening.
Noise cancellation is brilliant, especially for phone calls. Four separate microphones help make voices sound clear, whatever is happening at the other end of the connection. For a perfect fit, there are three additional pairs of silicone ear tips provided.
There is also no need to worry about them getting a little bit wet as the Elite 75 buds have an IP55 rating. So, the Jabra Elite 75 earbuds are an excellent choice for runners, whether on the road or on the trail, and gym bunnies who like music to exercise by.
Pros

The superior water resistance makes these an excellent choice for sports use.
The length of the battery's life is impressive Jabra's Elite 75 looks good, being sleek and stylish.
Price-wise these are a good buy

Cons

The Jabra Elite 75 earbuds lack noise cancellation, which might be an issue for some
5. Best for Noise Cancellation: Sony WF-1000XM3

Sony is tops for noise cancellation, although some competitors are snapping at their heels. The Sony WF-1000XM3 earbuds are true wireless buds, beautifully designed, and containing almost unbeatable noise cancellation technology. The WF-1000XM3 are not the smallest earbuds on the market, but they do hold a slightly bigger battery. This gives them a six-hour battery life from one charge.
The superior noise cancellation is courtesy of Sony's inclusion of the QN1e processor. Pairing this with their own DSEE HX audio engine makes the sound quality afforded by the WF-1000XM3 beyond challenge. The sound is evenly balanced, and there is an EQ that can be adjusted if the user isn't satisfied. Touch controls allow the noise cancellation feature to be turned off.
All that has to be done is for the user to hold their finger against a bud to turn it off. This way, both or only one bud can be turned off. Just a tap or a swipe can manage other features, such as phone calls and music tracks. Should an earbud fall out for some reason, removal detection kicks in, and the music will pause. An audible warning of a displacement just in case the user hadn't noticed.
One more feature that Sony has included in these earbuds is a smart listening mode. This allows the buds to switch from ambient sound to noise cancellation, or vice versa, according to the type of activity the user is doing.
Pros

With superior noise cancellation, the WF-1000XM3 is the best around.
Sound quality is superb.
These buds boast intuitive controls to make adjustments easier.
The WF-1000XM3 has a decent battery life

Cons

The biggest let-down is the lack of any water resistance
6. Best for Sound Quality: Sennheiser Momentum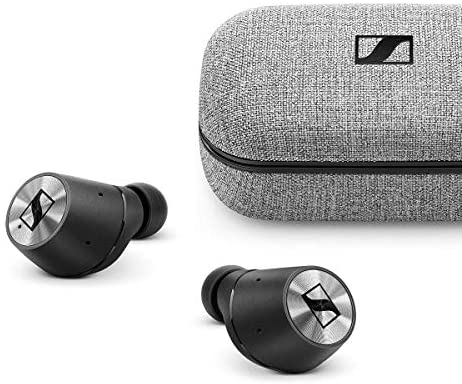 Sennheiser came late to producing truly wireless earbuds but had an immediate impact with what many consider the best earbuds for sound quality to be found. There are none better, which is why they top the chart for the excellence of sound quality. The music is transmitted to the earbuds using a Bluetooth 5.0 AptX channel. Using Bluetooth gives audio clarity and speedy transmission.
No more irritating static drops in sound quality or synchronization problems. The sound quality gives that beautiful warm bass and mids and highs are balanced over the complete range of volumes. The earbuds come with a Smart Control app that lets the user adjust each part of the overall sound to suit themselves.
The downside to all this praise is the measly battery life of just 4 hours. The battery case is neat and trendy, but a bit on the big side. It gives 8 hours of extra battery life, which is also quite modest.
A final plus is that these earbuds won't mind too much if they get a bit sweaty or slightly wet in the rain when they are entertaining their owner on a run.
Pros

Sennheiser Momentum earbuds offer outstanding sound quality.
Having the Bluetooth AptX installed makes for a superior listening experience.
There is a more than adequate level of water resistance

Cons

The Sennheiser Momentum has poor battery life, which could be a problem for some users.
These earbuds are in the higher price range
7. Best Alternative to Airpods: Anker Soundcore
Liberty Air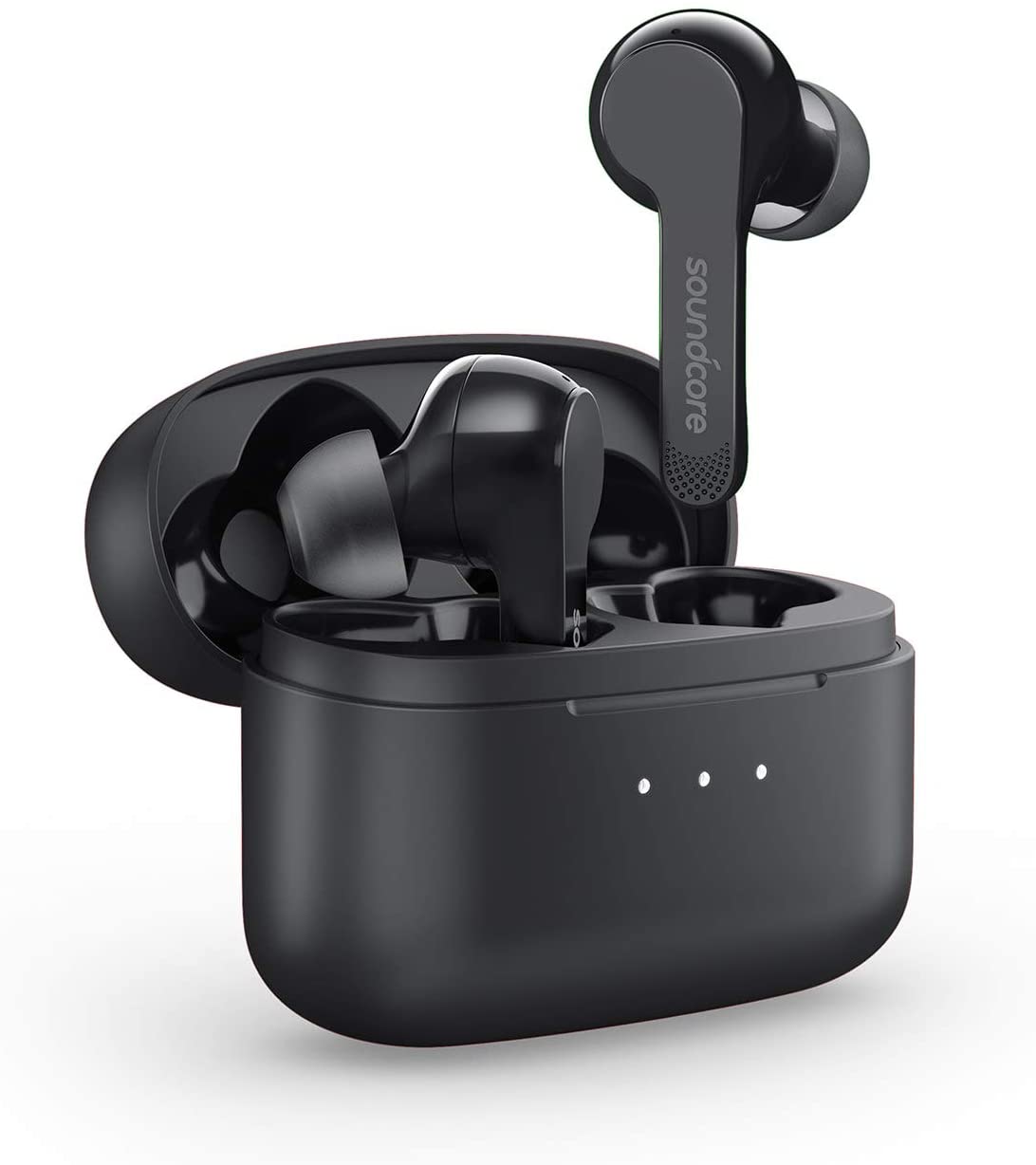 If the Apple AirPods are too pricey, then the Anker Soundcore Liberty Air is a brilliant alternative. They are Apple's golf tee design, yet still offer more than acceptable sound quality plus a load of other features.
In the quest for a purer sound, Anker Soundcore Liberty Air has used graphene drivers, but the consequence of this is no noise cancellation. That lack of noise-canceling technology means these are not ideal for use in noisy environments. Calls, though, are made clearer by the use of two microphones in each earpiece.
Further features include answering calls, pausing, and skipping music tracks all through the intuitive touch controls. Battery life is 5 hours, with a further 15 hours via the charging case.
Anker backs up their products with outstanding customer service and a warranty. For anyone on a budget, they are well worth a try.
Pros

The Soundcore Liberty Air buds have a satisfyingly strident sound.
Although imitating Apple's golf tee design, these buds do look quite stylish.
Reasonably priced for a decent array of features

Cons

These buds are quite noticeable when worn and do draw a bit of attention
8. Best for Phone Calls: Plantronics BackBeat Pro 5100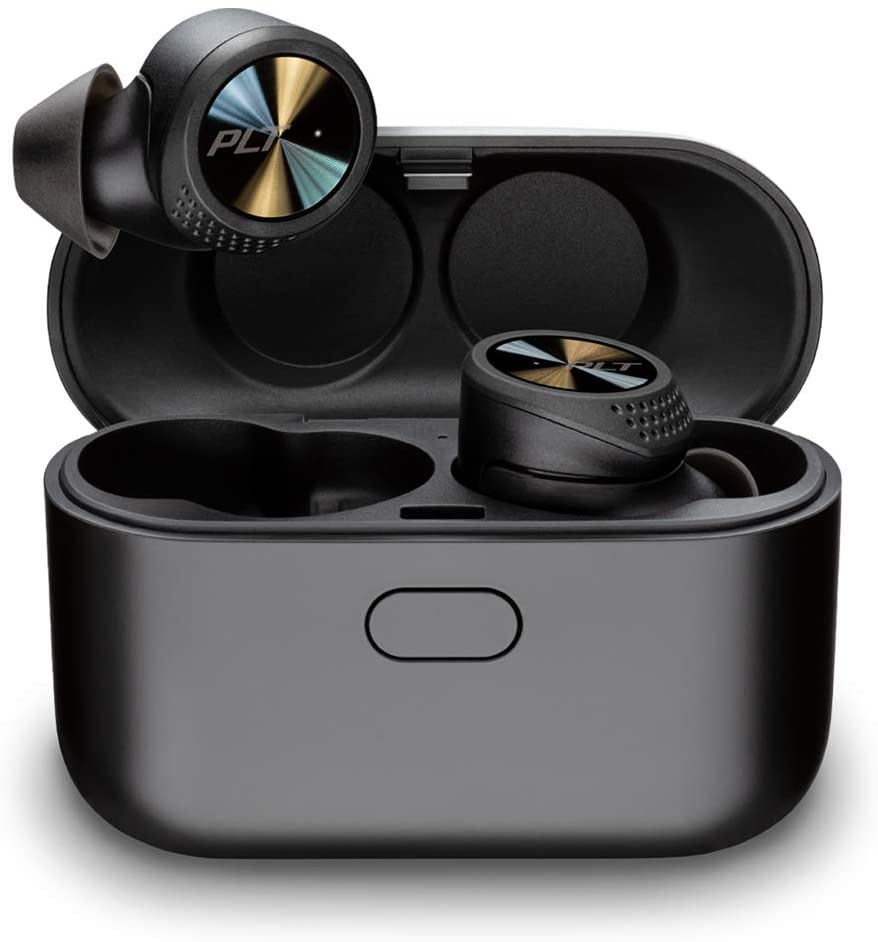 Taking phone calls through earbuds can be a frustrating experience, as all sorts of noises can interfere with them. The BackBeat Pro 5100 has four inbuilt microphones that do a great job of picking up the user's voice. Added to that, Plantronics claims that their Windsmart technology, which is also built into the buds, actually detects and then filters out wind noise.
There is no other noise-canceling technology, but the cone-shape design of the ear tips helps to block out low to moderate levels of noise. There is a selection of the cone-shaped tips included with the earbuds.
Making phone calls easier and clearer is not the only significant feature of the BackBeat Pro 5100 earbuds. The sound quality is above average, with two 5.8mm drivers giving a satisfactory music experience. Control is by tapping on the buds, backed up by the Backbeats app that provides access to playlists, the EQ settings and stopwatch, and time capabilities.
Water-resistance is rated at IP54, and the battery will last for 6.5 hours on a single charge, backed up by 13 more hours through the case. Their high level of water resistance means these earbuds can also be used when exercising at the gym or running, in the sure knowledge that they won't suffer if they get a little bit wet.
Pros

The wind filter feature is a good idea that does make a real difference in making and receiving phone calls.
These earbuds are a remarkably comfortable fit.
A rating of IP54 for water resistance is a bonus for those who might not want to worry about them getting wet.

Cons

A few more EQ options would be a boon.
9. Best Wireless Earbuds Under $50: Ylife ST-BE18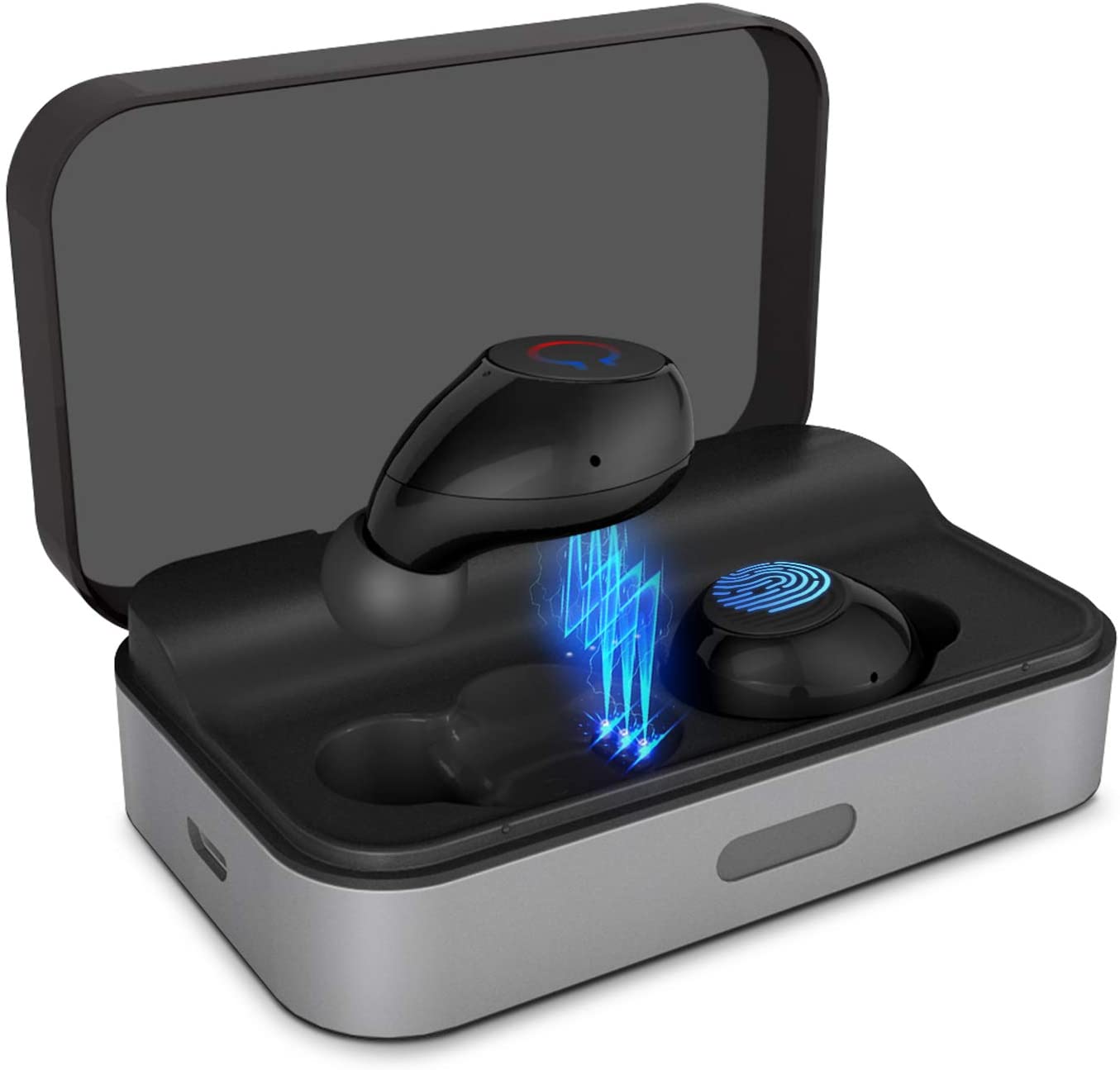 There is a wide choice of wireless earbuds that come in at under $50, but by far, the best is the YLife ST-BE18. These earbuds have many of the features that might be expected of more expensive ones, without significant loss of quality.
The design of these earbuds is nothing to write home about, but they are tough with IPX5 rated water resistance, 5 hours of battery charge, and more available from the battery case with its 18 charges. Sound quality is excellent for the price, with 6mm drivers doing the hard work. EQ can be adjusted by tapping the buds. There are noise-canceling microphones incorporated into the buds so that phone calls can be clear and focused.
With their rather dull design, the ST-BE18 earbuds do scream 'cheap.' The build quality is robust but simple. Included in the package are interchangeable, lightweight silicon tips, so a comfortable fit is pretty much guaranteed.
On the whole, then, the ST-BE18 does punch above its weight with decent sound quality and an acceptable measure of water resistance.
Pros

The Ylife ST-BE18 earbuds are certainly cheap.
They give a good level of sound quality, given their cheapness.
18 charges in the battery case is excellent

Cons

This is more of a niggle than a complaint, but the design is quite dull and uninspiring.
Factors to Consider When Buying Earbuds
Comfort
Earbuds will often be worn for several hours a day, and the wearer does not want to suffer any discomfort during this time. This means there are a few questions to be asked about each potential purchase before making a final decision. The first question should be whether the earbuds are going to stay in place. Are they a snug fit? Will the earbuds come supplied with a range of different tips, and what are they made from? Silicone and foam are common materials, although memory foam is becoming popular. That's because it will adjust to the shape of the ear canal. How water-resistant are they? Can they cope with sweat and light rain? Are they dust-resistant too? So many questions, but comfort is paramount, and fortunately, the answers are easy to find.
Wireless or truly wireless?
At first glance, these seem like the same thing. However, the phrase wireless earbuds only means that they receive their signal wirelessly. Usually, they still have a wire linking the two earbuds, so that they are harder to lose. Truly wireless earbuds have no wires of any kind. Each earbud connects wirelessly with the other, and with the device providing the signal.
The extra tech needed in the earbuds makes them more expensive, but there is no irritating wire dangling either behind or in front of the user's neck. For anyone prone to losing small electronic devices, there is much less risk with a pair of wireless earbuds.
Behind the ear or at the back of the neck?
The decision to opt for wireless earbuds then leads to another decision that has to be made. Some earbuds come with neckbands that have the earpieces coming from the ends with the whole unit sitting on the wearer's collarbone. Others have shorter connecting wires that pass behind the user's head. The final decision, probably based on comfort, is the users.
Phone Calls
Another decision to make is whether phone calls are going to be made or received while the earbuds are in use. If they are, then the chosen pair must have an inbuilt microphone. This is usually positioned near the wearer's mouth so that their voice can be more easily heard. If the earbuds are just for listening to music or similar, then a pair without a microphone will be cheaper.
Features of Wireless Earbuds
Audio Quality
Audio quality is probably the most crucial consideration when choosing a pair of earbuds. A good quality pair should make any audio based on dialogue, such as a podcast, sound clear and sharp. It is worth remembering that cheaper earbuds will not sound as good as the more expensive brands.
Noise Cancellation
Noise cancellation simply means keeping unwanted background noise out, so the user only hears the sounds they want to hear, like music or a phone call.
There are two types of noise cancellation – active and passive. Active noise cancellation involves some tech in the earbuds that transmit white noise into the earbuds to mask the unwanted background noise. Passive noise cancellation is simpler, as it involves just blocking out noise by using the design of the buds or the materials used.
Some earbuds have just one method, some have both. Noise cancellation is important, as a user's enjoyment of the earbuds can be ruined if there is too much outside noise and interference.
Magnetic Ends
A simple thing that can make a difference is to choose earbuds that have magnetic ends. When they hang around the neck of the user, they will hold together. Therefore a useful safeguard against the earbuds getting lost during exercise.
Noise Canceling
A feature not usually found on budget-priced earbuds, noise-canceling does just what is says. It cancels out background noise so that the listener only gets the sounds they want to hear.
Battery Life
Even the best and most sophisticated pair of wireless earbuds is useless once the battery runs out. The figures for battery life vary from model to model, with the average being in the 6 – 8 hours bracket. Most wireless earbuds come supplied with charging cases that can usually double the battery time available. A few have USB-C ports to allow faster charging. Some offer wireless charging, so avoiding the need for cables.
Related:
Reviews
Android
iPhone
Wireless Earbuds