Best Cable Modems For 2020.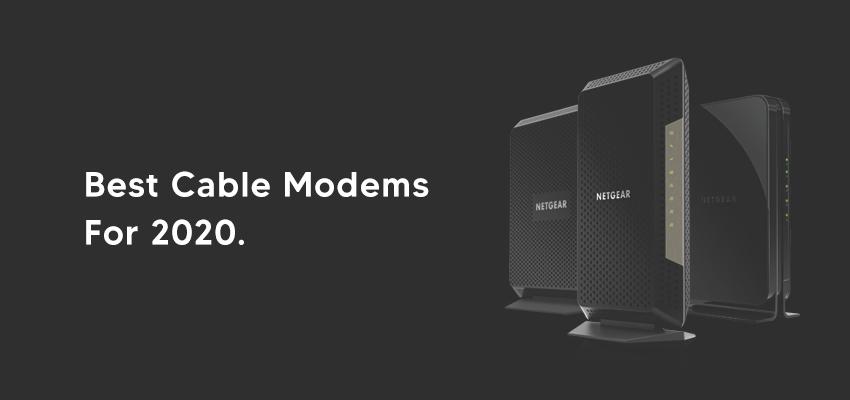 Best Cable Modems For 2020.
Posted Sept. 30, 2020, 2:02 a.m. by
Emil S.
When it comes to cable modems, most of us are comfortable renting them from our Internet Service Providers. It is time you started minding that tendency. Why don't you consider buying one of your own? With the right information, you could get one that beats the one you are renting right now.
Better still, you will rest from the monthly charges in the long haul. Because, within a few months, you will have managed to own your cable modem. With cable modems, the more you invest, the better cable modem you can get.
The internet is evolving fast. It would only be to purchase something that will keep you ready to embrace a faster internet when it arrives. This may imply waiting for the days of multi-gigabit plans, or just going up to 600Mbps.
Even so, the regular cable modems meet the basic internet needs of the average internet browser. These need the internet for social media and occasional streaming of HD videos. The one who heavily relies on the internet for regular group video calls, playing games online, and 4K streaming will need a better cable modem than the basic one.
If you are looking for a cable modem that will be there for you in the future, get the DOCSIS 3.1 make that can bear speeds that go up to 10Gbps. But if you want one that can handle your heavy-duty internet demands, then the 32 by 8 DOCSIS 3.0 will do.
Exemplary Cables in the Market
Netgear Nighthawk C7000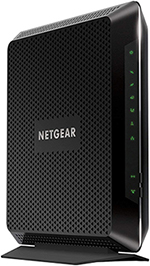 If you have a large home and business premise, it is highly likely you could be going for something with good coverage. Netgear Nighthawk C7000 would be the consideration for you. It is aesthetically designed to go with the times. It provides good coverage, and the performance is just what you might be looking for.
In better terms, this combo makes fast internet services the thing for you as it reaches heights of 960Mbps. It manages the dual bandwidth of 5GHz and 2.4GHz wireless fidelity connection. So, it eliminates the necessity of getting another router.
If the area to be covered is approximately 2500, you can rely on it for superb performance. If you want to boost the performance, the package comes with four Ethernet ports. You can plug them in and get top speeds for playing online games and engaging in other online activities that demand such speed.
It does not handle bundles that come with voice services. On the other hand, it is compatible with many cable network providers like Spectrum, Comcast Xfinity, and Spectrum, among others. It handles connections for DOCSIS 3.0 with 24 by 8 channels.
Bill Thomas is one of those who tested the product. He said that the modem kept up with stable delivery even during the busy hours. Their internet connection being 250Mbps speeds.
Arris Surfboard SB6190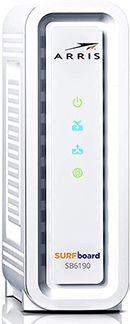 Arris Surfboard SB6190 is an all-round exemplary cable modem. It comes with the qualities you would be watching out for. It comes with admirable internet speeds and is powerful for its size. It is not bulky. It can fit anywhere you would wish to place it. Even a shelf would do. This model came after SB6183 and agreeable with all the most popular cable providers in the market. Internet Service Providers will set it up for you.
The speed is okay for even downloading media files and anything else to your taste. It may go as fast as 1.4Gbps. For uploading, it may get as swift as 260Mbps. It also comes with one Gigabit Ethernet port that can be found on its rear. The expectation is that a majority of the users will be having a wireless fidelity, as is the norm.
The coaxial cable is strangely placed, close to the power connector. But once you plug it in, you are good to go. That is a small issue to put up with as it gives you back so much more. Its small size makes up for that little awkward detail.
If you enjoy your online games, this is the cable modem for you. Another cable modem worth checking out is the Motorola MG7550, which hosts the two in one. That is, it comes equipped as a modem and network device. It supports the popular DOCSIS 3.0 and efficient sixteen by four channels.
What will draw you to this modem are the impressive features. Delivers good performance and is also fast, plus controls that parents can use, and excellent security features.
To break it down for you, the modem bit of it is the DOCSIS 3.0 version. You will be receiving 4 upstream channels as well as sixteen downstream channels. The company has added a Wireless Power Boost feature that expands the signal of the wireless network to produce better coverage and elevated speeds.
The router bit of it is as impressive. It brings with it dual-bandwidth, which is 5GHz and 2.4GHz. Then, there is the very adaptive AnyBeam tech that ensures the wireless connection is based on the client's specifics.
Concerning the security that comes with this set-up, the Router comes with a firewall. Then there are parental controls, making it suitable for the regular household. It also embodies 4 Gigabit Ethernet ports that you can spot on the rear part of it. You will also spot the indicator lights that will alert to its working or dormant state.
Netgear CM1200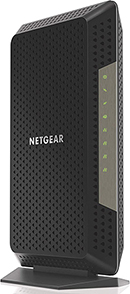 Netgear CM1200 is a Multi-Gig Speed model cable modem. You will enjoy its performance. It will make sure that you are not left behind when the internet standards go up. It is supported by DOCSIS 3.1. Plus, it has 4 Gigabit Ethernet Ports! This is where you enjoy the luxury of having several devices connected and running. And, you have the bonus of being able to use several Internet Protocol addresses! You can assign them to each port.
It is cool having the ability to keep up to 4 distinct home networks. And, still have the privilege of 802.3ad link aggregation. You can use this to link two ports to a router so that you can make full use of everything the 2Gbps DOCSIS 3.1 has to offer. A router that can be hooked up is the Netgear RAX80.
Its downloading speeds go up to 2Gbps. So, it has you prepared for multi-gigabit internet advancements should your Internet Service Provider upgrade. It also flows with the regular DOCSIS 3.0 model. The DOCSIS 3.1 has the 2 by 2 OFDM channels. That is what brings the big difference.
Netgear CM500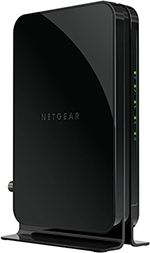 You will get good value for this cable modem, Netgear CM500. Indeed the kind of performance it delivers is ranked way up there because of its affordability. Most cable models of its caliber are pricier.
It manages as high as 680Mbps speeds. It is a smartly made modem and is compatible with a majority of devices. Its compatibility extends with many computers like macOS, Windows XP, Windows 2000, Windows Vista, Windows 7, 8, and 10.
Then again, it is compatible with Time Warner Cable, Comcast Xfinity, Cox, Charter, among many other cable internet providers. It supports DOCSIS 3.0. And no, it will not operate with voice services that come with cable bundles that are still in use by some.
And what can the modem handle at a go? The modem supports four uploads and sixteen downloads going on at the same time. As for the video streaming, the modem supports both 4K and HD! Now, all these qualities of the Netgear CM500 are a dream for that price.
Arris Surfboard SB8200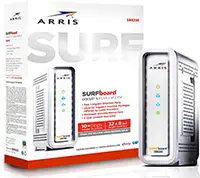 If you are one whose focus is on high internet speed, Arris Surfboard SB8200 is the cable modem to go for. It might be on the pricey side, but you will get your money's worth. If your cable provider has one that can provide Gigabit level internet speeds, pick the DOCSIS 3.1.
It comes in a compact design, so you can comfortably set it anywhere you please. It has two Gigabit Ethernet ports and the capability of link aggregation. The ports are on the rear end of the modem. The link aggregation supported is 802.3ad. When you link it to the appropriate device, through the two ports, you will experience 2Gbps performance.
The power that presents with support of 2 by 2 OFDM DOCSIS 3.1 has the potential of two times the speed of a DOCSIS 3.0 modem. The good thing is that it also offers support for the 32 by 8 DOCSIS 3.0 and so it will still deliver satisfactory results even when your Internet Service Provider cannot support the DOCSIS 3.1.
According to Jesse Hollington, a Tech writer, DOCSIS 3.0 modems are capable of speeds that may exceed 1Gbps. It is the cable internet providers that choose to limit it to 600Mbps. She also supports the fact that Gigabit level speeds can comfortably be supported by a DOCSIS 3.1 modem.
Motorola MG7700

If you ever needed a cable modem and a router in the same package, it is the Motorola MG7700. The cable modem part of it is a DOCSIS 3.0 with 24 by 8 channels. The Router is a dual-bandwidth Wireless Fidelity Gigabit identified as AC1900. This combination helps in giving great speed and great-performance too. The combo is ideal for your home, as it can satisfy approximately 2000 square feet. You can also use it for your office.
Now, you cannot place it anywhere. This is because you will be required to plug it to the coaxial cable provided by your Internet Service Provider. One product tester Don Reisinger confessed that he enjoyed the streaming of music and movies because of the speedy delivery of what was promised. Don also found the approximate area of coverage of 2000 sq ft to work out as promised. To him, the software was also user friendly. His verdict was that this combo was a great fit for many households.
Netgear C6250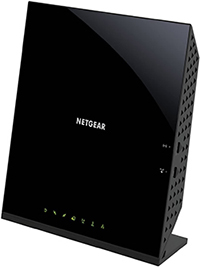 Netgear C6250 is a DOCSIS 3.0 supported cable modem. It comes with a dual-band AC1600 networking device. So, if you are looking for a simple cable modem that comes in one piece with its wireless cable router, this is it for you. Given what it comes with, it is very affordable.
It will be a worthy addition to your home, as its wireless network covers approximately 1500 square feet. You will be able to stream 4K videos in your home as this reliable combination could give you downloading speeds that could go as high as 680Mbps.
It conveniently enables USB sharing in the event you want to share all types of media files across devices. When you connect its USB 2.0 port to a printer or detached hard drive, then you can be able to share.
This model will see you enjoy the services from the many cable providers in the business due to its compatibility. Further, you will not require an on-site visit to set it up. Most Netgear products are easy to set-up and get them running. This is no exception.
The cable's 16 by 4 channels will support speeds of the likes of 300Mbps. The Gigabit Ethernet ports are two which you can hardwire on a game console or your PC. You can get better results when you get an Ethernet switch or an Ethernet hub to add in case there are over two wired gadgets.
Netgear CM400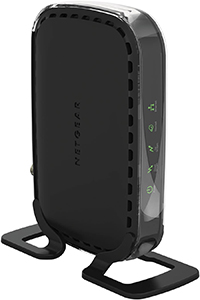 Now, given the state of the economy, most of us are always on a tight budget. If that's the case for you, you don't need to worry about it. You can own this DOCSIS 3.0 8 by 4 channeled cable modem within a comfortable budget of under $50.
Regardless, inexpensive modems are everywhere in the market. This will help you narrow down your choices. It is a DOCSIS 3.0 supported Netgear model that can achieve the moderate speeds of 340Mbps.
Netgear CM400 comes with one Ethernet port. As any Gigabit Ethernet port is designed to do, its purpose is to get to the highest speeds achievable. You can easily set it up. You can also rely on it to serve you well. The modem's package includes a stand. This provides a nice place to set it vertically.
A regular internet user will find what the modem offers to be sufficient. This is so, especially if high speed is not among the internet services you plan on subscribing to. This is the modem to buy if you want to quickly get out of the monthly rental fees you have to pay your Internet Service Provider to get modem services.
Netgear Nighthawk CM1150
If you want a modem that gives a little more than the norm of cable modems, you should pick this cable modem. It has a voice! Yes, it can handle Xfinity Voice services. A maximum of two Xfinity phone lines. And, you can forward calls, have caller identification, and engage in a conference call of three.
This is cool because this does not bring down the performance, speed, and other good qualities of the modem. Nighthawk CM1150 supports DOCSIS 3.1 and is very fast. This is thankful because of its 2 by 2 OFDM channels that can speed your internet to 2Gbps levels.
And, as any high-performing cable would, it has the supporting capability of the older DOCSIS 3.0 version that has a generally outstanding performance by its 32 by 8 channel. This modem is not cheap. On the contrary, it is quite expensive. Even so, it will give you the best services cable modems have to offer. In the fast-changing internet world, it is a worthy investment for the future.
With such speeds, the regular Gigabit Ethernet WAN port will not be suitable. You have to get a compatible wireless router that will go with the 802.3ad link aggregation that is supported by its two endpoints. That way, you will be able to take advantage of the 2Gbps that can be achieved when you hook up two Ethernet cables.
Conclusion
There you have it. If you want something that has a lot of potential in a tiny package, get the Arris SB6190. It will prove to be quite popular across the board. But if you are looking to keep up with the coming times and current super speeds, you should go for Netgear CM1200. It supports DOCSIS 3.1 connections. You should also consider going through the guide made to show you what you should be looking for while choosing a cable modem. Nothing is stopping you from getting your dream cable modem now! Or renting one.
Related:
Reviews
Wireless Network
Modem