Best Free Internet Phone Calls Apps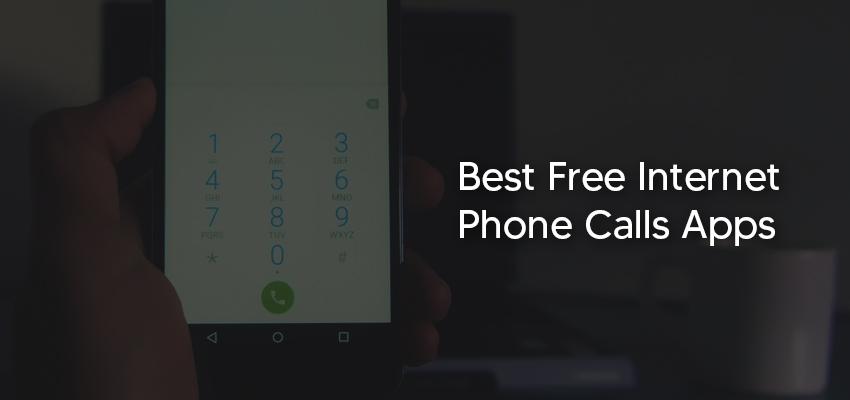 Best Free Internet Phone Calls Apps
Posted Nov. 5, 2020, 2:17 a.m. by
Emil S.
Remember the days when we were charged for every text we send and each second that we spend over a voice call? How short our conversations used to be, and how often we had to visit the nearby store to get a juice up for running out of money on our prepaid devices. The past decade has been quite eventful. This statement is accurate in terms of the growth of technology and the advent of instant messaging. We are connected with our loved ones across the world as we have never been before. When the landline came to be, everyone found it extremely convenient to communicate as you can call anyone in their homes at any time.
But that quickly faded when wireless devices came into the picture. These days, hardly any households have these landlines. Most of the people are equipped with phones - smartphones more precisely! With the expansion of the internet, smartphones have become a part of our being in ways we never imagined before. It has never been so easy to stay connected and updated with everything that's been going on worldwide.
Ours is becoming a generation that's seen so much dynamism in terms of innovation. From instant messaging to calling, to VoIP and having conference calls with more than 50 people at a time, we have seen a considerable change and evolution in terms of technology to help us keep connected. With the COVID-19 pandemic, we also saw how different companies rushed to launch their applications so that people would be able to stay connected throughout the world, whether it was for work or personal use.
Today multiple apps let you stay connected through calls. You can call your PC from your phone or another application to your phone - there are solutions for everyone. To give you an idea of how fast this network is, we've listed down the four different forms in which you can use phone call applications to stay connected.
Some programs let you call from your PC to your phone for free using just the internet. You don't even need a real phone number to do this. The application helps in calling different phones to any physical number in the world. This technology has evolved to such an extent that now you can make phone calls to any number, whether they are landlines or mobile phones, and even those that are not using the application.
Gamers often look for solutions to stay connected by using their PCs. If you need to call from one PC to another, that is also possible when your computer can make a free call to a different computer. And again, there are multiple apps today that let you call from application to application. For example, WhatsApp installed on two other phones can use their interface to connect through free voice calling or video calling.
Gone are the days when we used to pay for voice calling per second or minute. These days, app-based phone calls are beneficial to prolong your conversations and are safer than regular calls.
The number of our friends and relatives living far from us is growing day by day, but the distance is becoming shorter with these apps' help. Isn't it delightful to see your mom and dad right across the screen even when you are cooped up inside your home?
Because of the pandemic, it gives you a sigh of relief to be able to see them safe and sound in the security of their home, and not stepping outside and risking catching the virus. Coming back to my main point, we've listed some of the best free apps that we could find to help you stay connected over the internet. Even for international calls or local calls, you will not be charged a hefty amount as these apps help you call over the internet, and that, in turn, allows you to reduce your telephone bills. So, scroll below to discover some of the best options.
Google Voice
Google has become a part of our everyday lives in ways that we would not have imagined in the past decade. Google Voice is one of the best methods by which you can make free phone calls. It allows you to connect to a PC or a phone or to a Google Voice application itself. It helps you manage the different phone numbers on your phone and re-routes your calls to a free phone number provided by Google Voice when registering for the service. All you need to do is have a Google account, download the Google Voice app, and register your number.
After that, you can call anywhere in the world for free over the internet. You can do this as long as the other person is connected as well. The only drawback with Google Voice is that their calls are limited to a duration of three hours. However, you can always redial and continue your conversations back to back. They also have a free SMS service, a Free Conference Call service, and even free voicemail.
Once you have registered on their app, they will re-route all your calls to a free Google Voice number from which your call will ultimately be placed in your destination. The person on the other end can view this re-routed number, which is one of the drawbacks. It does not display your actual number when you're calling a different person. So, the other person is unable to identify you the first time around. However, this drawback is nothing in terms of the advantages Google Voice offers. It works on Android and iOS devices, whether a phone or an iPad.
WhatsApp
Today there are hardly any people who are not familiar with the WhatsApp application. From messaging to calling to sharing your location with friends, different kinds of documents and photos, the WhatsApp application has a lot to offer for anyone who owns a smartphone.
With WhatsApp, you can call anywhere in the world over the internet, whether it is a video call or voice call. The calls are placed over the internet, so you do not need to bother about your telephone bills while making these calls.
All you need to do is have a smartphone at hand with a WhatsApp application installed along with a phone number to register. The only drawback is that unless the person you're trying to call has a WhatsApp application downloaded on the phone, you will not be able to get them. But today, in this world of smartphones, WhatsApp is beneficial to make us stay connected with our family and friends. However, you cannot make conference calls while on voice calls.
As many as eight people can be added over video calls. It can be used on an Android or an iOS device and on your Mac. The best part is that WhatsApp offers end-to-end encryption for all kinds of communication made from within the app. So, you can stay connected with your friends and family all over the world without worrying about substantial telephone bills.
TextNow
Another mobile application that you can use to call for free over the Internet is TextNow. They have a very user-friendly interface that helps you check your call history from within the app, and one of the best features is that you can text while talking on your phone. When you register for the app, you are allotted an actual number to make phone calls. You can even call a landline number using their application, by buying a few redeemable credits.
Similar to Whatsapp, it lets you share photos, texts, and even emoticons and drawings. You can set up a voicemail alert on this app, and the screen is customizable, so you can have different wallpapers on your chat and your phone screens. They have beautiful themes that you can use to make your app look as good as new every day.  Because you do not need a phone number to register on this app, only your email address is required. You can connect with other devices like a Kindle or an iPad because you don't need an actual number to communicate with.
You can call and text from your Windows or Mac PC as the application can be downloaded on Android, Windows, or iOS interfaces. TextNow has been growing in popularity over the past few years, and we see it giving stiff competition to Whatsapp in the years to come. Since you use your email address to register on this app, you can log onto any device with your email address and access all your call history and messages from the past. Their interface has been widely accepted by users worldwide, which gives it its distinctive selling point.
Google Duo
Another voice calling app from Google is Google Duo. Google Duo can be used to make audio calls and video calls. You can also send text messages on the app, although their interface is not very user-friendly. Calls made through Google Duo are free for users only, which means you can only call if the other person has Google Duo installed on their phone. So, you are unable to get independent numbers or landline numbers using Google Duo.
As soon as you make your first call on Google Duo, you can see a list of all your contacts who use Google Duo or those who can be invited on the application. The best part about Google Duo is that you don't need to download your phone application to use it. You can use it directly on their website. It is compatible with Android and iPhones and offers the Safety and Security of Google while using their interface. All you need to do is have a Google account, and you can sign up for the Google Duo app.
Some users have given the feedback that the battery drains very quickly when using the Google Duo app, probably because the quality of video calls on this app is outstanding. So, if you have unlimited internet in your home through Wi-Fi and you do not need to worry about the usage, you should use this app to stay connected.
Textfree
With the Textfree application, you can use your phone number to call or text using the internet. The application is free for everyone and offers various services and even lets you record your voicemail message. When you sign up for the app, you are allotted a real phone number, and you can call anyone else who is using the same application. However, if you want to connect with non-users, you can text with them even if they don't have the app installed on their phone.
Although it is a bit different from other applications in terms of usage, it's still a very efficient way of staying connected with your family and friends. When you register on the app, you are allocated a fixed number of minutes that you can use to call other numbers associated with the app. You can earn more points that can be converted into talk minutes by doing a few simple tasks like watching ads and completing the app's surveys.
The only drawback with this app is that if you do not use it, the number allocated to you when you register will expire and be given to someone else. It's not a big deal because any time you want to use it again after 30 days, you can still do it by taking another free number from their pool. It is compatible with Android and iOS phones and can even be used on an iPad as an application.
Facebook Messenger
Facebook currently has 2.7 billion monthly users that are active on its social networking website. If you have been using Facebook on your mobile phone, you might have realized that over some time, the messaging option inside the app stopped working unless you installed a separate Facebook Messenger app. Since Facebook Messenger was becoming so popular, with the goal to enhance its functionality, Facebook decided to launch a separate app that could be used for instant messaging, voice calling, and video conferencing with all your contacts available anywhere in the world. Since Facebook is a widespread app globally, billions of users can use the messaging app to call for free over the internet.
It runs smoothly on your phone or laptop. Although you cannot call another person unless they have the Facebook Messenger app downloaded on their phone, it is convenient for everybody connected on Facebook. Like Facebook, the messenger app can be downloaded on your Android and iOS devices, and the only drawback is that it cannot be used to call landline numbers.
Even if you don't want to download another Facebook app on your phone, you can still use it through your browser.  The app seamlessly connects over lower bandwidth and is extremely popular with Facebook users to stay connected worldwide
Snapchat
With a user base that has been growing every day, Snapchat is one of the fastest-growing social media platforms in the world. Their interface is extremely user-friendly, and they come up with different themes, stickers, emoticons regularly to keep you entertained and hooked onto their app. With just a click of a button, they can connect their users with Snapchat users worldwide.
The image-sharing app is quite entertaining, and they support both audio and video calls over the internet. Like any other social media engagement platform, it can connect with users who have Snapchat installed on their phones, which means you cannot call landline numbers utilizing this app. All you need to do is download the app and register on it, and once you've entered the chat window of one of your contacts, you can start the conversation with them. You can text or place a phone call over the internet. It is compatible with Android and iOS devices. Its growing popularity is a testament to the fact that social media engagement has become quite popular with our generation of users.
Viber
Viber has been around for a long time now, and initially, when WhatsApp was launched, they faced stiff competition from Viber. Even for the popular app in China, WeChat, Viber was a strong contender until recently. Viber supports all kinds of devices, and you can use it to call from one PC to another, or from a phone to a PC, or between two phones as well. Once you've downloaded Viber and registered on it, it asks you to give access to your contacts so that they can be listed for you. If you see another contact with Viber installed on their phone, you can call them for free. You can also text for free using this app, and different types of messages or videos can also be sent over the network.
It is compatible with all kinds of OS, such as Windows, Android, and iOS platforms. Viber has some of the cutest stickers and emojis that you can use in your chat windows. In a few Southeast Asian countries, you can also subscribe to Viber using a local number. However, the service isn't free if you're trying to call another local number on your regular network provider. The only drawback is that you cannot call a person who does not have Viber installed on their phone.
Telegram
With a very similar interface as WhatsApp, Telegram has gained popularity because of the encryption that they provide on their platform. The interface is simple, and they claim that they offer fully encrypted calls as well. You can text regularly on this application and use it for calling, although you can only get other users who have Telegram installed on their phones. There's a majority of the population available on the WhatsApp network.
Consequently, Telegram is a savior for those who do not wish to be discovered online at all times on their WhatsApp platform. All you need to do is download the Telegram app, register on it, and after you've added contacts on Telegram, you can call them by opening their contact info and clicking on the dial option. It is compatible with Android and iOS devices, Mac and Linux.
FreedomPop
Another app that you can use to call over the Internet is FreedomPop. Although it is available only to users in the US, the person you're trying to reach does not need to have the actual app on their phone to connect with you. You can call landline numbers or different kinds of phone numbers even if they're not using the app. All you need to do is, while you are registering, to choose any phone number that you like, from an area code that you assume you will be calling from.
Then FreedomPop will assign you an actual number you can use to call other people, and other people can use that to call you back as well. In case you want to make international phone calls, this feature doesn't work, but you can always ask the other person to install the app so that you can call them for free. It allows you to set up a voicemail on your phone number, and it imports contacts from your contact list so that you don't miss them. In addition to all of this, you can also send text messages from the app.
They allow up to 500 texts and 200 minutes of phone call time to talk to people who do not have the app, but there is no limit to calling people who have downloaded the app and speak to them.
This limit is only for one month, so once you've used up your minutes and texts for the month, they automatically get renewed the next month. You can check-in, real-time, how many minutes you have left on your calling limit, and can plan your future calls accordingly.
FreedomPop is compatible with both Android and iOS devices.
Skype
One of the oldest and most trusted applications, Skype has become a verb during our generation. More often than not, we request our family and friends to 'Skype' us. Although Zoom and WhatsApp have taken over their recent popularity, Skype had been our friend for a very long time when we needed to connect with contacts abroad. You can text, call, or video call on the Skype app, and they let you join for free over the internet. They are compatible with almost all kinds of devices, and in case you want to talk to someone who does not have a Skype address, you can pay a minimal amount to call on their phone. This feature is not free. To get a real phone number, you have to pay for it.
The best way to be connected via Skype is to ask the other person to download the app. Otherwise, you pay for the calls you make. However, they offer some of the most varied communication methods between two PCs, phone applications, or a PC to an app.
Skype allows you to sync your contacts with the app so that you can view who has the application on the phone or otherwise invite them to create an account.
When you create your account, you are assigned a unique name that can be used to find you in the Skype directory. It becomes your username, and you are discoverable by your username on the Skype platform. A lot of the initial Nokia phones used to come with the Skype app downloaded. Nowadays, you can even use the platform in your browser without the hassle of downloading another app on your phone. It is compatible with Android, iOS, Windows, and Linux phones, and you can make video calls and send text messages to other Skype users using the application. 
Libon
The Libon App helps to connect users from all over the world. You can join with anyone with the app downloaded on their phone or PC and then immediately start talking to them or texting with them. Their interfaces are not incredibly user-friendly, so you have to search where to make free calls and differentiate between free calls and paid ones. However, they are offering an excellent way to get in touch with your friends and family.
If the person you're trying to call has the app installed on the phone already, you can connect with them for free, and if they do not have the app, you can call them by purchasing calling credits from the app itself.  You can use the app to make cheap calls all over the world. Once you've downloaded the app and registered on it, it lets you sync your contacts with the app and then shows you who has the same app on their phone, and you can invite them to make video calls or send them text messages.
Although they do not provide a real phone number like some other apps, the connection is smooth, and the app is compatible with iOS and Android devices. Since you can only use the app to call, you cannot call direct numbers or landline numbers from this app. However, for someone looking to make cheap calls all around the world, this app is beneficial. The seamless integration between syncing your contacts and making calls made this app more and more popular. We're hoping that developers are considering user feedback and working on improving the interface.
We look forward to app updates in the future.
Related:
Reviews
Android
iOS
Apps