Free and Public DNS Servers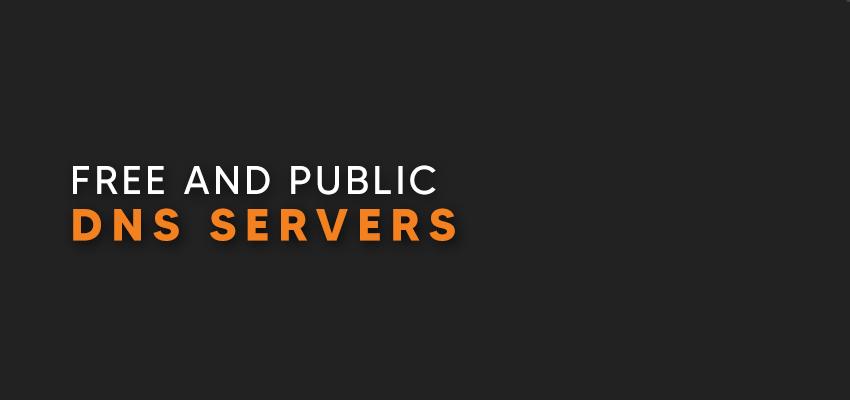 Free and Public DNS Servers
Posted Nov. 10, 2020, 7:09 a.m. by
Emil S.
A DNS, short for Domain Name Server, helps to translate people-friendly URLs into something easy for a computer to understand based on the IP addresses. It helps our electronic devices to connect with the internet so that you can access all the content that you want to see. If someone changes their DNS, they usually do it to improve their system's security or performance.
There are multiple options. If you want to try changing your DNS, some are paid while others are free. Before we get into the complexity of all the different kinds of DNS that can be used, we've tried to differentiate between the major ones so that it is easier for you to understand and select according to what you need.
Free DNS VS Paid DNS
As is the case with any other paid service, DNS always tends to have more features, although the functionality of a free DNS and a paid one is the same. A paid one will have advanced security features and better functionality in performance, better customization options, and even customer support alternatives. In case you're looking for only essential functions, a free DNS will give you precisely what you need.
Default DNS VS Third-party DNS
Your internet service provider generally has a default DNS, which helps your network connect to the web. So, if you are using internet service, it can collect data on its customers to offer their services to and track their internet activity. Even though a third-party DNS will do something similar, it becomes difficult to directly define your household's connection because it is rerouted through multiple DNS.  That is why a third-party DNS is a safer option if you're trying to cover your tracks over the web. Your personal information is safe from hackers, and you can have a more relaxed experience while logging into websites of your choice.
Public DNS VS Private DNS
Something readily available to the general crowd is a public DNS.  If you want a more secure connection, you should buy a private DNS, which is mostly used by companies to be able to provide secure access to their employees to work from the convenience of their homes. This step is done so that their network is secure, and they're able to provide employees access to only company-related websites and IP addresses.
So mostly when you are outside the home, you are on a public DNS, and once you are at home or working for a company, you are accessing a private DNS. Now that we've made it clear what the differences are between types of DNS, we've listed below some of the best DNS servers from 2020. You should be able to select from the list mentioned below for a faster and more secure connection. Scroll down and bookmark your favorite one!
Google Public DNS
8.8.8.8

Launched in 2009, The Google Public DNS aims at making the internet faster and increase security for all its users. The idea is that a fast and safe DNS could help to better the users' browsing experience. It is the most prominent public DNS globally and claims to handle around a trillion transactions every day. They do not allow hosting domain names or websites.
For that, Google Cloud DNS service is available. They state that they do not block or filter any websites as they believe that the users themselves can best handle something like that. Their DNS should ideally be used as a caching server. It is an independent service that is known for its speed, security, and reliability. It is also able to handle non-existent domains. For example, if you're issuing a query for a domain name that does not exist, it can return the NXDOMAIN record.
Your browser will then display this as a response error. In case you get any other error or are redirected to a new page, this could be happening because the client-side displays an irrelevant page for something non-existent. It could also be when the ISP is intercepting and replacing NXDOMAIN responses with their responses.
A lot of people speculate that the Google public DNS could later be used to publish advertisements. However, Google has denied these claims, and they've made it clear that never in the future will their DNS be used for returning an ad if a non-existent domain is searched. The Google public DNS is compatible with other DNS as well. It essentially means that you can set it up as your primary DNS or your secondary one, along with your currently available DNS resolver.
Different kinds of users prefer to set up different DNS in the other way. Some prefer to use it as the second backup DNS when the first one fails, and some prefer to set it up as a side-by-side solution. The Google public DNS can be used and is compatible with any compliant standard Network device. Although, at times, based on your company's policies, you might not be able to use Google DNS as your public DNS on office devices. Irrespective of where you live in the world, you can use the public DNS, although the experience may differ from place to place.
OpenDNS
208.67.222.222


Cisco owns Open DNS, and they have multiple free options. They have a Family Shield program and a Home program. Both can be customized according to the users that are being targeted for their usage. The Family Shield DNS helps parents control their kids' views to ensure that they do not access inappropriate stuff. The home DNS helps to ensure safety and security and improve the performance of your network.
Cloudflare
1.1.1.1



Cloudflare claims to be the fastest DNS on the face of the Earth. Their free service has a Global CDN, unlimited bandwidth, and unmetered mitigation of DDoS. They run on a shared SSL certificate and have three-page rules. If you're looking to improve your network's speed, this is an excellent free service that can be put to fair use.
1.1.1.1 with Warp
1.1.1.1



1.1.1.1 with Warp Is mainly meant to be used on mobile phones and is a sub-product of Cloudflare. Claiming to be one of the most secure networks out there when you sign up for the service, they pledge that they would never sell your data to unauthorized customers. All you need to do is download the app on your phone, and it can replace the connection between your internet and your phone. Warp has been a network that has a modernized protocol to improve the performance and to secure your data.
Comodo Secure DNS
8.26.56.26


A cloud-based service Comodo Secure DNS's Dome Shield Gold package comes free of cost to anyone who's looking up for regular usage. They offer up to 300,000 monthly requests to help you over security from malicious threats like malware, phishing, and botnets. It helps protect your network from unsolicited IP responses and fake domain requests and work on multi-users and multiple locations to remotely control and protect your system. It helps to filter domains and block pages and mobile apps that are malicious. Everything from spyware to cookie stealing, anonymizers, encrypted files, and web attacks can be avoided using this cloud-based DNS service.
Quad9
9.9.9.9



Quad9 was founded to make web browsing safer for all. It highlights security, performance, and prevents malware, phishing, and malicious domains from stealing your information.
It helps significantly keep your anonymity, and although they are not available throughout the world right now, they are expanding to new territories. Quad9 makes it on our list of the top 7 DNS services available on the market.
Verisign Public DNS
64.6.65.6



Verisign strongly supports their claim of preventing websites from selling your information based on the cookies that they collect.  In turn, it helps to avoid targeted ads and selling of data to third party companies, to redirect irrelevant domains to your web searches.
OpenNIC
13.239.157.177

The goal of OpenNIC is to prevent censorship as much as possible. This free public DNS service is run by volunteers and ensures that the entire web is available for everyone to access without any restrictions. They are efficient in preventing DNS hijacking. Hijacking is when an internet service provider can redirect traffic to his pages if somebody types an incorrect URL.
UncensoredDNS
91.239.100.100



Based in Denmark, UncensoredDNS is run by Thomas Steen Rasmussen, who founded it, currently runs it, and is entirely funded. For anyone looking for a local free DNS with excellent security features in your network's performance and is reliable to the core, this is the DNS of choice.
CleanBrowsing
185.228.168.168



CleanBrowsing can be used as a free or paid service. The paid service has more enhanced features. The free service still offers the basic functionality and focuses mostly on privacy, especially for families looking to protect the children from inappropriate content. It is one of the most efficient DNS to block adult content, as it has three filters available in just the free version.
Yandex DNS
77.88.8.7



Yandex DNS is based in Russia. It has a wide variety of features that help you with filtering content, restricting access to adult content, offering protection from bots and malware, and greatly enhancing your network's performance by increasing its speed.
UltraRecursive DNS
156.154.70.1



The UltraRecursive DNS belongs to Neustar. It encompasses various features such as performance improvement, quick resolution on queries, and a very reliable infrastructure.
It hopes to block malware, phishing, spyware, and malicious websites and have settings to help you control inappropriate adult content.
Alternate DNS
198.101.242.72



One of the best DNS out there to help you control unwanted ads, Alternate DNS has a massive database of domains that serve the primary goal of serving ads. It sends a null response that can block ads before connecting with your network and displaying them to you. If you're sick and tired of the number of targeted advertisements sent to you daily, you can use this DNS and find yourself to be quite relieved.
AdGuard DNS
176.103.130.130



AdGuard DNS's Primary focus is blocking advertisements. It helps block malicious websites, filter inappropriate adult content, and stop counters on your network. With all these choices available in the market, it is vital to make an informed decision regarding your information security and privacy. It is not always the case where the most expensive item is the best one. However, to ensure that you can provide the best in terms of security for yourself and your families' needs, you must know or know how things work so that you're able to make the right choices.
Related:
Reviews
DNS
Public DNS