Sites Where You Can Test Your Internet Connection's Speed
Sites Where You Can Test Your Internet Connection's Speed
Posted Oct. 15, 2020, 2:16 a.m. by
Emil S.
Has your internet speed been so slow that you are almost sure you are getting duped, but you have no means to prove it? You are in the right place. You can easily find out by taking a closer look at the state of your internet connection. Please do an internet speed test. You will be able to know the measure of bandwidth available to you currently.
It is an easy way of finding out whether you are getting your money's worth or not. You will also find out if your internet service provider is into bandwidth throttling. There are sites where you can take internet speed tests for free to find out everything about your capacity.
Internet Speed Tests By Sites That Provide Services
Most of us enjoy fast internet to stream our favorite HBO GO/NOW, Hulu, and Netflix programs. Some of these services have embraced the practice of helping their audience get their internet speed tested. The service popularly known for this is Netflix. You can access their internet speed test at Fast.com. All you need to do is click on the site, and the results are given to you. There is no complicated procedure for it. It is because they use the Open Connect system.
The results you get will be more or less the same as those you get from your Internet Service Provider. So, you can use them, keeping in mind everything you want to do online, like downloading media files and more. Regardless, similar tests will not bring a legitimate argument to your ISP. Netflix's advantage is that they are giving the result as they get it straight from your ISP.
ISP Sponsored Internet Speed Tests
These tests will be found on the site of your Internet Service Provider. The advantage is that you can easily make a case if the results you get do not match what you were promised. Even if you find that other tests from elsewhere are accurate, your ISP will not be compelled to listen to you as much. But test results from their site will provoke a different reaction. Some ISPs stopped sponsoring these tests like Sprint. On such an event, you may take advantage of the sites that provide these tests. The following are some of the tests listed from well-known sites:
Sites That Provide Internet Speed Tests
Speedtest.net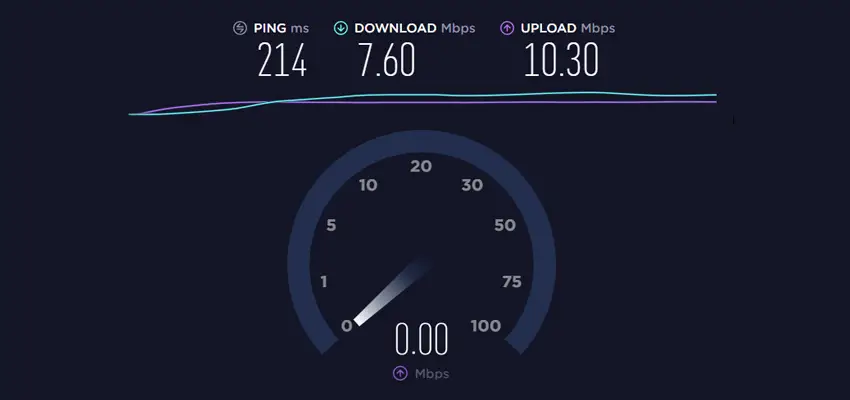 Speedtest.net is very popular with users. Apart from the fact that it is free and reliably fast, there are many test locations where it is a part of around the world. This fact will produce exclusively accurate results. The results you get from time to time are put on a graph, making it easier for you to keep track and share them online.
They have ready apps for your Android, Windows, and iPhone gadgets that you can download from the site. It makes it easy to access their speed testing servers from your device. They do not stop there as Chrome and Apple TV have their specially designed applications too! Your Internet Protocol address will determine the internet testing server that will serve you.
The mind behind this testing site is the Ookla company. Many similar sites rely on this company to operate. Internet Service Providers rely on Speedtest.net to test their bandwidth strength, like Armstrong (Zoom).
TestMy.net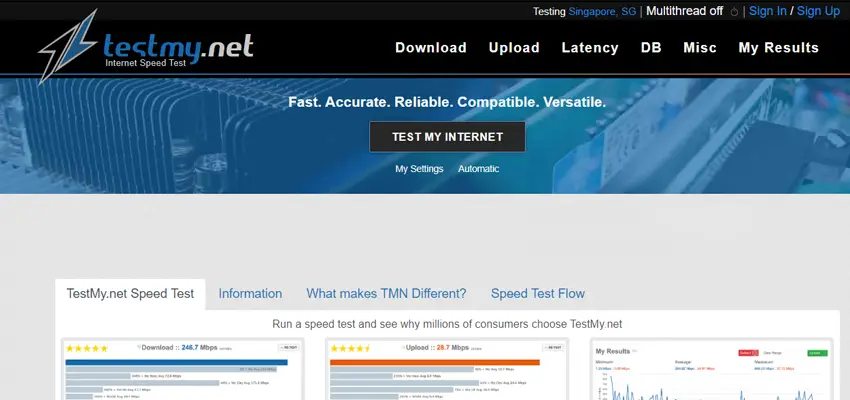 TestMy.net is another speed testing site that has proven to be worth a try. It is easy to use, and it gives details of how to go about it. It is fast, and one can get through to it on desktop and mobile devices as it operates through HTML5.
On this site, you can do multi-threading where you can do the testing across several servers in one instance. You are also allowed to choose the server you like. The results will be displayed in the text, image, or graph. This site makes a mark for itself in allowing you to compare your speed to that of other users from various Internet Service Providers within your country and city.
SpeedOf.Me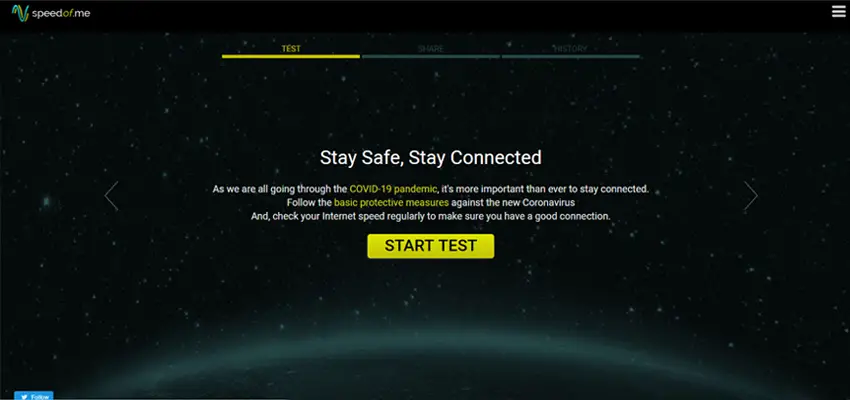 SpeedOf.Me has been shown to give very satisfactory results, placing it among the best, where you can measure your internet speed. This success may be attributed to the service not coming through plugins like Java or Flash that you will require to have installed. It comes directly through HTML5, which is found within your browser.
It will do well even in tablets and smartphones as the browsers support it. It takes care of what cannot work with some of these devices that do not bode well with Flash. For example, Safari will not work on the iPhone. Because it comes with less baggage that will not overload the system, the results will be more accurate and faster. It is also fast because their system will choose the best among their over 100 servers to measure the bandwidth speed.
Ookla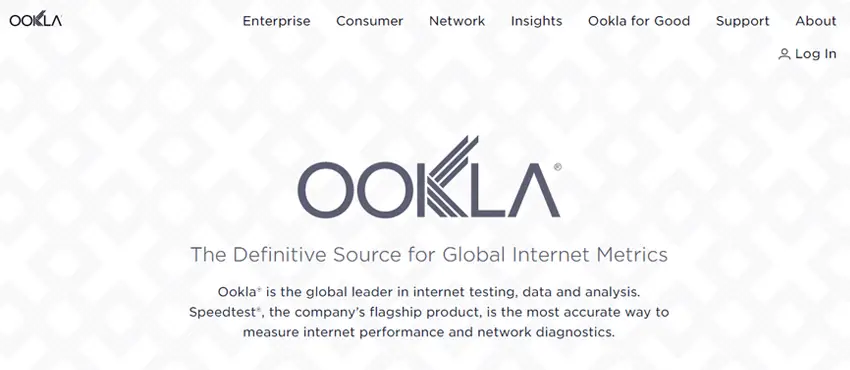 Ookla is a company whose eye has been on testing the internet speed from the ISPs and other reasons. It has monopolized the market of the sites keen on delivering this coveted service to the masses. Its logo appears on many of these Internet speed testing sites. The company's software is well-received across the board while the sites opt to use the servers they have in various locations.
The results from such sites could be rated as more accurate than from the Speedtest.net site. Some Internet Service Providers use Ookla's software as well. However, the general observation is that these sites' results are, give or take, the same. Therefore, the suggestion is for users to use Speedtest.net, the internet bandwidth testing site owned by Ooka.
Fusion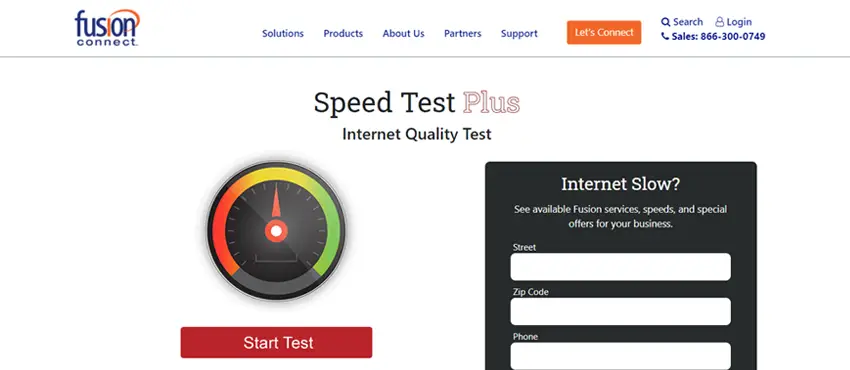 Fusion Connect formerly went by Speakeasy. Testing your internet bandwidth is a straightforward process on this site. They even allow you to choose the server you would like. Otherwise, they can do that for you automatically. Because of the option to choose the server, you can test the server's speed in your area of interest in the USA. It would be contrary to testing with the nearest possible service available. This option has made testing your bandwidth very interesting. The site operates using Ookla technology, just like Speedtest.net.
Bandwidth Place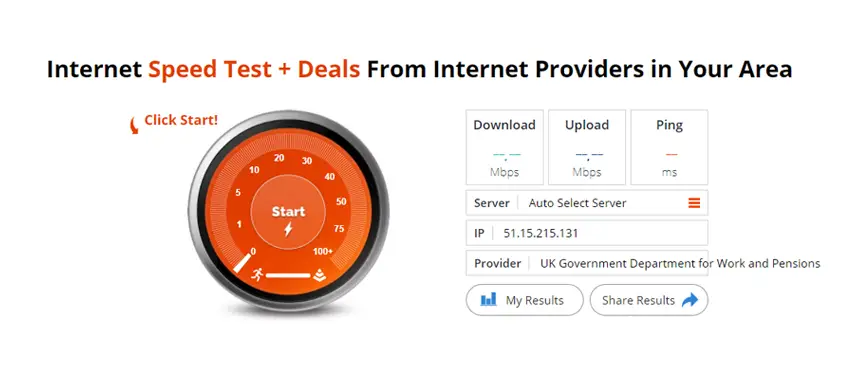 Bandwidth Place is another excellent option to test the speed of your internet bandwidth. It boasts of approximately 20 servers found in various locations around the world. Because it operates through HTML5, it is easily accessible to your smartphone. Results from this site can easily be compared with TestMy.net or SpeedOf.Me to verify their accuracy.
Conclusion
You are now in the know about testing the internet speed from your Internet Service Provider. When you do this, you will be at peace, knowing that you are getting what you paid for.
If the results are disappointing, you can place well-founded complaints or switch to another ISP. The power is in your hands. That way, you can also be able to accomplish what you set your mind to do online.
Related:
Reviews
Internet Speed
Internet Connection