12 Best 5G Phones of 2020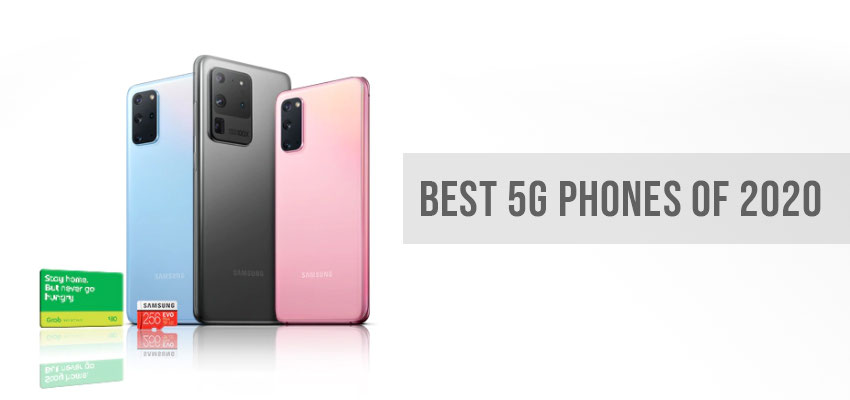 12 Best 5G Phones of 2020
Posted April 16, 2020, 1:43 p.m. by
Emil S.
We've rounded up the best 5G-capable phones in 2020 that could usher you into a new era of mobile telephony performance and capabilities no one has never seen before. Are you ready to take a plunge into 5G?
1. Samsung Galaxy S20 Plus
Like all s20 models, the S20 Plus supports Android 10 and has the Snapdragon 865. Unlike the base S20, however, it also has the x55 5G modem like the Ultra. It has 12GB RAM and choices at 128, 256, or 512GB for storage.
The beautiful AMOLED screen has the same 3320x1440p resolution, although slightly smaller than the Ultra at 6.7 inches. You can only use the 60Hz refresh rate at 1440p but can bump it up to 120Hz at 1080p. The 4500mAH battery is pretty decent as well.
It has a 12MP primary camera and a 64MP ultra-wide with a 3x optical telephoto zoom delivering excellent fidelity. The rear cameras have a Time-of-Flight (ToF) depth sensor, and it can play 8K videos at 24fps and 4K at 60fp. It's close to the Ultra in capabilities but is much more affordable, making this phone what we believe is a better choice for high-end 5G performance at a more reasonable price.
2. Samsung Galaxy S20 Ultra
The S20 Ultra has all the bells and whistles of a top of the line 5G model that comes with a hefty price tag, yet is missing a headphone jack of all things.
For more future-proof longevity, however, the Ultra comes with the latest Android 10, the Snapdragon 865 processor, and X55 5G modem. There are RAM options of 12 or 16GB, and storage at 128, 256, or 512GB.
The 6.9-inch 120Hz AMOLED display is gargantuan but came only second biggest in this roundup. It has the highest resolution on this list along with other high-end models of S20 line at 3320x1440p. Battery capacity is at 5000mAh.
As a camera phone, it doesn't hold back on picture quality. There's a powerful 100x Space Zoom feature if you could live with the awkward camera bump at the back. There are some issues with the autofocus, however, but it can record 24fps 8K and 60fps 4K videos. The price is not for everyone, and only for those who want a 5G phone with little compromise.
3. Oppo Find X2/X2 Pro
Oppo is known for its very affordable entry-level and mid-range phones popular with the younger set. However, its new Find X2 Pro comes packed with specs rivaling those you only see in flagship phones from Samsung and Apple.
Aside from running on Android 10, it's one of the first 5G phones we see equipped with the Snapdragon 865+, which is an improvement on the 865 that the Samsung Galaxy S20 models use. Its AMOLED screen measures 6.7 inches with a 3168x1440p resolution at 120Hz refresh that puts it up there with the S20 line.
The rear triple-camera setup features two massive 48MP sensors for both the primary camera and the ultrawide angle camera. There's a 10x hybrid zoom that's comparable to iPhone 11 Pro's 10x digital zoom. It's also able to achieve excellent lowlight performance with the Sony 689 sensor for excellent night photography.
The pricing of the Find X2 Pro is similar to the S20 Ultra but has 512GB storage. Similar storage on the Ultra would cost more. The base Find X2 is more affordable but with a 256GB storage. Both models come with 12GB of RAM.
4. Asus ROG Phone II
If gaming is your thing, the ROG (Republic of Gamers) Phone II is the 5G one to have. It's one of two phones in this lineup that features the new Snapdragon 865+. The design isn't like your usual high-end phone, and Asus added an aggressive edge to it, similar to its gaming pc components and peripherals.
The aesthetics may not be for everyone's tastes, but the performance is remarkable. Its 6.59-inch display hasn't got the best resolution at 2340x1080p but looks incredible. They use a "superpixel" technique that blends details from 4 pixels to reduce noise.
The lack of a telephoto camera is a bit of a downer, but the 48MP primary and 13MP wide-angle cameras do a remarkable job in any lighting condition. It's powered by a 6000mAh battery to ensure that you'll enjoy many hours of uninterrupted gaming.
5. Samsung Galaxy S20
At 6.2 inches, the S20 has the smallest AMOLED display among the phones on this list but has the same 3320x1440p resolution at 60Hz and 2220x1080p at 120Hz. The default resolution is at 1080p, which still looks crisp and helps extend battery life.
The cameras used are identical to those found on the Plus as well as the capability for 24fps 8K and 60fps 4K video recording and playback. It also has the same software tweaks that significantly improve the visual quality and effects of the images.
With Android 10 support and the latest Snapdragon 865 processor, it packs a punch, although sporting a lesser X50 5G modem. The 4000mAh is sufficient for most needs, as is the 12GB of RAM, but we did find the 128GB storage option a bit limited.
The S20 isn't the most cutting edge in the s20 line but presents a sweet spot in price and high-end performance, which is why we think it will be the favorite among buyers.
6. Samsung Galaxy S10 5G
The Galaxy S10 5G is the first Samsung 5G phone, and one thing it has over the Note 10+ is Android 10 support off the bat. It also has the same Snapdragon 855 processor and has a larger 6.7-inch dynamically AMOLED display than the 6.4-inch on the S10 Plus. The resolution is slightly lower than the S20 series at 3040x1440p and has a lower 60Hz refresh rate.
The S10 5G has up to 16MP ultra-wide, 12mp wide, and 12MP telephoto cameras at the rear and a 10MP in front. Both front and rear cameras have ToF depth sensors that, together with some excellent post-processing software, substantially improves image quality. It has 8GB RAM and storage options of 256 or 512GB. The battery is pretty decent with 4500mAh that can last up to 11 hrs.
The S10 5G is for those looking for a more affordable alternative to the S20 series but still get a reliable 5G phone.
7. Samsung Galaxy Note 10+ 5G
The Galaxy Note 10+ 5G has the Snapdragon 855 same as the S10 5G but only has Android 9. It has a 0.1-inch larger screen at 6.8 inches, but their resolution is identical at 3040x1440p at 60Hz.
Of course, there's the S Pen stylus that separates it from the others, which allows for more refined inputs and lets you scribble down notes. It has a higher 12GB RAM and offers the same 256 or 512GB options. The battery capacity is a bit smaller than the S10 5G at 4300mAh.
It has superb quad-sensor rear cameras for its price point. The 12mm wide-angle camera has a particularly outstanding field of view that's better than a lot of competitors. It has the best camera setup among the not S20 Samsung cameras.
In most conditions, the image quality is quite good, although it may lose some details in long-range zooms. All around, the video quality and stabilization is also top-notch. If you're a user who prefers to use a stylus, it will be a better alternative to the S10 5G.
8. OnePlus 7 Pro 5G
During the initial 5G rollout in the US, the OnePlus 7 Pro 5G was among the first few available. It's mostly an ordinary 7 Pro with the same Snapdragon 855 and Android 9 support, but with 5G connectivity. Only a small 5G printed at the back differentiates it from the base model.
Memory options come at 6, 8, and 12GB RAM while storage can be 256 or 128GB. The large 6.67-inch screen has a higher resolution of 3120x1440p and better refresh at 90Hz than both the Samsung S10 5G and Note 10+ 5G. The battery is smaller with 4000mAh.
The rear tri-camera has decent quality, but they're not as good as those on Samsung or iPhones. The dynamic range and lowlight performance isn't the best.
While it doesn't have the best camera and fastest 5G speeds, it's no slouch and still offers butter-smooth performance. It has a relatively reasonable 5G phone price, but a bit more expensive than the Samsung S10 and Note 10+ 5G phones.
9. Xiaomi Mi Mix 3 5G
Xiaomi opted to upgrade one of its most popular phones, the original Mi Mix 3, to be its first 5G product. That's why the specs and features are almost identical to the base model except for the 5G connectivity.
The Snapdragon 855 and Android 9 support can handle 5G network demands, although the 6GB RAM is on the low side. Storage, too, is a bit limited, with only 64 and 128GB options. The battery is 3800mAh, although gone is the wireless charging in the original.
It's dual front and rear cameras can capture detailed images in good lighting conditions. Updates to the software have also improved the lowlight performance significantly, but it produces middling quality images compared to the higher-end 5G phones. For selfies, there's a slide-down feature that reveals the hidden front cameras.
The Mi Mix 3 5G comes only with a full HD screen at 2340x1080p but it looks gorgeous and measures 6.39 inches.
10. Samsung Galaxy A90 5G
This list has many Samsung models since the company was quick to introduce more models into the 5G market. It even has the Galaxy A90 5G as its most affordable 5G option, at least by Samsung standards.
It's easy to see where they cut corners, though, and one of the casualties is camera quality. It's not terrible, but compared to the base Galaxy S10 or competitors with a similar price point, the A90's camera isn't quite as good.
You'll get some reasonably detailed images, but it's not as good with night shots and wide angles. RAM options are smallish at 6GB or 8GB. The same goes for storage of only 128GB considering it's entering 5G territory.
Even so, Galaxy A90 5G doesn't hold back in performance and has Android 9 running on a Snapdragon 855. It has a large screen measuring 6.7 inches with 2400x1080p resolution, which offers more detail than other 1080p displays. The battery capacity is also good at 4000mAh.
11. Oppo Reno 5G
The Oppo Reno 5G also has the familiar Snapdragon 855 processor and Android 9 support, but its ColorOS isn't as refined as competing versions. It has a smaller 8GB RAM, although storage is sufficient at 256GB.
The 6.6-inch screen looks fantastic with a 2340x1080p resolution with Gorilla Glass 6 protection. The thing that makes its camera unique is the motorized pop-up 16MP selfie camera and flash that doesn't take up space on the screen.
On its rear tri-camera setup, it has a 48MP primary camera and a 13MP sensor with a periscope type optical zoom lens. It also has an ultrawide 8MP camera. Prices of the Reno 5G have gone down since last year, and it's one to keep in mind if you're looking for an affordable 5G phone with a reliable high-end chipset.
12. Huawei Mate 20 X 5G
Of all the cameras we have on the list, the Huawei Mate 20 X 5G has the biggest display at a whopping 7.2 inches, which makes it a bit difficult to operate with just one hand. It also has the lowest resolution at 2244x1080p, but it still looks remarkable because of the size, especially when viewing HD videos.
It also uses the slowest processor among the selection here, which is the Kirin 980 by HiSilicon. As with the other more affordable models, Android 9 comes standard. It has 8GB RAM and 256GB storage, and a 4200mAh battery provides power.
It's funny that it still has a rear fingerprint scanner for a 5G phone under the tri-camera bump. Speaking of the camera, it has a 40MP main, an ultrawide, and telephoto cameras.
Related:
Reviews
5G
Smartphone