Converting Wired Speakers into Wireless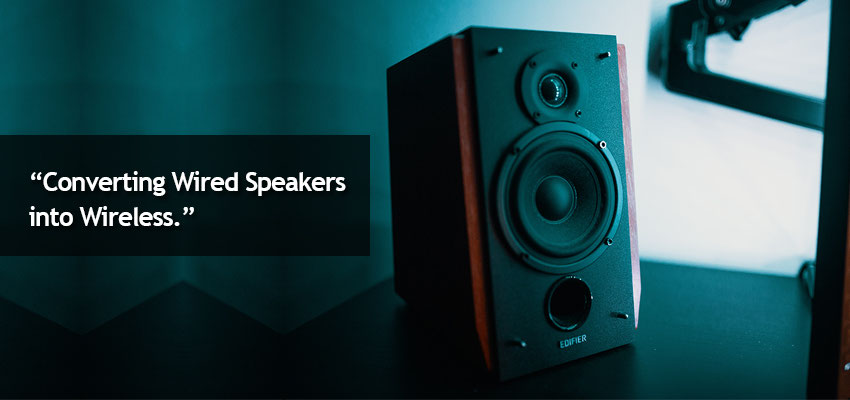 Converting Wired Speakers into Wireless
Posted April 24, 2020, 1:30 a.m. by
Emil S.
If you're using wired speakers or they're stored somewhere gathering dust, you can breathe new life into them by converting them into wireless ones so they can be used by other devices aside from traditional sources for audio output.
Some audiophiles might scoff at this idea, but they can't deny that many wireless solutions today have come a long way in bridging the gap in sound quality they had with wired speakers.
With continuing advancements in technology, Wi-Fi and Bluetooth today can handle more copious amounts of data and can preserve the details and depth of the sound. Wireless speakers now can achieve much of the same high fidelity that before you can only enjoy with a wired setup.
The Pros and Cons of Turning Wired Speakers Wireless
However, instead of focusing on which has better audio fidelity, we'll touch on other pros and cons of turning wired speakers into wireless.
Pros
One of the obvious advantages of going wireless is tidiness and the reduction of cable management needed on your part to keep them from looking like a rat's nest. For some, this is the primary reason to go for a wireless setup. It's not easy to keep those wires as discrete as possible if you're happening to set up, say a 7.1 surround sound gaming or home theater speaker system.
The best reason is that you can use your favorite powerful speakers for your smart device or laptop instead of purchasing small dedicated wireless ones. Your converted speakers can also enhance the sound of Chromecast Audio and Amazon devices like the Echo. For traditional sources like a TV or DVD player, they can be used with your converted speakers too.
Also, if you ever want to set up a speaker system outdoors, near your pool or on a patio, for instance, then a wireless solution would be ideal.
Cons
The speakers are still going to need power. You may buy battery-powered solutions, but they may not be able to provide the same oomph and endurance as those plugged directly into the mains. Batteries will also be a chore to replace or recharge.
If you need to plug the speakers into an outlet, you would still have to deal with those power cables. The location of the outlet may also limit where you position your speakers. And if you're planning to transmit wirelessly to your sound system's amplifier connected to wired speakers, then those speaker wires aren't going anywhere.
Yes, you'll have a wireless connection from your source device to your amplifier, but those speakers will still need those wires. Another problem is interference can come from other devices that transmit on the same Wi-Fi frequency that could ruin sound quality. There are also the costs involved in buying additional components for a wireless setup.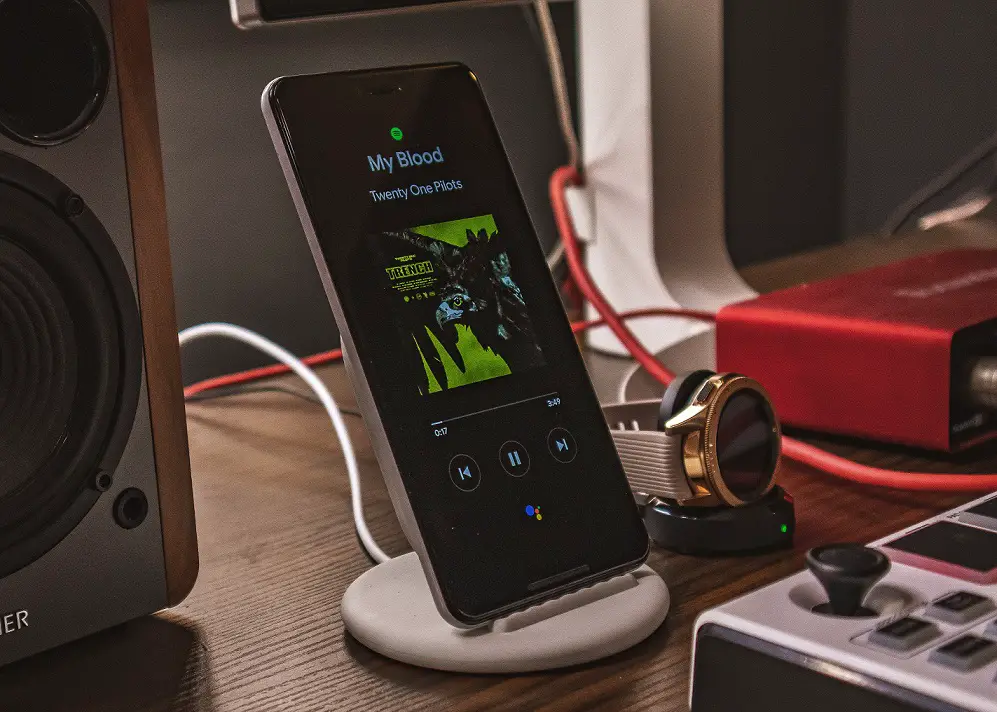 Difference Between Wireless and Wired Speakers
Traditional speakers create sound from electrical signals traveling from wires attached to an amplifier. On the other hand, wireless speakers have batteries, or they plug into a power outlet. Audio signals similar to FM radio waves are transmitted from the source to a wireless receiver on the speakers instead of electrical signals from wires. That signal passes through a built-in amplifier before being outputted as sound.
Typically, wired speakers don't have amplifiers built-in, but they need amplified electrical signals to work. To convert a wired speaker into a wireless one, you would need a device that has a transmitter, receiver, and amplifier.
Wired Speakers to Bluetooth Speakers
Your speakers can plug into a Bluetooth Adapter and then paired to any Bluetooth enabled iOS or Android device to play your audio. Keep in mind that if your Bluetooth adapter doesn't have a built-in amplifier, you would need to buy a separate small amplifier for the speakers to work. Or, you could use your stereo's amplifier and Plug the adaptor receiver there.
You can also plug a Bluetooth transmitter to various appliances such as a TV, VCR, CD, or DVD player, to send audio to that same receiver-equipped amplifier that powers the wired speakers.
If you happen to have an amplifier form a newer stereo system with built-in Bluetooth, then you're already set. All you need is to pair it with your phone or another smart device. However, you'll still need to buy a transmitter for your appliances.
Using Wired Speakers with Chromecast or Echo
First, you have to download the Google Home app into your Android/iOS device or your laptop and set up an account. Use the right audio cable to connect your Chromecast Audio or Amazon Echo, Dot, Plus, Link, or Input to your home theater, stereo, or amplifier. Or you can also plug your speakers to an Echo Link Amp if you have one.
Once Google Home has scanned your Chromecast or Amazon devices, you can set them up properly in the app and pair them with your smart device or laptop. You can then stream audio directly from your device or laptop, Amazon Music, or another music-streaming service on the web, and you will hear it coming out of your speakers.
Using Dedicated Wireless Audio with Wired Speakers
Another way to make use of wired speakers is to plug them directly into a wireless audio system like Sonos Connect, Denon HEOS, DTS Play-Fi, and Yamaha MusicCast. All these platforms have amplifiers and can wirelessly receive audio streaming from an Internet music-streaming website, all your Android or iOS devices, and laptops connected to your home network, as well as compatible transmitters connected to TVs and players.
These platforms will allow you to create a system of multi-room wired or wireless speakers throughout your home, all connected via Wi-Fi.
Using Wireless Speaker Conversion Kit on
Traditional Sources
The sound source could be a stereo amplifier, TV, or different types of players. You might ask, "why don't I just leave the speakers on my stereo amplifier and get a receiver for it?" Wireless kits are for speakers you intend to locate somewhere that not near the source, like backfiring speakers on a wall behind you in a surround sound set up.
This kit is basically made up of two things. The first is a transmitter that will connect to your source, and it will output the sound on a Radio Frequency (RF) signal. Next is the receiver for your amplifier, where the wired speakers are connected. It will accept that wireless signal coming from the source transmitter.
Finally, there are two main types of wireless kits you must consider. Some have an amplifier built-in, while some don't have one. You should get the one with no amplifier because the receivers of these kits are usually underpowered for practical everyday use. It's better so get a separate amplifier that's capable of better output, or like mentioned above, use your current amplifier.
If your speakers are self-powered, like in the case of most subwoofers, you won't need the extra amplification, but only the transmitter and receiver.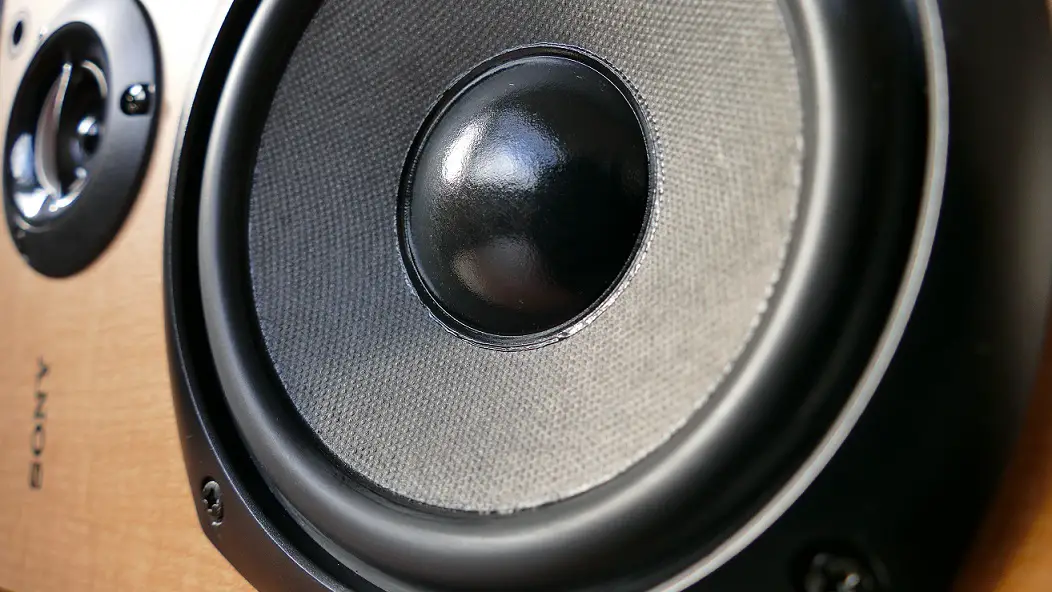 Making a Wireless Subwoofer
You can also use a conversion kit to make your subwoofer wireless. You only have to buy a transmitter with a "subwoofer in" jack, and the receiver has a "subwoofer out." That way, you can connect the transmitter to the corresponding "subwoofer out" of the source, and the receiver goes to the speaker's "subwoofer in." It works best for conventional self-powered subwoofers that already have an amplifier built-in.
Final Thoughts
As you may have noticed, the speaker wires are still indispensable. The point of the conversion is that you can move the speakers together with their wires somewhere else. Those speakers can be placed anywhere more conveniently without having to crawl through the attic.
Their wires are also more manageable and can be tucked away to avoid clutter. Another reason to do this is so that your wireless devices can access those speakers to output sound.
Related:
Tutorial
Speakers
Wireless Speakers