The 9 Best Cable Modem/Router Combos of 2020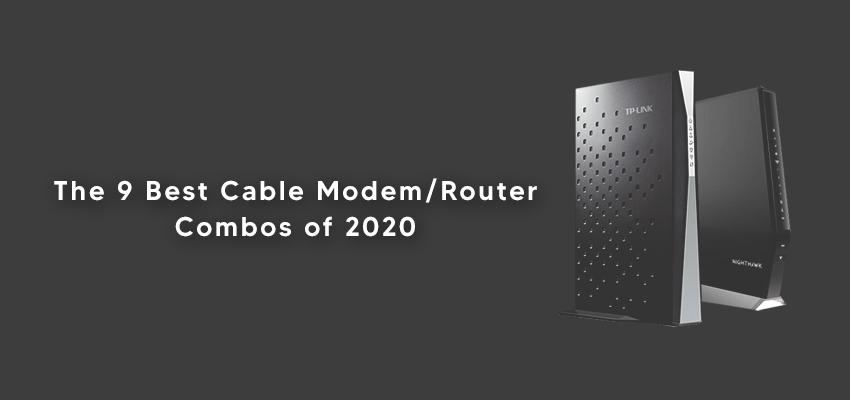 The 9 Best Cable Modem/Router Combos of 2020
Posted Nov. 12, 2020, 2:12 a.m. by
Emil S.
So, you recently moved into a new home, and the first thing you do is set up your Wi-Fi connection. Which one do you think will be the right option for you? Do you hire someone to connect your network provider setup and let them fix you up with a modem and router combo?
Would you prefer to put one in place yourself?
Financially it makes more sense to do it yourself because as a rental, your network service provider might be charging you for the devices at $12 or $15 per month. It can cost up to more than $360 for your modem and router. It makes a lot of sense to purchase it yourself if you know what you're looking for exactly. Since not all of us are technically capable, we've tried to list a few tips and some of the best modem and router combos for you to help you with your selection.
So, you can save up some cash and instead spend on a beautiful living room piece for your new home. The right equipment in place also improves your downloads and streams speed in HD quality. If the estimate of your combination is perfect, it will also help to maximize the number of devices that you can connect at home with Wi-Fi. Suppose you're not satisfied with the internet connection. In that case, you can easily change your network service provider without going through the hassle of removing the device and installing it again or paying your service provider to do so. All you need to do is select the service provider manual, and Wi-Fi can be set up for your convenience in the comfort of your home.
So, if you're ready to make some savings and a more hands-on approach, scroll below to discover more. It doesn't matter if you go for a modem or a router combo or purchase them separately. However, if you decide to go ahead with the simple modern and fast router or mesh system for your Wi-Fi, you might be lost in the variety of products that the market has to offer. For newbies or people who find themselves technically challenged, the best idea would be to go ahead with a modem and a router combo to estimate the ISP cost and have two devices in one equipment.
However, there are multiple things that you need to consider before you go ahead and make the right choice. Firstly, of utmost importance is your security. When you buy a modem and router combo, it should protect you against servers' easy hacking. The cable modem should be good enough not to be easily hacked and your personal information stolen from your system.
Be careful if your modem has DOCSIS 3-0. Before installing it, be doubly sure that you have a safe connection. You have to ensure that you can cover every nook and corner of your home with your Wi-Fi connectivity. It would be best if you took care that your combo has a decent range. Only then will you be able to spot the signal anywhere you want in your home.
No matter how expensive the equipment or the best ISP you can have, it won't make any sense if you cannot get a signal in the entirety of your home. Also, check the number of antennas, and it'll be even better if you can verify signal strength with the company and how strong the signal is going to be. Because this cannot be defined very precisely, generally, you cannot find this description in different products' specifications. If you're searching online, look for reviews from people who have used or bought these devices so that you can understand for yourself if this is the right one for you. Consider spending a bit more and getting a mesh Wi-Fi router.
It will help increase the signal strength in your home and cover the dead spots as well. With daily upgrades in technology, and so many of us working from home, one of the most important things is to ensure that your internet speed is fast enough for you to finish all your tasks. When buying your combo, always check the maximum speed you can achieve on that equipment. People who are into gaming understand that high definition videos and downloads are essential to them, making it their top priority to check for this when buying a combo.
Even if you have an internet plan that supports 500 Mbps to 1GB plans, your equipment must be able to handle these speeds. It should be able to keep up with your internet speed requirements and ultimately affect your network's rate. An important thing to remember is whether you need USB ports on your router to connect it to devices like your ethernet ports that have to be associated with your computer to ensure a fast internet connection.
It is essential to know the kind of ethernet and USB ports your modem has to offer so that you can plugin for an uninterrupted network, which is fast, and you don't only depend on your Wi-Fi to have an internet connection. Of course, you'll be looking at the price when choosing your favorite combo. But it is essential to know that a cheaper product doesn't necessarily mean the worst one. Please scroll down to see some of the most efficient and value-for-money products and let us know your feedback for the same.
1. NETGEAR C3700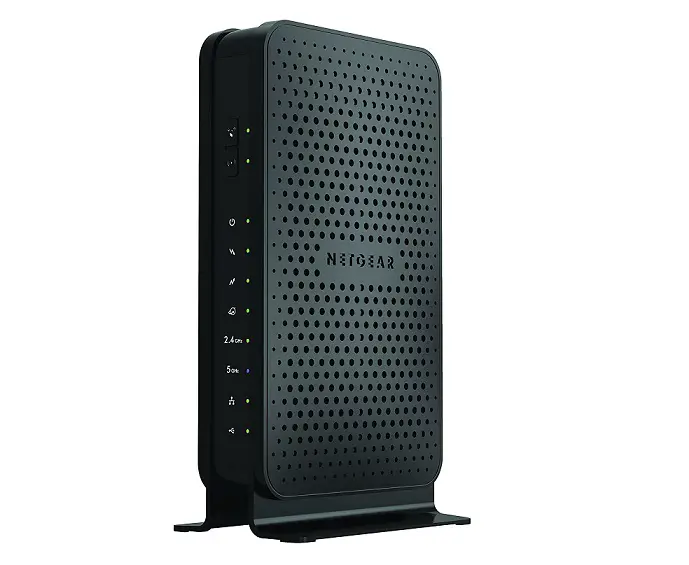 The NETGEAR C3700, which comes under $100, is one of the top-rated equipment available for you. It offers the best security, coverage, and speed, and at less than $100 is quite affordable.
It is perfect for a medium-sized room and offers a dual-band router to have faster speeds up to 8x. It can support Wi-Fi up to 600mbps and has firewall protection so that your Wi-Fi is safe, and you can control your kids' activities by limiting their access.
It has a DOCSIS 3.0 cable modem and is compatible with all big internet service providers such as Cablevision, Time Cox, Warner Cable, and Xfinity. It has it built into its four gigabit Ethernet ports that help you connect all your external devices for a faster connection, and it also has a USB port. Even though it is not compatible with some voice service providers, you can connect the devices with Wi-Fi protection and set it up to install the combo with your smartphone, computers, and tablets.
2. Motorola MG7700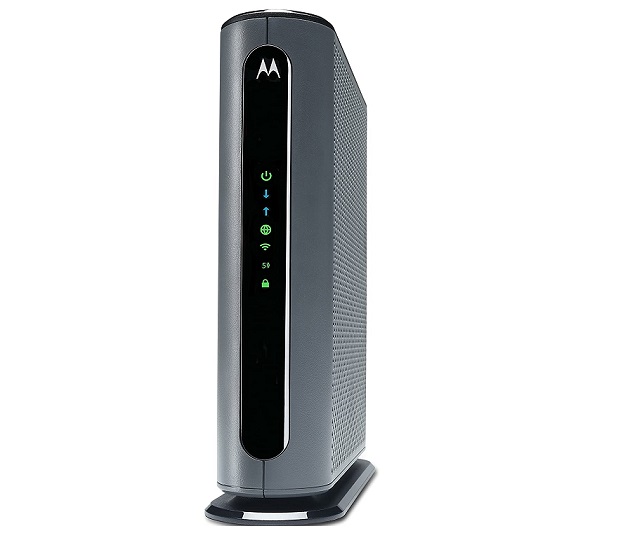 Motorola is known for its reliability and is very popular with customers who are incredibly loyal to the brand. The MG7700 is one of its kind and has a Dual Band Wi-Fi router and gigabit Ethernet ports. With a DOCSIS 3.0 cable modem, dish equipment should be used with internet plans of up to 375 Mbps. The router in this combo is especially useful because it helps you amplify the signal, which means it can reach different nooks and corners of your home.
It is ideal for a medium-sized room and can be used with almost all cable service providers. This feature, of course, means that it is not compatible with fiber optic or satellite services like Verizon, Frontier, AT&T. You can connect all kinds of electronic devices like your smartphone - Google Home, Chromecast, and Apple TV are compatible with it. It also helps you keep a check on what your kids can access.
3. Arris Surfboard SBG8300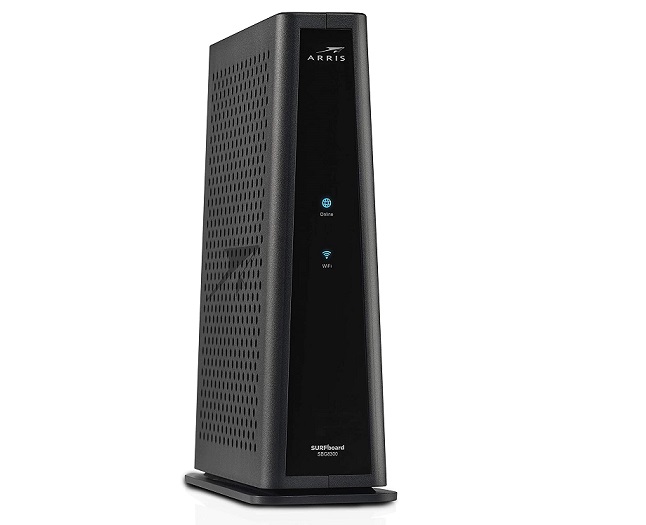 If you're looking to have a high-speed internet connection, you should go ahead with this option. Arris Surfboard SBG8300 has a DOCSIS 3.1 cable modem that can handle speeds of up to 3.78 Gbps, which is an excellent long-term investment if you're looking at continuously upgrading your internet plans. The DOCSIS 3.1 cable modem has 2x2 OFDM DOCSIS 3.1 channels so that you can easily squeeze every ounce of speed that your internet service provider has to offer according to your internet plan.
It can also support a DOCSIS 3.0 cable modem, in case you downgrade your plan. It can provide Wi-Fi performance to match across the 2.4 gigahertz and five gigahertz bands. It has four gigabit Ethernet ports used to connect other hardware devices that need to be connected to the internet and are not and cannot be combined with Wi-Fi. It is relatively easy to set up and can support major internet providers like Xfinity and Time COX.
4. Netgear's Nighthawk CAX80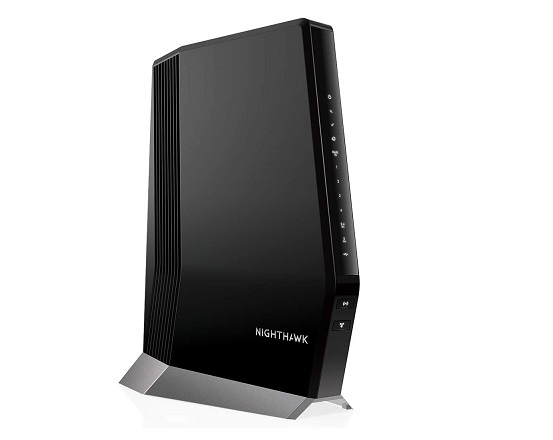 If you are a gamer and looking to invest in some pricey Equipment, Netgear's Nighthawk CAX80 is the right choice for you. It can support Wi-Fi 6 and, with a DOCSIS 3.1 cable, has excellent speed performances. It is the only modem and router combo with a 3.1 cable and supports Wi-Fi 6 together, which means that you get the most advanced technology in both your modem and router devices.
It has two upstream and two downstream OFDM channels that can take speeds of up to 3.78Gbps. It is the maximum that a modem and router combination can offer today. That's why it's compatible with all internet service providers, although you also need to confirm with your ISP regarding backward compatibility with a 3.1 cable.
It has a full-speed 32 x 8 channel support and will surely set you up to take advantage of really high speeds. The device also has a 2.5 Gbps Ethernet port that you can connect to your PC or gaming device for a fantastic experience. You can even have a downstream hub so that you can share that extra bandwidth better than available several devices.
Two of the four gigabit Ethernet ports can be combined for 802.3ad link aggregation. This way, you can have a 2 Gbps Link for your LAN devices, and of course, the Wi-Fi 6 will ensure that your wireless device is still getting superior speeds even if you have a bustling network. If you are in the mood to splurge a little bit more, you can go ahead with this option because, of course, it does not come cheap. If you can afford it or feel that you might need such specifications, in the long run, this is an excellent choice to go ahead with, especially if you're paying massive amounts of fees on modem and router combo devices.
5. Netgear's Nighthawk C7800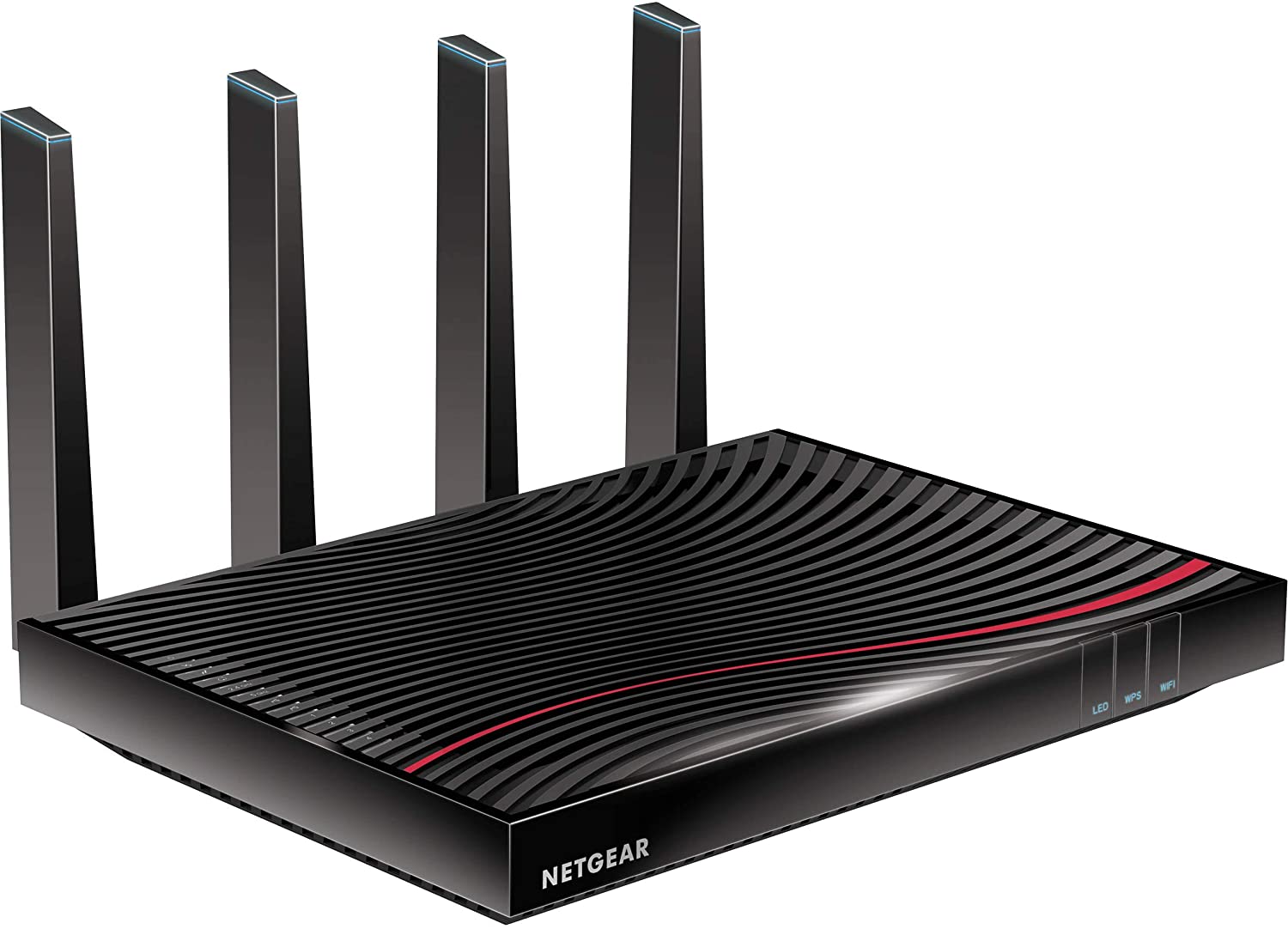 A probably advanced version of the CAX80, the Netgear's Nighthawk C7800 can boost the performance of your network at an incredible pace. One of its kind, it has an inbuilt DOCSIS 3.1 cable, which works amazingly well with all major internet service providers.
These are Spectrum, Xfinity by Comcast, Time Cox, and others. With the help of this, you can access speeds of more than 1 Gbps, which at a time were only possible on a fiber-optic connection. The four antennas can fetch speeds of up to 3.2 Gbps in 3000 square feet of space. This AC3200 Wi-Fi speed of 1 Gbps on the 2.4 gigahertz band and 2.2 Gbps in the five gigahertz band is phenomenal for this kind of a modem and router combo.
Suppose you still need to increase your wireless network's speed, especially for gaming purposes. In that case, the four gigabit Ethernet ports let you connect to your system through LAN cables, apart from the two USB 3.0 ports that you can use to connect printers and other hardware devices. The DLNA support that helps stream content directly on your smart television can also be used on your gaming rig.
6. Arris Surfboard SBG7600AC2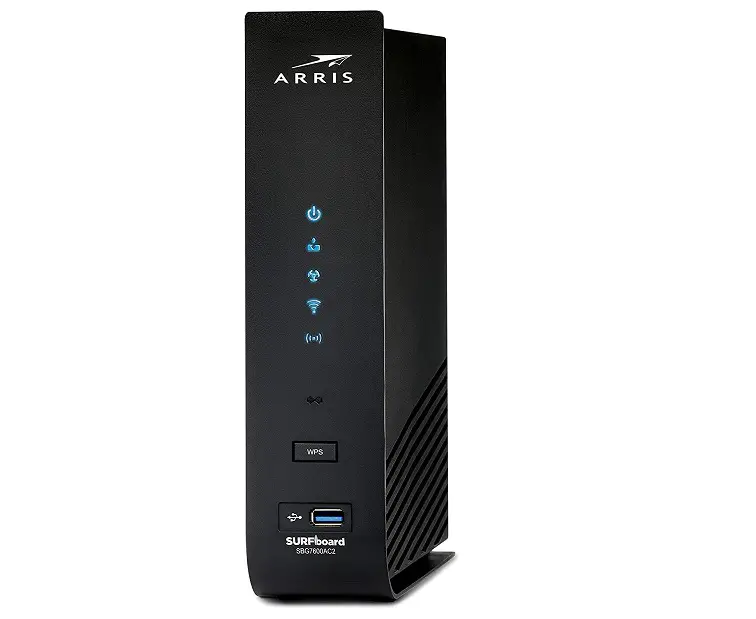 The second Arris device on our list, the Arris Surfboard SBG7600AC2, is ideal for anyone looking to connect smartphones and smart TV to the internet. Although Arris is not a very popular name in the modem and router field, it offers combos on modems and addresses the topmost consumers' needs. This model, with a 32x8 channel support, is the latest model with a DOCSIS 3.0 cable.
It enables it to be able to take up speeds of up to 1.2 Gbps.  So if you're someone who's looking to host decent internet speeds at home and also not looking for very advanced stuff, so that you're able to set it up by yourself, this can be the ideal modem and router combo. The SBG7600AC2 provides dual-band AC2350 speeds, Acrostic 2.4 and 5 gigahertz band that gives a very decent range for small to medium-sized homes. It can even support the gaming needs of small to medium-sized families. In case you feel that your Wi-Fi speed does not help to support your gaming needs, they have four gigabit Ethernet ports so that you can use your LAN cables to connect your gaming consoles.
7. Motorola MT7711 Cable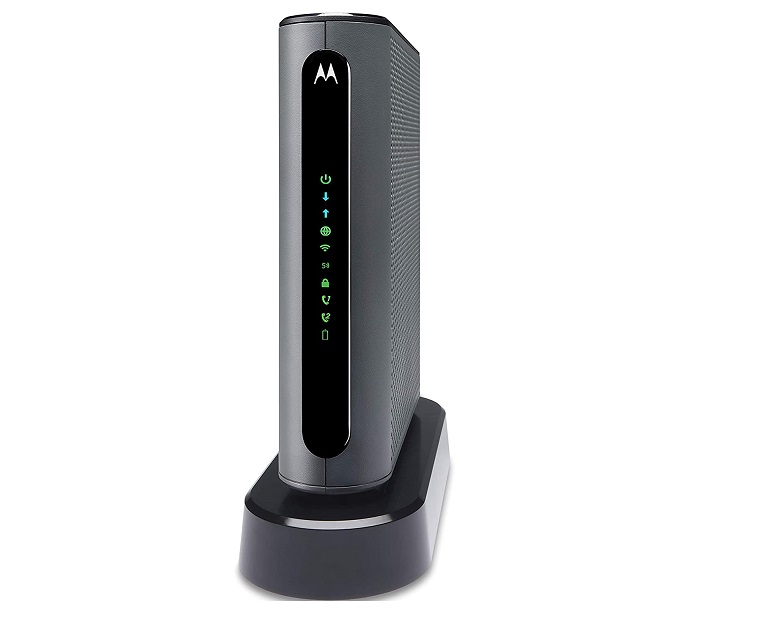 It is evident from the number of Motorola devices that Motorola MT7711 Cable is a significant player in this market. This modem router combo is ideal for someone who regularly places voice calls over their internet. To ensure that you have seamless connectivity for VOIP call services, make sure your internet service provider can offer the right speed. If so, you can go ahead with this combo instead of renting out devices from your internet service provider.
Although it works only with Comcast Xfinity Voice service, it has outstanding Wi-Fi performance and built-in technology for Xfinity Voice. It offers 24 upstream and eight downstream DOCSIS 3.0 channels in addition to AC1900 Wi-Fi performance. This device lives up to the name of Motorola. It is effortless to set up, and it is designed so that it is compatible with Comcast Xfinity. It has a quick start option that lets you register a We do it account, and you can have it running within a few minutes. With the optional battery backup option, there's something that you can add to ensure that your telephone service is still in place, even if your power is disrupted.
8. Netgear C6250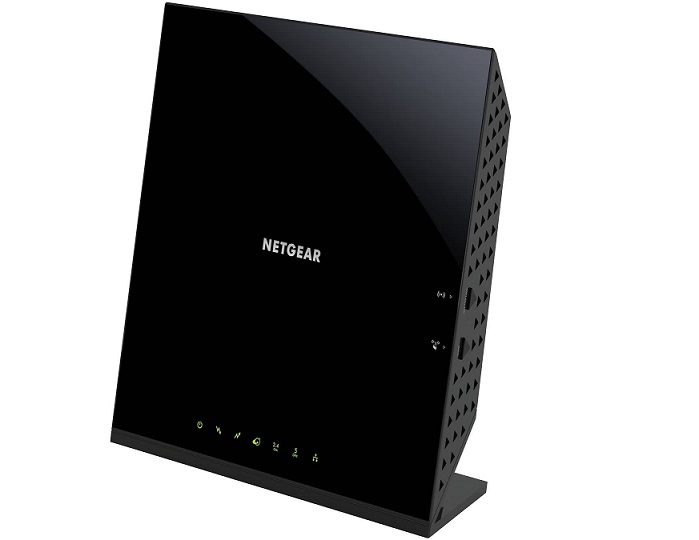 Netgear is not new in this field. They know what their users need and create splendid devices with exact specifications as per their consumers' needs. With this modem and router combo, you can have excellent speeds when it comes to streaming your favorite shows on Netflix and Prime. The Netgear C6250 is compatible with almost all internet service providers, except AT&T, Verizon, CenturyLink, Dish, and any other service provider that offers bundled voice service packages. Netgear shows that you get the best speeds that could be possible with this kind of hardware.
It helps you to cover around 1,500 square feet of space that can consolidate the maximum rates of up to 300mbps. It is ideal for an office from home and can host up to 25 devices without any lag in any of them. It boasts of two gigabit Ethernet ports and one USB 2.0 port if you need to plug in any of your wireless gadgets. One of the most durable equipments out there, for a small office or home office needs, it is a no-brainer decision to get this router combo.
9. TP-Link Archer CR700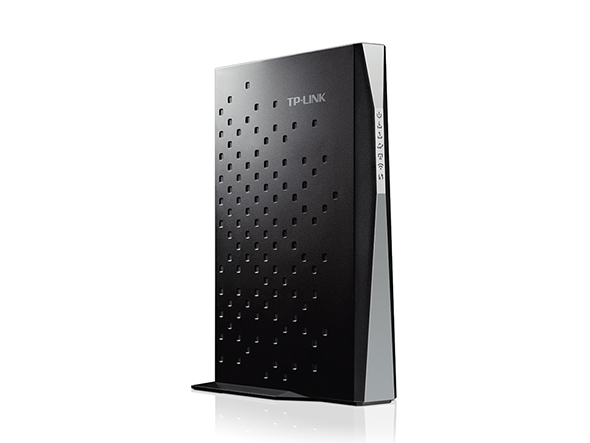 Although the TP-Link Archer CR700 has made it to our list towards the ending position, it is in no way inferior to any of the devices at its price point that we mention on this list. TP-Link already has a name in the market and is reliable when producing affordable and medium-range Wi-Fi routers. Customers who are loyal to TP-Link will appreciate this unique combo that is Archer CR700.
It can pair a 16x8 DOCSIS 3.0 cable modem with AC1750 dual-band Wi-Fi in compact hardware. It has 16 downstream channels that can host up to 680 Mbps of internet plans. The dual-core CPU and modem processor can take care of your internet traffic and your Wi-Fi connections, which means that even if there's a lot of activity on your network, the speed you receive on your phones or TV will not suffer. It has six internal antennas which ensure connectivity in every corner of your home.
Related:
Router
WiFi / Wi-Fi
Reviews
Modem