Best Wi-Fi Extenders of 2020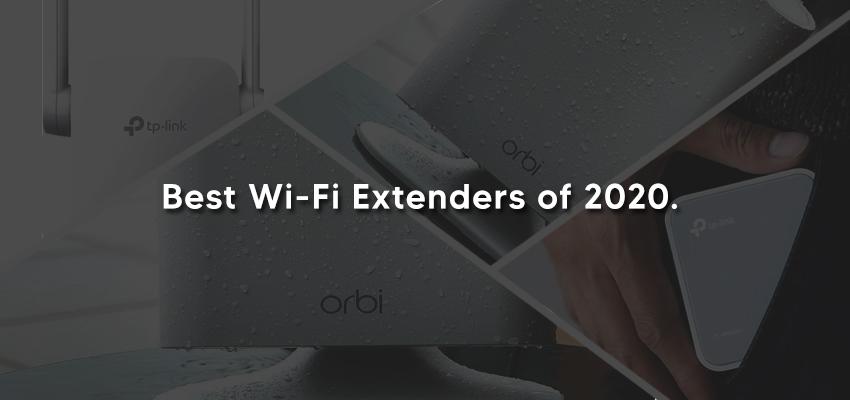 Best Wi-Fi Extenders of 2020
Posted Oct. 7, 2020, 7:34 a.m. by
Emil S.
In the office or at home, Wi-Fi extenders are fast becoming the accessory of choice for many people who want to make up for weak Wi-Fi network coverage. It's also the choice for people who consider a long-range router too much of an extra, as it is only some parts of their home or office that needs improvement in the signal reach.
Wi-Fi extenders are cheaper and less demanding to long-range routers, which is usually harder to set-up. It's a simple device that requires only a few minutes of configuration to get functional, improving the network signal in areas that you would otherwise have a weak signal.
We prepared a list of the best Wi-Fi extenders in the market with expert reviews on each product usability, the width of coverage, features, design, performance. We checked how each product's characteristics help it compete with others in the market, especially its pricing. Below is our list of the top-performing Wi-Fi extenders available in the market.
Netgear Nighthawk X4
This Wi-Fi extender is the first accessory to remember when you need a high-performing Wi-Fi extender that is also affordable and easy for anyone to set-up. When you activate the device, it's effective over a long-range with the dual-band Wi-Fi covering up to 2000 square feet.
Netgear Nighthawk X4 gives up to 2.2Gigabyte/sec to allow strong-network demanding activities like gaming and streaming on multiple devices. It can allow about 35 connections. It gives Ethernet options and roaming too.
Pros

It's easy to set-up.
It has coverage of 2000sq.ft.
It gives up to 2.2 Gb/sec.
It is dual-band. 

Cons

The number of devices connected can affect the strength of its signal.
Netgear Orbi RBS50Y
The Netgear Orbi RBS50Y Wi-Fi extender is specially built for outdoor use with weatherproof and other protective features. It is the best Wi-Fi extender for signals in open-air areas. RBS50Y is compatible with many Wi-Fi brands and gives a strong network with its tri-band Wi-Fi that Netgear uses for its Orbi line.
Pros

It's built for outdoor weather conditions.
It's compatible with many routers.
It offers tri-band Wi-Fi technology.

Cons

It's an expensive extender.
It's based on the Orbi System but doesn't work with the Orbi Mesh 6.
Netgear Nighthawk X6S
Netgear Nighthawk X6S is one of the best extenders for gaming level signal strength. Its design of four Ethernet ports shows that it was made with gamers and users that require a steady bandwidth in mind. It works on tri-band Wi-Fi that can complete coverage of 1000sq.ft, which can also increase to a ridiculous 2500 sq.ft. X65 offers roaming and compatibility with many routes and cable modems.
Pros

Its coverage can reach a ridiculous 2500sq.ft.
It's compatible with routers generally.
It offers roaming services.
It has four ports for ethernet.

Cons

It's an expensive router.
TP-Link RE505X AX1500
It's not every Wi-Fi extender that will work with the new 802.11ax Wi-Fi technology, but TP-Link RE505X is compatible with it and the best extender for Wi-Fi 6. The extender provides steady speed on any network, even those with many devices mounting loads on them.
That is not all with this device. It has an artificial intelligent signal sensor that uses light to help users know the best spots to place them. For users of the TP-Link router, you can add your RE505X as an extension on TP-Link's OneMesh Technology so you can manage all devices from a single interface. You can also turn the extender into a standard wireless access point with its Ethernet port.
Pros

It's based on Wi-Fi 6.
It has an artificial intelligence sensor for showing the best network spot.
It can turn to a standard wireless point and a wired access point.

Cons

It only works best with other Wi-Fi 6 devices.
Netgear Nighthawk AX8 
EAX80 is a powerful extender that is a part of the Nighthawk RAX80 and compatible with many routers in the market. It's the front-runner extender that suits the 802.11ax Wi-Fi 6 standard, and it also serves as a means to upgrade routers that don't have Wi-Fi 6 capabilities yet.
For routers that support Wi-Fi 6, AX8 provides access to more devices without concern for too much load on the network. AX8 is also a high performer for devices on Wi-Fi 5 standard with 5Ghz of 802.11ac standard connection. It is also optimized for gaming high-demand, with four ethernet ports for game consoles to reach high speed.
Pros

It provides MU-MIMO support for Wi-Fi 5 devices.
It has a wide range of connections that can extend to 2500 sq.ft.
It upgrades routers to give Wi-Fi 6 outputs.
It has four ethernet ports for wired connections that can give up to 0.4Gbps.

Cons

The extender is expensive.
Its optimum potential is with Wi-Fi 6 devices.
TP-Link TL-WR902AC AC750
TL-WR902AC is a small and highly adaptive router that is perfect for travel situations. It offers five wireless modes. One of these modes serves as the extender. TL-WR902AC may not be as sophisticated as other extender options, but it pulls some weight with dual-band AC750 that can give 0.43Gbps on the 5GHz band.
TL-WR902AC offers on-the-go extension benefits, which means you can improve weak networks in your hotel room, cafe, or restaurants, etc. It also has a USB port for file transfer, and you can check the manual on how to make a transfer with the device using its micro USB connection.
Pros

Its dual-band Wi-Fi can give 433Mbps on the 5GHz band.
It offers five wireless modes, including the extender mode.

Cons

The extender becomes weak with many loads on the network.
TP-Link RE305
Users that prefer portable devices would love RE305. It's small, and unique robotic design is perfect for catching attention. But this design is not only sleek but also good at smooth connectivity with both 2.4GHz and 5GHz. It also gives up to 300Mbps and 867Mbps.
It has an ethernet port for wired connections that is so strong. It's suitable for gaming and streaming online. The device has an LED light indicator showing whether you've made a proper connection. It is a decent extender for its low cost.
Pros

It has a portable and attractive design.
It has comprehensive coverage that can cover a house.

Cons

Its network is slow, and you can get a better extender at a bit higher cost.
Netgear EX3700
For a low budget extender at EX3700 price, coverage of up to 1000 feet, a strong connection, and 750 Mbps speed would be too much demand. But it's precisely what the device offers. EX3700 uses dual-band technology to deliver up to 750Mbps.
EX3700 has a coverage enhancing feature with its two antennas and ethernet port, making room for a hotspot or a new access point. The makers added their analytic app for monitoring loads on channels and signal strength, which makes the extender a price-motivated customer dream.
Pros

The extender delivers good coverage that can also be improved with antennas and ports.
It offers a Netgear app for monitoring signals and channels.
It is a budget-friendly dual-band.

Cons

It has 5GHz band connection complications.
TP-Link RE200
Some users of Wi-Fi extenders do not need their device to be the best-performing ones in the market. They want something reliable, inexpensive, and with extended features.
TP-Link's RE200 delivers dual-band covering both frequencies, 2.4GHz, and 5GHz, and gives a speed of 733Mbps. RE200 has a High-Speed Mode that enables users to handle the connectivity for gaming activities without issues.
Also, it is a portable device that makes moving it around easy. While these values may not be the most exciting of all, it is decent enough to cater to Wi-Fi connections at home.
Pros

It delivers Wi-Fi in dual bands.
An Ethernet port is available.
It has a high-speed mode.

Cons

The Ethernet port is not gigabit.
Its AC750 speed is slow.
Final Verdict
The Netgear duo of Nighthawk X4 and Orbi RBS50Y have the most reliable and advanced utility for an extender. Nighthawk X4 is the overall best extender available in the market with easy set-up, comprehensive coverage around 2000sq.ft, and 2.2 Gb/sec speed. Still, Orbi RBS50Y exceeds it when it comes to outdoor usage. Orbi RBS50Y has unique designs and features that make it the ideal extender outdoor with range and remarkable signal strength.
Wireless networks have become so popular that it has attained an essential part of people's lives for so many reasons. Most devices now use Wi-Fi and other wireless services, and we look to integrate all these devices with our router Wi-Fi network. With these considerations in mind, how do you know which device best suits your needs?
Choosing the Right Extender Product
There are factors to consider before you choose which extender product can serve you best. You may view your home or office layout--whether you stay in a small-medium sized home or have a large home and family. You will also consider the number of devices on the network channel, the pricing, and the activities you use the Wi-Fi for.
A gamer or someone that makes live streams videos would require a high performing extender, and a lighter user wouldn't need such performance, as they mean more cost. We'll compare the types of extenders and the parameters they offer.
You may use different systems to extend your Wi-Fi signal strength, with each option having its pros and cons. Mesh Wi-Fi system is one of them, Wi-Fi Signal repeat and creating a new access point are the others.
Mesh Wi-Fi Systems
The Wi-Fi system covers the Wi-Fi for an entire building using a centralized connection from a router to nodes or modem acting as access points for Wi-Fi signals. The different nodes can be placed in other areas of the building to extend signal coverage. It opens the range far beyond the direct signal of a single router.
Pros

The Wi-Fi coverage extends to areas of the building.
There are mobile apps available to control the system.
Mesh networks are usually easily integrated with smart home technologies like Google Assistant or Alexa.
It has built-in security functions to block attacks on the network.
The system can easily extend its coverage with more satellites.
Mesh networks are highly adaptive because of their artificial intelligent functionalities.
Mesh system automatically fixes the problems of interoperability.

Cons

The system requires other parts to work, which makes its price far beyond a single network.
There are special features that require users to pay for access.
Wi-Fi Repeaters
They are also called booster, amplifier, or extender. These repeaters are used to boost the signal in areas of homes and offices. Although the names were terms used to describe different accessories and devices in the past, they are used jointly today.
Pros

The repeaters are compatible with many routers in the market.
It saves the cost of buying a new router since you can use an amplifier or repeater to improve your old routers' functions.
Repeaters don't require any particular configuration.
It's a cost-effective extender option.

Cons

The extension is limited. Other extension options in the market can do much better.
It mainly improves areas with weak coverage and not dead zones.
It's useless in areas with no signal at all.
The device only improves signal and doesn't offer features like that of a Mesh system.
Wi-Fi Access Points
When you need to take Wi-Fi into dead zones in the house, access points are what you'll add to create a new Wi-Fi network. This option uses a wired connection, so ethernet wires are involved in the system. You extend wires to areas you want or buy a Powerline adapter.
Pros

It has better coverage than repeaters because it covers both weak signal areas and dead zones.
You can make a new access point from an existing router or old ones that you kept.
It offers an advantage in price when compared to the Mesh system. Although it doesn't have a constant price.
It has a better reach and expected performance than repeaters.

Cons

It requires ethernet wires for connection to the areas you want, which can be done by making cable extensions or buying powerline adapters.
The maintenance is not as easy as that of the mesh system.
The network is a lot more complicated when compared to the mesh system.
Dual-Band or Tri-Band?
After introducing the 802.11ac standard, network companies shifted attention away from single-band networks to the most profitable ones that can run on both old devices and newer ones. With  802.11ac, 5GHz was added to the 2.4GHz standard to support all devices. Routers that work with these two are called tools with the dual-band.
On the other hand, the tri-band has the standard 2.4GHz and 5GHz with another 5GHz band. This added band enables the tri-band to beat the problem of too much load being on a network. 2.4GHz has a better reach when compared to the 5GHz band, but it has a lower speed. 5GHz is fast, but concrete walls, metals, etc. can easily obstruct its spread.
The bands' difference is mainly useful when you use multiple devices on the router at once, and the tools are designed on Wi-Fi 6 functions that compete for the 5GHz band. But whether a device uses dual-band or tri-band is not the issue because it can only operate on one bar at a time. 
With this, it shows that a router with the dual-band will suffice for anyone, and a tri-band may not be the priority unless you require it for multiple devices. Tri-band is mainly to beat network overload issues. It's also expensive, so consider it only if you don't mind the cost.
Aside from this, both routers can serve you at the highest level. Netgear's Orbi Mesh is a device based on dual-band. It has a backhaul radio that serves as the third band to replace its dual-band system, as a select frequency for reliable communication when network speed is required to be on the fastest level.
Also, the number of bands for your Wi-Fi extender doesn't necessarily have to be the same as the router's band. You don't have to get an extender for the tri-band just because you have a tri-band router. Instead, what determines the extender you use is the devices to use your Wi-Fi with when you get your internet connection.
If your devices are the latest smartphones of Apple, Samsung, or other Wi-Fi 6 enabled devices, then you will need a tri-band. But if you only need the extension for some smart devices, you can have a single band extender where 2.4GHz is sufficient.
System Set-up and Cost
The standard mesh system that includes the main router and subordinate equipment will cost about $200 for most brands. Some makers offer premium features that attract additional costs.
Most makers help users get through with the equipment set-up by providing guides in a software application or quick start guide. It's less costly to set-up if you already have a mesh router. All you have to do is get equipment that can work with your device.
If you decide to use a repeater instead, use an existing router, especially old ones because repeaters are hardly incompatible with routers. However, it's best to check if they are compatible at first. Installation for repeaters is also something you can do yourself. It's all about knowing the right placement for your extender and setting up connections for your network.
Multiple devices
Mesh technologies can handle multiple devices, but Wi-Fi extenders have limited device connections to avoid low networks. Only 15 to 20 devices may connect at any point to prevent overload and lousy performance. If you require more than your Wi-Fi repeater signifies, then consider getting a mesh system.
Coverage Area
The reach of network coverage is a crucial thing to check. The makers note it on the product description, and it's given in square feet. The range for mesh system-based routers can reach 6,000 sq.ft. At the same time, the repeater can pull at an average of 1200 sq.ft. If you opt for the access point, you will have a better range than repeaters. This vast difference in coverage is due to the type of coverage the options offer.
A repeater only provides additional coverage, as it serves as an enhancer to the Wi-Fi signal. On the other hand, the mesh system offers complete coverage. Suppose you own a mesh system with a reach of 5000 sq.ft., that's what you have in total.
With a repeater, it is different. If your router has network coverage of 2000 sq.ft, adding an extender with 1200 range will boost the coverage to almost 3200 sq.ft.
Security
As the technology for wireless connections improves worldwide, the need for better security also increases. Wireless networks cannot use any security protocol that is less than the Wi-Fi protected access. The security protocol should be either WPA or WPA 2 if the system offers any meaningful security to users of the connection.
Wi-Fi extenders should have at least WPA standard protocol. The more modern extenders with 802.11ax standard should offer WPA3 network security protocol. Top makers of wireless network equipment and services make products with even more advanced security measures like firewalls, pop-up ad-block, anti-malware, and even guest user access.
App Control
The mesh system handles a lot of things with its built-in artificial intelligence. But it also balances this with self-care services that allow users to choose the band they want and other functions for the best experience possible.
You update the system manually with information such as the devices to prioritize for the best connection. The flexibility it offers is impressive. You can add a friend as a guest user by sending your password to them. It also supports wireless communications with voice assistants like Alexa and IFTTT Assistant.
There are Wi-Fi repeaters that also provide app control at a less advanced level. The applications usually come with scanty features, unlike the mesh app that even protects against network attacks.
Conclusion
All wireless connection options explained have situations when they are most suitable for the user than the others. For users that only require a steady Wi-Fi for up to five devices, in small houses, and also for less demanding activities, can enjoy a good but inexpensive Wi-Fi extender like Netgear EX3700. Users with over 20 devices, a large home or garden, and high network demanding activity like gaming don't mind the cost and should go for mesh systems like Nighthawk X4 and Orbi.
Related:
WiFi / Wi-Fi
Reviews
Wi-Fi Extender