Superb VPN services you can get for free in 2020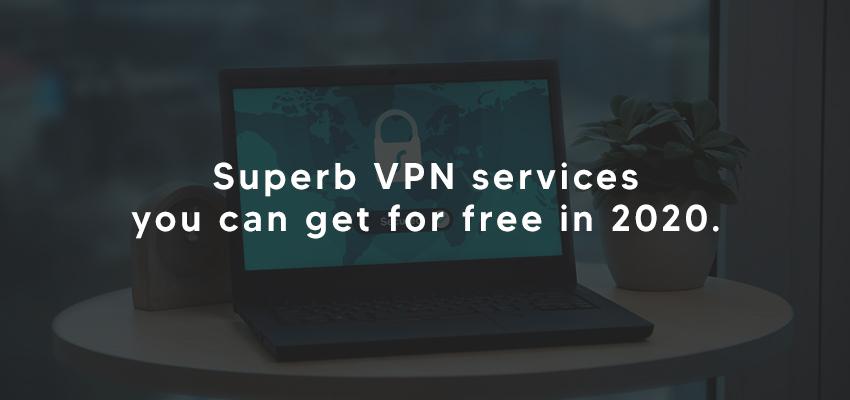 Superb VPN services you can get for free in 2020
Posted Sept. 23, 2020, 8:40 a.m. by
Emil S.
What exactly are VPN services?
In a nutshell, these services will help you navigate public network spaces privately. And, everything you do online will be encrypted. Even a very secure wireless internet hotspot cannot compete with a VPN. Your network connections over the internet will be protected, safe, and untraceable.
If security and privacy are some of your concerns, here are a few free VPN services compiled for your consideration. Thorough research has gone into making this list from a sample size of 30 brands. Six of the services were tested, at the same time, picking out the most preferred from the sample size. The list can be trusted as factual. The suggestions are, therefore, worth the try. And why should you try virtual private network services in the first place?
Firstly, you can use it for a faster internet connection or make use of BitTorrent. You may even unblock Netflix and other similar services. So, depending on what you like, you can get a service that will satisfy your network needs.
ZenMate
ZenMate is a popular VPN used by millions around the world. Most of us have those streaming services we would like to get through to but cannot. Well, that is what ZenMate VPN does best. And, for free! It has been tri/ed and found to unblock Netflix (USA) and BBC iPlayer. It will not hurt trying to get access to other streaming services. It might work for you too. Streaming services are always on the high alert. So do not lose heart.
As a free user, you will face speed and server locations access limitations. Those are privileges kept for the paying customer. You will also be locked out of the streaming guarantee that comes with uptime to get through to streaming services. This comes with the Ultimate plan.
Speedify
This VPN is for those who cannot stand a lag. Speedify operates a turbocharging technology that can be accessed for free. This feature is built-in to the iOS, Windows, macOS, and Android Speedify applications. This is what enables the connections to Speedify virtual private network.
In random instances, it has been found to increase the internet speed. This is contrary to most VPNs, which are known to slow connections instead.
In addition to the VPN, Speedify can gather cellular, wireless-fidelity, and ethernet internet connections to give you the fastest uploading and downloading speeds achievable.
Plus, it connects to some of the fastest known VPN servers.
The downside of the free version of Speedify is the 5GB data limit per month. Otherwise, free users get everything that the network has to offer.
TunnelBear
A newbie may find it hard the first time in any situation. Setting up a virtual private network is generally not a walk in the park. So, to have one that can be operated by an amateur is exemplary. TunnelBear is the best for new VPN users. Every plugin and app is simply designed, making it easy to navigate. There is a cute cartoon bear that you can click on the simple maps you will find.
To start, you click on the location you want. The downside for this free VPN is the 500MB data monthly allowance, supplemented by any data you get through occasional promos. The app is available for Opera, Chrome, and Firefox browser plugins, as well as iOS, Windows, Android, and macOS devices.
Windscribe
Now, do you enjoy everything about virtual private networks but do not have the money for it? You do not have to look beyond the Windscribe free VPN. The data limits are superb, speeds are up there, they give no better choice of servers, and they adhere to the no-logging policy. This means that they don't track your activities and keep them on a log. You navigate the network anonymously.
In a month, they allow you a 10GB data limit. You can use it every day the way you would like to. You can access servers across 10 countries and make as many connections as you would like. You may also connect to as many devices as you would like across the board. They may comprise any device in the iOS, Android, Linux, macOS, and Windows category.
Nvidia Shield, Fire TV, and preferred VPN router can also access the services. So, on average, balancing out everything, this VPN gives you a lot in its free version.
SurfEasy
If you enjoy BitTorrent, then you can pick this free virtual private network, SurfEasy. You may probably know that surprisingly, even some paying programs for VPN block this task. SurfEasy is exceptional in this respect. And better still enables this for free users too. They give you P2P connections without having to pay for the premium plan. If you do upgrade, you'll get more BitTorrent services. As a P2P user, you'll be kept from view.
Despite only accessing servers in 4 countries, being kept from advanced features and protections, and having limited 500MB data daily, free users can access more data occasionally during the VPN's promos. In the same way, you may enjoy Netflix, a service rarely available in a free VPN. The service can be accessed through plugins for Opera and Chrome, iOS, Android, macOS, and Windows.
Hide.me
If you are a stickler for privacy, this is the virtual private network for you. Hide.me is a company in Malaysia, where their hand can't be twisted into recording your data. You can find this in their annual transparency reports.
Their security is admirable as they encrypt your data too! That will be through AES-256 encryption. Their fool-proof protocols include L2TP/IPsec and OpenVPN. Indeed none of your online activities and exchanges can be traced back to you through this VPN.
The bonus is that you don't have to watch ads, and you get unlimited bandwidth. Plus, you may spontaneously use five devices. Those may comprise VPN routers, Amazon Fire devices, Android, iOS, Linux, macOS, Windows devices, and browsers.
Hotspot Shield
Hotspot Shield is a superb VPN for those who use multiple devices at the same time. Their monthly data allowance presents an offer you cannot refuse. This free VPN has the attractive provision of using as much as 15GB data in a month. And, you can do that across five gadgets.
This arrangement could have been perfect if it was not broken down to the strict daily allowance of 500MB. If there are days you use less of this, you cannot carry over the balance. On the other hand, if you use excess data that crosses the 500MB mark, you will be on your own.
You will be in great luck if you constantly use data within the limit of the daily allowance. It is also great to know that the five devices can be the Chrome browser, Windows, Android, iOS, and macOS. The constant pop-up ads might dull your enthusiasm. That is something to bear with this free VPN version.
ProtonVPN
Do you use a lot of data? ProtonVPN would suit you. It supports unlimited data. You will not find yourself stranded in the middle of the day or within the month because of surpassing the amount of data allowed. No! You can go on and on and focus on what you are doing. Most free services given by most of the VPNs have a limit on their data allowance.
The other superb element about it is the privacy policy. People who go for this VPN have this aspect as their top priority. These two qualities are sufficient to keep it an excellent option.
Its downside is that its services can only be used with one device. Plus, it will only connect to a handful of servers. And, the paid users are the only ones who have the privilege of better data speed.
Conclusion
Everyone loves the security of knowing that privacy has been protected. This is the assurance that virtual security services are meant to offer. Therefore, there are notable companies that have free virtual private network services. You can determine what fits your needs. Only then can you choose what free VPN services suit you. Keep in mind that there is only as much that you can get from free services. Who knows? You may get compelled to pay for the services. All you need to do is get started.
Related:
Reviews
VPN Service
Speedify
Tunnelbear
Windscribe
ProtonVPN
Hotspot Shield
SurfEasy
ZenMate